Abstract
The genus Alternaria, alternarioid hyphomycetes, comprise a biologically, ecologically, and morphologically rich group of fungi that has suffered from taxonomic flux for many years. The taxonomy of these fungi has been predominately based on conidial characters, which includes shape, color, septation, and patterns of secondary sporulation, and to lesser extent on host association, biochemistry, and metabolites. Recent phylogenetic studies have made significant changes to the systematic taxonomy, the accurate identification of a taxon or group of taxa, within Alternaria by elevating 26 clades to the subgeneric taxonomic status of section. This paper aims to serve as an overview of the historical and contemporary taxonomic status of the alternarioid hyphomycetes with special reference to biology, morphology, and phylogenetic biodiversity. Additionally, we propose to synonymize the genus Pseudoalternaria with Alternaria and elevate this well-supported clade to the taxonomic rank of section, Pseudoalternaria sect. nov., bringing the total number of sections to 27 in order to produce a stable and accepted taxonomy for this diverse genus.
This is a preview of subscription content, log in to check access.
Access options
Buy single article
Instant access to the full article PDF.
US$ 39.95
Price includes VAT for USA
Subscribe to journal
Immediate online access to all issues from 2019. Subscription will auto renew annually.
US$ 118
This is the net price. Taxes to be calculated in checkout.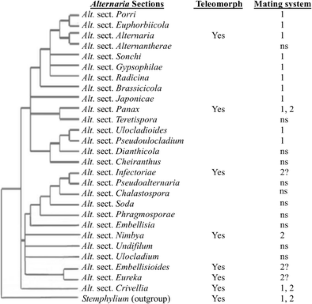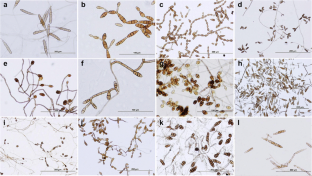 References
Ahn J-H, Walton JD (1996) Chromosomal organization of TOX2, a complex locus controlling host-selective toxin biosynthesis in Cochliobolus carbonum. Plant Cell 8:887–897

Ajiro N, Miyamoto Y, Masunaka A, Tsuge T, Yamamoto M, Ohtani K, Fukumoto T, Gomi K, Peever TL, Izumi Y, Tada Y, Akimitsu K (2010) Role of the host-selective ACT-toxin synthesis gene ACTTS2 encoding an enoyl-reductase in pathogenicity of the tangerine pathotype of Alternaria alternata. Phytopathology 100:120–126. doi:10.1094/phyto-100-2-0120

Akagi Y, Akamatsu H, Otani H, Kodama M (2009) Horizontal chromosome transfer, a mechanism for the evolution and differentiation of a plant-pathogenic fungus. Eukaryot Cell 8:1732–1738. doi:10.1128/ec.00135-09

Akamatsu H, Itoh Y, Kodama M, Otani H, Kohmoto K (1997) AAL-toxin-deficient mutants of Alternaria alternata tomato pathotype by restriction enzyme-mediated integration. Phytopathology 87:967–972

Akamatsu H, Taga M, Kodama M, Johnson R, Otani H, Kohmoto K (1999) Molecular karyotypes for Alternaria plant pathogens known to produce host-specific toxins. Curr Genet 35:647–656

Alcorn J (1988) The taxonomy of "Helminthosporium" species. Annu Rev Phytopathol 26:37–56

Alcorn J (1991) New combinations and synonymy in Bipolaris and Curvularia, and a new species of Exserohilum. Mycotaxon7:411-414c

Alexander J, Benford D, Boobis A, Ceccatelli S, Cottrill B, Cravedi J, Di Domenico A, Doerge D, Dogliotti E, Edler L (2011) Scientific opinion on the risks for animal and public health related to the presence of Alternaria toxins in feed and food. EFSA J 9:2407–2504

Alves J, Woudenberg J, Duarte L, Crous P, Barreto R (2013) Reappraisal of the genus Alternariaster (Dothideomycetes). Persoonia 31:77–85

Andersen B, Thrane U (1996) Differentiation of Altemaria infectoria and Alternaria alternata based on morphology, metabolite profiles, and cultural characteristics. Can J Microbiol 42:685–689

Andersen B, Solfrizzo M, Visconti A (1995) Metabolite profiles of common Stemphylium species. Mycol Res 99:672–676

Andersen B, Krøger E, Roberts RG (2001) Chemical and morphological segregation of Alternaria alternata, A. gaisen and A. longipes. Mycol Res 105:291–299

Andersen B, Krøger E, Roberts RG (2002) Chemical and morphological segregation of Alternaria arborescens, A. infectoria and A. tenuissima species-groups. Mycol Res 106:170–182

Andersen B, Hansen ME, Smedsgaard J (2005) Automated and unbiased image analyses as tools in phenotypic classification of small-spored Alternaria spp. Phytopathology 95:1021–1029

Andersen B, Sørensen JL, Nielsen KF, van den Ende BG, de Hoog S (2009) A polyphasic approach to the taxonomy of the Alternaria infectoria species-group. Fungal Genet Biol 46:642–656

Andrew M, Peever T, Pryor B (2009) An expanded multilocus phylogeny does not resolve morphological species within the small-spored Alternaria species complex. Mycologia 101:95–109

Arie T, Kaneko I, Yoshida T, Noguchi M, Nomura Y, Yamaguchi I (2000) Mating-type genes from asexual phytopathogenic ascomycetes Fusarium oxysporum and Alternaria alternata. Mol Plant-Microbe Interact 13:1330–1339

Ariyawansa HA, Thambugala KM, Manamgoda DS, Jayawardena R, Camporesi E, Boonmee S, Wanasinghe DN, Phookamsak R, Hongsanan S, Singtripop C, Chukeatirote E, Kang J, Gareth Jones EB, Hyde KD (2015) Towards a natural classification and backbone tree for Pleosporaceae. Fungal Divers 71:85–139. doi:10.1007/s13225-015-0323-z

Arrese JE, Piérard-Franchimont C, Piérard GE (1996) Onychomycosis and keratomycosis caused by Alternaria sp.: a bipolar opportunistic infection in a wood-pulp worker on chronic steroid therapy. Am J Dermatopathol 18:611–613

Badenoch PR, Halliday C, Ellis D, Billing KJ, Mills R (2006) Ulocladium atrum keratitis. J Clin Microbiol 44:1190–1193

Baldauf SL, Palmer JD (1993) Animals and fungi are each other's closest relatives: congruent evidence from multiple proteins. Proc Natl Acad Sci U S A 90:11558–11562

Barbasso E, Sforza F, Stoppini R, Peruccio C (2005) Mycotic flora in the conjunctival fornix of horses in Northern Italy. Ippologia 16:21–29

Barnes SD, Dohlman CH, Durand ML (2007) Fungal colonization and infection in Boston keratoprosthesis. Cornea 26:9–15

Baucom DL, Romero M, Belfon R, Creamer R (2012) Two new species of Undifilum, fungal endophytes of Astragalus (locoweeds) in the United States. Botany 90:866–875

Berbee ML, Payne BP, Zhang G, Roberts RG, Turgeon BG (2003) Shared ITS DNA substitutions in isolates of opposite mating type reveal a recombining history for three presumed asexual species in the filamentous ascomycete genus Alternaria. Mycol Res 107:169–182

Blodgett J, Swart W (2002) Infection, colonization, and disease of Amaranthus hybridus leaves by the Alternaria tenuissima group. Plant Dis 86:1199–1205

Blodgett JT, Swart WJ, Louw Sv, Weeks WJ (2000) Species composition of endophytic fungi in Amaranthus hybridus leaves, petioles, stems, and roots. Mycologia 853–859

Bock CH, Thrall PH, Brubaker CL, Burdon JJ (2002) Detection of genetic variation in Alternaria brassicicola using AFLP fingerprinting. Mycol Res 106:428–434

Bock CH, Thrall PH, Burdon JJ (2005) Genetic structure of populations of Alternaria brassicicola suggests the occurrence of sexual recombination. Mycol Res 109:227–236

Bonar L (1928) Studies on some California fungi. Mycologia 20:292–300

Bush RK, Portnoy JM (2001) The role and abatement of fungal allergens in allergic diseases. J Allergy Clin Immunol 107:S430–S440

Cascio GL, Ligozzi M, Maccacaro L, Fontana R (2004) Utility of molecular identification in opportunistic mycotic infections: a case of cutaneous Alternaria infectoria infection in a cardiac transplant recipient. J Clin Microbiol 42:5334–5336

Chen J, Hu K-X, Hou X-Q, Guo S-X (2011) Endophytic fungi assemblages from 10 Dendrobium medicinal plants (Orchidaceae). World J Microbiol Biotechnol 27:1009–1016

Cheney SA, Lafranchi-Tristem NJ, Bourges D, Canning EU (2001) Relationships of microsporidian genera, with emphasis on the polysporous genera, revealed by sequences of the largest subunit of RNA polymerase II (RPB1). J Eukaryot Microbiol 48:111–117

Christensen KB, Van Klink JW, Weavers RT, Larsen TO, Andersen B, Phipps RK (2005) Novel chemotaxonomic markers of the Alternaria infectoria species-group. J Agric Food Chem 53:9431–9435

Crivelli PG (1983) Ueber die heterogene Ascomycetengattung Pleospora Rabenh.. Dissertation, Eidgenossische Technische Hochschyule, Zurich

Crous PW, Braun U, Wingfield MJ, Wood A, Shin H, Summerell BA, Alfenas A, Cumagun C, Groenewald JZ (2009) Phylogeny and taxonomy of obscure genera of microfungi. Persoonia 22:139–161

Czyzewska S, Zarzycka H (1960) Niektore dane z biologii grzyba Helminthosporium papaveris Hennings, stadium doskonale Pleospora papaveracea (Wint) de Not. Lacta Agrobot 10:41–51

Deng JX, Li MJ, Paul NC, Lee JH, Cho HS, Lee HB, Yu SH (2015) Alternaria species associated with araliaceous plants in Korea. Mycol Prog 14:31

Domsch KH, Gams W, Anderson T-H (1980) Compendium of soil fungi. Academic, London

Dubois D, Pihet M, Le Clec'h C, Croué A, Beguin H, Bouchara J-P, Chabasse D (2005) Cutaneous phaeohyphomycosis due to Alternaria infectoria. Mycopathologia 160:117–123

Elliott JA (1917) Taxonomic characters of the genera Alternaria and Macrosporium. Am J Bot 439–476

Ellis MB (1971) Dematiaceous hyphomycetes. Commonwealth Mycology Institute, Kew

Ellis MB, Ellis JP (1985) Microfungi on land plants. An identification handbook. Macmillan, London

Esch RE, Hartsell CJ, Crenshaw R, Jacobson RS (2001) Common allergenic pollens, fungi, animals, and arthropods. Clin Rev Allergy Immunol 21:261–292

Farr DF, Bills GF, Chamuris GP, Rossman AY (1989) Fungi on plants and plant products in the United States. APS, St. Paul

Fernández-Cruz ML, Mansilla ML, Tadeo JL (2010) Mycotoxins in fruits and their processed products: analysis, occurrence and health implications. J Adv Res 1:113–122

Friesen TL, Stukenbrock EH, Liu Z, Meinhardt S, Ling H, Faris JD, Rasmussen JB, Solomon PS, McDonald BA, Oliver RP (2006) Emergence of a new disease as a result of interspecific virulence gene transfer. Nat Genet 38:953–956

Frisvad JC, Andersen B, Thrane U (2008) The use of secondary metabolite profiling in chemotaxonomy of filamentous fungi. Mycol Res 112:231–240

Fuckel L (1863) Fungi rhenani exsiccate. No. 1–100

Fujiwara T, Oda K, Yokota S, Takatsuki A, Ikehara Y (1988) Brefeldin A causes disassembly of the Golgi complex and accumulation of secretory proteins in the endoplasmic reticulum. J Biol Chem 263:18545–18552

Gannibal PB (2012) Understanding the phylogeny of the alternarioid hyphomycetes: what can be the consequences in taxonomy? Syst Evol Fungi 2:303

Gannibal PB (2015) Distribution of Alternaria species among sections. 1. Section Porri. Mycotaxon 130:207–213

Gannibal PB, Kazartsev IA (2013) Development of a PCR assay for amplification of mating-type loci of Alternaria spp. and related fungi. Czech Mycol 65:69–78

Gasich EL, Gannibal PB, Berestetskiy AO, Kazartsev IA, Khlopunova LB, Terletskiy VM, Bekyasheva EN (2013) Taxonomically significant characters of Crivellia papaveracea and Brachycladium papaveris, pathogens of poppy, revealed in Russia and Ukraine. Mikol Fitopatol 47:249–260

Grum-Grzhimaylo AA, Georgieva ML, Bondarenko SA, Debeta AJM, Bilanenko EN (2015) On the diversity of fungi from soda soils. Fungal Divers. doi:10.1007/s13225-015-0320-2

Hansen K, LoBuglio KF, Pfister DH (2005) Evolutionary relationships of the cup-fungus genus Peziza and Pezizaceae inferred from multiple nuclear genes: RPB2, β-tubulin, and LSU rDNA. Mol Phylogen Evol 36:1–23

Harimoto Y, Hatta R, Kodama M, Yamamoto M, Otani H, Tsuge T (2007) Expression profiles of genes encoded by the supernumerary chromosome controlling AM-toxin biosynthesis and pathogenicity in the apple pathotype of Alternaria alternata. Mol Plant-Microbe Interact 20:1463–1476

Harteveld D, Akinsanmi O, Drenth A (2013) Multiple Alternaria species groups are associated with leaf blotch and fruit spot diseases of apple in Australia. Plant Pathol 62:289–297

Hatta R, Ito K, Hosaki Y, Tanaka T, Tanaka A, Yamamoto M, Akimitsu K, Tsuge T (2002) A conditionally dispensable chromosome controls host-specific pathogenicity in the fungal plant pathogen Alternaria alternata. Genetics 161:59–70

Hong SG, Cramer RA, Lawrence CB, Pryor BM (2005) Alt a 1 allergen homologs from Alternaria and related taxa: analysis of phylogenetic content and secondary structure. Fungal Genet Biol 42:119–129

Hong SG, Maccaroni M, Figuli PJ, Pryor BM, Belisario A (2006) Polyphasic classification of Alternaria isolated from hazelnut and walnut fruit in Europe. Mycol Res 110:1290–1300

Howlett BJ (2006) Secondary metabolite toxins and nutrition of plant pathogenic fungi. Curr Opin Plant Biol 9:371–375

Hu J, Chen C, Peever T, Dang H, Lawrence C, Mitchell T (2012) Genomic characterization of the conditionally dispensable chromosome in Alternaria arborescens provides evidence for horizontal gene transfer. BMC Genomics 13:171

Hubballi M, Sornakili A, Nakkeeran S, Anand T, Raguchander T (2011) Virulence of Alternaria alternata infecting noni associated with production of cell wall degrading enzymes. J Plant Prot Res 51:87–92

Inderbitzin P, Harkness J, Turgeon BG, Berbee ML (2005) Lateral transfer of mating system in Stemphylium. Proc Natl Acad Sci U S A 102:11390–11395

Inderbitzin P, Shoemaker RA, O'Neill NR, Turgeon BG, Berbee ML (2006) Systematics and mating systems of two fungal pathogens of opium poppy: the heterothallic Crivellia papaveracea with a Brachycladium penicillatum asexual state and a homothallic species with a Brachycladium papaveris asexual state. Botany 84:1304–1326

Ito K, Tanaka T, Hatta R, Yamamoto M, Akimitsu K, Tsuge T (2004) Dissection of the host range of the fungal plant pathogen Alternaria alternata by modification of secondary metabolism. Mol Microbiol 52:399–411

James LF (1989) Swainsonine and related glycosidase inhibitors. In: James LF, Elbein AD, Molyneux RJ, Warren CD (eds) Swainsonine and related glycosidase inhibitors. Iowa State University Press, Ames, pp 23–38

Johnson R, Johnson L, Itoh Y, Kodama M, Otani H, Kohmoto K (2000) Cloning and characterization of a cyclic peptide synthetase gene from Alternaria alternata apple pathotype whose product is involved in AM-toxin synthesis and pathogenicity. Mol Plant-Microbe Interact 13:742–753

Johnson LJ, Johnson RD, Akamatsu H, Salamiah A, Otani H, Kohmoto K, Kodama M (2001) Spontaneous loss of a conditionally dispensable chromosome from the Alternaria alternata apple pathotype leads to loss of toxin production and pathogenicity. Curr Genet 40:65–72

Johnson DA, Simmons EG, Miller JS, Stewart EL (2002) Taxonomy and pathology of Macrospora/Nimbya on some North American bulrushes (Scirpus spp.). Mycotaxon 84:413–428

Joly P (1964) Le genre Alternaria. Encycl Mycol 33:1–250

Karunakara Murthy K, Shenoi M, Sreenivas S (2003) Perpetuation and host range of Alternaria alternata causing brown spot disease of tobacco. Indian Phytopathol 56:138–141

Kirk PM, Cannon PF, Minter DW, Stalpers JA (2008) Ainsworth and Bisby's dictionary of the fungi, 10th edn. CAB International, Wallingford

Kocher U (2007) Determination of 7 Alternaria-toxins in edible oil and oilseeds by LC-MS/MS. Proceedings of the 29th mycotoxin workshop, Fellbach, Germany

Kohmoto K, Otani H (1991) Host recognition by toxigenic plant pathogens. Experientia 47:755–764

Kwaśna H (1992) Ecology and nomenclature of Alternaria. In: Chelkowski J, Visconti A (eds) Alternaria: biology, plant diseases, and metabolites. Elsevier, New York, pp 63–100

Kwaśna H, Kosiak B (2003) Lewia avenicola sp. nov. and its Alternaria anamorph from oat grain, with a key to the species of Lewia. Mycol Res 107:371–376

Kwaśna H, Ward E, Kosiak B (2006) Lewia hordeicola sp. nov. from barley grain. Mycologia 98:662–668

Lamari L, Strelkov S, Yahyaoui A, Orabi J, Smith R (2003) The identification of two new races of Pyrenophora tritici-repentis from the host center of diversity confirms a one-to-one relationship in tan spot of wheat. Phytopathology 93:391–396

Larran S, Monaco C, Alippi H (2001) Endophytic fungi in leaves of Lycopersicon esculentum Mill. World J Microbiol Biot 17:181–184

Larran S, Perelló A, Simón MR, Moreno V (2007) The endophytic fungi from wheat (Triticum aestivum L.). World J Microbiol Biot 23:565–572

Lau BP-Y, Scott PM, Lewis DA, Kanhere SR, Cléroux C, Roscoe VA (2003) Liquid chromatography-mass spectrometry and liquid chromatography-tandem mass spectrometry of the Alternaria mycotoxins alternariol and alternariol monomethyl ether in fruit juices and beverages. J Chromatogr 998:119–131

Lawrence CB, Mitchell TK, Craven KD, Cho Y, Cramer RA Jr, Kim K-H (2008) At death's door: Alternaria pathogenicity mechanisms. Plant Pathol J 24:101–111

Lawrence DP, Park MS, Pryor BM (2012) Nimbya and Embellisia revisited, with nov. comb for Alternaria celosiae and A. perpunctulata. Mycol Prog 11:799–815

Lawrence DP, Gannibal PB, Peever TL, Pryor BM (2013) The sections of Alternaria: formalizing species-group concepts. Mycologia 105:530–546

Lawrence DP, Gannibal PB, Dugan FM, Pryor BM (2014) Characterization of Alternaria isolates from the infectoria species-group and a new taxon from Arrhenatherum, Pseudoalternaria arrhenatheria sp. nov. Mycol Prog 13:257–276

Lawrence DP, Travadon R, Baumgartner K (2015) Diversity of Diaporthe species associated with wood cankers of fruit and nut crops in northern California. Mycologia (in press)

Leach CM, Aragaki M (1970) Effects of temperature on conidium characteristics of Ulocladium chartarum and Stemphylium floridanum. Mycologia 62:1071–1076

Liu YJ, Whelen S, Hall BD (1999) Phylogenetic relationships among ascomycetes: evidence from an RNA polymerse II subunit. Mol Biol Evol 16:1799–1808

Logrieco A, Bottalico A, Solfrizzo M, Mule G (1990) Incidence of Alternaria species in grains from Mediterranean countries and their ability to produce mycotoxins. Mycologia 82:501–505

Logrieco A, Bottalico A, Mulé G, Moretti A, Perrone G (2003) Epidemiology of toxigenic fungi and their associated mycotoxins for some Mediterranean crops. Eur J Plant Pathol 109:645–667

Lou J, Fu L, Peng Y, Zhou L (2013) Metabolites from Alternaria fungi and their bioactivities. Molecules 18:5891–5935

Ma Y-T, Qiao L-R, Shi W-Q, Zhang A-L, Gao J-M (2010) Metabolites produced by an endophyte Alternaria alternata isolated from Maytenus hookeri. Chem Nat Compd 46:504–506

Markham JE, Hille J (2001) Host-selective toxins as agents of cell death in plant–fungus interactions. Mol Plant Pathol 2:229–239

Masunaka A, Tanaka A, Tsuge T, Peever T, Timmer L, Yamamoto M, Yamamoto H, Akimitsu K (2000) Distribution and characterization of AKT homologs in the tangerine pathotype of Alternaria alternata. Phytopathology 90:762–768

Masunaka A, Ohtani K, Peever T, Timmer L, Tsuge T, Yamamoto M, Yamamoto H, Akimitsu K (2005) An isolate of Alternaria alternata that is pathogenic to both tangerines and rough lemon and produces two host-selective toxins, ACT-and ACR-toxins. Phytopathology 95:241–247

Matheny PB, Wang Z, Binder M, Curtis JM, Lim YW, Nilsson RH, Hughes KW, Hofstetter V, Ammirati JF, Schoch CL (2007) Contributions of rpb2 and tef1 to the phylogeny of mushrooms and allies (Basidiomycota, Fungi). Mol Phylogenet Evol 43:430–451

Meronuck R, Steele J, Mirocha C, Christensen C (1972) Tenuazonic acid, a toxin produced by Alternaria alternata. Appl Microbiol 23:613–617

Milani NA, Lawrence DP, Arnold AE, VanEtten HD (2012) Origin of pisatin demethylase (PDA) in the genus Fusarium. Fungal Genet Biol 49:933–942

Milatovic I (1952) Study of the fungus Pleospora calvescens (Fr.) Tulasne on poppy. Poljopr Znan Smotra 13:3–12

Milholland RD (1973) A leaf spot disease of highbush blueberry caused by Alternaria tenuissima. Phytopathology 63:1395–1397

Miller AN, Huhndorf SM (2005) Multi-gene phylogenies indicate ascomal wall morphology is a better predictor of phylogenetic relationships than ascospore morphology in the Sordariales (Ascomycota, Fungi). Mol Phylogenet Evol 35:60–75

Mirkin LD (1994) Alternaria alternata infection of skin in a 6-year-old boy with aplastic anemia. Fetal Pediatr Pathol 14:757–761

Miyamoto Y, Ishii Y, Honda A, Masunaka A, Tsuge T, Yamamoto M, Ohtani K, Fukumoto T, Gomi K, Peever T (2009) Function of genes encoding acyl-CoA synthetase and enoyl-CoA hydratase for host-selective ACT-toxin biosynthesis in the tangerine pathotype of Alternaria alternata. Phytopathology 99:369–377

Miyamoto Y, Masunaka A, Tsuge T, Yamamoto M, Ohtani K, Fukumoto T, Gomi K, Peever T, Tada Y, Ichimura K (2010) ACTTS3 encoding a polyketide synthase is essential for the biosynthesis of ACT-toxin and pathogenicity in the tangerine pathotype of Alternaria alternata. Mol Plant-Microbe Interact 23:406–414

Morrison VA, Weisdorf DJ (1993) Alternaria: a sinonasal pathogen of immunocompromised hosts. Clin Infect Dis 16:265–270

Neergaard P (1945) Danish species of Alternaria and Stemphylium. Oxford University Press, London

Neumeister B, Hartmann W, Oethinger M, Heymer B, Marre R (1994) A fatal infection with Alternaria alternata, and Aspergillus terreus in a child with agranulocytosis of unknown origin. Mycoses 37:181–185

Nilsson RH, Hyde KD, Pawlowska J, Ryberg M, Tedersoo L, Bjornsgard Aas A, Alias SA, Alves A, Anderson CL, Antonelli A, Arnold AE et al (2014) Improving ITS sequence data for identification of plant pathogenic fungi. Fungal Divers 67:11–19

Nishimura S, Kohmoto K (1983) Host-specific toxins and chemical structures from Alternaria species. Annu Rev Phytopathol 21:87–116

Ostry V (2008) Alternaria mycotoxins: an overview of chemical characterization, producers, toxicity, analysis and occurrence in foodstuffs. World Mycotoxin J 1:175–188

Ostry V, Skarkova J, Ruprich J (2004) Occurrence of Alternaria mycotoxins and Alternaria spp. in lentils and human health. Abstracts 26th Mykotoxin-Workshop, Herrsching, Germany 87

Otani H, Kohmoto K, Kodama M (1995) Alternaria toxins and their effects on host plants. Can J Bot 73:453–458

Preuss C (1851) Die Pilze Deutschlands. Heft. 30. Jacob Sturm's Deutschlands Flora, Abt III, Nurnberg, Germany, pp 73–96

Pryor BM, Bigelow DM (2003) Molecular characterization of Embellisia and Nimbya species and their relationship to Alternaria, Ulocladium and Stemphylium. Mycologia 95:1141–1154

Pryor BM, Gilbertson RL (2000) Molecular phylogenetic relationships amongst Alternaria species and related fungi based upon analysis of nuclear ITS and mt SSU rDNA sequences. Mycol Res 104:1312–1321

Pryor BM, Michailides TJ (2002) Morphological, pathogenic, and molecular characterization of Alternaria isolates associated with Alternaria late blight of pistachio. Phytopathology 92:406–416

Pryor B, Creamer R, Shoemaker R, McLain-Romero J, Hambleton S (2009) Undifilum, a new genus for endophytic Embellisia oxytropis and parasitic Helminthosporium bornmuelleri on legumes. Botany 87:178–194

Qi FH, Jing TZ, Wang ZX, Zhan YG (2009) Fungal endophytes from Acer ginnala Maxim: isolation, identification and their yield of gallic acid. Lett Appl Microbiol 49:98–104

Richards TA, Dacks JB, Jenkinson JM, Thornton CR, Talbot NJ (2006) Evolution of filamentous plant pathogens: gene exchange across eukaryotic kingdoms. Curr Biol 16:1857–1864

Roberts RG (2007) Two new species of Alternaria from pear fruit. Mycotaxon 100:159–167

Robeson D, Strobel G (1981) Alpha, beta-dehydrocurvularin and curvularin from Alternaria cinerariae. Z Naturforsch 36c:1081–1083

Rokas A, Carroll SB (2005) More genes or more taxa? The relative contribution of gene number and taxon number to phylogenetic accuracy. Mol Biol Evol 22:1337–1344

Romano C, Paccagnini E, Difonzo E (2001) Onychomycosis caused by Alternaria spp. in Tuscany, Italy from 1985 to 1999. Mycoses 44:73–76

Rosewich UL, Kistler HC (2000) Role of horizontal gene transfer in the evolution of fungi 1. Annu Rev Phytopathol 38:325–363

Rotem J (1994) The genus Alternaria: biology, epidemiology, and pathogenicity. APS, St. Paul

Rotondo F, Collina M, Brunelli A, Pryor B (2012) Comparison of Alternaria spp. collected in Italy from apple with A. mali and other AM-toxin producing strains. Phytopathology 102:1130–1142

Runa F, Park MS, Pryor BM (2009) Ulocladium systematics revisited: phylogeny and taxonomic status. Mycol Prog 8:35–47

Ruswandi S, Kitani K, Akimitsu K, Tsuge T, Shiraishi T, Yamamoto M (2005) Structural analysis of cosmid clone pcAFT-2 carrying AFT10-1 encoding an acyl-CoA dehydrogenase involved in AF-toxin production in the strawberry pathotype of Alternaria alternata. J Gen Plant Pathol 71:107–116

Saccardo P (1886) Sylloge Fungorum vol. 4. Padova, Italy

Salo PM, Arbes SJ, Sever M, Jaramillo R, Cohn RD, London SJ, Zeldin DC (2006) Exposure to Alternaria alternata in US homes is associated with asthma symptoms. J Allergy Clin Immunol 118:892–898

Scheffer R (1992) Ecological and evolutionary roles of toxins from Alternaria species pathogenic to plants. In: Chelkowski J, Visconti A (eds) Alternaria: biology, plant diseases, and metabolites. Elsevier Inc., New York, pp 101–122

Scheffer RP, Livingston RS (1984) Host-selective toxins and their role in plant diseases. Science 223:17–21

Schmitt I, Lumbsch HT (2009) Ancient horizontal gene transfer from bacteria enhances biosynthetic capabilities of fungi. PLoS ONE 4:e4437. doi:10.1371/journal.pone.0004437

Scott PM (2001) Analysis of agricultural commodities and foods for Alternaria mycotoxins. J AOAC Int 84:1809–1817

Scott P, Lawrence G, Lau B (2006) Analysis of wines, grape juices and cranberry juices for Alternaria toxins. Mycotoxin Res 22:142–147

Serdani M, Kang J-C, Andersen B, Crous PW (2002) Characterisation of Alternaria species-groups associated with core rot of apples in South Africa. Mycol Res 106:561–569

Shoemaker R (1959) Nomenclature of Drechslera and Bipolaris, grass parasites segregated from 'Helminthosporium'. Can J Bot 37:879–887

Shoemaker R (1962) Drechslera Ito. Can J Bot 40:809–836

Simmons EG (1954) Culture studies in the genera Pleospora, Clathrospora, and Leptosphaeria. Mycologia 46:330–365

Simmons EG (1967) Typification of Alternaria, Stemphylium, and Ulocladium. Mycologia 59:67–92

Simmons EG (1971) Helminthosporium allii as type of a new genus. Mycologia 63:380–386

Simmons EG (1983) An aggregation of Embellisia species. Mycotaxon 17:216–241

Simmons EG (1986) Alternaria themes and variations (22–26). Mycotaxon 25:22–26

Simmons EG (1989) Macrospora Fuckel (Pleosporales) and related anamorphs. Sydowia 41:314–329

Simmons EG (1990a) Alternaria themes and variations (17–53). Mycotaxon 37:79–119

Simmons EG (1990b) Embellisia and related teleomorphs. Mycotaxon 38:251–265

Simmons EG (1992) Alternaria taxonomy: current status, viewpoint, challenge. In: Chelkowski J, Visconti A (eds) Alternaria: biology, plant diseases, and metabolites. Elsevier, New York, pp 1–35

Simmons EG (1995) Alternaria themes and variations (112–144). Mycotaxon 55:55–163

Simmons EG (2007) Alternaria: an identification manual, vol 6. CBS Biodiversity, Utrecht

Simmons EG, Roberts R (1993) Alternaria themes and variations (73). Mycotaxon 48:109–140

Sivanesan A (1984) The bitunicate ascomycetes and their anamorphs. J. Cramer, Vaduz

Solfrizzo M, Vitti C, De Girolamo A, Visconti A, Logrieco A, Fanizzi FP (2004) Radicinols and radicinin phytotoxins produced by Alternaria radicina on carrots. J Agric Food Chem 52:3655–3660

Solfrizzo M, Girolamo AD, Vitti C, Tylkowska K, Grabarkiewicz-Szczęsna J, Szopińska D, Dorna H (2005) Toxigenic profile of Alternaria alternata and Alternaria radicina occurring on umbelliferous plants. Food Addit Contam 22:302–308

Stewart JE, Thomas KA, Lawrence CB, Dang H, Pryor BM, Timmer L, Peever TL (2013) Signatures of recombination in clonal lineages of the citrus brown spot pathogen, Alternaria alternata sensu lato. Phytopathology 103:741–749

Stiller JW, Hall BD (1997) The origin of red algae: implications for plastid evolution. Proc Natl Acad Sci U S A 94:4520–4525

Sung G-H, Sung J-M, Hywel-Jones NL, Spatafora JW (2007) A multi-gene phylogeny of Clavicipitaceae (Ascomycota, Fungi): identification of localized incongruence using a combinational bootstrap approach. Mol Phylogenet Evol 44:120–1223

Syvanen M (1985) Cross-species gene transfer; implications for a new theory of evolution. J Theor Biol 112:333–343

Tanaka A, Tsuge T (2000) Structural and functional complexity of the genomic region controlling AK-toxin biosynthesis and pathogenicity in the Japanese pear pathotype of Alternaria alternata. Mol Plant-Microbe Interact 13:975–986

Tanaka A, Shiotani H, Yamamoto M, Tsuge T (1999) Insertional mutagenesis and cloning of the genes required for biosynthesis of the host-specific AK-toxin in the Japanese pear pathotype of Alternaria alternata. Mol Plant-Microbe Interact 12:691–702

Taylor JW (2011) One fungus = one name: DNA and fungal nomenclature twenty years after PCR. IMA Fungus 2:113–120

Taylor J, Jacobson D, Fisher M (1999) The evolution of asexual fungi: reproduction, speciation and classification. Annu Rev Phytopathol 37:197–246

Thomma BP (2003) Alternaria spp.: from general saprophyte to specific parasite. Mol Plant Pathol 4:225–236

Thuleau P, Graziana A, Rossignol M, Kauss H, Auriol P, Ranjeva R (1988) Binding of the phytotoxin zinniol stimulates the entry of calcium into plant protoplasts. Proc Natl Acad Sci U S A 85:5932–5935

Travadon R, Lawrence DP, Rooney-Latham S, Gubler WD, Wilcox WF, Rolshausen PE, Baumgartner K (2015) Cadophora species associated with wood-decay of grapevine in North America. Fungal Biol 119:53–66

Tsuge T, Harimoto Y, Akimitsu K, Ohtani K, Kodama M, Akagi Y, Egusa M, Yamamoto M, Otani H (2013) Host-selective toxins produced by the plant pathogenic fungus Alternaria alternata. FEMS Microbiol Rev 37:44–66

Vakalounakis D (1990) Host range of Alternaria alternata f. sp. cucurbitae causing leaf spot of cucumber. Plant Dis 74:227–230

van Zinderen BE (1940) Cercospora scirpicola (Sacc.) nov. comb. Rev Mycol 5:64–69

Vartivarian SE, Anaissie EJ, Bodey GP (1993) Emerging fungal pathogens in immunocompromised patients: classification, diagnosis, and management. Clin Infect Dis 17:S487–S491

Vieira BS, Barreto RW (2005) Lewia chlamidosporiformans sp. nov. from Euphorbia heterophylla. Mycotaxon 94:245–248

von Arx JA, Muller E (1950) A re-evaluation of the bitunicate ascomycetes with keys to families and genera. Stud Mycol 9:1–159

Walton JD, Panaccione DG (1993) Host-selective toxins and disease specificity: perspectives and progress. Annu Rev Phytopathol 31:275–303

Wang Y, Geng Y, Ma J, Wang Q, Zhang X-G (2011) Sinomyces: a new genus of anamorphic Pleosporaceae. Fungal Biol 115:188–195

Whitehead MD, Dickson J (1952) Pathology, morphology and nuclear cycle of two new species of Pyrenophora. Mycologia 44:747–758

Wiltshire S (1933) The foundation species of Alternaria and Macrosporium. Trans Br Mycol Soc 18:135–IN133

Wolpert TJ, Dunkle LD, Ciuffetti LM (2002) Host-selective toxins and avirulence determinants: what's in a name? Annu Rev Phytopathol 40:251–285

Woudenberg J, Groenewald J, Binder M, Crous P (2013) Alternaria redefined. Stud Mycol 75:171–212

Woudenberg J, Truter M, Groenewald J, Crous P (2014) Large-spored Alternaria pathogens in section Porri disentangled. Stud Mycol 79:1–47

Zhang TY, David JC (1996) Notes on Alternaria species on Euphorbiaceae in IMI and K: I. Taxa on Euphorbia, Acalypha and Sauropus. Mycosystema 8–9:115

Zhang Y, Crous PW, Schoch CL, Hyde KD (2012) Pleosporales. Fungal Divers 53:1–221

Zhao G, Zhang T (2005) Notes on dictyosporous hyphomycetes from China VII. The genus Nimbya. Fungal Divers 19:201–215

Zitter T, Hsu L (1990) A leaf spot of cucumber caused by Ulocladium cucurbitae in New York. Plant Dis 74:824–827
Acknowledgments
This work was supported in part by the Russian Science Foundation (grant # 14-26-00067). We thank Barry M. Pryor for supplying images for Fig. 2.
Additional information
Section Editor: Roland Kirschner
About this article
Cite this article
Lawrence, D.P., Rotondo, F. & Gannibal, P.B. Biodiversity and taxonomy of the pleomorphic genus Alternaria . Mycol Progress 15, 3 (2016). https://doi.org/10.1007/s11557-015-1144-x
Received:

Revised:

Accepted:

Published:
Keywords
Fungi

Systematics

Alternarioid hyphomycetes

Plant pathogens

Taxonomic section