Abstract
Auricularia auricula-judae was previously considered a single species, but was recently demonstrated to be a species complex. The economically important, cultivated Auricularia mushrooms are included in the complex. Two species are cultivated, but have been treated as a single species: A. auricula-judae. Fifty samples of so-called A. auricula-judae from Asia, Europe, and North America were analyzed using morphology and molecular phylogeny. Phylogenetic analyses were carried out by ITS sequence and combined ITS, LSU, and rpb2 sequence, and 16 ITS, 16 LSU, and 16 rpb2 sequences were newly generated. Seven species in the complex were delineated, including three species new to science: Auricularia angiospermarum, A. minutissima, and A. tibetica. Illustrated description of the three new species and discussions in relation to other species are introduced in this paper. Auricularia heimuer is the most extensively cultivated species of Auricularia. Auricularia villosula is also cultivated, but has been named by the mushroom production industry A. heimuer. The size of basidiospores and presence or absence of medulla are important characters for differentiating the species within the complex, and ITS sequence data is a sensitive marker to discriminate species. A synoptic table of comparison of species in the complex is provided including the most important characters of the seven species.
Access options
Buy single article
Instant access to the full article PDF.
US$ 39.95
Tax calculation will be finalised during checkout.
Subscribe to journal
Immediate online access to all issues from 2019. Subscription will auto renew annually.
US$ 79
Tax calculation will be finalised during checkout.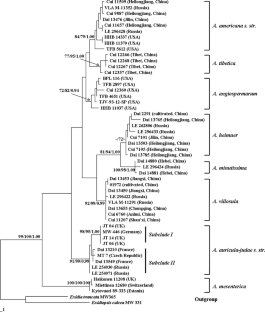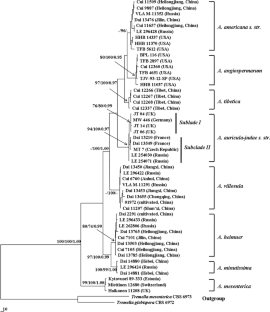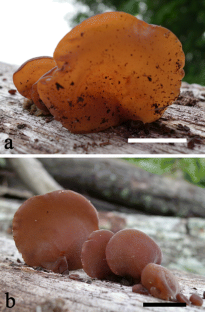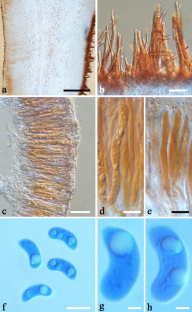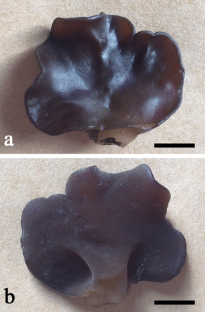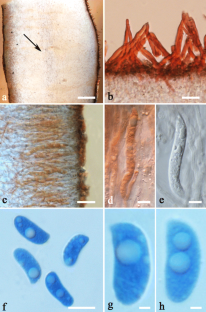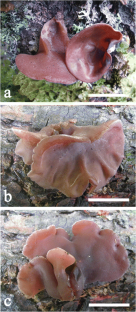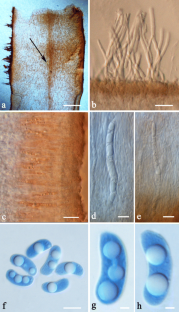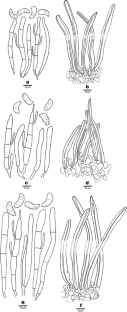 References
Bandara AR, Chen J, Karunarathna S, Hyde KD, Kakumyan P (2015) Auricularia thailandica sp. nov. (Auriculariaceae, Auriculariales) a widely distributed species from southeastern Asia. Phytotaxa 208:147–156. doi:10.11646/phytotaxa.208.2.3

Boulet B (2003) Les Champignons des Arbres de l'Est de l'Amérique du Nord. Publications du Québec, Québec, p 744

Büttner E, Ullrich R, Strittmatter E, Piontek K, Plattner DA, Hofrichter M, Liers C (2015) Oxidation and nitration of mononitrophenols by a DyP-type peroxidase. Arch Biochem Biophys 574:86–92

Dai YC, Yang ZL (2008) A revised checklist of medicinal fungi in China. Mycosystema 27:801–824

Dai YC, Yang ZL, Cui BK, Yu CJ, Zhou LW (2009) Species diversity and utilization of medicinal mushrooms and fungi in China (Review). Int J Med Mushrooms 11:287–302. doi:10.1615/IntJMedMushr.v11.i3.80

Duncan EG, Macdonald JA (1967) Micro-evolution in Auricularia auricula. Mycologia 59:803–818

Felsenstein J (1985) Confidence intervals on phylogenetics: an approach using bootstrap. Evolution 39:783–791. doi:10.2307/2408678

Govorova OK (1997) Heterobasidioid fungi of Russian Far East Reserves. Mikol Fitopatol 31:10–13 (In Russian)

Hall TA (1999) Bioedit: a user-friendly biological sequence alignment editor and analysis program for Windows 95/98/NT. Nucleic Acids Symp Ser 41:95–98

Huang NL, Lin ZB, Chen GL (2010) The Chinese medicinal and edible fungi. Science Press, Shanghai, p 1834

Jayasiri SC, Ariyawansa HA, Liu JK, Jones EBG, Hyde KD (2015). The faces of fungi database: fungal names linked with morphology, molecular and human attributes. Fungal Div (in press)

Kalchbrenner K, Thümen FV (1881) Fungorum in itinere Mongolico a clar. G.N. Potanin et in China boreali a cl. Dr. Bretschneider lectorum enumeratio et descriptio. Mél Biol Acad Sci St Pétersb 11:57–67

Kobayasi Y (1942) On the genus Auricularia from Eastern Asia. Bull Cent Natl Mus Manchoukuo 4:19–35

Kobayasi Y (1981) The genus Auricularia. Bull Natl Sci Mus 7:41–67

Liers C, Bobeth C, Pecyna M, Ullrich R, Hofrichter M (2010) DyP-like peroxidases of the jelly fungus Auricularia auricula-judae oxidize nonphenolic lignin model compounds and high-redox potential dyes. Appl Microbiol Biotechnol 85:1869–1879

Liers C, Arnstadt T, Ullrich R, Hofrichter M (2011) Patterns of lignin degradation and oxidative enzyme secretion by different wood- and litter-colonizing basidiomycetes and ascomycetes grown on beech-wood. FEMS Microbiol Ecol 78:91–102. doi:10.1111/j.1574-6941.2011.01144.x

Looney B, Birkebak J, Matheny PB (2013) Systematics of the genus Auricularia with an emphasis on species from the southeastern United States. N Am Fungi 8:1–25. doi:10.2509/naf2013.008.006

Lowy B (1951) A morphological basis for classifying the species of Auricularia. Mycologia 43:351–358. doi:10.2307/3755598

Lowy B (1952) The genus Auricularia. Mycologia 44:656–692

Lyubarsky LV, Vasilyeva LN (1975) Derevorazrushayushchie griby Dal'nego Vostoka. Nauka, Novosibirsk, p 163, plates 53

Malysheva VF (2010) Rare and interesting species of heterobasidiomycetes from Russia. Fungi non delineati. Pars LIII. Edizioni Candusso I. Alassio - (SV). pp 92

Malysheva VF, Bulakh EM (2014) Contribution to the study of the genus Auricularia (Auriculariales, Basidiomycota) in Russia. Novosti Sistematiki Nizshikh Rastenii 48:164–180

Mao XL (1998) Economic fungi of China. Science Press, Beijing, p 762

Matheny PB (2005) Improving phylogenetic inference of mushrooms using RPB1 and RPB2 sequences (Inocybe, Agaricales). Mol Phylogenet Evol 35:1–20. doi:10.1016/j.ympev.2004.11.014

Montoya-Alvarez AF, Hayakawa H, Minamya Y, Fukuda T (2011) Phylogenetic relationships and review of the species of Auricularia (Fungi: Basidiomycetes) in Colombia. Caldasia 33:55–66

Nylander JAA (2004) MrModeltest v2. Program distributed by the author. Evolutionary Biology Centre, Uppsala University, Uppsala

Parmasto E, Parmasto I (1987) Variation of basidiospores in the Hymenomycetes and its significance to their taxonomy. Bibl Mycol 115:1–168

Pattengale ND, Alipour M, Bininda-Emonds ORP, Moret BME, Stamatakis A (2010) How many bootstrap replicates are necessary? J Comput Biol 17:337–354. doi:10.1089/cmb.2009.0179

Petersen JH (1996) Farvekort. The Danish Mycological Society's colour-chart. Foreningen til Svampekundskabens Fremme, Greve, p 6

Posada D, Crandall KA (1998) Modeltest: testing the model of DNA substitution. Bioinformatics 14:817–818. doi:10.1093/bioinformatics/14.9.817

Raitviir A (1967) Keys to the Heterobasidiomycetes of the USSR. Leningrad, pp 115 (In Russian)

Reza MA, Jo WS, Park SC (2012) Comparative antitumor activity of jelly ear culinary-medicinal mushroom, Auricularia auricula-judae (Bull.) J. Schrot. (Higher Basidiomycetes) extracts against tumor cells in vitro. Int J Med Mushrooms 14:403–409. doi:10.1615/IntJMedMushr.v14.i4.80

Ronquist F, Huelsenbeck JP (2003) MrBayes 3: Bayesian phylogenetic inference under mixed models. Bioinformatics 19:1572–1574

Silvestro D, Michalak I (2012) raxmlGUI: a graphical front-end for RAxML. Org Divers Evol 12:335–337. doi:10.1007/s13127-011-0056-0

Stamatakis A (2006) RAxML-VI-HPC: maximum likelihood-based phylogenetic analyses with thousands of taxa and mixed models. Bioinformatics 22:2688–2690. doi:10.1093/bioinformatics/btl446

Swofford DL (2002) PAUP*: phylogenetic analysis using parsimony (*and other methods). Version 4.0b10. Sinauer Associates, Massachusetts

Tai FL (1979) Sylloge Fungorum Sinicorum. Science Press, Beijing, p 1527

Teng SC (1939) A contribution to our knowledge of the higher fungi of China. National Institute of Zoology and Botany, Academia Sinica, Nanking, p 614

Teng SC (1963) Fungi of China. Science Press, Beijing, p 808

Thompson JD, Gibson TJ, Plewniak F, Jeanmougin F, Higgins DG (1997) The CLUSTAL X windows interface: flexible strategies for multiple sequence alignment aided by quality analysis tools. Nucleic Acids Res 25:4876–4882. doi:10.1093/nar/25.24.4876

White TJ, Bruns T, Lee S, Taylor J (1990) Amplification and direct sequencing of fungal ribosomal RNA genes for phylogenetics. In: Innis MA, Gelfand DH, Sninsky JJ, White TJ (eds) PCR protocols: a guide to methods and applications. Academic Press, San Diego, pp 315–322

Wu F, Yuan Y, Malysheva VF, Du P, Dai YC (2014) Species clarification of the most important and cultivated Auricularia mushroom "Heimuer": evidence from morphological and molecular data. Phytotaxa 186:241–253. doi:10.11646/phytotaxa.186.5.1

Wu F, Yuan Y, Rivoire B, Dai YC (2015) Phylogeny and diversity of the Auricularia mesenterica (Auriculariales, Basidiomycota) complex. Mycol Prog 14:42. doi:10.1007/s11557-015-1065-8

Zeng WC, Zhang Z, Gao H, Jia LR, Chen WY (2012) Characterization of antioxidant polysaccharides from Auricularia auricula using microwave-assisted extraction. Carbohydr Polym 89:694–700

Zhang JX, Chen Q (2015) History, current situation and trend of edible fungi industry development. Mycosystema 34:524–540
Acknowledgments
The authors are grateful to Drs. Beatriz Ortiz-Santana (Madison, WI, USA), Tsuyoshi Hosoya (TNS, Japan), Michal Tomsovsky (Brno, Czech Republic), Pertii Salo (Helsinki, Finland), Wanda Daley (Auckland, New Zealand), Arne Anderberg (Stockholm, Sweden), Bernard Rivoire (Orlienas, France), J.E. Taylor (UK), and Tie-Zheng Wei (Beijing, China) for loan or donations of specimens. The research was financed by the National Natural Science Foundation of China (Project No. 31372115). The Thailand Research Fund grant for taxonomy, phylogeny and biochemistry of Thai basidiomycetes (BRG 5580009) is thanked for partly supporting this study.
Additional information
Section Editor: Franz Oberwinkler
About this article
Cite this article
Wu, F., Yuan, Y., He, SH. et al. Global diversity and taxonomy of the Auricularia auricula-judae complex (Auriculariales, Basidiomycota). Mycol Progress 14, 95 (2015). https://doi.org/10.1007/s11557-015-1113-4
Received:

Revised:

Accepted:

Published:
Keywords
Auriculariaceae

Edible mushroom

Multi-marker analysis

Taxonomy