Abstract
Hourangia, a new genus in the Boletaceae, is erected to accommodate Xerocomus cheoi and allied species based on molecular phylogenetic analyses and morphological study. This genus can easily be distinguished from other genera of Boletaceae by the combination of the context of the stipe becoming first bluish, then reddish to brownish red, and finally brownish to blackish when cut, the thick hymenophore being 3–5 (7) times that of the pileal context, and the basidiospore surface with bacillate ornamentation. The phylogenetic analyses based on five gene markers (ITS, nrLSU, tef1-α, rpb1 and rpb2) recognized five distinct taxa. Four of them are treated here, with one undescribed due to lack of adequate material. A key to the four species of Hourangia is provided. Xerocomus punctilifer is treated as a synonym of H. cheoi according to the macro-morphological and micro-morphological comparative study. Epitypes are designated for H. cheoi, H. microcarpa and H. nigropunctata. Phylloporus pumilus, originally described from Indonesia, is transferred to Hourangia.
Access options
Buy single article
Instant access to the full article PDF.
US$ 39.95
Tax calculation will be finalised during checkout.
Subscribe to journal
Immediate online access to all issues from 2019. Subscription will auto renew annually.
US$ 79
Tax calculation will be finalised during checkout.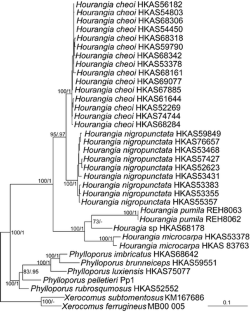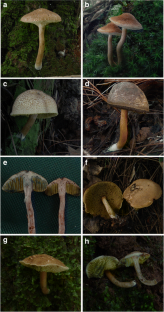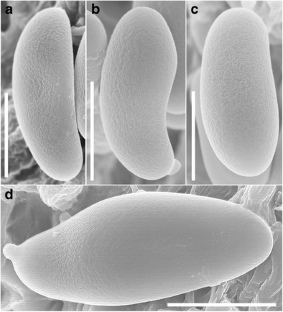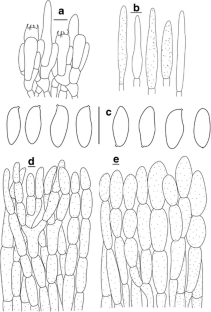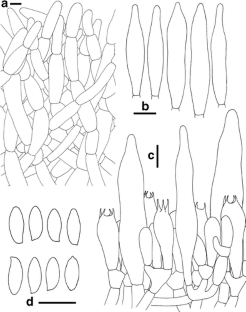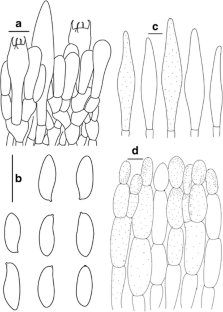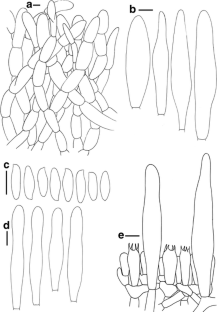 References
Bi ZS, Lu DJ, Zheng GY (1982) Basidiomycetes from Dinghu Mountain of China. II. Some species of Boletaceae (1). Acta Bot Yunnanica 4:55–64

Binder M, Bresinsky A (2002) Retiboletus, a new genus for a species complex in the Boletaceae producing retipolides. Feddes Repertorium 113:30–40

Chiu WF (1948) The boletes of Yunnan. Mycologia 40:199–231

Chiu WF (1957) Atlas of the Yunnan Bolets. Science Press, Beijing

Corner E (1972) Boletus in Malaysia. Botanic Gardens, Singapore

Desjardin DE, Wilson AW, Binder M (2008) Durianella, a new gasteroid genus of boletes from Malaysia. Mycologia 100:956–961

Desjardin DE, Binder M, Roekring S, Flegel T (2009) Spongiforma, a new genus of gastroid boletes from Thailand. Fungal Divers 37:1–8

Doyle JJ, Doyle JL (1987) A rapid DNA isolation procedure for small quantities of fresh leaf tissue. Phytochemical Bull 19:11–15

Edgar RC (2004) MUSCLE: multiple sequence alignment with high accuracy and high throughput. Nucleic Acids Res 32:1792–1797

Hall TA (1999) BioEdit: a user-friendly biological sequence alignment editor and analysis program for Windows 95/98/NT. Nucleic Acids Symp Ser 41:95–98

Halling RE, Baroni TJ, Binder M (2007) A new genus of Boletaceae from eastern North America. Mycologia 99:310–316

Halling RE, Nuhn M, Fechner NA, Osmundson TW, Soytong K, Arora D, Hibbett DS, Binder M (2012) Sutorius: a new genus for Boletus eximius. Mycologia 104:951–961

Hibbett DS, Ohman A, Glotzer D, Nuhn M, Kirk P, Nilsson RH (2011) Progress in molecular and morphological taxon discovery in Fungi and options for formal classification of environmental sequences. Fungal Biol Rev 25:38–47

Hongo T (1963) Notes on Japanese larger fungi (16). J Jpn Bot 38:233–240

Hongo T (1966) Notes on Japanese larger fungi (18). J Jpn Bot 41:165–172

Hosen MI, Feng B, Wu G, Zhu XT, Li YC, Yang ZL (2013) Borofutus, a new genus of Boletaceae from tropical Asia: phylogeny, morphology and taxonomy. Fungal Divers 58:215–226

Lebel T, Orihara T, Maekawa N (2012) The sequestrate genus Rosbeeva T. Lebel & Orihara gen. nov. (Boletaceae) from Australasia and Japan: new species and new combinations. Fungal Divers 52:1–23

Li YC, Feng B, Yang ZL (2011) Zangia, a new genus of Boletaceae supported by molecular and morphological evidence. Fungal Divers 49:125–143

Li YC, Li F, Zeng NK, Cui YY, Yang ZL (2014) A new genus Pseudoaustroboletus (Boletaceae, Boletales) from Asia as inferred from molecular and morphological data. Mycol Prog 13:1207–1216

Neves MA, Binder M, Halling R, Hibbett D, Soytong K (2012) The phylogeny of selected Phylloporus species, inferred from NUC-LSU and ITS sequences, and descriptions of new species from the Old World. Fungal Divers 55:109–123

Nylander J (2004) MrModeltest 2.3. Computer program and documentation distributed by the author. Evolutionary Biology Centre, Uppsala University, Uppsala

Orihara T, Sawada F, Ikeda S, Yamato M, Tanaka C, Shinomura N, Hashiya M, Iwase K (2010) Taxonomic reconsideration of a sequestrate fungus, Octaviania columellifera, with the proposal of a new genus, Heliogaster, and its phylogenetic relationships in the Boletales. Mycologia 102:108–121

Ronquist F, Huelsenbeck JP (2003) MrBayes 3: Bayesian phylogenetic inference under mixed models. Bioinformatics 19:1572–1574

Smith AH, Thiers HD (1971) The boletes of Michigan. University of Michigan Press, Ann Arbor

Stamatakis A (2006) RAxML-VI-HPC: maximum likelihood-based phylogenetic analyses with thousands of taxa and mixed models. Bioinformatics 22:2688–2690

Tai FL (1979) Sylloge fungorum sinicorum. Science Press, Academia Sinica, Beijing

Taylor JW, Jacobson DJ, Kroken S, Kasuga T, Geiser DM, Hibbett DS, Fisher MC (2000) Phylogenetic species recognition and species concepts in fungi. Fungal Genet Biol 31:21–32

Vilgalys R, Hester M (1990) Rapid genetic identification and mapping of enzymatically amplified ribosomal DNA from several Cryptococcus species. J Bacteriol 172:4238–4246

White TJ, Bruns T, Lee S, Taylor JW (1990) Amplification and direct sequencing of fungal ribosomal RNA genes for phylogenetics. In: Innis MA, Gelfand DH, Sninsky JJ, White TJ (eds) PCR Protocols: a guide to methods and applications. Academic, San Diego, pp 315–322

Wu G, Femg B, Xu JP, Zhu XT, Li YC, Zeng NK, Hosen MI, Yang ZL (2014) Molecular phylogenetic analyses redefine seven major clades and reveal 22 new generic lineages in the fungal family Boletaceae. Fungal Divers 69:93–115

Wu G, Zhao K, Li YC, Zeng NK, Feng B, Halling RE, Yang ZL (2015) Four new genera of the fungal family Boletaceae. Fungal Divers. doi:10.1007/s13225-015-0322-0

Yang ZL (2011) Molecular techniques revolutionize knowledge of basidiomycete evolution. Fungal Divers 50:47–58

Zeng NK, Cai Q, Yang ZL (2012) Corneroboletus, a new genus to accommodate the southeast Asian Boletus indecorus. Mycologia 104:1420–1432

Zeng NK, Tang LP, Li YC, Tolgor B, Zhu XT, Zhao Q, Yang ZL (2013) The genus Phylloporus (Boletaceae, Boletales) from China: morphological and multilocus DNA sequence analyses. Fungal Divers 58:73–101

Zhao K, Wu G, Yang ZL (2014) A new genus, Rubroboletus, to accommodate Boletus sinicus and its allies. Phytotaxa 188:061–077

Zhu XT, Li YC, Wu G, Feng B, Zhao K, Gelardi M, Kost GW, Yang ZL (2014) The genus Imleria (Boletaceae) in East Asia. Phytotaxa 191:081–098
Acknowledgments
The authors are very grateful to Prof. Y.J. Yao and Dr. T.Z. Wei for allowing access to the fungal collections in HMAS. Drs. B. Feng, Y.C. Li, Z.W. Ge, L.P. Tang, N.K. Zeng, X.F. Shi, Miss Y. J. Hao, J. Qin, T. Guo and Q. Cai are thanked for providing specimens. Dr. Z.X. Ren (KIB) is acknowledged for helping us in using the SEM facility. This work is supported by the Funds for International Cooperation and Exchange of the National Natural Science Foundation of China (31210103919), the National Basic Research Program of China (2014CB138305) and by the Fundamental Research Program of the Ministry of Science and Technology, China (2013FY110400). R.E. Halling thanks the National Science Foundation (USA) for funding under grants DEB-9972018, DEB-0414665 and DEB-1020421, and the National Geographic Society Committee for Research and Exploration in grants 7341–02 and 8457–08. A National Science Foundation (USA) grant to D.E. Desjardin (DED-0118776) provided REH the opportunity to collect in Indonesia.
About this article
Cite this article
Zhu, XT., Wu, G., Zhao, K. et al. Hourangia, a new genus of Boletaceae to accommodate Xerocomus cheoi and its allied species. Mycol Progress 14, 37 (2015). https://doi.org/10.1007/s11557-015-1060-0
Received:

Revised:

Accepted:

Published:
Keywords
New clade

Synonym

Phylogeny

Taxonomy

New combination