Abstract
An arbuscular mycorrhizal fungus (AMF) was isolated from a south Ecuadorian reforestation site in the vicinity of a pristine mountain rainforest ecosystem. Morphologically, it corresponded with the description of an AMF first described from Cuba as Gigaspora savannicola, before it was placed in Scutellospora. No living culture of this species has been available previously to allow detailed morphological review or DNA barcoding. After comparison of the morphology of the holotype and authenticated specimens with that of the Ecuadorian isolate, it was concluded that they are conspecific. A detailed redescription of the species is provided, including morphological characters not included in the original description, and an epitype is designated. To provide an extended DNA barcode for this AMF species, intraspecific variants of the near full-length small subunit rRNA gene (SSU) and a rDNA region comprising part of the SSU, the internal transcribed spacer (ITS) region including the 5.8S rRNA gene, and part of the large subunit rRNA gene (LSU) were sequenced. Phylotaxonomic analyses confirmed the classification in the genus Scutellospora sensu lato in a phylogenetic clade that, based on questionable evidence, was considered to circumscribe a distinct genus, Fuscutata. Recently, this genus was merged with Dentiscutata. Consequently, we move S. savannicola (=Fuscutata savannicola = Gigaspora savannicola) to the genus Dentiscutata (Gigasporaceae).
Access options
Buy single article
Instant access to the full article PDF.
USD 39.95
Price excludes VAT (USA)
Tax calculation will be finalised during checkout.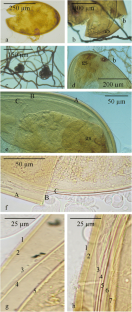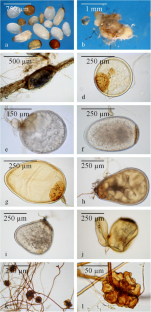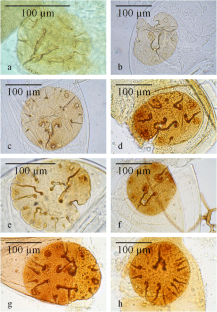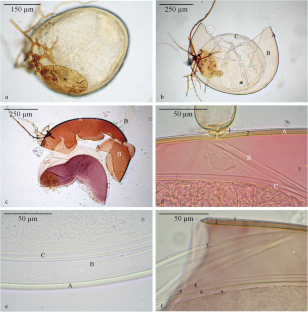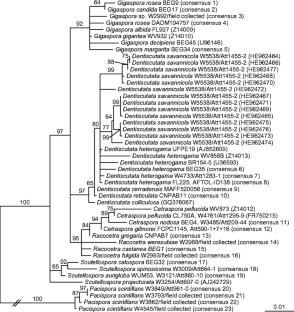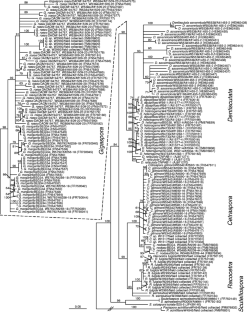 References
Anon (1969) Royal Botanic Garden Edinburgh. Flora of the British fungi. Colour identification chart. Her Majesty's Stationery Office, Edinburgh

Anon (1990) Munsell Soil Color Charts. 1990 Edition Revised. Munsell Color, Baltimore

Bendix J, Rollenbeck R, Richter M, Fabian P, Emck P (2008) Climate. In: Beck E, Bendix J, Kottke I, Makeschin F, Mosandl R (eds) Gradients in a Tropical Mountain Ecosystem of Ecuador (Ecol Stud 198). Springer, Berlin Heidelberg, pp 63–74

Błaszkowski J (1991) Polish Glomales VIII. Scutellispora [sic] nodosa, a new species with knobby spores. Mycologia 83:537–542

Cunningham JL (1972) A miracle mounting fluid (Hoyer's) for permanent whole-mounts of microfungi. Mycologia 64:906–911

Ferrer RL, Herrera RA (1981) El genero Gigaspora Gerdemann et Trappe (Endogonaceae) en Cuba. Rev Jardin Bot Nacional Habana 1(1):43–66

Franke M, Morton JB (1994) Ontogenetic comparisons of arbuscular mycorrhizal fungi Scutellospora heterogama and Scutellospora pellucida: revision of taxonomic character concepts, species descriptions, and phylogenetic hypotheses. Can J Botany 72:122–134

Hyde KD, Zhang Y (2008) Epitypification: should we epitypify? J Zhejiang Univ (Sci) 9:842–846

Kornerup A, Wanscher JH (1984) Methuen Handbook of Colour. Eyre Methuen, London

Krüger M, Stockinger H, Krüger C, Schüßler A (2009) DNA-based species-level detection of arbuscular mycorrhizal fungi: one PCR primer set for all AMF. New Phytol 183:212–223

Krüger M, Krüger C, Walker C, Stockinger H, Schüßler A (2012) Phylogenetic reference data for systematics and phylotaxonomy of arbuscular mycorrhizal fungi from phylum to species level. New Phytol 193:970–984. doi:10.1111/j.1469-8137.2011.03962.x

Lanfranco L, Bianciotto V, Lumini E, Souza M, Morton JB, Bonfante P (2001) A combined morphological and molecular approach to characterize isolates of arbuscular mycorrhizal fungi in Gigaspora (Glomales). New Phytol 152:169–179. doi:10.1046/j.0028-646x.2001.00233.x

Makeschin F, Haubrich F, Abiy M, Burneao JI, Klinger T (2008) Pasture management and natural soil regeneration. In: Beck E, Bendix J, Kottke I, Makeschin F, Mosandl R (eds) Gradients in a tropical mountain ecosystem of Ecuador (Ecol Stud 198). Springer, Berlin Heidelberg, pp 397–408

McNeill J, Barrie FR, Buck WR, Demoulin V, Greuter W, Hawksworth DL, Herendeen PS, Knapp S, Marhold K, Prado J, Prud'homme van Reine WF, Smith GF, Wiersma JH, Turland N (2012) International Code of Nomenclature for algae, fungi, and plants (Melbourne Code). Regnum Vegetabile 154. A.R.G. Gantner Verlag KG, Ruggell, Liechtenstein. ISBN 978-3-87429-425-6. (http://www.iapt-taxon.org/nomen/main.php)

Miller MA, Pfeiffer W, Schwartz T (2010) Creating the CIPRES Science Gateway for inference of large phylogenetic trees. In: Proceedings of the Gateway Computing Environments Workshop (GCE), 14 Nov. 2010, New Orleans, LA, pp 1–8

Morton JB, Msiska Z (2010) Phylogenies from genetic and morphological characters do not support a revision of Gigasporaceae (Glomeromycota) into four families and five genera. Mycorrhiza 20:483–496

Morton JB, Redecker D (2001) Two new families of Glomales, Archaeosporaceae and Paraglomaceae, with two new genera Archaeospora and Paraglomus, based on concordant molecular and morphological characteristics. Mycologia 93:181–195

Mosse B (1970) Honey-coloured, sessile Endogone spores. III. Wall structure. Arch Microbiol 74:146–159

Mosse B, Bowen GD (1968) A key to the recognition of some Endogone spore types. Trans Brit Mycol Soc 51:469–483. doi:10.1016/S0007-1536(68)80014-2

Oehl F, de Souza FA, Sieverding E (2008) Revision of Scutellospora and description of five new genera and three new families in the arbuscular mycorrhiza-forming Glomeromycetes. Mycotaxon 106:311–360

Redecker D, Schüßler A, Stockinger H, Stürmer SL, Morton JB (2013) An evidence-based consensus for the classification of arbuscular mycorrhizal fungi (Glomeromycota). Mycorrhiza 23:515–531

Schoch CL, Seifert KA, Huhndorf S, Robert V, Spouge JL, Levesque CA, Chen W, Fungal Barcoding Consortium (2012) Nuclear ribosomal internal transcribed spacer (ITS) region as a universal DNA barcode marker for Fungi. Proc Natl Acad Sci U S A 109:6241–6246

Schüßler A, Walker C (2010) The Glomeromycota: a species list with new families. Arthur Schüßler and Christopher Walker, Gloucester. Published in December 2010 in libraries at The Royal Botanic Garden Edinburgh, The Royal Botanic Garden Kew, Botanische Staatssammlung Munich, and Oregon State University. Electronic copy freely available online at http://www.amf-phylogeny.com. Printed copy available under ISBN-13: 978–1466388048, ISBN-10: 1466388048

Schüßler A, Schwarzott D, Walker C (2001) A new fungal phylum, the Glomeromycota: phylogeny and evolution. Mycol Res 105:1412–1421

Schüßler A, Krüger M, Walker C (2011) Revealing natural relationship amongst arbuscular mycorrhizal fungi: culture line BEG47 represents Diversipora epigaeae, not Glomus versiforme. PLoS One 6(8):e23333

Schwarzott D, Walker C, Schüßler A (2001) Glomus, the largest genus of the arbuscular mycorrhizal fungi (Glomales), is nonmonophyletic. Mol Phylogenet Evol 21:190–197

Spain JL, de Miranda JC (1996) Scutellospora cerradensis: an ornamented species in the Gigasporaceae (Glomales) from the Cerrado region of Brazil. Mycotaxon 60:129–136

Stamatakis A (2006) RAxML-VI-HPC: maximum likelihood-based phylogenetic analyses with thousands of taxa and mixed models. Bioinformatics 22:2688–2690

Stockinger H, Walker C, Schüßler A (2009) 'Glomus intraradices DAOM197198', a model fungus in arbuscular mycorrhiza research, is not Glomus intraradices. New Phytol 183:1176–1187

Stockinger H, Krüger M, Schüßler A (2010) DNA barcoding of arbuscular mycorrhizal fungi. New Phytol 187:461–474

Vierheilig H, Schweiger P, Brundrett M (2005) An overview of methods for the detection and observation of arbuscular mycorrhizal fungi in roots. Physiol Plant 125:393–404

Walker C (1983) Taxonomic concepts in the Endogonaceae: spore wall characteristics in species descriptions. Mycotaxon 18:443–455

Walker C (2005) A simple blue staining technique for arbuscular mycorrhizal and other root-inhabiting fungi. Inoculum 56:68–69

Walker C, Diederichs C (1989) Scutellospora scutata sp. nov., a newly described endomycorrhizal fungus from Brazil. Mycotaxon 35:357–361

Walker C, Sanders FE (1986) Taxonomic concepts in the Endogonaceae: III. The separation of Scutellospora gen. nov. from Gigaspora Gerd. & Trappe. Mycotaxon 27:169–182

Walker C, Vestberg M (1994) A simple and inexpensive method for producing and maintaining closed pot cultures of arbuscular mycorrhizal fungi. J Agr Sci Finland 3:233–240

Walker C, Vestberg M, Demircik F, Stockinger H, Schüβler A (2007) Molecular phylogeny and new taxa in the Archaeosporales (Glomeromycota): Ambispora fennica gen. sp. nov., Ambisporaceae fam. nov., and emendation of Archaeospora and Archaeosporaceae. Mycol Res 111:137–153
Acknowledgments
This work was partly funded by the German Research Foundation (DFG RU816, grant SCHU1203/10). We thank the late Ricardo Herrera, who provided type material and authenticated specimens. Thanks to Sydney Stürmer for helpful discussions on the spore wall development.
About this article
Cite this article
Krüger, C., Walker, C. & Schüßler, A. Scutellospora savannicola: redescription, epitypification, DNA barcoding and transfer to Dentiscutata . Mycol Progress 13, 1005 (2014). https://doi.org/10.1007/s11557-014-1005-z
Received:

Revised:

Accepted:

Published:

DOI: https://doi.org/10.1007/s11557-014-1005-z
Keywords