Abstract
Morphological and molecular discrepancies in the biodiversity of monophyletic groups are challenging. The intention of this study was to find out whether the high molecular diversity in Sebacinales can be verified by micromorphological characteristics. Therefore, we carried out molecular and morphological studies on all generic type species of Sebacinales and additional representative taxa. Our results encouraged us to disentangle some phylogenetic and taxonomic discrepancies and to improve sebacinalean classifications. This comprises generic circumscriptions and affiliations, as well as higher taxon groupings. At the family level, we redefined the Sebacinaceae, formerly the Sebacinales group A, and set it apart from the Sebacinales group B. For taxonomical purposes, it seems appropriate to refer Paulisebacina, Craterocolla, Chaetospermum, Globulisebacina, Tremelloscypha, and Sebacina to the Sebacinaceae and Piriformospora, and Serendipita to the Sebacinales group B. At the lower taxonomic level, we propose within the Sebacinaceae (1) to introduce Paulisebacina for Sebacina allantoidea, (2) to transfer Efibulobasidium rolleyi into a new monotypic genus, Globulisebacina, (3) to include Tremellostereum in Tremelloscypha, (4) to transfer Sebacina amesii into Tremelloscypha, (5) to combine S. helvelloides and S. concrescens in their own genus, Helvellosebacina, (6) to transfer Tremellodendron spp. into Sebacina, (7) to define S. epigaea s.str. without cystidia and flagelliform dikaryophyses, but with star-shaped resting spores, and (8) to separate S. cystidiata with simultaneously irregular germinating spores and inconspicuous cystidia, and S. flagelliformis with flagelliform dikaryophyses from S. epigaea s.str. Additional clades in Sebacina, based on molecular differences, cannot be distinguished morphologically at present.
Access options
Buy single article
Instant access to the full article PDF.
USD 39.95
Price excludes VAT (USA)
Tax calculation will be finalised during checkout.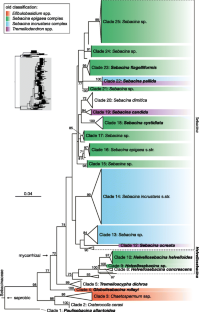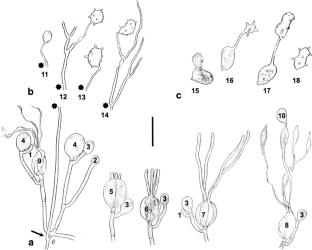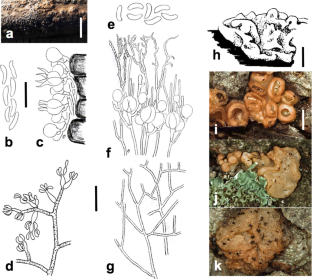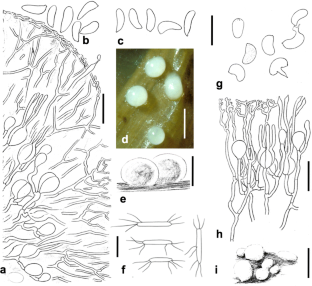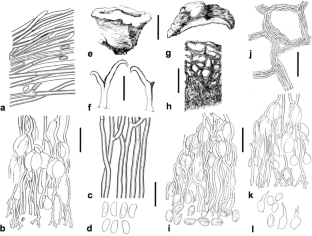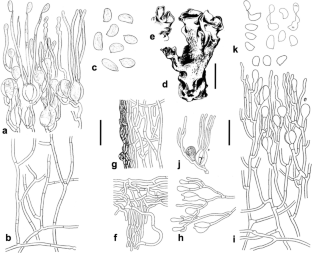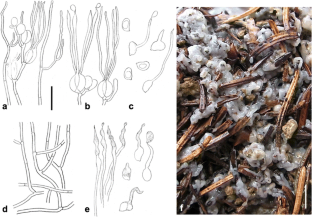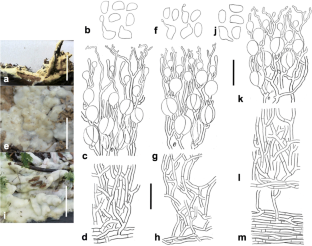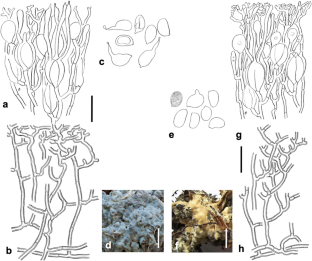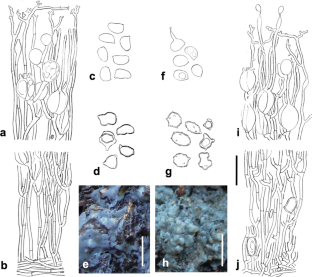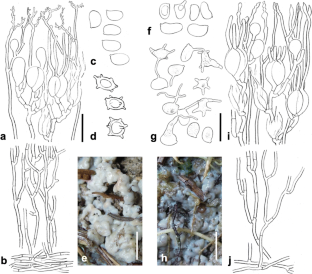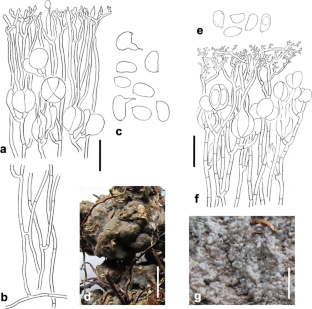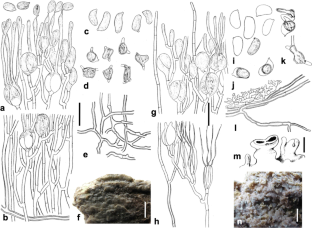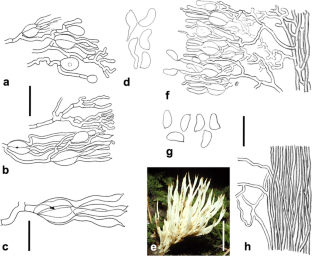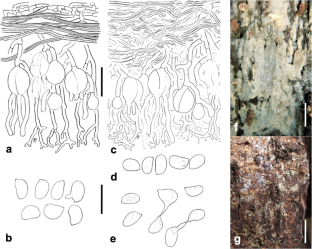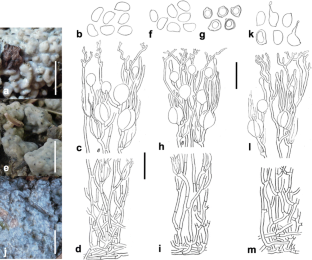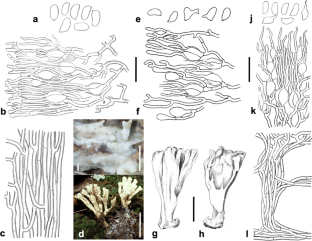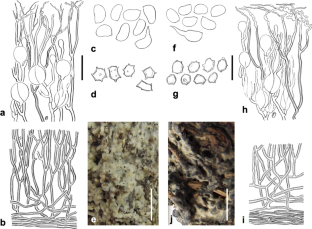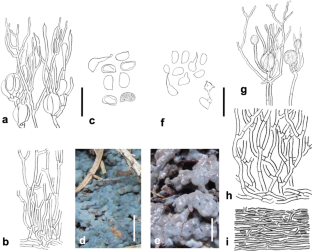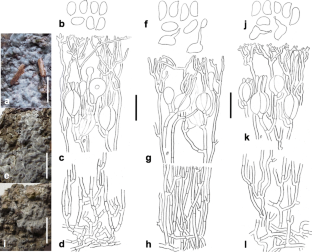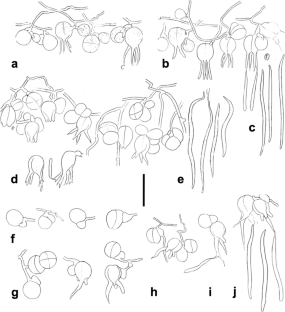 References
Bandala VM, Montoya L, Villegas R (2011) Tremelloscypha gelatinosa (Sebacinales) from tropical deciduous Gymnopodium forests in southern Mexico. Mycotaxon 118:147–157

Basiewicz M, Weiß M, Kogel K-H, Langen G, Zorn H, Zuccaro A (2012) Molecular and phenotypic characterization of Sebacina vermifera strains associated with orchids, and the description of Piriformospora williamsii sp. nov. Fungal Biol 116:204–213

Berkley MJ (1856) Decades LIX – LX. Rio Negro fungi. Hooker's Jour Bot 8:233–241

Berkley MJ, Broome CE (1848) Notices of British fungi. Ann Mag Nat Hist 2:259–268

Bodman MC (1942) The genus Tremellodendron. Am Midland Nat 27:203–216

Bourdot H, Galzin A (1927) Hyménomycètes de France, Hetérobasidiés – Homobasidiés gymnocarpes. Sceaux

Brefeld O (1888) Untersuchungen aus dem Gesammtgebiete der Mykologie 7:99

Burt EA (1915) The Thelephoraceae of North America V. Tremellodendron, Eichleriella, and Sebacina. Ann Mo Bot Gard 2:731–771

Corner EJH (1968) A monograph of Thelephora. Beih Nova Hedwigia 27:1–110

De Fonseka RN (1960) The morphology of Chaetospermum chaetosporum. Trans Brit Mycol Soc 43:631–636

Donk MA (1958) The generic names proposed for Hymenomycetes – VIII. Auriculariaceae, Septobasidiaceae, Tremellaceae, Dacrymycetaceae. Taxon 7:164–178, 193–207, 236–250

Garnica S, Riess K, Bauer R, Oberwinkler F, Weiß M (2013) Phylogenetic diversity and structure of sebacinoid fungi associated with plant communities along an altitudinal gradient. FEMS Microbiol Ecol 83:265–278

Garnica S, Riess K, Schön ME, Oberwinkler F, Setaro S (2014) Divergence times, nutrition modes and lineage diversifications in the evolution of Sebacinales (in prep.)

Glen M, Tommerup IC, Bougher NL, O Brien PA (2002) Are Sebacinaceae common and widespread ectomycorrhizal associates of Eucalyptus species in Australian forests? Mycorrhiza 12:243–247

Hauerslev K (1993) New tremellaceous fungi from Denmark. Mycotaxon 49:217–233

Henkel TW, Roberts P, Aime MC (2004) Sebacinoid species from the Pakaraima mountains of Guyana. Mycotaxon 89:433–439

Henkel TW, Aime MC, Chin MML, Miller ST, Vilgalys R, Smith ME (2011) Ectomycorrhizal fungal sporocarp diversity and discovery of new taxa in Dicymbe monodominant forests of the Guiana shield. Biodivers Conserv 21:2195–2220

Katoh K, Kuma K, Toh H, Miyata T (2005) MAFFT version 5: improvement in accuracy of multiple sequence alignment. Nucleic Acids Res 33:511–518

Kirschner R, Oberwinkler F (2002) Sebacina allantoidea sp. nov. Cryptogam Mycol 23:129–133

Kirschner R, Oberwinkler F (2009) Supplementary notes on Basidiopycnis hyalina (Basidiomycota, Atractiellales) and its anamorph. Mycotaxon 109:29–38

Lloyd CG (1916) Mycological Notes No. 42. Mycol Writ 5:576–588

Lloyd CG (1922) Mycological Notes No. 67. Mycol Writ 7:1137–1168

Maddison WP, Maddison DR (2011) Mesquite: a modular system for evolutionary analysis. Version 2.75. Available from http://mesquiteproject.org/

McKendrick SL, Leake JR, Taylor DL, Read DJ (2002) Symbiotic germination and development of the myco-heterotrophic orchid Neottia nidus-avis in nature and its requirement for locally distributed Sebacina spp. New Phytol 154:233–247

Mühlmann O, Peintner U (2008) Ectomycorrhiza of Kobresia myosuroides at a primary successional glacier forefront. Mycorrhiza 18:355–362

Nag Raj TR (1993) Coelomycetous anamorphs with appendage-bearing conidia. Mycol Publ, Waterloo, Ontario, Canada, 1101 pp

Oberwinkler F (1963) Niedere Basidiomyceten aus Südbayern III. Die Gattung Sebacina Tul. s. 1. Ber Bayer Bot Ges 36:41–55

Oberwinkler F (1964) Intrahymeniale Heterobasidiomyceten. Fruchtkörperlose Sebacina-Sippen und ihre systematische Stellung. Nova Hedw 7:483–499

Oberwinkler F, Riess K, Bauer R, Selosse M-A, Weiß M, Garnica S, Zuccaro A (2013) Enigmatic Sebacinales. Mycol Prog 12:1–27

Palmer JM, Lindner DL, Volk TJ (2008) Ectomycorrhizal characterization of an American chestnut (Castanea dentata)-dominated community in Western Wisconsin. Mycorrhiza 19:27–36

Patouillard MN (1888) Note sur une Tuberculariée graminicole. Bull Soc Mycol Fr 4:39–40

Persoon CH (1796) Observationes mycologicae seu descriptiones tam novorum, quam notabilium fungorum. Lipsiae, apud Petrum Phillippum Wolf

Rajeshkumar KC, Singh PN, Yadav LS, Swami SV, Singh SK (2010) Chaetospermum setosum sp. nov. from the Western Ghats, India. Mycotaxon 113:397–404

Reid DA (1979) Tremelloscypha and Papyrodiscus—two new genera of Basidiomycetes from Australia. Beih Sydowia Ann Myc Ser II 8:332–334

Riess K, Oberwinkler F, Bauer R, Garnica S (2013) High genetic diversity at the regional scale and possible speciation in Sebacina epigaea and S. incrustans. BMC Evol Biol 13:102. doi:10.1186/1471-2148-13-102

Riess K, Oberwinkler F, Bauer R, Garnica S (2014) Communities of endophytic Sebacinales associated with roots of herbaceous plants in agricultural and grassland ecosystems are dominated by Serendipita herbamans sp. nov. PLoS ONE 9(4):e94676. doi:10.1371/journal.pone.0094676

Rineau F (2008) Étude des conséquences du chaulage sur la structure et le fonctionnement des communautés d'ectomycorrhizes des forêts des Vosges. Thèse pour l'obtention du titre de docteur de l'Université Henri Poincaré, Nancy

Rineau F, Garbaye J (2009) Does forest liming impact the enzymatic profiles of ectomycorrhizal communities through specialized fungal symbionts? Mycorrhiza 19:493–500

Roberts P (1993) Exidiopsis species from Devon, including the new segregate genera Ceratosebacina, Endoperplexa, Microsebacina, and Serendipita. Mycol Res 97:467–478

Rungjindamai N, Skayaroj J, Plaingam N, Somrithipol S, Jones EBG (2008) Putative basidiomycete teleomorphs and phylogenetic placement of the coelomycete genera: Chaetospermum, Giulia and Mycotribulus based on nu-rDNA sequences. Mycol Res 112:802–810

Ryvarden L (1986) Tremellostereum (Tremellaceae) nov. gen. Mycotaxon 27:321–323

Saccardo PA (1892) Sylloge Fungorum 10, Padua

Selosse M-A, Setaro S, Glatard F, Richard F, Urcelay C, Weiß M (2007) Sebacinales are common mycorrhizal associates of Ericaceae. New Phytol 174:864–878

Selosse M-A, Dubois M-P, Alvarez N (2009) Do Sebacinales commonly associate with plant roots as endophytes? Mycol Res 113:1062–1069

Setaro S, Weiß M, Oberwinkler F, Kottke I (2006) Sebacinales form ectendomycorrhizae with Cavendishia nobilis, a member of the Andean clade of Ericaceae, in the mountain rain forest of southern Ecuador. New Phytol 169:355–365

Tedersoo L, Smith ME (2013) Lineages of ectomycorrhizal fungi revisited: foraging strategies and novel lineages revealed by sequences from belowground. Fungal Biol Rev 27:83–89

Tedersoo L, Suvi T, Larsson E, Kõljalg U (2006) Diversity and community structure of ectomycorrhizal fungi in a wooded meadow. Mycol Res 110:734–748

Tedersoo L, Abarenkov K, Nilsson RH, Schüssler A, Grelet G-A, Kohout P, Oja J, Bonito GM, Vledre V, Jairus T, Ryberg M, Larsson KH, Kõljalg U (2011) Tidying up international sequence databases: ecological, geographical and sequence quality annotation of ITS sequences of mycorrhizal fungi. PLoS ONE 6(69):e24940. doi:10.1371/journal.pone.0024940

Tedersoo L, Arnold E, Hansen K (2013) Novel aspects in the life cycle and biotrphic interactions in Pezizomycetes (Ascomycota, Fungi). Mol Ecol 22:1488–1493

Tulasne LRE, Tulasne C (1872) Fungi Tremellini et leurs alliés. Ann Sci Nat Bot 15:225–226

Urban A, Weiß M, Bauer R (2003) Ectomycorrhizae involving sebacinoid mycobionts. Mycol Res 107:3–14

Verma S, Varma A, Rexer K-H, Hassel A, Kost G, Sarbhoy A, Bisen P, Bütehorn B, Franken P (1998) Piriformospora indica, gen. et sp. nov., a new root-colonizing fungus. Mycologia 90:896–903

Walker JF, Parrent JL (2004) Molecular phylogenetic evidence for the mycorrhizal status of Tremellodendron (Sebacinaceae). Mem N Y Bot Gard 89:291–296

Warcup JH (1971) Specificity of mycorrhizal association in some Australian terrestrial orchids. New Phytol 70:41–46

Warcup JH (1981) The mycorrhizal relationships of Australian orchids. New Phytol 87:371–381

Warcup JH (1988) Mycorrhizal associations of isolates of Sebacina vermifera. New Phytol 110:227–231

Warcup JH, Talbot PHB (1967) Perfect states of Rhizoctonias associated with orchids I. New Phytol 66:631–641

Weiß M, Oberwinkler F (2001) Phylogenetic relationships in Auriculariales and related groups—hypotheses derived from nuclear ribosomal DNA sequences. Mycol Res 105:403–415

Weiß M, Selosse M-A, Rexer K, Urban A, Oberwinkler F (2004) Sebacinales: a hitherto overlooked cosm of heterobasidiomycetes with a broad mycorhizal potential. Mycol Res 108:1003–1010

Weiß M, Garnica S, Bauer R, Oberwinkler F (2010) Serendipitaceae, a new family in the Sebacinales. Poster IMC IX, Edinburgh

Weiß M, Sykorová Z, Garnica S, Riess K, Martos F, Krause C, Oberwinkler F, Bauer R, Redecker D (2011) Sebacinales everywhere: previously overlooked ubiquitous fungal endophytes. PLoS ONE 6(2):e16793. doi:10.1371/journal.pone.0016793

Weiß M, Garnica S, Bauer R, Oberwinkler F (2012) Serendipitaceae, a new family in the Sebacinales. Poster Ann Meeting German Phytopath Soc

Wells K (1975) Studies of some Tremellaceae. V. A new genus, Efibulobasidium. Mycologia 67:147–156

Wells K, Bandoni RJ (2001) Heterobasidiomycetes. In: McLaughlin, DJ, EG McLaughlin, and PA Lemke (eds.): The Mycota VII Part B, pp. 85–120

Wells K, Oberwinkler F (1982) Tremelloscypha gelatinosa, a species of a new family Sebacinaceae. Mycologia 74:325–331
Acknowledgements
This study was supported by a research grant, OB 24/30-1, of the German Research Council (DFG). We are very grateful to R. Kirschner for a critical pre-review of the manuscript and helpful comments, and to V. Bandala, L. Ryvarden, S. Setaro, and L. Tedersoo for providing fungal material. Laboratory assistance of S. Silberhorn is gratefully acknowledged.
Author Contributions
FO, KR, and SG collected fungal samples, FO performed the microscopic work and illustrations, and wrote the paper. KR and SG conceived and designed the molecular studies, and constructed the phylogenetic tree. RB added critical comments.
Electronic supplementary material
Below is the link to the electronic supplementary material.
About this article
Cite this article
Oberwinkler, F., Riess, K., Bauer, R. et al. Morphology and molecules: the Sebacinales, a case study. Mycol Progress 13, 445–470 (2014). https://doi.org/10.1007/s11557-014-0983-1
Received:

Accepted:

Published:

Issue Date:

DOI: https://doi.org/10.1007/s11557-014-0983-1
Keywords
Supplementary File

Hyphal System

Generative Hypha

Micromorphological Feature

Stereum