Abstract
The novel species Agaricus lamelliperditus and A. colpeteii are described and illustrated, and affinities to other taxa determined by analysis of ITS sequence data. Both taxa resemble several other recently described Australian sequestrate Agaricus species, in particular A. pachydermus, A. wariatodes and A. chartaceus, which all have a powdery hymenophore from very early stages of basidiome formation. Both novel species have affinities to section Minores.
Access options
Buy single article
Instant access to the full article PDF.
USD 39.95
Price excludes VAT (USA)
Tax calculation will be finalised during checkout.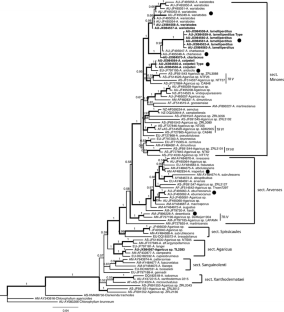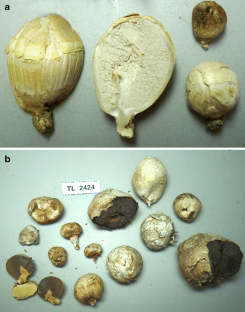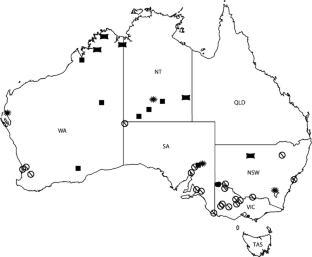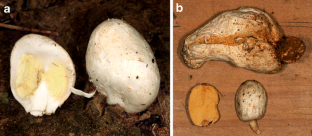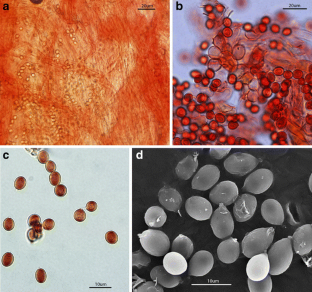 References
Barker WR (2005) Standardizing informal names in Australian publications. Aust Syst Bot Newslett 122:11

Challen MP, Kerrigan RW, Callac P (2003) A phylogenetic reconstruction and emendation of Agaricus section Duploannulatae. Mycologia 95:61–73

Edgar RC (2004) MUSCLE: multiple sequence alignment with high accuracy and high throughput. Nucleic Acids Res 32:1792–1797

Gardes M, Bruns TD (1993) ITS primers with enhanced specificity for Basidiomycetes: application to the identification of mycorrhiza and rusts. Mol Ecol 2:113–118

Geml J (2004) Evolution in action: molecular evidence for recent emergence of secotioid genera Endoptychum, Gyrophragmium and Longula from Agaricus ancestors. Acta Microbio Immunol Hungarica 51:97–108

Geml J, Geiser DM, Royse DJ (2004) Molecular evolution of Agaricus species based on ITS and LSU rDNA sequences. Mycol Prog 3:157–176

Geml J, Laursen GA, Nusbaum HC, Taylor DL (2007) Two new species of Agaricus from the Subantarctic. Mycotaxon 100:193–208

Geml J, Laursen GA, Taylor DL (2008) Molecular phylogenetic diversity assessment of arctic and boreal Agaricus taxa. Mycologia 100:577–589

Gube M. 2009. Ontogeny and phylogeny of gasteroid members of Agaricaceae (Basidiomycetes). Doctoral dissertation, Friedrich-Schiller-Universitat, Jena, Germany

Hall T. 2011. Bioedit v7.1.3. http://www.mbio.ncsu.edu/bioedit/bioedit.html.

Kerrigan RW, Callac P, Guinberteau J, Challen MP, Parra LA (2006) Agaricus section Xanthodermatei: a phylogenetic reconstruction with commentary on taxa. Mycologia 97:1318–1341

Kirk PM, Cannon PF, Minter DW, Stalpers JA (2008) Dictionary of the fungi, 10th edn. CABI, Wallingford

Lebel T, Syme A (2012) Sequestrate species of Agaricus and Macrolepiota from Australia: new species and combinations and their position in a calibrated phylogeny. Mycologia 104:496–520

Lebel T, Tonkin JE (2007) Australasian species of Macowanites are sequestrate species of Russula (Russulaceae, Basidiomycota). Aust Syst Bot 20:355–381

Mitchell AD, Bresinsky A (1999) Phylogenetic relationships of Agaricus species based on ITS–2 and 28S ribosomal DNA sequences. Mycologia 91:811–819

Moreno G, Lizárraga M, Esqueda M, Coronado ML (2010) Contribution to the study of gasteroid and secotioid fungi of Chihuahua, Mexico. Mycotaxon 112:291–315

Rambaut A. 2009. FigTree 1.3.1 http://tree.bio.ed.ac.uk/software/figtree

Ronquist F, Huelsenbeck JP (2003) MrBayes 3: Bayesian phylogenetic inference under mixed models. Bioinformatics 19:1572–1574

Singer R (1986) The Agaricales in modern taxonomy, 4th edn. Koeltz Scientific Books, Konigstein, p 912

Thiers B (continuously updated) Index herbariorum: a global directory of public herbaria and associated staff. New York Botanical Garden's Virtual Herbarium. http://sweetgum.nybg.org/ih/

Thompson JD, Gibson TJ, Plewniak F, Jeanmougin F, Higgins DG (1997) The CLUSTALX windows interface: flexible strategies for multiple sequence alignment aided by quality analysis tools. Nucleic Acids Res 25:4876–4882

Vellinga EC (2004) Genera in the family Agaricaceae—evidence from nrITS and nrLSU sequences. Mycol Res 108:354–377

White TJ, Bruns T, Lee S, Taylor J (1990) Amplification and direct sequencing of fungal ribosomal RNA genes for phylogenetics. In: Innis MA, Gelfand DH, Shinsky JJ, White TJ (eds) PCR protocols: a guide to methods and applications. Academic, San Diego, pp 315–322

Zhao RL, Karunarathna S, Raspé O, Parra LA, Guinberteau J, Moinard M, De Kesel A, Barroso G, Courtecuisse R, Hyde KD, Guelly AK, Desjardin DE, Callac P (2011) Major clades in tropical Agaricus. Fungal Divers 51:279–296
Acknowledgments
Thank you to the Australian Biological Resources Study for funding some of the fieldwork (Bushblitz 2011, Neds Corner), and the RBG Melbourne for supporting molecular work. Staff of PERTH and MEL are acknowledged for providing access to specimens and aid in locating collection data. Reviewers of the manuscript are acknowledged for their input.
About this article
Cite this article
Lebel, T. Two new species of sequestrate Agaricus (section Minores) from Australia. Mycol Progress 12, 699–707 (2013). https://doi.org/10.1007/s11557-012-0879-x
Received:

Revised:

Accepted:

Published:

Issue Date:

DOI: https://doi.org/10.1007/s11557-012-0879-x
Keywords
Arid habitats

Truffle-like

Cryptic diversity