Abstract
Fifty-four isolates of Golovinomyces cichoracearum (GC) sensu stricto were collected during the period 2008–2010 from natural populations of prickly lettuce (Lactuca serriola) growing in the Czech Republic. Population variation in virulence was assessed with a previously developed race differential set, comprising 13 accessions of four Lactuca species (L. serriola, L. sativa, L. saligna, L. virosa, and L. sativa 'Hilde' × L. serriola hybrid). GC isolates differed in their host specificity and virulence; most were able to infect most Lactuca spp. accessions (i.e., complete compatibility), but some showed only moderate virulence (i.e., incomplete compatibility). 'Avirulent' reactions were the least common, and these were most frequently observed on L. virosa (LVIR/50) and L. saligna (09-H58-1013). Furthermore, a temporal shift in virulence variability was recorded for the Czech GC populations. Generally, virulence of GC to the Lactuca spp. accessions increased during the study period. Across individual years, the most variable were reactions of GC to L. serriola accession (PI 273617), L. sativa cv. 'Colorado', L. saligna (09-H58-1013) and L. virosa (LVIR/50). A broad spectrum of virulence (v)-phenotypes was determined among the 54 isolates; however, differences in the reaction patterns of individual isolates were mostly small and related to differentiation between moderately and completely compatible interactions. However, most of the v-phenotypes characterized were unique to a given population in one year. Altogether, 16 v-phenotypes were identified among 16 isolates tested in 2008, 10 v-phenotypes were determined among 10 isolates tested in 2009, and 24 v-phenotypes among 28 isolates tested in 2010; i.e., different v-phenotypes were identified in different localities.
Access options
Buy single article
Instant access to the full article PDF.
USD 39.95
Price excludes VAT (USA)
Tax calculation will be finalised during checkout.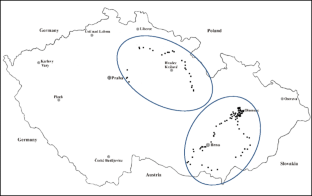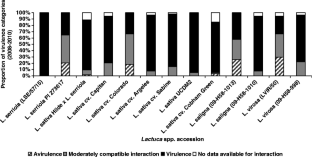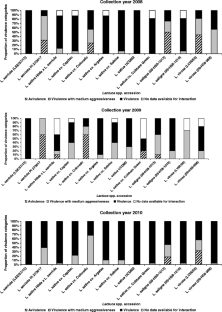 References
Antonovics J, Thrall PH, Laine A-L, Burdon JJ (2011) Partial resistance in the Linum-Melamspora host-pathogen system: does partial resistance make the Red Queen run slower? Evolution 65:512–522

Barrett LG, Thrall PH, Burdon JJ, Linde CC (2008) Life history determines genetic structure and evolutionary potential of host-parasite interactions. Trends Ecol Evol 23:678–685

Ben-Kalio VD, Clarke DD (1979) Studies on tolerance in wild plants: effects of Erysiphe fischeri on the growth and development of Senecio vulgaris. Physiol Plant Pathol 14:203–211

Bennett FGA (1984) Resistance to powdery mildew in wheat; a review of its use in agriculture and breeding programmes. Plant Pathol 33:279–300

Bevan JR, Clarke DD, Crute IR (1993a) Resistance to Erysiphe fischeri in two populations of Senecio vulgaris. Plant Pathol 42:636–646

Bevan JR, Crute IR, Clarke DD (1993b) Variation for virulence in Erysiphe fischeri from Senecio vulgaris. Plant Pathol 42:622–635

Bevan JR, Crute IR, Clarke DD (1993c) Diversity and variation in expression of resistance to Erysiphe fischeri. Plant Pathol 42:647–653

Blancard D, Lot H, Maisonneuve B (2006) A color atlas of diseases of lettuce and related salad crops. Observation, biology and control. Academic Press, Burlington

Blumer S (1933) Die erysiphaceen mitteleuropas unter besonderer berücksichtigung der schweiz. Beiträge Kryptogamen-Flora Schweiz 7:1–483

Blumer S (1967) Echte mehltaupilze (Erysiphaceae). Gustav Fischer Verlag, Jena

Braun U (1987) A monograph of the erysiphales (Powdery Mildews). Beiheft zur Nova Hedwigia 89:1–700

Braun U (1995) The powdery mildews (Erysiphales) of Europe. Gustav Fischer Verlag, Jena

Braun U, Takamatsu S (2000) Phylogeny of Erysiphe, Microsphaera, Uncinula (Erysipheae) and Cystotheca, Podosphaera, Sphaerotheca (Cystotheceae) inferred from rDNA ITS sequnces – some taxonomic consequences. Schlechtendalia 4:1–33

Brown JKM (2002) Comparative genetics of avirulence and fungicide resistance in the powdery mildew fungi. In: Bélanger RR, Bushnell WR, Dik AJ, Carver TLW (eds) The powdery mildews. A comprehensive treatise. APS Press, St. Paul, pp 56–65

Brown JKM, Tellier A (2011) Plant-parasite coevolution: bridging the gap between genetics and ecology. Annu Rev Phytopathol 49:345–367

Burdon JJ, Thrall PH, Ericson L (2006) The current and future dynamics of disease in plant communities. Annu Rev Phytopathol 44:19–39

Clarke DD, Akhkha A (2002) Population genetics of powdery mildew – natural plant pathosystems. In: Bélanger RR, Bushnell WR, Dik AJ, Carver TLW (eds) The powdery mildews: a comprehensive treatise. APS Press, St Paul, MN, USA, pp 200–218

Cook RTA, Braun U (2009) Conidial germination patterns in powdery mildews. Mycol Res 113:616–636

Crute IR, Burns G (1983) Powdery mildew of lettuce (Lactuca sativa). Plant Pathol 83:455–457

Crute IR, Pink DAC (1996) Genetics and utilization of pathogen resistance in plants. Plant Cell 8:1747–1755

Crute IR, Holub EB, Burdon JJ (eds) (1997) The gene-for-gene relationship in plant-parasite interactions. CAB International, Wallingford

Cunnington JH, Lawrie AC, Pascoe IG (2010) Genetic characterization of the Golovinomyces cichoracearum complex in Australia. Plant Pathol 59:158–164

Flor HH (1955) Host-parasite interaction in flax rust – its genetics and other implications. Phytopathology 45:680–685

Hammett KRW (1977) Taxonomy of Erysiphaceae of New Zealand. New Zeal J Bot 15:687–711

Harry IB, Clarke DD (1986) Race-specific resistance in groundsel (Senecio vulgaris) to the powdery mildew Erysiphe fischeri. New Phytol 103:167–175

Harry IB, Clarke DD (1987) The genetics of race-specific resistance in groundsel (Senecio vulgaris L.) to the powdery mildew fungus, Erysiphe fischeri Blumer. New Phytol 107:715–723

Klemm H (1985) Ein bemerkenswertes Schadauftreten von echem Mehltau (Erysiphe cichoracearum DC. Ex. Mérat) an Kopfsalat (Lactuca sativa L.) in der DDR. Arch Phytopathol Pfl 21:287–295

Laine A-L (2005) Spatial scale of local adaptation in a plant-pathogen metapopulation. J Evolution Biol 18:930–938

Lebeda A (1985a) Auftreten der Natürlichen Infektion durch den Echten Mehltau (Erysiphe cichoracearum) bei der Gattung Lactuca in der Tschechoslowakei. Acta Phytopathol Acad Sci Hung 20:149–162

Lebeda A (1985b) Differences in resistance of wild Lactuca species to natural infection of lettuce powdery mildew (Erysiphe cichoracearum). Euphytica 34:521–523

Lebeda A (1985c) Susceptibility of some lettuce cultivars to natural infection by powdery mildew. Tests Agrochem Cult No 6 (Ann Appl Biol 106, Suppl.): 158–159

Lebeda A (1994) Evaluation of wild Lactuca species for resistance of natural infection of powdery mildew (Erysiphe cichoracearum). Genet Res Crop Evol 41:55–57

Lebeda A, Buczkowski J (1986) Occurrence of Erysiphe cichoracearum perithecia on wild Lactuca species. J Phytopathol 115:21–28

Lebeda A, Mieslerová B (2011) Taxonomy, distribution and biology of the lettuce powdery mildew (Golovinomyces cichoracearum s. str.). Plant Pathol 60:400–415

Lebeda A, Doležalová I, Křístková E, Mieslerová B (2001) Biodiversity and ecogeography of wild Lactuca spp. in some European countries. Genet Resour Crop Evol 48:153–164

Lebeda A, Ryder EJ, Grube R, Doležalová I, Křístková E (2007) Lettuce (Asteraceae; Lactuca spp.), Chapter 9. In: Singh R (ed) Genetic resources, chromosome engineering, and crop improvement series, Vol 3 - vegetable crops. CRC Press, Boca Raton, pp 377–472

Lebeda A, Petrželová I, Maryška Z (2008) Structure and variation in the wild-plant pathosystem: Lactuca serriola - Bremia lactucae. Eur J Plant Pathol 122:127–146

Lebeda A, Doležalová I, Křístková E, Kitner M, Petrželová I, Mieslerová B, Novotná A (2009) Wild Lactuca germplasm for lettuce breeding: current status, gaps and challenges. Euphytica 170:15–34

Lebeda A, Doležalová I, Novotná A (2012a) Wild and weedy Lactuca species, their distribution, ecogeography and ecobiology in USA and Canada. Genet Resour Crop Evol (in press) (doi:10.1007/s10722-012-9805-y)

Lebeda A, Mieslerová B, Petrželová I, Korbelová P, Česneková E (2012b) Patterns of virulence variation in the interaction between Lactuca spp. and lettuce powdery mildew (Golovinomyces cichoracearum). Fungal Ecol (in press) (doi:10.1016/j.funeco.2012.03.005)

Lenné JM, Wood D (1991) Plant disease and the use of wild germplasm. Annu Rev Phytopathol 29:35–63

Matsuda S, Takamatsu S (2003) Evolution of host–parasite relationship of Golovinomyces (Ascomycete: Erysiphales) inferred from nuclear rDNA sequences. Mol Phylogenet Evol 27:314–327

McCreight JD (2006) Melon-powdery mildew interactions reveal variation in melon cultigens and Podosphaera xanthii races 1 and 2. J Amer Soc Hort Sci 131:59–65

McDonald BA, Linde C (2002) The population genetics of plant pathogens and breeding strategies for durable resistance. Euphytica 124:163–180

Mieslerová B, Lebeda A, Česneková E, Petrželová I (2006) Variability of the interactions of wild Lactuca species and lettuce powdery mildew (Golovinomyces cichoracearum). In: Herda G, Mazáková J, Zouhar M (eds) Book of abstracts, XVII. Czech and Slovak plant protection conference, Czech Agricultural University in Prague, Department of Plant Protection, 12.–14. September 2006. Czech Republic, Prague, pp 244–246

Mieslerová B, Lebeda A, Česneková E (2009) Study of interactions of Lactuca spp. (lettuce) and lettuce powdery mildew (Golovinomyces cichoracearum). In: Šafránková I, Šefrová H (Eds.) XVIII. Czech and Slovak Plant Protection Conference, 2.–4. September, 2009, Book of Abstracts. Mendel Agriculture and Forestry University in Brno, Czech Republic: 98

Pryor DE (1941) A unique case of powdery mildew on lettuce in the field. Plant Dis Rep 25:74

Ryder EJ (1999) Lettuce, endive and chicory. CABI Publishing, Wallingford

Schnathorst WC (1959) Heterothallism in the lettuce strain of Erysiphe cichoracearum. Mycologia 51:708–711

Thrall PH, Burdon JJ (2002) Evolution of gene-for-gene systems in metapopulations: the effect of spatial scale of host and pathogen dispersal. Plant Pathol 51:169–184

Towsend GR, Heuberger W (1943) Methods for estimating losses caused by diseases in fungicide experiments. Plant Dis Rep 27:340–343

Zeller KA, Levy M (1995) Intraspecies differentiation in the powdery mildew Erysiphe cichoracearum determined with rDNA RFLPs. Mol Ecol 4:277–283
Acknowledgments
Critical reading and valuable remarks by Dr. P.H. Thrall (CSIRO Plant Industry, Canberra, Australia), Dr. J. McCreight (ARS, USDA, Salinas, USA) and Dr. J. Alexander (ETH Zurich, Switzerland) are gratefully acknowledged. This research was supported by grants: (i) MSM 6198959215, (ii) internal grant of Palacký University in Olomouc IGA PrF_2012_001. Some isolates used in this study are maintained under National Programme of Genepool Conservation of Microorganisms and Small Animals of Economic Importance, funded by Ministry of Agriculture of the Czech Republic.
About this article
Cite this article
Lebeda, A., Mieslerová, B., Petrželová, I. et al. Host specificity and virulence variation in populations of lettuce powdery mildew pathogen (Golovinomyces cichoracearum s. str.) from prickly lettuce (Lactuca serriola). Mycol Progress 12, 533–545 (2013). https://doi.org/10.1007/s11557-012-0860-8
Received:

Revised:

Accepted:

Published:

Issue Date:

DOI: https://doi.org/10.1007/s11557-012-0860-8
Keywords
Wild plant pathosystem

Natural populations

Lactuca spp.

Lettuce powdery mildew

Race-specificity

Virulence phenotypes

Temporal changes in virulence