Abstract
A number of recent studies have been directed towards developing a more complete understanding of myxomycete ecology throughout the world. However, the lack of comparative data obtained using standard methodologies makes the results of these studies somewhat speculative. The objective of this investigation was to examine the evidence of macroecological patterns in myxomycete assemblages in high-elevation areas of the northern Neotropics. For this, a series of study areas in Mexico, Guatemala, and Costa Rica, as well as two external study areas (one in the United States and the other in Thailand), were selected to compare the diversity-environment relationships exhibited by myxomycetes. Altogether, the 2592 moist chamber cultures prepared yielded a total of 1377 myxomycete records, representing 89 different species. A trend of decreasing species richness with decreasing latitude was observed for the species assemblages associated with the study areas in the Neotropics. As latitude increased, species assemblages in the Neotropical study areas became increasingly similar to the temperate study area. The difference in species richness between study areas in Mexico and Thailand, along with the results obtained for a series of macroclimatic patterns evaluated in the study areas of the Neotropical region, suggests that forest structure plays an important role in the structure of myxomycete assemblages. In contrast, soil chemical characteristics and the pH of the substrates present seem to be indirectly related to the diversity estimators used for analysis, suggesting that they are probably more important at a smaller ecological scale.
Access options
Buy single article
Instant access to the full article PDF.
USD 39.95
Price includes VAT (USA)
Tax calculation will be finalised during checkout.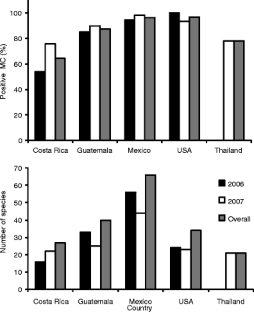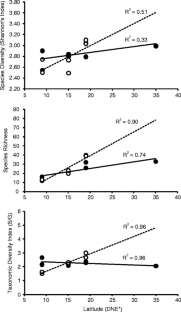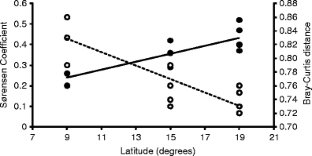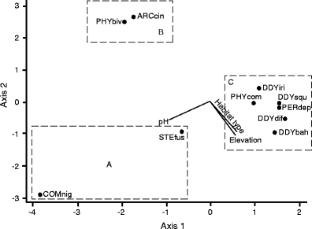 References
Blackwell M, Gilbertson R (1984) Distribution and sporulation phenology of myxomycetes in the Sonoran Desert of Arizona. Microb Ecol 10:369–377

Chao A, Shen TJ (2003) SPADE (Species Prediction And Diversity Estimation) February 2009 version. http://chao.stat.nthu.edu.tw. Accessed 15 October 2009.

Chao A, Li PC, Agatha S, Foissner W (2006) A statistical approach to estimate soil ciliate diversity and distribution based on data from five continents. Oikos 114:479–493

Chaverri A (2008) Historia natural del Parque Nacional Chirripó. Editorial INBio, Santo Domingo de Heredia, Costa Rica

Estrada-Torres A, Wrigley de Basanta D, Conde E, Lado C (2009) Myxomycetes associated with dryland ecosystems of the Tehuacán-Cuicatlán Valley Biosphere Reserve, Mexico. Fungal Divers 36:17–56

Farr ML (1976) Flora Neotropica Monograph No. 16 (Myxomycetes). New York Botanical Garden, New York

Feest A, Madelin M (1988) Seasonal population changes of myxomycetes and associated organisms in four woodland soils. FEMS Microbiol Ecol 53:133–140

Fisher RA, Corbert AS, Williams CB (1943) The relation between the number of species and the number of individuals in a random sample of an animal population. J Anim Ecol 12:42–58

Gannon J, Tan YH, Baveye P, Alexander M (1991) Effect of sodium chloride on transport of bacteria in a saturated aquifer material. Appl Environ Microbiol 57:2497–2501

Islebe GA, Kappelle M (1994) A phytogeographical comparison between subalpine forests of Guatemala and Costa Rica. Feddes Repertorium 105:73–87

Khamyong S, Lykke AM, Seramethakun D, Barfod AS (2004) Species composition and vegetation structure of an upper montane forest at the summit of Mt. Doi Inthanon, Thailand. Nord J Bot 23:83–97

Lado C (2005–2010) An on-line nomenclatural information system of Eumycetozoa. http://www.nomen.eumycetozoa.com. Accessed 21 February 2010.

Lado C, Wrigley de Basanta D (2008) A Review of Neotropical Myxomycetes (1828-2008). An Jard Bot Madr 65:211–254

McCune B, Mefford MJ (2006) PC-ORD Multivariate Analysis of Ecological Data Version 5.30. MjM Software, Gleneden Beach, Oregon.

Magurran AE (2004) Measuring biological diversity. Blackwell, Massachusetts

Martin G, Alexopoulos CJ (1969) The Myxomycetes. University of Iowa Press, Iowa

Marx ES, Hart J, Stevens RG (1996) Soil test interpretation guide. Oregon State University Extension Service, Oregon

Mengel K, Kirkby E (2001) Principles of plant nutrition, 5th edn. Kluwer Academic, The Netherlands

Ndiritu G, Spiegel FW, Stephenson SL (2009) First records and microhabitat assessment of protostelids in the Aberdare Region, Central Kenya. J Eukaryot Microbiol 56:148–158

Novozhilov YK, Schnittler M, Rollins AW, Stephenson SL (2000) Myxomycetes from different forest types in Puerto Rico. Mycotaxon 77:285–299

Novozhilov YK, Zemlianskaia IV, Schnittler M, Stephenson SL (2006) Myxomycete diversity and ecology in the arid regions of the Lower Volga River Basin (Russia). Fungal Divers 23:193–241

Novozhilov YK, Schnittler M (2008) Myxomycete diversity and ecology in arid regions of the Great Lake Basin of western Mongolia. Fungal Divers 30:97–119

Pawlowski J, Burki F (2009) Untangling the Phylogeny of Amoeboid Protists. J Eukaryot Microbiol 56:16–25

Rodríguez-Palma MM, Estrada-Torres A, Hernández-Cuevas L (2005) Myxomycetes. In: Fernández-Fernández JA, López-Domínguez JC (eds) Biodiversidad del Parque Nacional Malinche, Tlaxcala. México. Coordinación General de Ecología del Estado de Tlaxcala, Mexico, pp 25–45

Rojas C, Stephenson SL (2007) Distribution and ecology of myxomycetes in the high-elevation oak forests of Cerro Bellavista, Costa Rica. Mycologia 99:534–543

Rojas C, Schnittler M, Stephenson SL, Biffi D (2008) Microhabitat and niche separation in species of Ceratiomyxa. Mycologia 100:843–850

Rojas C, Valverde R, Stephenson SL, Vargas MJ (2009) Ecological patterns of Costa Rican myxomycetes. Fungal Ecol. doi:10.1016/j.funeco.2009.08.002

Schnittler M (2001) Ecology of myxomycetes of a winter-cold desert in western Kazakhstan. Mycologia 93:653–669

Schnittler M, Stephenson SL (2000) Myxomycete biodiversity in four different forest types in Costa Rica. Mycologia 92:626–637

Schnittler M, Stephenson SL (2002) Inflorescences of Neotropical herbs as a newly discovered microhabitat for myxomycetes. Mycologia 94:6–20

Schnittler M, Lado C, Stephenson SL (2002) Rapid biodiversity assessment of a tropical myxomycete assemblage – Maquipucuna Cloud Forest Reserve, Ecuador. Fungal Divers 9:135–167

Shannon CE, Weaver W (1949) The mathematical theory of communication. The University of Illinois Press, Illinois

Simpson EH (1949) Measurement of diversity. Nature 163:688

Stephenson SL (1988) Distribution and ecology of myxomycetes in temperate forests. I. Patterns of occurrence in the upland forests of southwestern Virginia. Can J Bot 66:2187–2207

Stephenson SL (2003) Fungi of New Zealand Vol. 3: Myxomycetes of New Zealand. Fungal Diversity Press, Hong Kong

Stephenson SL, Stempen H (1994) Myxomycetes: a handbook of slime molds. Timber Press, Oregon

Stephenson SL, Landolt J (1996) The vertical distribution of dictyostelids and myxomycetes in the soil/litter microhabitat. Nova Hedwig 62:105–117

Stephenson SL, Landolt JC (2009) Mycetozoans of the Great Smoky Mountains National Park: an all taxa biodiversity inventory project. Southeastern Naturalist 8:317–324

Stephenson SL, Seppelt R, Laursen G (1992) The first record of a myxomycete from subantarctic Macquarie Island. Antarct Sci 4:431–432

Stephenson SL, Kalyanasundaram I, Lakhanpal TN (1993) A comparative biogeographical study of myxomycetes in the mid-Appalachians of eastern North America and two regions of India. J Biogeogr 20:645–657

Stephenson SL, Schnittler M, Novozhilov Y (2008a) Myxomycete diversity and distribution from the fossil record to the present. Biodivers Conserv 17:285–301

Stephenson SL, Urban L, Rojas C, McDonald S (2008b) Myxomycetes associated with woody twigs. Rev Mex Micol 27:21–28

Sørensen T (1948) A method of establishing groups of equal amplitude in plant sociology based on similarity of species content and its application to analyses of the vegetation on Danish commons. Biol Skrifter K Dan Vidensk Selsk 5:1–34

Tran HTM, Stephenson SL, Hyde KD, Mongkolporn O (2006) Distribution and occurrence of myxomycetes in tropical forests of northern Thailand. Fungal Divers 22:227–242

Venkataramani R, Kalyanasundaram I (1986) Distribution and ecology of myxomycetes in India. Proc Indian Acad Sci Plant Sci 96:289–302

Villers-Ruiz L, Rojas-García F, Tenorio-Lezama P (2006) Guía Botánica del Parque Nacional Malinche, Tlaxcala-Puebla. Universidad Nacional Autónoma de México, Mexico

Wrigley de Basanta D, Stephenson SL, Lado C, Estrada-Torres A, Nieves-Rivera AM (2008) Lianas as a microhabitat for myxomycetes in tropical forests. Fungal Divers 28:109–125
Acknowledgements
Appreciation is extended to Randall Valverde, Arturo Estrada-Torres, Osberth Morales, Todd Osmundson, Mercedes Rodríguez-Palma, Alicia Tuggle, Amanda Bates, Maria Julia Vargas, Federico Valverde, Kevin Hyde, and Thida Win Ko Ko for their valuable assistance during the research process. We are also grateful to the institutional support received from different departments and programs, including the Costa Rican Amistad-Pacifico Conservation Area, the University of Costa Rica, the University of San Carlos in Guatemala, the National Autonomous University of Tlaxcala, the Mushroom Research Centre in Thailand, and both the National Park Service and the University of Arkansas in the United States. In addition, we would like to express our gratitude to the settlements of La Ventoza, Llanos de San Miguel, and the municipality of Todos Santos Cuhumatán in Huehuetenango, Guatemala, for granting permission and offering the security that allowed us to work in protected indigenous areas. Finally, we would like to thank two anonymous reviewers for their constructive suggestions to improve this paper. This project was funded by a grant from the National Science Foundation (DEB-0316284).
Electronic supplementary material
Below is the link to the electronic supplementary material.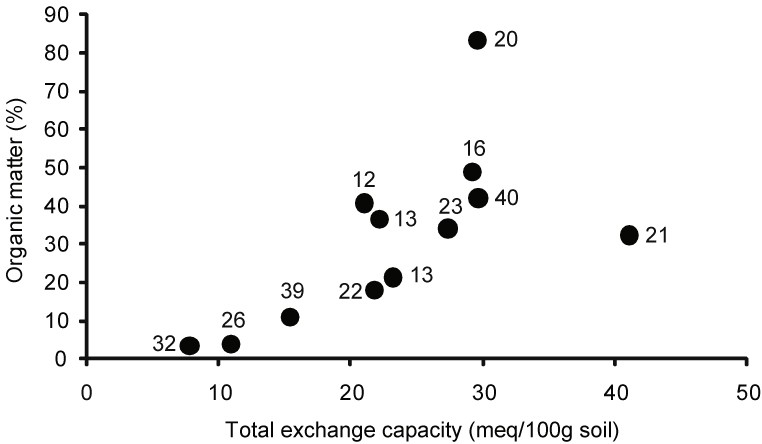 Illustration of the non-significant relation between soil richness (as the correlation between total exchange capacity and organic matter) and species richness (numerical values associated with points) in the study areas (JPEG 71 kb)
Appendix 2
Appendix 3
About this article
Cite this article
Rojas, C., Stephenson, S.L. & Huxel, G.R. Macroecology of high-elevation myxomycete assemblages in the northern Neotropics. Mycol Progress 10, 423–437 (2011). https://doi.org/10.1007/s11557-010-0713-2
Received:

Revised:

Accepted:

Published:

Issue Date:
Keywords
Diversity

Community structure

Ecological niche

Latitudinal gradient

Myxogastrids