Abstract
Phlebopus portentosus is a well-known edible wild mushroom in the tropical part of Yunnan province of China. The mushrooms grow around natural or planted trees of Delonix regia, Mangifera indica, Coffea arabica, Citrus grandis, Artocarpus heterophyllus and Quercus spp. The technology of cultivation of P. portentosus was developed and its biotrophic status examined at Xishuangbanna, Yunnan, China. Uncultivated red soils with and without host plants of C. arabica, C. grandis and M. indica were inoculated with solid inocula of P. portentosus. Matured mushrooms were produced from both inoculated soils, with and without the host plants, 20–30 days after inoculation. No mycorrhizal structures were detected although the fungal mycelia colonized the plant root surfaces. Results show that P. portentosus is a saprobic rather than a symbiotic fungus. Based on this discovery, two methods of cultivation of P. portentosus were developed. Non-sterilized agricultural soils in polypropylene bottles or bags were inoculated with the fungal solid inocula and incubated at a mushroom house. Fruiting-body primordia were produced from the inoculated soils 20–30 days after inoculation. Soil-cased sawdust logs inoculated with P. portentosus produced primordia 10–15 days after casing only. The primordia developed into mature mushrooms 5–6 days later with weights ranging from 20.0 to 135.0 g. The identity of the cultivated fruiting bodies was confirmed by morphological and molecular methods. Our molecular phylogeny based on the Internal Transcribed Spacer sequences from our cultivated isolate and Genbank accessions provides preliminary insight into the phylogeogrpahy of P. portentosus.
This is a preview of subscription content, log in to check access.
Access options
Buy single article
Instant access to the full article PDF.
US$ 39.95
Tax calculation will be finalised during checkout.
Subscribe to journal
Immediate online access to all issues from 2019. Subscription will auto renew annually.
US$ 79
Tax calculation will be finalised during checkout.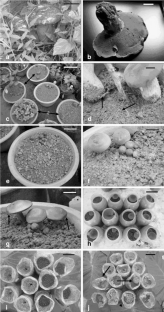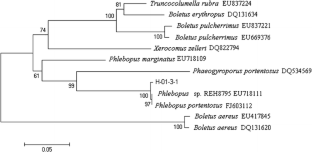 References
Bandala VM, Montoya L, Jarvio D (2004) Two interesting records of Boletes found in coffee plantations in Eastern Mexico. Persoonia 18:365–380

Beugelsdijk DCM, van der Linde S, Zuccarello GC, den Bakker HC, Draisma SGA, Noordeloos ME (2008) A phylogenetic study of Boletus section Boletus in Europe. Persoonia 20:1–7

Binder M, Hibbet DS (2006) Molecular systematic and biological diversification of Boletales. Mycologia 98:971–891

Comeron JM (1995) A method for estimating the numbers of synonymous and nonsynonymous substitutions per site. J Mol Evol 41:1152–1159

Heinemann P, Rammeloo J (1982) Observations sur le genre Phlebopus (Boletineae). Mycotaxon 15:384–404

Jeanmougin F, Thompson JD, Gouy M, Higgins DG, Gibson TJ (1998) Multiple sequence alignment with Clustal X. Trends Biochem Sci 23:403–405

Ji KP, Zhang CX, Zeng Y, Liu CF, Hei MX, Wang WB (2007) Artificial fungal colony and its fruiting of Phlebopus portentosus (Boletaceae) in pot. Acta Bot Yunnanica 29:554–558

Ji KP, Hei MX, Zhang CX, Liu J, Wang WB, Hou JY (2009) Semi-artificial simulate cultivation of Phlebopus portentosus and the durability of hyphae on host roots. Microbio 36:377–382

Lei QY, Zhou JJ, Wang QB (2009) Notes on three boletus species from China. Mycosystema 28:056–059

Lumyong S, Sanmee R, Lumyong P (2007) Is large scale cultivation of bolete possible? Opera Mycol 1:34–37

McNabb RFR (1968) The Boletaceae of New Zealand. NZ J Bot 6:137–176

Mello A, Ghignone S, Vizzini A, Sechi C, Ruiu P, Bonfante P (2006) ITS primers for the identification of marketable Boletus. J Biotech 121:318–329

Neves MA, Capelari M (2007) A preliminary checklist of Boletales from Brazil and notes on Boletales specimens at the Instituto de Botanica (SP) Herbarium, Sao Paulo, SP, Brazil. Sitientibus serie ciencias biologicas 7:163–169

Nilsson RH, Kristiansson E, Ryberg M, Hallenberg N, Larsson KH (2008) Intraspecific ITS variability in the kingdom Fungi as expressed in the international sequence databases and its implications for molecular species identification. Evolut Bioinformat 4:193–201

Peay KG, Bruns TD, Kennedy PG, Bergemann SE, Garbelotto M (2007) A strong species-area relationship for eukaryotic soil microbes: island size matters for ectomycorrhizal fungi. Ecol Lett 10:470–480

Pegler DN (1986) Agaric Flora of Sri Lanka. Kew: Bull Add Ser 12:1–519

Pukahuta C, Palasarn W, Pimmongkol A (2009) Taxonomic study of wild edible pore fungi found in Ubon Ratchathani. J Micro Soc Thai 23:30–33

Rogers SO, Rehner S, Bledsoe C, Mueller GJ, Ammirati JF (1989) Extraction of DNA from Basidiomycetes for ribosomal DNA hybridizations. Can J Bot 67:1235–1243

Sanmee R, Lumyong P, Bernard D, Lumyong S (2010) In vitro cultivation and fruit body formation of the black bolete, Phlebopus portentosus, a popular edible ectomycorrhizal fungus in Thailand. Mycoscience 51:15–22

Segedin BP (1987) An annotated checklist of Agarics and Boletes recorded from New Zealand. NZ J Bot 25:185–215

Stamets P, Chilton JS (1983) The mushroom cultivator. Agarikon, Olympia, Washington, USA

Tedersoo L, Tom WM, Matthew ES (2010) Ectomycorrhizal lifestyle in fungi: global diversity, distribution, evolution of polygenetic lineages. Mycorrhiza 20:217–263

Thompson JD, Gibson TJ, Plewniak F, Jeanmougin F, Higgins DG (1997) The Clastal X Windows interface: flexible strategies for multiple sequence alignment aided by quality analysis tools. Nucl Acids Res 24:4876–4882

Watling R (2001) Australia boletes: their diversity and possible origin. Austral Syst Bot 14:407–416

Watling R, Gregory NM (1988) Observation on the boletes of the Cooloola Sandmass, Queensland and notes on their Distribution in Australia. Part 2 B. Smooth Spored Taxa of the family Gyrodontaceae and the genus Pulveroboletus. Proc R Soc Qd 99:65–76

White TJ, Brun T, Lee S, Taylor JW (1990) Amplification and direct sequencing of fungal ribosomal RNA genes for phylogenetics. In: PCR Protocols: a guide to methods and applications. New York

Yang ZL, Zang M (2003) Tropical affinities of higher fungi in southern China. Acta Bot Yunnanica 25:129–144

Zang M (2006) Flora Fungorum Sinicorum Vol. 22. Beijing,China
Acknowledgements
We appreciate Alexis Guerin-Laguette, Tracy Williams and Nicholas Cummings for their valuable comments and polishing the English. This study was supported by YNST, China.
About this article
Cite this article
Ji, KP., Cao, Y., Zhang, CX. et al. Cultivation of Phlebopus portentosus in southern China. Mycol Progress 10, 293–300 (2011). https://doi.org/10.1007/s11557-010-0700-7
Received:

Revised:

Accepted:

Published:

Issue Date:
Keywords
Edible fungus

Saprobic black bolete

Cultivation

Yunnan