Abstract
Three undescribed European species of Xylaria are recognized from new combinations of anamorphic and teleomorphic characters. Their phylogenetic affinities are revealed by a 5.8S/ITS nrDNA analysis. Two of them (X. karsticola and X. vasconica) appear closely related to X. hypoxylon sensu stricto. Xylaria cinerea is distributed in western Europe (France, Spain, United Kingdom) and the Canary Islands and appears closely related to a yet unnamed taxon from New Zealand. In addition to southwestern Europe, X. vasconica is also present in eastern USA. A specimen of X. hypoxylon from the US West Coast agreed with European material with regard to the teleomorph, but its cultures showed a different morphology. Xylaria arbuscula var. plenofissura is reported from a natural habitat on the European mainland for the first time, and the occurrence of this member of the X. arbuscula complex on the Canary Islands is confirmed.
Access options
Buy single article
Instant access to the full article PDF.
USD 39.95
Price excludes VAT (USA)
Tax calculation will be finalised during checkout.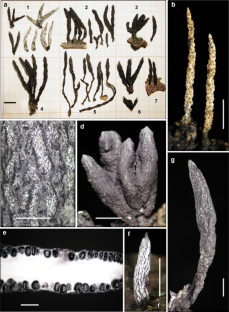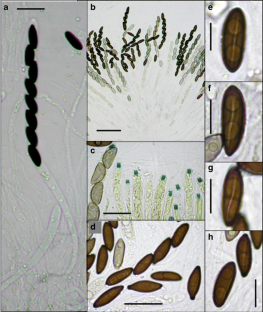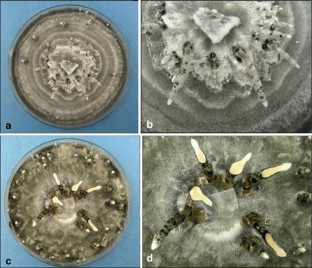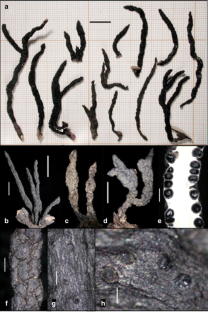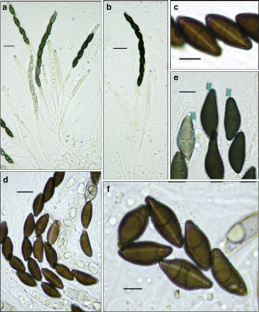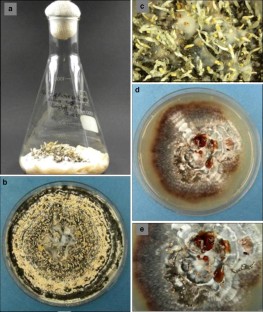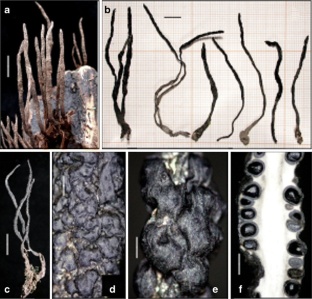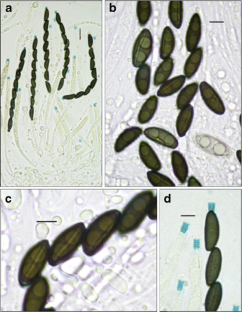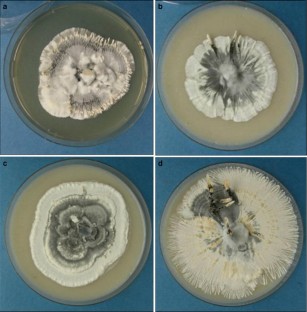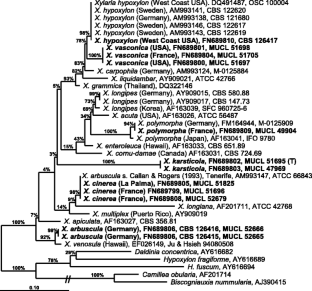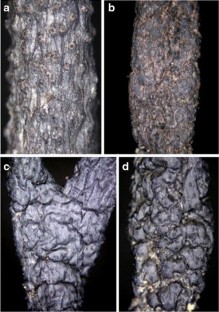 References
Bertault R (1984) Xylaires d'Europe et d'Afrique du Nord. Bull Soc Myc Fr 100:139–175

Callan BE, Rogers JD (1990) Teleomorph-anamorph connections and correlations in some Xylaria species. Mycotaxon 36:343–369

Callan BE, Rogers JD (1993) A synoptic key to Xylaria species from continental United States and Canada based on cultural and anamorphic features. Mycotaxon 46:141–154

Candoussau F (1983) Récoltes de Xylaria du groupe arbuscula-apiculata dans le sud de la France et le pays basque espagnol. Cryptogam Mycol 4:173–178

Chacko RJ, Rogers JD (1981) Cultural characteristics of some species of Xylaria. Mycologia 73:415–428

Dennis RWG (1958) Some xylosphaeras of tropical Africa. Rev Biol 1:175–208

Ellis JB, Everhart BM (1887) Synopsis of the North American species of Xylaria and Poronia. J Mycol III(10):109–113

Greenhalgh GN, Chesters CGC (1968) Conidiophore morphology in some British members of the Xylariaceae. Trans Br Mycol Soc 51:57–82

Greville RK (1824) Flora Edinensis: or a description of plants growing at Edinburgh, arranged according to the Linnean system. Blackwood, Edinburgh

Hsieh HM, Lin CR, Fang MJ, Rogers JD, Fournier J, Lechat C, Ju YM (2010) Phylogenetic status of Xylaria subgenus Pseudoxylaria among taxa of the subfamily Xylarioideae (Xylariaceae) and phylogeny of the taxa involved in the subfamily. Mol Phylogenet Evol 54:957–969. doi:10.1016/j.ympev.2009.12.015

Ju Y-M, Rogers JD (1999) The Xylariaceae of Taiwan (excluding Anthostomella). Mycotaxon 73:343–440

Kirk PF, Cannon PF, Minter DW, Stalpers JA (eds) (2008) Dictionary of the fungi, 10th edn. CABI, Egham

Læssøe T (1992) Xylaria digitata: delimitation and typification, part 1. Persoonia 14:603–613

Læssøe T (1993) Xylaria digitata: delimitation and typification, part 2. Persoonia 15:149–153

Linnaeus C (1745) Flora svecica exhibens plantas per regnum Sueciae crescentes, vol 2. Salvii, Stockholm

Linnaeus C (1753) Species Plantarum, exhibentes plantas rites cognitus ad genera relatas cum differentiis specificis, nominibus trivialibus, synonymis selectis, locis natalibus, secundum systema sexuale digestas, vol II. Salvii, Stockholm

Lodge DJ, Læssøe T, Aime MC, Henkel TW (2008) Montane and cloud forest specialists among neotropical Xylaria species. North Am Fungi 3:193–213

Martin P (1970) Studies in the Xylariaceae: VIII. Xylaria and its allies. J S Afr Bot 36:71–83

Peršoh D, Melcher M, Graf K, Fournier J, Stadler M, Rambold G (2009) Molecular and morphological evidence for the delimitation of Xylaria hypoxylon. Mycologia 101:256–268

Petrini LE, Petrini O (1985) Xylariaceous fungi as endophytes. Sydowia 38:216–234

Petrini O, Petrini LE, Rodrigues K (1995) Xylariaceous endophytes: an exercise in biodiversity. Fitopatol Bras 20:531–539

Roe GW (1974) Fine structural studies on the asexual state of Xylaria and related genera. PhD dissertation, University of Liverpool

Rogers JD (1986) Provisional keys to Xylaria species in continental United States. Mycotaxon 26:85–97

Rogers JD (1990) Teleomorph-anamorph connections and correlations in some Xylaria species. Mycotaxon 36:343–369

Rogers JD, Samuels GS (1986) Ascomycetes of New Zealand. 8. Xylaria. NZ J Bot 24:615–650

Rogers JD, Callan BE, Rossman AY, Samuels GJ (1988) Xylaria (Sphaeriales, Xylariaceae) from Cerro de la Neblina, Venezuela. Mycotaxon 31:103–153

Rogers JD, Miller AN, Vasilyeva LN (2008) Pyrenomycetes of the Great Smoky Mountains National Park. VI. Kretzschmaria, Nemania, Rosellinia and Xylaria (Xylariaceae). Fungal Divers 29:107–116

Saccardo PA (1878) Fungi veneti novi vel critici. Michelia 1:249

Saccardo PA (1882) Sylloge fungorum omnium hucusque cognitorum. I. Patavii (Typis Seminarii).(herein Xylaria: p. 309–346)

San Martín F, Lavin P, Rogers JD (2001) Some species of Xylaria (Hymenoascomycetes, Xylariaceae) associated with oaks in México. Mycotaxon 79:337–360

San Martin F, Rogers JD (1989) A preliminary account of Xylaria of Mexico. Mycotaxon 34:283–373

Spegazzini C (1889) Fungi Puiggariani. Bol Acad Nac Ci Cordoba II:133

Stadler M, Læssøe T, Vasilyeva L (2005) The genus Pyrenomyxa and its affinities to other cleistocarpous Hypoxyloideae as inferred from morphological and chemical traits. Mycologia 97:1129–1139

Stadler M, Fournier J, Læssøe T, Lechat C, Tichy HV, Piepenbring M (2008) Recognition of hypoxyloid and xylarioid Entonaema species from a comparison of holomorphic morphology, HPLC profiles, and ribosomal DNA sequences. Mycol Progr 7:53–73. doi:10.1007/s11557-008-0553-5

Stamatakis A (2006) RAxML-VI-HPC: maximum likelihood-based phylogenetic analyses with thousands of taxa and mixed models. Bioinformatics 22:2688–2690

Triebel D, Persoh D, Wollweber H, Stadler M (2005) Phylogenetic relationships among Daldinia, Entonaema and Hypoxylon as inferred from ITS nrDNA sequences. Nova Hedwigia 80:25–43

Trierveiler-Pereira L, Romero AI, Baltazar JM, Loguercio-Leite C (2009) Addition to the knowledge of Xylaria (Xylariaceae, Ascomycota) in Santa Catarina, Southern Brazil. Mycotaxon 107:139–156

Van der Gucht K (1996) Xylaria species from Papua New Guinea: cultural and anamorphic studies. Mycotaxon 60:327–360

Zhang Z, Schwartz S, Wagner L, Miller W (2000) A greedy algorithm for aligning DNA sequences. J Comp Biol 7:203–214
Acknowledgements
We are grateful to our colleagues, Jack D. Rogers, Yu-Ming Ju and Thomas Læssøe for providing specimens and for valuable discussions. Our thanks go to the curators of K, PDD, PH, TFC and WSP for sending us material on loan. Régis Courtecuisse is thanked for arranging the loan of specimens from PDD, for providing fresh material and for facilitating forays in the Caribbean. Markus Scholler (KR) is thanked for arranging the loan of X. subterranea from PH. We also wish to gratefully acknowledge the help of Monique Basley-Gallis, Françoise Candoussau, Enrique Rubio Dominguez, Marie Fournier, Michel Hairaud, Volker Kummer, Christian Lechat, Christophe Lécuru and Jean Mornand, for providing specimens, Beata Schmieschek (InterMed Discovery GmbH) and Susanne Bethke, for expert lab assistance, and Gerhard Rambold (Univ. Bayreuth) for valuable discussions and general support of our studies.
Additional information
Taxonomic novelties:
Xylaria cinerea J. Fournier & M. Stadler, sp. nov.;
Xylaria karsticola J. Fournier & M. Stadler, sp. nov.;
Xylaria vasconica J. Fournier & M. Stadler, sp. nov.
Electronic supplementary material
Other images of Xylaria spp. and corresponding descriptions are included as Electronic Supplementary data:
About this article
Cite this article
Fournier, J., Flessa, F., Peršoh, D. et al. Three new Xylaria species from southwestern Europe. Mycol Progress 10, 33–52 (2011). https://doi.org/10.1007/s11557-010-0671-8
Received:

Revised:

Accepted:

Published:

Issue Date:

DOI: https://doi.org/10.1007/s11557-010-0671-8
Keywords