Abstract
A strain of the lichen mycobiont isolated from a thallus of Parmotrema reticulatum was cultured axenically on different media. The morphology, anatomy, growth of the colonies, and metabolite production were studied. The isolated fungal colonies developed well and showed a remarkable morphogenetic capacity on most of the assayed solid media, e.g., malt extract 2%-yeast extract 0.2% (MEYE), malt extract 1%-yeast extract 0.4%-sucrose 10% (MY10), and the original Lilly & Barnett medium (LB). The identity of the isolated fungus was confirmed by its ITS rDNA-sequence. Atranorin, the major cortical lichen depside, was produced when the colonies were grown over 5 and 10 months on solid LB medium, combined with a dessication treatment. Atranorin was identified by matching of UV spectra obtained from HPLC running and a reference substance in a spectrum library. Colonies grown on MEYE and MY10 with a dessication treatment did not produce any lichen secondary metabolite. Mycobionts grown for 5 months on solid MEYE without a dessication treatment produced triacylglycerides as the major metabolites, and the fatty acids were characterized as their methyl esters. Analysis by TLC and HPLC-DAD of extracts of colonies grown on LB and MY10 without dessication revealed that the typical secondary compounds of the natural lichen were not produced. The major metabolites of the natural lichen thallus were identified by chromatographic and spectroscopic methods.
Access options
Buy single article
Instant access to the full article PDF.
USD 39.95
Price excludes VAT (USA)
Tax calculation will be finalised during checkout.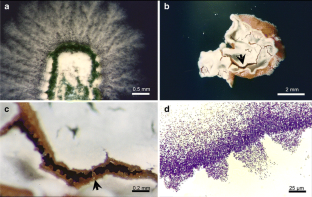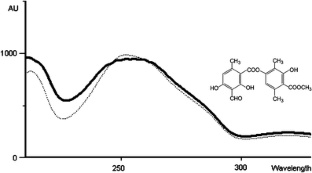 References
Accorinti J (1960) Cultivo unialgal y masivo de Scenedesmus obliquus. Técnicas de obtención. Comun Mus Argent Cien Nat 1:21–29

Adler MT, Fazio AT, Bertoni MD, Rosso ML, Maier MS, Thell A (2004) Culture experiments and DNA-verification of a mycobiont isolated from Punctelia subpraesignis (Parmeliaceae, Lichenized Ascomycotina). Contributions to Lichenology. Bibl Lichenol 88:1–8 J Cramer Berlin

Ahmadjian V (1993) The lichen symbiosis. Wiley, New York

Armaleo D, Clerc P (1995) A rapid and inexpensive method for the purification of DNA from lichens and their symbionts. Lichenologist 27:207–213

Armaleo D, Zhang Y, Cheung S (2008) Light might regulate divergently depside and depsidone accumulation in the lichen Parmotrema hypotropum by affecting thallus temperature and water potential. Mycologia 100:565–576

Bertoni MD, Adler MT, Maier MS (2000) Cultivo in vitro de micobiontes de Parmotrema eciliatum y Flavoparmelia exornata (Parmeliaceae, Ascomycota liquenizados) con producción de triglicéridos. Bol Soc Argent Bot 34:179–183

Boustie J, Grube M (2005) Lichens―a promising source of bioactive secondary metabolites. Plant Genet Resour 3:273–287

Brunauer G, Muggia L, Stocker-Wörgötter E, Grube M (2009) An actively transcribed polyketide synthase from the lichen fungus Xanthoria elegans. Mycol Res 113:82–92

Cox RJ (2007) Polyketides, proteins and genes in fungi: programmed nano-machines begin to reveal their secrets. Org Biomol Chem 5:2010–2026

Culberson CF, Ammann K (1979) Standard Methode für Dünnschicht- chromatographie von Flechtensubstanzen. Herzogia 5:1–24

Elix JA (1996) Biochemistry and secondary metabolites. In: Nash TH III (ed) Lichen biology. Cambridge University Press, Cambridge, pp 154–180

Ernst-Russell MA, Elix JA, Chai CLL, Willis AC, Hamada N, Nash TH III (1999) Hybocarpone, a novel cytotoxic naphtazarin derivative from mycobiont cultures of the lichen Lecanora hybocarpa. Tetrahedron Lett 40:6321–6324

Fazio AT, Adler MT, Bertoni MD, Sepúlveda CS, Damonte EB, Maier MS (2007) Lichen secondary metabolites from the cultured lichen mycobionts of Teloschistes chrysophthalmus and Ramalina celastri and their antiviral activities. Z Naturforsch Sect C 62c:543–549

Feige GB, Lumbsch HT, Huneck S, Elix JA (1993) Identification of lichen substances by a standardized high-performance liquid chromatographic method. J Chromatog 646:417–427

Gardes M, Bruns TD (1993) ITS primers with enhanced specificity for Basidiomycetes. Application to the identification of mycorrhizae and rusts. Mol Ecol 2:113–118

Hager A, Brunauer G, Türk R, Stocker-Wörgötter E (2008) Production and bioactivity of common lichen metabolites as exemplified by Heterodea muelleri (Hampe) Nyl. J Chem Ecol 34:113–120

Hamada N (1989) The effect of various culture conditions on depside production by an isolated lichen mycobiont. Bryologist 92:310–313

Hamada N (1996) Induction of the production of lichen substances by non-metabolites. Bryologist 99:68–70

Hamada N, Miyagawa H, Miyawaki H, Masakane I (1996) Lichen substances in mycobionts of crustose lichens cultured on media with extra sucrose. Bryologist 99:71–74

Hamada N, Tanahashi T, Miyagawa H, Miyawaki H (2001) Characteristics of secondary metabolites from isolated lichen mycobionts. Symbiosis 31:23–33

Huneck S (2001) New results on the chemistry of lichen substances. In: Herz W, Falk H, Kirby GW, Moore RE (eds) Progress in the chemistry of organic natural products 81. Springer, New York, pp 224–230

Huneck S, Yoshimura I (1996) Identification of lichen substances. Springer, Berlin Heidelberg

Kauffmann U, Hertweck C (2002) Biosynthese ungesättigter Fettsäuren durch Polyketid-synthasen. Angew Chem 114:1947–1950

Kon Y, Tsusaka I, Kashiwadani H (1997) The effects of water content on the resynthesis, growth of mycobiont and photobiont and lichen substances production. Bull Natl Mus Tokyo B 23:137–142

Lilly VG, Barnett HL (1951) Physiology of the fungi. McGraw-Hill, New York

Molina MC, Crespo A, Vicente C, Elix JA (2003) Differences in the composition of phenolics and fatty acids of cultured mycobionts and thallus of Physconia distorta. Plant Physiol Biochem 41:175–180

Reis RA, Iacomimi M, Gorin PAJ, Mera de Souza L, Grube M, Cordeiro LMC, Sassaki GL (2005) Fatty acid composition of the tropical lichen Teloschistes flavicans and its cultivated symbionts. FEMS Microbiol Lett 247:1–6

Stocker-Wörgötter E (2002) Laboratory cultures of selected lichen fungi from Brazil and Chile. Mitt Inst Allg Bot Hamb 30–32:253–270

Stocker-Wörgotter E (2008) Metabolic diversity of lichen-forming ascomycetous fungi: culturing, polyketide and shikimate metabolite production, and PKS genes. Nat Prod Rep 25:188–200

Stocker-Wörgötter E, Elix JA, Grube M (2004) Secondary chemistry of lichen-forming fungi: chemosyndromic variation and DNA-analyses of cultures and chemotypes in the Ramalina farinacea complex. Bryologist 107:152–162

White TJ, Bruns T, Lee S, Taylor J (1990) Amplification and direct sequencing of fungal ribosomal DNA genes for phylogenetics. In: Innis MA, Gelfand DH, Sninsky JJ, White TJ (eds) PCR protocols: a guide to methods and applications. Academic, New York, pp 315–322

Yamamoto Y, Mizuguchi R, Yamada Y (1985) Tissue cultures of Usnea rubescens and Ramalina yasudae and production of usnic acid in their cultures. Agric Biol Chem 49:3347–3348

Zocher B, Stocker-Wörgötter E (2005) Secondary chemistry of lichen-forming ascomycetes: culture experiments with isolates of Xanthoparmelia species from Australia. Folia Crypotogam Est 41:123–134
Acknowledgements
The authors thank CONICET (grants PIP 5311 and 5509) and Universidad de Buenos Aires (grant UBACYT X124) for financial support. A. T. Fazio thanks the University of Buenos Aires for a doctoral fellowship. M.T. Adler and M.S. Maier are Research Members of the National Research Council of Argentina (CONICET).
About this article
Cite this article
Fazio, A.T., Bertoni, M.D., Adler, M.T. et al. Culture studies on the mycobiont isolated from Parmotrema reticulatum (Taylor) Choisy: metabolite production under different conditions. Mycol Progress 8, 359–365 (2009). https://doi.org/10.1007/s11557-009-0609-1
Received:

Revised:

Accepted:

Published:

Issue Date:

DOI: https://doi.org/10.1007/s11557-009-0609-1
Keywords
Parmeliaceae

Morphogenetic potential

Lichen metabolites

Atranorin

Triacylglycerides