Abstract
This research presents the design of a real-time system to remove the effects of haze in a sequence of monocular images. The system firstly estimates the medium transmission function from an observed hazy image using locally adaptive neighborhoods and calculation of order statistics. Next, the haze-free image is retrieved using the estimated transmission function and a physics-based restoration model. The performance of the proposed system is evaluated and compared with that of similar existing techniques in terms of objective metrics. The obtained results exhibit that the proposed system yields a higher performance in comparison with tested similar methods. Because of its high computational efficiency, the proposed system is able to operate at high rate and it is suitable for real-time applications.
This is a preview of subscription content, log in to check access.
Access options
Buy single article
Instant access to the full article PDF.
US$ 39.95
Price includes VAT for USA
Subscribe to journal
Immediate online access to all issues from 2019. Subscription will auto renew annually.
US$ 99
This is the net price. Taxes to be calculated in checkout.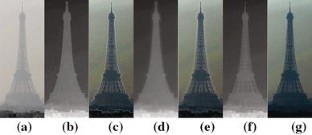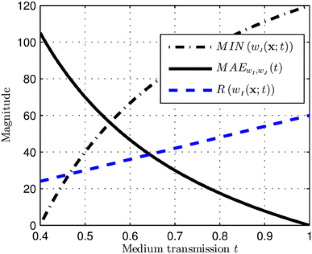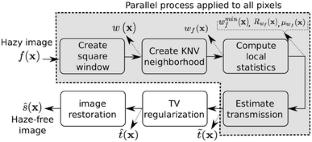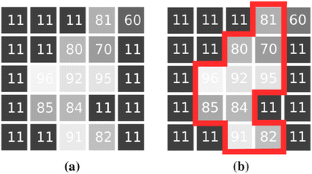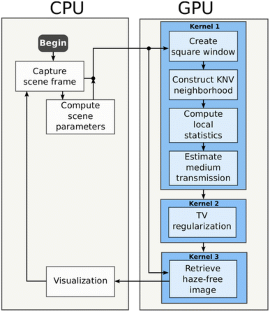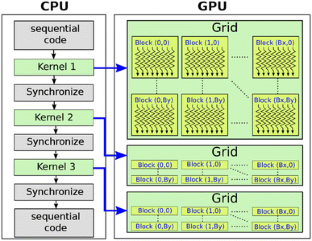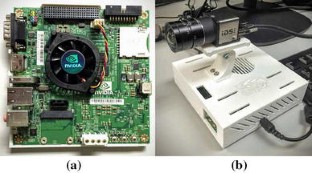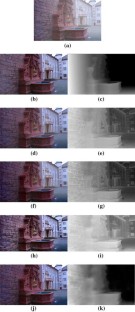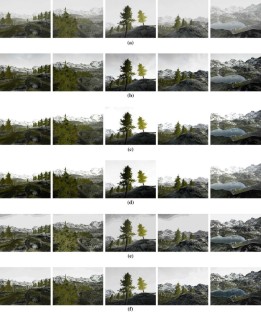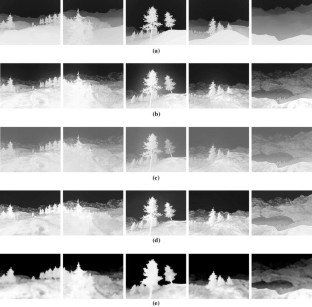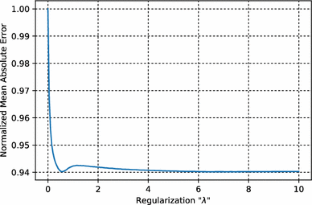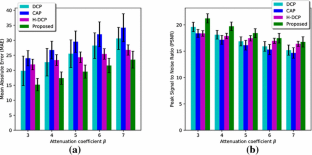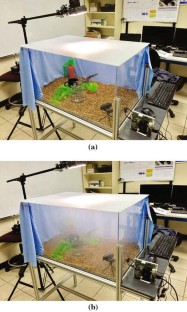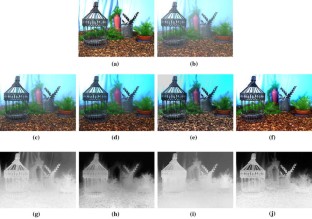 References
1.

Boreskov, A., Shikin, E.: Computer Graphics: From Pixels to Programmable Graphics Hardware. Chapman & Hall/CRC, London (2014)

2.

Bui, T.M., Tran, H.N., Kim, W., Kim, S.: Segmenting dark channel prior in single image dehazing. Electron. Lett. 50(7), 516–518 (2014)

3.

Chambolle, A.: An algorithm for total variation minimization and applications. J. Math. Imaging Vis. 20(1), 89–97 (2004)

4.

Chambolle, A., Pock, T.: A first-order primal–dual algorithm for convex problems with applications to imaging. J. Math. Imaging Vis. 40(1), 120–145 (2011)

5.

El-Hashash, M.M., Aly, H.A.: High-speed video haze removal algorithm for embedded systems. J. Real-Time Image Proc. (2016). doi:10.1007/s11554-016-0603-1

6.

Fattal, R.: Single image dehazing. ACM Trans. Graph. 27(3), 72:1–72:9 (2008)

7.

Gao, R., Wang, Y., Liu, M., Fan, X.: Fast algorithm for dark channel prior. Electron. Lett. 50(24), 1826–1828 (2014)

8.

He, K., Sun, J., Tang, X.: Single image haze removal using dark channel prior. IEEE Trans. Pattern Anal. Mach. Intell. 33(12), 2341–2353 (2011)

9.

He, K., Sun, J., Tang, X.: Guided image filtering. IEEE Trans. Pattern Anal. Mach. Intell. 35(6), 1397–1409 (2013)

10.

Kober, V., Mozerov, M., Alvarez-Borrego, J.: Nonlinear filters with spatially connected neighborhoods. Opt. Eng. 40(6), 971–983 (2001)

11.

Koschmieder, H.: Theorie der horizontalen sichtweite. Beitr Phys Freien Atm 12, 171–181 (1924)

12.

Lee, S., Yun, S., Nam, J.H., Won, C.S., Jung, S.W.: A review on dark channel prior based image dehazing algorithms. EURASIP J. Image Video Process. 1, 4 (2016)

13.

Levin, A., Lischinski, D., Weiss, Y.: A closed-form solution to natural image matting. IEEE Trans. Pattern Anal. Mach. Intell. 30(2), 228–242 (2008)

14.

Liu, H., Yang, J., Wu, Z., Zhang, Q.: Fast single image dehazing based on image fusion. J. Electron. Imaging 24(1), 013020 (2015)

15.

Narasimhan, S.G., Nayar, S.K.: Vision and the atmosphere. Int. J. Comput. Vision 48(3), 233–254 (2002)

16.

Narasimhan, S.G., Nayar, S.K.: Contrast restoration of weather degraded images. IEEE Trans. Pattern Anal. Mach. Intell. 25(6), 713–724 (2003)

17.

Rudin, L.I., Osher, S., Fatemi, E.: Nonlinear total variation based noise removal algorithms. Phys. D 60(1), 259–268 (1992)

18.

Schechner, Y.Y., Narasimhan, S.G., Nayar, S.K.: Polarization-based vision through haze. Appl. Opt. 42(3), 511–525 (2003)

19.

Sun, W., Guo, B.L., Li, D.J., Jia, W.: Fast single-image dehazing method for visible-light systems. Opt. Eng. 52(9), 093103–093103 (2013)

20.

Tarel, J.P., Hautire, N.: Fast visibility restoration from a single color or gray level image. In: 2009 IEEE 12th International Conference on Computer Vision, pp. 2201–2208 (2009)

21.

Wang, D., Zhu, J., Yan, F.: Dehazing for single image with sky region via self-adaptive weighted least squares model. Opt. Eng. 55(4), 043106 (2016)

22.

Wang, J.G., Tai, S.C., Lin, C.J.: Image haze removal using a hybrid of fuzzy inference system and weighted estimation. J. Electron. Imaging 24(3), 033027 (2015)

23.

Yang, J., Jiang, B., Lv, Z., Jiang, N.: A real-time image dehazing method considering dark channel and statistics features. J. Real-Time Image Proc. (2017). doi:10.1007/s11554-017-0671-x

24.

Yu, T., Riaz, I., Piao, J., Shin, H.: Real-time single image dehazing using block-to-pixel interpolation and adaptive dark channel prior. IET Image Process 9(9), 725–734 (2015)

25.

Zhu, Q., Mai, J., Shao, L.: A fast single image haze removal algorithm using color attenuation prior. IEEE Trans. Image Process. 24(11), 3522–3533 (2015)
Acknowledgements
This research was supported by Secretaría de Investigación y Posgrado - Instituto Politécnico Nacional, project SIP20171387 and Consejo Nacional de Ciencia y Tecnología, project Catedras-CONACYT-880.
About this article
Cite this article
Diaz-Ramirez, V.H., Hernández-Beltrán, J.E. & Juarez-Salazar, R. Real-time haze removal in monocular images using locally adaptive processing. J Real-Time Image Proc 16, 1959–1973 (2019). https://doi.org/10.1007/s11554-017-0698-z
Received:

Accepted:

Published:

Issue Date:
Keywords
Image dehazing

Real-time image processing

Locally adaptive neighborhoods

Parallel processing

Graphics processing unit