Zusammenfassung
Hintergrund
Die Wirksamkeit der Benachrichtigung von Sexualpartner*innen über die Diagnose von sexuell übertragbaren Infektionen (STI), um Übertragungsketten zu unterbrechen, ist durch den internationalen Forschungsstand gut belegt. Verschiedene empirische Arbeiten verweisen auf die Bedeutung struktureller und individueller Faktoren für die Bereitschaft, Partner*innen zu benachrichtigen.
Methoden
Über quantitative und qualitative Befragungen von Nutzer*innen anonymer Teststellen konnten erstmals belastbare Daten dazu für Deutschland gewonnen werden. Im Erhebungszeitraum (Juli bis September 2019) wurden bundesweit insgesamt 845 Nutzer*innen anonymer Teststellen befragt: 721 füllten einen schriftlichen Fragebogen aus, mit 169 Befragungsteilnehmenden konnte zusätzlich ein etwa 30-minütiges leitfadengestütztes Interview realisiert werden.
Ergebnisse
Wie unsere Erhebungen zeigen, wurde etwa ein Drittel aller befragten Klient*innen bisher schon mindestens einmal von einem Sexualkontakt informiert, dass die Möglichkeit einer STI besteht. Generell wären die Klient*innen selbst dankbar über eine Benachrichtigung – am liebsten durch den infizierten Sexualkontakt persönlich. Das Thema Partner*innenbenachrichtigung (PB) bewegt die Nutzer*innen, viele empfinden Verantwortung für ihre Sexualpartner*innen und fast alle wollen sie informieren. Doch fällt es vielen schwer, ihre Sexualkontakte auf eine mögliche Infektion hinzuweisen. Deshalb wünschen sich vier Fünftel der 721 befragten Klient*innen, zu Möglichkeiten von PB beraten zu werden.
Schlussfolgerung
Klient*innen wünschen sich Informationsmaterial (analog und digital) sowie Beratung und Hilfen zur Gesprächsführung bzgl. PB (wie, wann und wo Sexualkontakte informieren?) und schließlich tatsächlich verfügbare Test- und Behandlungsangebote.
Abstract
Background
Partner notification for sexually transmitted infections (STI) is intended to interrupt transmission and to bring people exposed to infection to care. Various empirical studies point to the importance of structural and individual factors for the willingness to notify partners.
Methods
Through quantitative and qualitative surveys of users of anonymous test sites, reliable data for Germany could be obtained for the first time. In the survey period (July to September 2019), a total of 845 users of anonymous test sites were surveyed nationwide: 721 completed a written questionnaire, whereby 169 survey participants completed an additional 30-min guided interview.
Results
As data show, about a third of all clients surveyed have been informed at least once by a sexual contact that there is a possibility of an STI. In general, the clients themselves would be grateful for a notification—preferably through the infected sexual contact personally. The topic of partner notification is important to users, many feel responsibility for their sexual partners and almost everyone wants to inform them. But it is difficult for many to point out a possible infection to their sexual contacts, which is why four fifths of the 721 clients surveyed wish to be advised on the possibilities of partner notification.
Conclusion
Users of anonymous test sites would like information material (analogue and digital) as well as advice and help to conduct a conversation regarding partner notification (e.g., how, when and where to inform sexual contacts). And finally test and treatment offers that are actually available.
Access options
Buy single article
Instant access to the full article PDF.
US$ 39.95
Tax calculation will be finalised during checkout.
Subscribe to journal
Immediate online access to all issues from 2019. Subscription will auto renew annually.
US$ 52.31
Tax calculation will be finalised during checkout.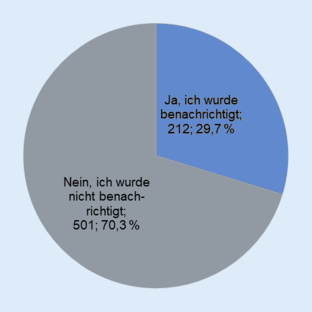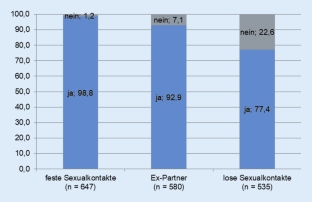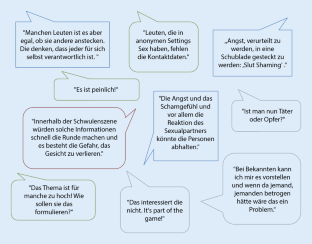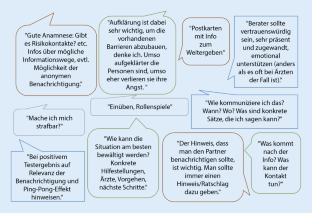 Literatur
1.

Gallo MF, Margolis A, Malotte CK et al (2016) Sexual abstinence and other behaviours immediately following a new STI diagnosis among STI clinic patients: findings from the Safe in the City trial. Sex Transm Infect 92:206–210

2.

Gotz HM, van Rooijen MS, Vriens P et al (2014) Initial evaluation of use of an online partner notification tool for STI, called 'suggest a test': a cross sectional pilot study. Sex Transm Infect 90(3):195–200

3.

Howard EJ, Xu F, Taylor SN et al (2011) Patient preference for PatientDelivered partner therapy: exploratory findings from three sexually transmitted disease clinics. Sex Transm Dis 38(2):148–151

4.

Hunter P, Oyervides O, Grande KM et al (2014) Facebook-augmented partner notification in a cluster of syphilis cases in Milwaukee. Public Health Rep 129:43–49

5.

Jones HE, Holloway IW, Pressmann E et al (2013) Women's preferences for testing and management of sexually transmitted infections among low-income New York City family planning clients. Int J Std Aids 24:455–460

6.

Reed JL, Huppert JS, Gillespie GL et al (2015) Adolescent patient preferences surrounding partner notification and treatment for sexually transmitted infections. Acad Emerg Med 22(1):61–66

7.

Schmidt AJ, Marcus U (2013) Defizite in den Angeboten zur STI-Diagnostik für Männer mit gleichgeschlechtlichen Sexualkontakten in deutschsprachigen Städten. Ergebnisse des Europäischen MSM-Internet-Surveys (EMIS). Bundesgesundhbl 56:1609–1618

8.

Suzan-Monti M, Cotte L, Fressard L et al (2018) Factors associated with partner notification of STIs in men who have sex with men on PrEP in France: a crosssectional substudy of the ANRS-IPERGAY trial. Sex Transm Infect 94:490–493
Förderung
Die Untersuchung wurde vom Bundesministerium für Gesundheit im Rahmen einer Zuwendung gefördert.
Ethics declarations
Interessenkonflikt
K. Enders, M. Schu und G. Cannizzaro geben an, dass kein Interessenkonflikt besteht.
Der Beitrag beinhaltet keine Studien an Menschen und Tieren. Alle Erhebungen wurden vollständig anonym durchgeführt.
About this article
Cite this article
Enders, K., Schu, M. & Cannizzaro, G. "Wem sag ich's? Und vor allem wie?" – Partner*innenbenachrichtigung bei STI. Präv Gesundheitsf 16, 62–67 (2021). https://doi.org/10.1007/s11553-020-00780-2
Received:

Accepted:

Published:

Issue Date:
Schlüsselwörter
Partnerbenachrichtigung

Nachverfolgung von Kontaktpersonen

Öffentlicher Gesundheitsdienst

Aidshilfe
Keywords
Index Partner Testing

Contact tracing

Patient referral

Provider referral

Partner management