Zusammenfassung
Hintergrund
Die vorliegende Studie ist der erste Versuch, das im Arbeitskontext etablierte Job-Demands-Resources- (JD-R-)Modell in den deutschen Schulkontext zu transferieren und soll dazu beitragen, emotionale Reaktionen der Schüler auf schulische Anforderungen zu verstehen.
Methodik
Eine querschnittliche Fragebogenstudie wurde mit 395 Oberstufenschülern durchgeführt.
Ergebnisse
Ergebnisse der Pfadanalysen zeigen, dass hypothesenkonform Anforderungen und Ressourcen in einer negativen Beziehung zueinanderstehen. Hohe Anforderungen gehen mit einem erhöhten Risiko eines Schulburnouts und einem niedrigeren Schulengagement einher. Im Vergleich dazu hängen Ressourcen positiv mit Engagement und negativ mit Burnout zusammen. Interaktionseffekte von Anforderungen und Ressourcen, die das Burnout abschwächen bzw. schulisches Engagement verstärken, wurden nicht gefunden. Des Weiteren korreliert Burnout wie erwartet negativ mit der schulischen Leistung.
Diskussion
Diese Studie liefert die ersten Hinweise für die Anwendbarkeit des JD-R-Modells im deutschen Schulkontext und bietet somit einen Ansatzpunkt für die Ableitung von Schulburnoutprävention.
Abstract
Background
The present study is the first attempt to transfer the well-established Job Demands-Resources (JD-R) model to German school context and aims to contribute to understand students' emotional response to school-related stress.
Methods
We conducted a cross-sectional self-report study with 395 students of academic secondary schools.
Results
The results of the path analyses showed that in line with our hypotheses, there is a negative association between demands and resources. As assumed, we found a positive association between resources and engagement. Furthermore, burnout was negatively related to academic performance. However, no interactions between demands and resources were found.
Conclusion
This study provides the first hints of the applicability of the JD‑R model in the German school context and thus offers a starting point for school burnout prevention.
Access options
Buy single article
Instant access to the full article PDF.
US$ 39.95
Tax calculation will be finalised during checkout.
Subscribe to journal
Immediate online access to all issues from 2019. Subscription will auto renew annually.
US$ 52.31
Tax calculation will be finalised during checkout.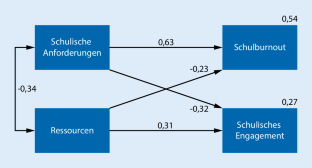 Literatur
1.

Albert M, Hurrelmann K, Quenzel G (2015) Jugend 2015: eine pragmatische Generation im Aufbruch. S. Fischer, Frankfurt am Main (Originalausgabe)

2.

Bakker AB, Demerouti E (2007) The job demands-resources model: state of the art. J Manag Psychol 22:309–328

3.

Bakker AB, Demerouti E (2014) Job demands-resources theory. In: Cooper CL (Hrsg) Wellbeing. Wiley & Sons, Chichester, S 1–28

4.

Boyacı M, Özhan MB (2018) The role of hope and family relations of school burnout among secondary school students: a structural equation modeling. Educ Sci 43:137–150. https://doi.org/10.15390/EB.2018.7536

5.

Chrisopoulos S, Dollard MF, Winefield AH, Dormann C (2010) Increasing the probability of finding an interaction in work stress research: A two-wave longitudinal test of the triple-match principle. J Occup Organ Psychol 83:17–37

6.

Cohen J (1988) Statistical power analysis for the behavioral sciences https://doi.org/10.4324/9780203771587

7.

Demerouti E, Bakker AB, Nachreiner F, Schaufeli WB (2001) The job demands-resources model of burnout. J Appl Psychol 86:499–512

8.

Dicke T, Stebner F, Linninger C et al (2018) A longitudinal study of teachers' occupational well-being: applying the job demands-resources model. J Occup Health Psychol 23:262–277

9.

Gusy B, Wörfel F, Lohmann K (2016) Erschöpfung und Engagement im Studium: Eine Anwendung des Job Demands-Resources Modells. Z Gesundheitspsychol 24:41–53. https://doi.org/10.1026/0943-8149/a000153

10.

Herrmann J, Koeppen K, Kessels U (2019) Do girls take school too seriously? Investigating gender differences in school burnout from a self-worth perspective. Learn Individ Differ 69:150–161. https://doi.org/10.1016/j.lindif.2018.11.011

11.

Hjern A, Alfven G, Östberg V (2008) School stressors, psychological complaints and psychosomatic pain. Acta Paediatr 97:112–117

12.

Howard GS (1994) Why do people say nasty things about self-reports? J Organ Behav 15:399–404

13.

Lohaus A, Nussbeck F (2016) FRKJ 8‑16: Fragebogen zu Ressourcen im Kindes- und Jugendalter

14.

May RW, Bauer KN, Fincham FD (2015) School burnout: diminished academic and cognitive performance. Learn Individ Differ 42:126–131

15.

Ravens-Sieberer U, Ottova V, Hillebrandt D, Klasen F (2012) Gesundheitsbezogene Lebensqualität und psychische Gesundheit von Kindern und Jugendlichen in Deutschland: Ergebnisse aus der deutschen HBSC-Studie 2006–2010. Gesundheitswesen 74:S33–S41

16.

Rimann M, Udris I (1997) Subjektive Arbeitsanalyse: Der Fragebogen SALSA. vdf Hochschulverlag, Zürich

17.

Salmela-Aro K, Kiuru N, Leskinen E, Nurmi J‑E (2009) School burnout inventory (SBI) reliability and validity. Eur J Psychol Assess 25:48–57

18.

Salmela-Aro K, Upadaya K (2012) The schoolwork engagement inventory. Eur J Psychol Assess 28:60–67

19.

Salmela-Aro K, Upadyaya K (2014) School burnout and engagement in the context of demands-resources model. Br J Educ Psychol 84:137–151

20.

Shernoff DJ, Csikszentmihalyi M, Shneider B, Shernoff ES (2003) Student engagement in high school classrooms from the perspective of flow theory. Sch Psychol Q 18:158–176

21.

Slivar B (2001) The syndrome of burnout, self-image, and anxiety with grammar school students. Horiz Psychol 10:21–32

22.

Storm A, Hanewinkel R (2019) Präventionsradar: Kinder- und Jugendgesundheit in Schulen: Erhebung Schuljahr 17/18

23.

Walburg V (2014) Burnout among high school students: a literature review. Child Youth Serv Rev 42:28–33
Ethics declarations
Interessenkonflikt
Z. Teuber, J. Möer, L. Webel und A. Seifert geben an, dass kein Interessenkonflikt besteht.
Alle beschriebenen Untersuchungen am Menschen oder an menschlichem Gewebe wurden mit Zustimmung der zuständigen Ethikkommission, im Einklang mit nationalem Recht sowie gemäß der Deklaration von Helsinki von 1975 (in der aktuellen, überarbeiteten Fassung) durchgeführt. Von allen beteiligten Patienten liegt eine Einverständniserklärung vor.
About this article
Cite this article
Teuber, Z., Möer, J., Webel, L. et al. Burnout und Engagement: Eine Pilotstudie zum Transfer des Job-Demands-Resources-Modells in den deutschen Schulkontext. Präv Gesundheitsf 15, 269–274 (2020). https://doi.org/10.1007/s11553-019-00752-1
Received:

Accepted:

Published:

Issue Date:
Schlüsselwörter
Schulische Anforderungen

Erschöpfung

Stressbewältigung

Schulische Anpassung

Schulische Leistung
Keywords
Academic demands

Exhaustion

Stress and coping

Academic adjustment

Academic performance