Zusammenfassung
Hintergrund
Neben wissenschaftlichen Definitionen nehmen auch gesellschaftliche Wissensbestände Einfluss auf das, was allgemein unter "Gesundheit" verstanden wird. Der öffentliche Diskurs wird zunehmend durch Inhalte aus sozialen Medien geprägt, welche zu einem festen Bestandteil des Alltags vieler Menschen geworden sind.
Ziel der Arbeit
Diese Arbeit untersucht die unterschiedliche Konstruktion von Gesundheit am Beispiel von deutschen "Fitness"- und "Body-positive-Beiträgen" auf Instagram. Das Ziel ist eine kritische Auseinandersetzung mit den Inhalten sozialer Medien um daraus Empfehlungen für die Gesundheitskommunikation durch Experten abzuleiten.
Methoden
Es wurde eine Stichprobe von 600 Instagram-Beiträgen für eine quantitative Auswertung gezogen, welche mit der Statistik- und Analysesoftware "SPSS" ausgewertet wurden. Davon wurden wiederum 59 Beiträge mit der qualitativen Inhaltsanalyse nach Mayring (2015) ausgewertet. Dabei dienten die Hashtags "#FitfamGermany" und "#NotHeidisGirl" für die gezielte Auswertung deutscher Beiträge.
Ergebnisse und Diskussion
Die Fitness-Beiträge führen wissenschaftliche Normen von Gesundheit oft ad absurdum und erheben strenge geschlechtsspezifische Körpernormen. Die Body-positive-Beiträge stellen hingegen Wohlbefinden in das Zentrum ihres Gesundheitsverständnisses und propagieren Selbstakzeptanz statt Perfektionismus. Um Körperunzufriedenheit, Depressionen und Essstörungen entgegen zu wirken, muss Gesundheitskommunikation stärker auf Diversität setzen und individuelle Bedürfnisse und Prioritäten akzeptieren.
Abstract
Background
In addition to scientific definitions of health, social knowledge also has an influence on what is commonly understood by "health". The public discourse is increasingly characterized by content from social media, which have become an integral part of everyday life of many people.
Objectives
This paper analyzes the different constructions of health using the example of German "fitness" and "body positive" posts on Instagram. The aim is a critical examination of the contents of social media to derive recommendations for health communication by experts.
Methods
A sample of 600 Instagram posts were drawn for a quantitative evaluation using the statistics and analysis software "SPSS". Of these, 59 posts were evaluated with the qualitative content analysis by Mayring (2015). The hashtags "#FitfamGermany" and "#NotHeidisGirl" were used for the evaluation of German posts.
Results and conclusions
The fitness posts often exaggerate scientific norms of health and claim for strict gender-specific body norms. Body-positive posts, on the other hand, place well-being at the centre of their understanding of health and propagate self-acceptance instead of perfectionism. To counteract body dissatisfaction, depression and eating disorders, health communication must focus more on diversity and accept individual needs and priorities.
Access options
Buy single article
Instant access to the full article PDF.
USD 39.95
Price includes VAT (USA)
Tax calculation will be finalised during checkout.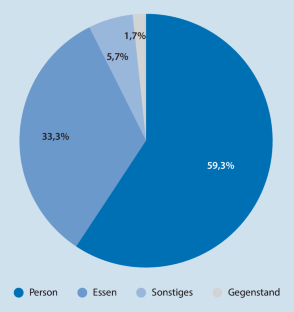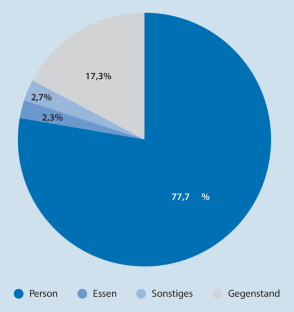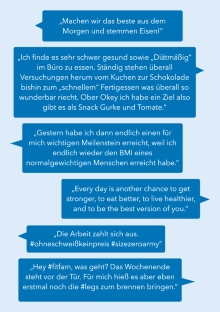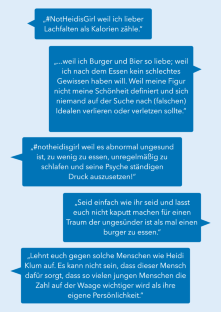 Literatur
1.

Berger P, Luckmann T (2013) Die gesellschaftliche Konstruktion der Wirklichkeit. Eine Theorie der Wissenssoziologie, 25. Aufl. S. Fischer, Frankfurt am Main, S 24

2.

Carrotte E, Prichard I, Lim M (2017) "Fitspiration" on social media: a content analysis of gendered images. J Med Internet Res 19(3):e95

3.

Cwynar-Horta J (2016) The commodification of the body positive movement on Instagram. Stream Inspiring Crit Thought 8:36–56

4.

Holland G, Tiggemann M (2017) "Strong beats skinny every time": Disordered eating and compulsive exercise in women who post fitspiration on Instagram. Int J Eat Disord 50:76–79

5.

http://apps.who.int/gb/bd/PDF/bd47/EN/constitution-en.pdf?ua=1. Zugegriffen: 16.01.18

6.

http://www.dge.de/ernaehrungspraxis/vollwertige-ernaehrung/10-regeln-der-dge/. Zugegriffen: 17.01.18

7.

https://instagram-press.com/our-story/. Zugegriffen: 18.01.18

8.

https://www.emarketer.com/Chart/Instagram-Users-Penetration-Worldwide-2016-2021-millions-change-of-social-network-users/214458. Zugegriffen: 18.10.17

9.

https://www.emarketer.com/Article/Instagram-Users-Rise-26-Germany-2017/1015805. Zugegriffen: 18.10.17

10.

Mayring P (2015) Qualitative Inhaltsanalyse. Grundlagen und Techniken, 12. Aufl. Beltz, Weinheim, Basel

11.

Santarossa S, Coyne P, Lisinski C, Woodruff S (2016) #fitspo on Instagram: A mixed-methods approach using Netlytic and photo analysis, uncovering the online discussion and author/image characteristics. J Health Psychol. https://doi.org/10.1177/1359105316676334

12.

Tiggemann M, Zaccardo M (2016) 'Strong is the new skinny': a content analysis of #fitspiration images on Instagram. J Health Psychol 23(8):1003–1011

13.

Webba J, Vinoskib E, Bonarc A, Daviesa A, Etzeld L (2017) Fat is fashionable and fit: a comparative content analysis of fatspiration and health at every size® Instagram images. Body Image 22:53–64
Ethics declarations
Interessenkonflikt
A.-L. Klapp und J.C. Klotter geben an, dass kein Interessenkonflikt besteht.
Dieser Beitrag beinhaltet keine von den Autoren durchgeführten Studien an Menschen oder Tieren.
About this article
Cite this article
Klapp, AL., Klotter, J.C. #Fitness vs. #BodyPositive – die unterschiedliche soziale Konstruktion von Gesundheit auf Instagram. Präv Gesundheitsf 14, 362–367 (2019). https://doi.org/10.1007/s11553-019-00708-5
Received:

Accepted:

Published:

Issue Date:
Schlüsselwörter
Gesundheit

Soziale Medien

Fitness

Body Positive

Körperunzufriedenheit
Keywords
Health

Social media

Fitness

Body positive

Body dissatisfaction