Zusammenfassung
Hintergrund
Schilddrüsenerkrankungen sind in Deutschland sehr häufig. Es überwiegen die durch Jodmangel hervorgerufenen Krankheiten wie die Struma mit und ohne Knoten.
Ergebnisse
Screeninguntersuchungen der berufstätigen Bevölkerung zeigen, dass jeder 4. Erwachsene Knoten in der Schilddrüse hat. Signifikante regionale Unterschiede in der Erkrankungshäufigkeit bestehen nicht.
Schlussfolgerung
Die medikamentöse Therapie der Struma ist verbesserungsbedürftig. Nur 40% der behandelten Patienten liegen mit den Laborwerten im gewünschten Zielbereich. Eine Behandlung mit Jod, allein oder in Kombination mit Schilddrüsenhormon, erfolgt zu selten. Die Autoimmunerkrankungen sind im Vergleich zu Jodmangelerkrankungen deutlich seltener. Anders als in gut jodversorgten Ländern steht der Morbus Basedow nach den autonomen Funktionsstörungen in Deutschland an 2. Stelle der Ursache für Schilddrüsenüberfunktionen. Als Folge einer Autoimmunthyreoditis tritt die Hypothyreose in höherem Lebensalter häufiger auf.
Abstract
Background
Diseases of the thyroid gland are a frequent problem in Germany. Of these, iodine deficiency diseases (diffuse and nodular goitre) are the most common.
Results
Screening of the working population has revealed that almost a quarter of the adult German population has a nodular goitre. There are no significant regional differences in the prevalence of the disease.
Conclusion
Medical treatment could be optimized. Only 40% of the patients treated with thyroid hormones have laboratory values within the desirable range. Treatment with iodine alone, or in combination with thyroid hormones, is initiated to seldom. In Germany, autoimmune thyroid diseases are less frequent than diseases due to iodine deficiency. Graves' disease is the second most common cause of hyperthyroidism after autonomous thyroid dysfunction. Spontaneous hypothyroidism occurs much more commonly in the older population than in young adults.
Access options
Buy single article
Instant access to the full article PDF.
USD 39.95
Price excludes VAT (USA)
Tax calculation will be finalised during checkout.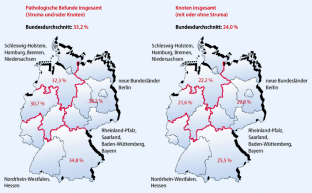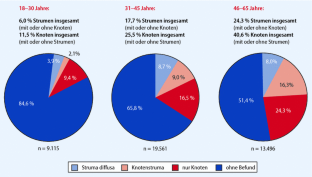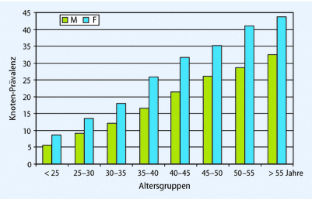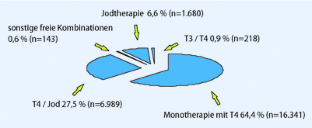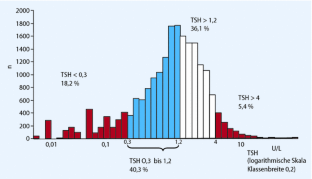 Literatur
Badenhoop K, Böhm BO (2004) Genetic susceptibility and immunological synapse in type 1 diabetes and thyroid autoimmune disease. Exp Clin Endocrinol Diabetes 112: 407–415

Berglund J, Christensen SB, Hallengren B (1990) Total and age-specific incidence of Graves' thyrotoxicosis, toxic nodular goitre and solitary toxic adenoma in Malmö, 1970–1974. J Intern Med 227: 137–141

Kurth BM (2006) Symposium zur Studie zur Gesundheit von Kindern und Jugendlichen in Deutschland. Bundesgesundheitsblatt 49: 1050–1058

Dietlein M, Dressler J, Grünwald F et al. (2004) Leitlinie zur Radiojodtherapie bei benignen Schilddrüsenerkrankungen. Nuklearmedizin 43: 217–220

Hörmann R, Quadbeck B, Roggenbuck U, Basedow Study Group et al. (2002) Relapse of Graves' disease after successful outcome of antithyroid drug therapy: results of a prospective randomized study on the use of levothyroxine. Thyroid 12: 1119–1128

Mc Kenna (2001) Graves' disease. Lancet 357: 1793–1796

Reiners C, Wegscheider K, Schicha H et al. (2004) Prevalence of thyroid disorders in the working population of Germany: Ultrasonography screening in 96,278 unselected employes. Thyroid 14: 926–932

Röher H-D, Goretzki PE, Hellmann P, Witte J (1999) Risiko und Komplikationen der Schilddrüsenchirurgie. Chirurg 70: 999–1010

Schott M, Minich WB, Willenberg HS et al. (2005) Relevance of TSH receptor stimulating and blocking autoantibody measurement for the prediction of relapse in Graves' disease. Horm Metab Res 37: 741–744

Schumm-Dräger P-M, Vaupel R, Wegscheider K (2006) Papillon 3 – Unzureichende Umsetzung der Empfehlungen zur medikamentösen Behandlung von Patienten mit Jodmangelstruma in deutschen Praxen. Med Welt 57: 224–227

Völzke H, Lüdemann J, Robinson DM et al. (2003) The prevalence of undiagnosed thyroid disorders in a previously iodine-deficient area. Thyroid 13: 803–810

Tunbridge WMG, Brewis M, French JM et al. (1981) Natural history of autoimmune thyroiditis. Br Med J 282: 258–262

Tunbridge WMG, Evered DC, Hall R et al. (1977) The spectrum of thyroid disease in a community: The Whickham survey. Clin Endocrinol 7: 481–493
Interessenkonflikt
Der korrespondierende Autor gibt an, dass kein Interessenkonflikt besteht.
About this article
Cite this article
Schumm-Dräger, P., Feldkamp, J. Schilddrüsenkrankheiten in Deutschland. Präv Gesundheitsf 2, 153–158 (2007). https://doi.org/10.1007/s11553-007-0077-x
Published:

Issue Date:

DOI: https://doi.org/10.1007/s11553-007-0077-x
Schlüsselwörter
Keywords