Abstract
Purpose
Surgical Data Science (SDS) is an emerging research domain offering data-driven answers to challenges encountered by clinicians during training and practice. We previously developed a framework to assess quality of practice based on two aspects: exposure of the surgical scene (ESS) and the surgeon's profile of practice (SPP). Here, we wished to investigate the clinical relevance of the parameters learned by this model by (1) interpreting these parameters and identifying associated representative video samples and (2) presenting this information to surgeons in the form of a video-enhanced questionnaire. To our knowledge, this is the first approach in the field of SDS for laparoscopy linking the choices made by a machine learning model predicting surgical quality to clinical expertise.
Method
Spatial features and quality of practice scores extracted from labeled and segmented frames in 30 laparoscopic videos were used to predict the ESS and the SPP. The relationships between the inputs and outputs of the model were then analyzed and translated into meaningful sentences (statements, e.g., "To optimize the ESS, it is very important to correctly handle the spleen"). Representative video clips illustrating these statements were semi-automatically identified. Eleven statements and video clips were used in a survey presented to six experienced digestive surgeons to gather their opinions on the algorithmic analyses.
Results
All but one of the surgeons agreed with the proposed questionnaire overall. On average, surgeons agreed with 7/11 statements.
Conclusion
This proof-of-concept study provides preliminary validation of our model which has a high potential for use to analyze and understand surgical practices.
Access options
Buy single article
Instant access to the full article PDF.
US$ 39.95
Tax calculation will be finalised during checkout.
Subscribe to journal
Immediate online access to all issues from 2019. Subscription will auto renew annually.
US$ 79
Tax calculation will be finalised during checkout.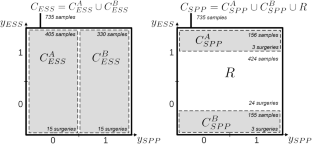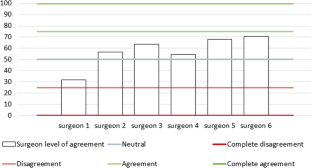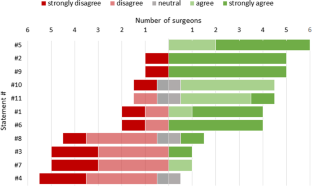 Acknowledgements
This work was supported by funding from the French government managed by the ANR as part of the Investissements d'Avenir Programme (Labex CAMI) under reference ANR-11-LABX-0004. This work was partially supported by MIAI @ Grenoble Alpes, (ANR-19-P3IA-0003). The authors thank the IRT b\(<>\)com for providing the "Surgery Workflow Toolbox [annotate]," software used in this study.
Ethics declarations
Conflict of interest
The authors declare that they have no conflict of interest to declare.
Ethical approval
All procedures performed in the study presented involving human participants were carried out in accordance with the ethical standards of the institutional and/or national research committee and with the 1964 Declaration of Helsinki and its later amendments, or comparable ethical standards.
Informed consent
The study protocol was approved by the institutional ethics committee on May 24, 2018 (CECIC Rhône-Alpes-Auvergne, Clermont-Ferrand, IRB 5891).
Additional information
Publisher's Note
Springer Nature remains neutral with regard to jurisdictional claims in published maps and institutional affiliations.
Supplementary Information
Below is the link to the electronic supplementary material.
About this article
Cite this article
Derathé, A., Reche, F., Jannin, P. et al. Explaining a model predicting quality of surgical practice: a first presentation to and review by clinical experts. Int J CARS (2021). https://doi.org/10.1007/s11548-021-02422-0
Received:

Accepted:

Published:
Keywords
Surgical skills

Video-based assessment

Explainable artificial intelligence