Abstract
Purpose
The MEDIRAD project is about the effects of low radiation dose in the context of medical procedures. The goal of the work is to develop an informatics service that will provide the researchers of the MEDIRAD project with a platform to share acquired images, along with the associated dosimetric data pertaining to the radiation resulting from the procedure.
Methods
The authors designed a system architecture to manage image data and dosimetric data in an integrated way. DICOM and non-DICOM data are stored in separated repositories, and the link between the two is provided through a semantic database, i.e., a database whose information schema in aligned with an ontology.
Results
The system currently supports CT, PET, SPECT, and NM images as well as dose reports. Currently, two workflows for non-DICOM data generated from dosimetric calculations have been taken into account, one concerning Monte Carlo-based calculation of organ doses in Chest CT, and the other estimation of doses in nontarget organs in 131I targeted radionuclide therapy of the thyroid.
Conclusion
The system is currently deployed, thus providing access to image and related dosimetric data to all MEDIRAD users. The software was designed in such a way that it can be reused to support similar needs in other projects.
Access options
Buy single article
Instant access to the full article PDF.
US$ 39.95
Tax calculation will be finalised during checkout.
Subscribe to journal
Immediate online access to all issues from 2019. Subscription will auto renew annually.
US$ 79
Tax calculation will be finalised during checkout.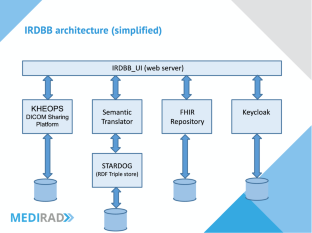 Notes
1.

2.

3.

4.

5.

6.

7.

8.

9.

10.

11.

12.

13.

14.
References
1.

European Society of Radiology (2015) ESR position paper on imaging biobanks. Insights into Imaging 6:403–410. https://doi.org/10.1007/s13244-015-0409-x

2.

Wilkinson MD, Dumontier M, Aalbersberg IJ, Appleton G, Axton M, Baak A, Blomberg N, Boiten J-W, Santos LBDS, Bourne PE, Bouwman J, Brookes AJ, Clark T, Crosas M, Dillo I, Dumon O, Edmunds S, Evelo CT, Finkers R, Gonzalez-Beltran A, Gray AJ, Groth P, Goble C, Grethe JS, Heringa J, Hoen PAT, Hooft R, Kuhn T, Kok R, Kok J, Lusher SJ, Martone ME, Mons A, Packer AL, Persson B, Rocca-Serra P, Roos M, Schaik RV, Sansone S-A, Schultes E, Sengstag T, Slater T, Strawn G, Swertz MA, Thompson M, Lei JVD, Mulligen EV, Velterop J, Waagmeester A, Wittenburg P, Wolstencroft K, Zhao J, Mons B (2016) The FAIR guiding principles for scientific data management and stewardship. Sci Data. https://doi.org/10.1038/sdata.2016.18
Acknowledgements
This work received support from the European Commission (EURATOM NFRP-2016-2017): MEDIRAD Project, Grant Agreement No 755523).
Funding
This project has received funding from the Euratom research and training programme 2014–2018 under Grant Agreement No 755523. This project has received funding from the OsiriX Foundation.
Ethics declarations
Conflict of interest
The authors declare that they have no conflict of interest.
Human and animal rights
All procedures performed in studies involving human participants were in accordance with the ethical standards of the institutional and/or national research committee and with the 1964 Helsinki declaration and its later amendments or comparable ethical standards.
Informed consent
Informed consent was obtained from all individual participants included in the study.
Additional information
Publisher's Note
Springer Nature remains neutral with regard to jurisdictional claims in published maps and institutional affiliations.
About this article
Cite this article
Spaltenstein, J., van Dooren, N., Pasquier, G. et al. A multicentric IT platform for storage and sharing of imaging-based radiation dosimetric data. Int J CARS 15, 1639–1643 (2020). https://doi.org/10.1007/s11548-020-02179-y
Received:

Accepted:

Published:

Issue Date:
Keywords
Radiation protection

Imaging biobank

DICOM

Semantic web