Abstract
Purpose
In transoral laser microsurgery (TLM), the close curved cylindrical structure of the laryngeal region offers functional challenges to surgeons who operate on its malignancies with rigid, single degree-of-freedom (DOF) forceps. These challenges include surgeon hand tremors, poor reachability, poor tissue surface perception, and reduced ergonomy in design. The integrated robotic microsurgical forceps presented here is capable of addressing the above challenges through tele-operated tissue manipulation in TLM.
Methods
The proposed device is designed in compliance with the spatial constraints in TLM. It incorporates a novel 2-DOF motorized microsurgical forceps end-effector, which is integrated with a commercial 6-DOF serial robotic manipulator. The integrated device is tele-operated through the haptic master interface, Omega.7. The device is augmented with a force sensor to measure tissue gripping force. The device is called RMF-2F, i.e. robotic microsurgical forceps with 2-DOF end-effector and force sensing. RMF-2F is evaluated through validation trials and pick-n-place experiments with subjects. Furthermore, the device is trialled with expert surgeons through preliminary tasks in a simulated surgical scenario.
Results
RMF-2F shows a motion tracking error of less than 400 μm. User trials demonstrate the device's accuracy in task completion and ease of manoeuvrability using the Omega.7 through improved trajectory following and execution times. The tissue gripping force shows better regulation with haptic feedback (1.624 N) than without haptic feedback (2.116 N). Surgeons positively evaluated the device with appreciation for improved access in the larynx and gripping force feedback.
Conclusions
RMF-2F offers an ergonomic and intuitive interface for intraoperative tissue manipulation in TLM. The device performance, usability, and haptic feedback capability were positively evaluated by users as well as expert surgeons. RMF-2F introduces the benefits of robotic teleoperation including, (i) overcoming hand tremors and wrist excursions, (ii) improved reachability and accuracy, and (iii) tissue gripping feedback for safe tissue manipulation.
This is a preview of subscription content, log in to check access.
Access options
Buy single article
Instant access to the full article PDF.
US$ 39.95
Price includes VAT for USA
Subscribe to journal
Immediate online access to all issues from 2019. Subscription will auto renew annually.
US$ 99
This is the net price. Taxes to be calculated in checkout.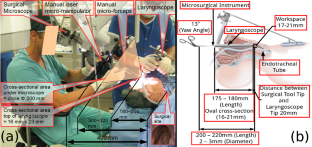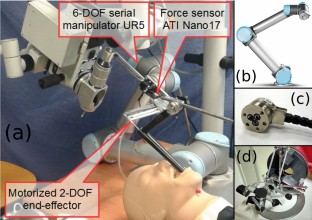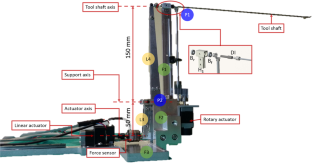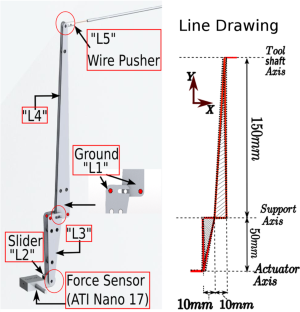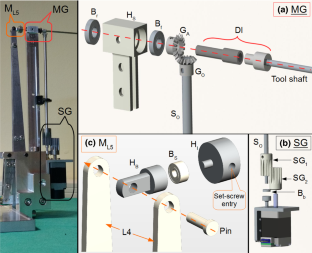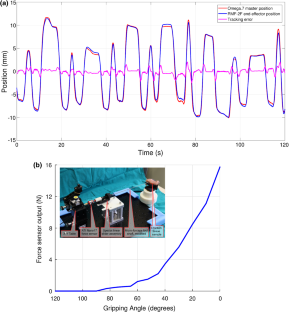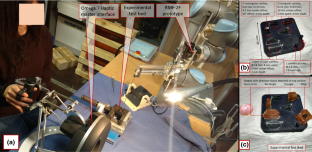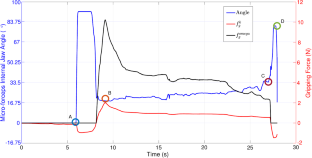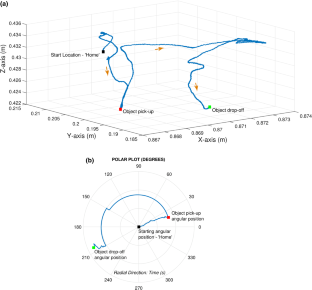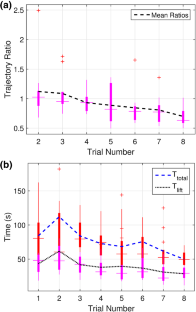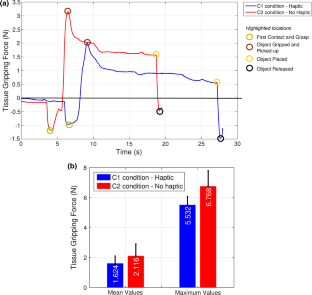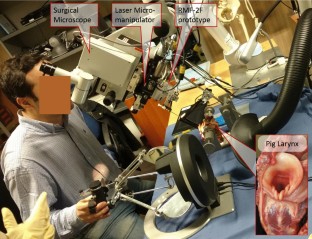 Notes
1.

This is within the HS thickness of 8 mm.
References
1.

Jako GJ (1972) Laser surgery of the vocal cords: an experimental study with carbon-dioxide lasers on dogs. Laryngoscope 82(12):2204–2216

2.

Liverneaux PA, Berner SH, Bednar MS, Parekattil SJ, Ruggiero GM, Selber JC (2012) Telemicrosurgery: robot assisted microsurgery. Springer, Paris

3.

Hirano M (1974) Morphological structure of the vocal cord as a vibrator and its variations. Folia Phoniatr Logop 26(2):89–94

4.

Da Vinci Surgical System (2018) Intuitive surgical. www.intuitivesurgical.com. Accessed on 30th Mar 2018

5.

Simaan N, Taylor R, Flint P (2004) A dexterous system for laryngeal surgery. In: IEEE ICRA, pp 351–357

6.

Wang S, Li Q, Ding J, Zhang Z (2006) Kinematic design for robot-assisted laryngeal surgery systems. IEEE/RSJ IROS:2864–2869

7.

Solares CA, Strome M (2007) Transoral robot-assisted CO2 laser supraglottic laryngectomy: experimental and clinical data. Laryngoscope 117(5):817–820

8.

Desai SC, Sung CK, Jang DW, Genden EM (2008) Transoral robotic surgery using a carbon dioxide flexible laser for tumors of the upper aerodigestive tract. Laryngoscope 118(12):2187–2189

9.

He C, Olds K, Iordachita I, Taylor R (2013) A new ENT microsurgery robot: error analysis and implementation. In: IEEE ICRA, pp 1221–1227

10.

Van der Meijden O, Schijven M (2009) The value of haptic feedback in conventional and robot-assisted minimal invasive surgery and virtual reality training: a current review. Surg Endosc 23(6):1180–1190

11.

Deshpande N, Chauhan M, Pacchierotti C, Prattichizzo D, Caldwell DG, Mattos LS (2016) Robot-assisted microsurgical forceps with haptic feedback for transoral laser microsurgery. In: IEEE EMBC, 38th edn. IEEE, pp 5156–5159

12.

Chauhan M, Deshpande N, Barresi G, Pacchierotti C, Prattichizzo D, Caldwell DG, Mattos LS (2017) Design and control of a novel robotic microsurgical forceps for transoral laser microsurgery. In: IEEE AIM, pp 737–742

13.

Univeral Robot (2018). www.universal-robots.com/products/ur5-robot. Accessed on 30th Mar 2018

14.

ATI Nano17 Force Sensor (2018). www.ati-ia.com/Products/ft/ft_modelsaspx?id=Nano17. Accessed on 30th Mar 2018

15.

Force Dimension Omega.7 (2018). www.forcedimension.com/products/omega-7/overview. Accessed on 30th Mar 2018

16.

Franken M, Stramigioli S, Misra S, Secchi C, Macchelli A (2011) Bilateral telemanipulation with time delays: a two-layer approach combining passivity and transparency. IEEE Trans Rob 27(4):741–756

17.

Ciullo A, Penza V, Mattos L, De Momi E (2016) Development of a surgical stereo endoscopic image dataset for validating 3D stereo reconstruction algorithms. In: CRAS workshop, 6th edn, pp 62–63

18.

Jiang JJ, Raviv JR, Hanson DG (2001) Comparison of the phonation related structures among pig, dog, white-tailed deer, and human larynges. Ann Otol Rhinol Laryngol 110(12):1120–1125
Ethics declarations
Conflict of interest
The authors declare that they have no conflict of interest.
Ethical approval
For this type of study, formal ethics approval was not required. The Ethics Committee of Liguria Region granted the exemption for the use of human subjects and ex vivo pig larynxes for the trials.
Informed consent
Informed consent was obtained from all individual participants included in the study.
Site of research and experiments
The research was carried out at the Istituto Italiano di Tecnologia (IIT) in Genova, Italy.
About this article
Cite this article
Chauhan, M., Deshpande, N., Pacchierotti, C. et al. A robotic microsurgical forceps for transoral laser microsurgery. Int J CARS 14, 321–333 (2019). https://doi.org/10.1007/s11548-018-1887-3
Received:

Accepted:

Published:

Issue Date:
Keywords
Robot-assisted microsurgical forceps

Robotic teleoperation

Tissue gripping haptic feedback

Robotic medical instruments

Minimally invasive surgery

Transoral laser microsurgery