Abstract
Purpose
Surgical reconstructions in three dimensions are needed for treatment of foot and ankle deformities. However, surgical results might be influenced by the skill and experience of doctors which complement the limited information for reconstructions in three dimensions. To solve these, studies were carried out to measure plantar pressure distribution during surgery. Though, it was impossible to accurately measure plantar pressure distribution accurately during operation. Therefore, we proposed an intraoperative plantar pressure measurement (IPPM) device that enables proper navigation in the push direction.
Methods
For this purpose, first, we investigated how the physiological load axis passes through the human body to identify the pushing direction of the pressure sensor of the device toward the patient's foot. In particular, we hypothesized that the physiological load axis passes through the femoral head center and we evaluated this in a measurement experiment with nine healthy subjects. Second, based on these results, we developed the IPPM device that has two force sensors to identify the pushing direction toward the femoral head center and a conductive ink sensor to measure plantar pressure distribution. Finally, we conducted the experiments with nine healthy subjects and two users.
Results
From the first experimental results, the physiological load axis was found to pass through the femoral head center in normal standing posture. From the evaluation experiment, there are no significant differences statistically in plantar pressure distributions between the conditions of using IPPM device and without using it for both a medical student and a surgeon. However, in some cases the plantar pressure distribution can be reproduced similarly to that of the standing posture, and also from the evaluation experiment concerning the relation between CoP position and NCC, the NCC tends to increase when the position of the CoP is closer to that at the standing posture.
Conclusion
The IPPM device has possibility to reproduce the plantar pressure distribution during surgery and prevent the recurrence of surgical complications.
This is a preview of subscription content, log in to check access.
Access options
Buy single article
Instant access to the full article PDF.
US$ 39.95
Price includes VAT for USA
Subscribe to journal
Immediate online access to all issues from 2019. Subscription will auto renew annually.
US$ 99
This is the net price. Taxes to be calculated in checkout.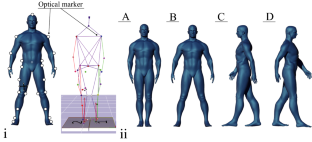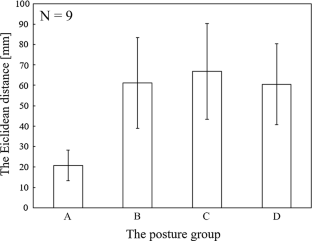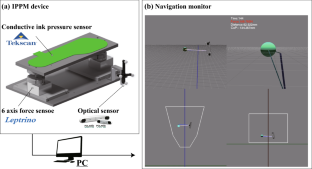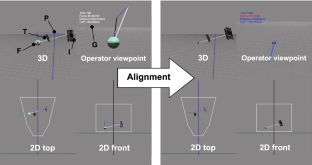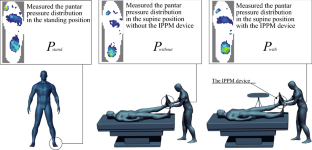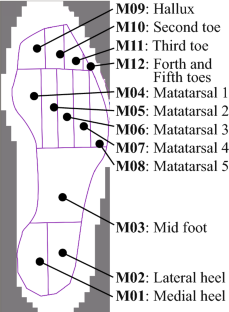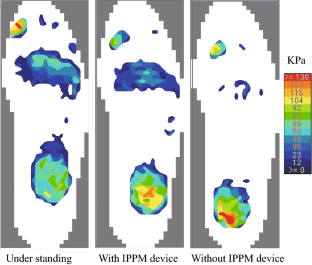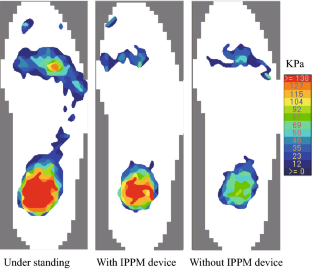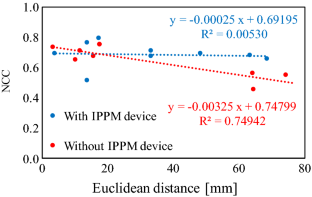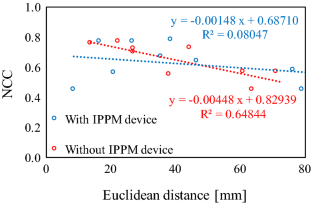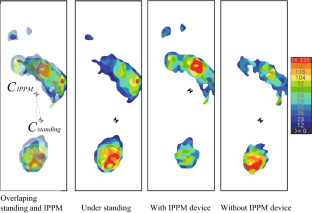 References
1.

Aksenov AY, Klishkovskaya TA (2017) Video-analysis of the effect of different types of adapted shoes on knee adduction moment. Pediatric Traumatol Orthop Reconstr Surg 5(1):45–52. https://doi.org/10.17816/PTORS5145-52

2.

Bartlett HL, Ting LH, Bingham JT (2014) Accuracy of force and center of pressure measures of the Wii Balance Board. Gait Posture 39(1):224–228. https://doi.org/10.1016/j.gaitpost.2013.07.010

3.

Bø K Finckenhagen HB (2003) Is there any difference in measurement of pelvic floor muscle strength in supine and standing position? Acta Obstet Gynecol Scand 82(12):1120–1124. https://doi.org/10.1046/j.1600-0412.2003.00240.x

4.

Bonney G, Macnab I (1952) Hallux valgus and hallux rigidus. J Bone Joint Surg 34–B(3):366–385. https://doi.org/10.1016/S0899-7071(00)00167-4

5.

Brouwer RW, Jakma TSC, Bierma-Zeinstra SMA, Ginai AZ, Verhaar JAN (2003) The whole leg radiograph: standing versus supine for determining axial alignment. Acta Orthop Scand 74(5):565–568. https://doi.org/10.1080/00016470310017965

6.

Coughlin MJ (1997) Hallux valgus. J Bone Joint Surg (Am) 78–A:932–966

7.

Coughlin MJ, Shurnas PS (2003) Hallux rigidus: demographics, etiology, and radiographic assessment. Foot Ankle Int 24(10):731–743. https://doi.org/10.1177/107110070302401002

8.

Ellis SJ, Hillstrom H, Cheng R, Lipman J, Garrison G, Deland JT (2009) The development of an intraoperative plantar pressure assessment device. Foot Ankle Int 30(4):333–40. https://doi.org/10.3113/FAI.2009.0333

9.

Holzreiter S (1991) Calculation of the instantaneous centre of rotation for a rigid body. J Biomech 24(7):643–647. https://doi.org/10.1016/0021-9290(91)90297-Z

10.

Kelley SS, Lachiewicz PF, Hickman JM, Paterno SM (1998) Relationship of femoral head and acetabular size to the prevalence of dislocation. Clin Orthop Relat Res 355:163–170

11.

Kitaoka HB, Leventen EO (1989) Medial displacement metatarsal osteotomy for treatment of painful bunionette. Clin Orthop Relat Res 243:172–9

12.

Lafage V, Schwab F, Skalli W, Hawkinson N, Gagey PM, Ondra S, Farcy JP (2008) Standing balance and sagittal plane spinal deformity: analysis of spinopelvic and gravity line parameters. Spine 33(14):1572–1578. https://doi.org/10.1097/BRS.0b013e31817886a2

13.

Menz HB, Roddy E, Thomas E, Croft PR (2011) Impact of hallux valgus severity on general and foot-specific health-related quality of life. Arthritis Care Res 63(3):396–404. https://doi.org/10.1002/acr.20396

14.

Mickle KJ, Munro BJ, Lord SR, Menz HB, Steele JR (2011) Gait, balance and plantar pressures in older people with toe deformities. Gait Posture 34(3):347–351. https://doi.org/10.1016/j.gaitpost.2011.05.023

15.

Morasso PG, Sanguineti V (2002) Ankle muscle stiffness alone cannot stabilize balance during quiet standing. J Neurophysiol 88(4):2157–2162. https://doi.org/10.1152/jn.00719.2001

16.

Reilly DT, Martens M (1972) Experimental analysis of the quadriceps muscle force and patello-femoral joint reaction force for various activities. Acta Orthop Scand 43(2):126–137. https://doi.org/10.3109/17453677208991251

17.

Richter M, Frink M, Zech S, Vanin N, Geerling J, Droste P, Krettek C (2006) Intraoperative pedography: a validated method for static intraoperative biomechanical assessment. Foot Ankle Int 27(10):833–842

18.

Roddy E, Zhang W, Doherty M (2008) Prevalence and associations of hallux valgus in a primary care population. Arthritis Care Res 59(6):857–862. https://doi.org/10.1002/art.23709

19.

Trnka HJ, Gebhard C, Mühlbauer M, Ivanic G, Ritschl P (2002) The Weil osteotomy for treatment of dislocated lesser metatarsophalangeal joints: good outcome in 21 patients with 42 osteotomies. Acta Orthop Scand 73(2):190–194. https://doi.org/10.1080/000164702753671795

20.

Warrener AG, Lewton KL, Pontzer H, Lieberman DE (2015) A wider pelvis does not increase locomotor cost in humans, with implications for the evolution of childbirth. PLoS ONE 10(3):e0118903. https://doi.org/10.1371/journal.pone.0118903
Funding
The study was funded by Terumo Foundation for Life sciences and the Arts.
Ethics declarations
Conflict of interest
The authors declare that they have no conflict of interest.
About this article
Cite this article
Hosoi, I., Kobayashi, E., Chang, S.H. et al. Development of intraoperative plantar pressure measuring system considering weight bearing axis. Int J CARS 14, 385–395 (2019). https://doi.org/10.1007/s11548-018-1862-z
Received:

Accepted:

Published:

Issue Date:
Keywords
Foot deformation

Optical track

Measurement of the plantar pressure distribution

Physiological load axis