Abstract
Purpose
Advances in sensing and digitalization enable us to acquire and present various heterogeneous datasets to enhance clinical decisions. Visual feedback is the dominant way of conveying such information. However, environments rich with many sources of information all presented through the same channel pose the risk of over stimulation and missing crucial information. The augmentation of the cognitive field by additional perceptual modalities such as sound is a workaround to this problem. A major challenge in auditory augmentation is the automatic generation of pleasant and ergonomic audio in complex routines, as opposed to overly simplistic feedback, to avoid alarm fatigue.
Methods
In this work, without loss of generality to other procedures, we propose a method for aural augmentation of medical procedures via automatic modification of musical pieces.
Results
Evaluations of this concept regarding recognizability of the conveyed information along with qualitative aesthetics show the potential of our method.
Conclusion
In this paper, we proposed a novel sonification method for automatic musical augmentation of tasks within surgical procedures. Our experimental results suggest that these augmentations are aesthetically pleasing and have the potential to successfully convey useful information. This work opens a path for advanced sonification techniques in the operating room, in order to complement traditional visual displays and convey information more efficiently.
This is a preview of subscription content, log in to check access.
Access options
Buy single article
Instant access to the full article PDF.
US$ 39.95
Price includes VAT for USA
Subscribe to journal
Immediate online access to all issues from 2019. Subscription will auto renew annually.
US$ 99
This is the net price. Taxes to be calculated in checkout.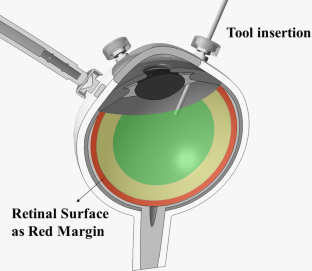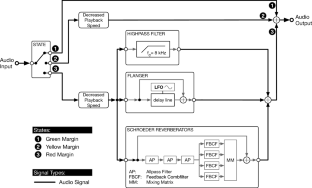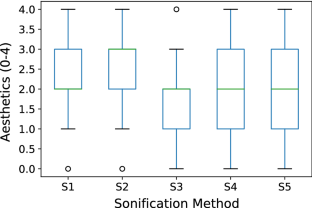 References
1.

Robineau F, Boy F, Orliaguet J-P, Demongeot J, Payan Y (2007) Guiding the surgical gesture using an electro-tactile stimulus array on the tongue: a feasibility study. IEEE Trans Biomed Eng 54(4):711–717

2.

Bluteau J, Dubois M-D, Coquillart S, Gentaz E, Payan Y (2010) Vibrotactile guidance for trajectory following in computer aided surgery. In: Engineering in medicine and biology society (EMBC), 2010 annual international conference of the IEEE, pp 2085–2088. IEEE

3.

Howard T, Szewczyk J (2016) Improving precision in navigating laparoscopic surgery instruments toward a planar target using haptic and visual feedback. Front Robot AI 3:37

4.

Howard T, Szewczyk J (2014) Visuo-haptic feedback for 1-d guidance in laparoscopic surgery. In: Biomedical robotics and biomechatronics, 2014 5th IEEE RAS & EMBS International Conference on, IEEE, pp 58–65

5.

Kestin IG, Miller BR, Lockhart CH (1988) Auditory alarms during anesthesia monitoring. Anesthesiol J Am Soc Anesthesiol 69(1):106–108

6.

Matinfar S, Nasseri MA, Eck U, Roodaki H, Navab N, Lohmann CP, Maier M, Navab N (2017) Surgical Soundtracks: towards automatic musical augmentation of surgical procedures. In: International conference on medical image computing and computer-assisted intervention. Springer, Cham, pp 673–681

7.

Hermann T, Hunt A (2011) The sonification handbook. In: Neuhoff JG (ed) Logos Verlag, Berlin

8.

Ullmann Y, Fodor L, Schwarzberg I, Carmi N, Ullmann A, Ramon Y (2008) The sounds of music in the operating room. Injury 39(5):592–597

9.

Wiseman MC (2013) The Mozart effect on task performance in a laparoscopic surgical simulator. Surg Innov 20(5):444–453

10.

Allen K, Blascovich J (1994) Effects of music on cardiovascular reactivity among surgeons (correction)

11.

Wegner K (1998) Surgical navigation system and method using audio feedback. Georgia Institute of Technology

12.

Voormolen EHJ, Woerdeman PA, van Stralen M, Noordmans HJ, Viergever MA, Regli L, van der Sprenkel. JWB (2012) Validation of exposure visualization and audible distance emission for navigated temporal bone drilling in phantoms. PLoS ONE 7(7):e41262

13.

Dixon BJ, Daly MJ, Chan H, Vescan A, Witterick IJ, Irish JC (2014) Augmented realtime navigation with critical structure proximity alerts for endoscopic skull base surgery. Laryngoscope 124(4):853–859

14.

Cho B, Oka M, Matsumoto N, Ouchida R, Hong J, Hashizume M (2013) Warning navigation system using real-time safe region monitoring for otologic surgery. Int J Comput Assist Radiol Surg 8(3):395–405

15.

Hansen C, Black D, Lange C, Rieber F, Lamad W, Donati M, Oldhafer KJ, Hahn HK (2013) Auditory support for resection guidance in navigated liver surgery. Int J Med Robot Comput Assist Surg 9(1):36–43

16.

Roodaki H, Navab N, Eslami A, Stapleton C, Navab N (2017) Sonifeye: sonification of visual information using physical modeling sound synthesis. IEEE Trans Vis Comput Graph 23(11):2366–2371

17.

Eckel G, Iovino F, Causs R (1995) Sound synthesis by physical modelling with Modalys. In: Proceedings of the international symposium on musical acoustics, pp 479–482

18.

Verfaille V, Guastavino C, Traube C (2006) An interdisciplinary approach to audio effect classification. In Proceedings of the 9th international conference on digital audio effects

19.

Bello JP, Daudet L, Abdallah S, Duxbury C, Davies M, Sandler MB (2005) A tutorial on onset detection in music signals. IEEE Trans Speech Audio Process 13(5):1035–1047
Ethics declarations
Conflict of interest
The authors declare that they have no conflict of interest.
Ethical approval
There is no study presented in this paper which requires ethical approval.
Informed consent
This articles does not contain patient data.
Additional information
Sasan Matinfar, M. Ali Nasseri and Ulrich Eck contributed equally to this work and should be considered as first authors.
Electronic supplementary material
Below is the link to the electronic supplementary material.
Supplementary material 1 (mp4 13361 KB)
About this article
Cite this article
Matinfar, S., Nasseri, M.A., Eck, U. et al. Surgical soundtracks: automatic acoustic augmentation of surgical procedures. Int J CARS 13, 1345–1355 (2018). https://doi.org/10.1007/s11548-018-1827-2
Received:

Accepted:

Published:

Issue Date:
Keywords
Computer-assisted interventions

Auditory display

Surgical sonification

Medical augmented reality

Acoustic augmentation

Psychoacoustics