Abstract
Introduction
Guidelines advocate the use of combined detection techniques to achieve optimal results for sentinel node (SN) biopsy. The fluorescent and radioactive (dual-) tracer ICG-99mTc-nanocolloid has been shown to facilitate SN biopsy in several indications. It was reported that an opto-nuclear probe permitted the detection of near-infrared fluorescence and gamma-rays. The aim of the current study was to evaluate this device in a large patient group and to test it in both open and laparoscopic surgery implications.
Methods
Thirty-three patients scheduled for SN biopsy with the dual-tracer were retrospectively analyzed. Pre-operative lymphoscintigraphy was performed in all patients; in 18 patients (55%), a SPECT/CT scan was also performed. Radioactive and fluorescent signatures in the SNs were assessed in vivo and ex vivo using the opto-nuclear probe.
Results
One or more SNs were identified in all patients (identification rate 100%). Planar lymphoscintigraphic images revealed 95 hot spots that were considered as SNs. This number increased to 103 SNs when SPECT/CT was used. During surgery, 106 SNs were excised. In vivo, the fluorescence mode of the opto-nuclear probe was able to locate 79 SNs (74.5%). When the gamma-ray detection option of the same probe was used, this number increased to 99 SNs (93.3%). Ex vivo analysis revealed fluorescence in 93.3% of the excised nodes and radioactivity in 95.2%.
Conclusions
This study underlines the feasibility of using the dual-tracer/opto-nuclear probe combination for SN resections. The use of the opto-nuclear technology has been extended to laparoscopic surgery. This study also underlines the fluorescence tracing can complement traditional radio-tracing approaches.
This is a preview of subscription content, log in to check access.
Access options
Buy single article
Instant access to the full article PDF.
US$ 39.95
Price includes VAT for USA
Subscribe to journal
Immediate online access to all issues from 2019. Subscription will auto renew annually.
US$ 99
This is the net price. Taxes to be calculated in checkout.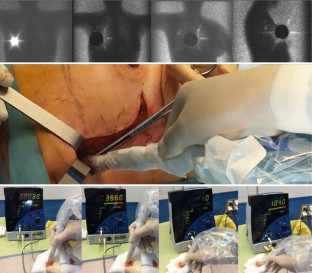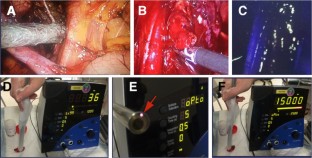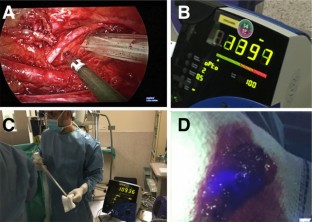 References
1.

Lyman GH, Somerfield MR, Bosserman LD, Perkins CL, Weaver DL, Giuliano AE (2017) Sentinel Lymph node biopsy for patients with early-stage breast cancer: American society of clinical oncology clinical practice guideline update. J Clin Oncol 35:561–564

2.

Wong SL, Faries MB, Kennedy EB, Agarwala SS, Akhurst TJ, Ariyan C, Balch CM, Berman BS, Cochran A, Delman KA, Gorman M, Kirkwood JM, Moncrieff MD, Zager JS, Lyman GH (2018) Sentinel lymph node biopsy and management of regional lymph nodes in melanoma: American society of clinical oncology and society of surgical oncology clinical practice guideline update. Ann Surg Oncol 25:356–377

3.

Holloway RW, Abu-Rustum NR, Backes FJ, Boggess JF, Gotlieb WH, Jeffrey Lowery W, Rossi EC, Tanner EJ, Wolsky RJ (2017) Sentinel lymph node mapping and staging in endometrial cancer: a society of gynecologic oncology literature review with consensus recommendations. Gynecol Oncol 146:405–415

4.

Oonk MHM, Planchamp F, Baldwin P, Bidzinski M, Brännström M, Landoni F, Mahner S, Mahantshetty U, Mirza M, Petersen C, Querleu D, Regauer S, Rob L, Rouzier R, Ulrikh E, van der Velden J, Vergote I, Woelber L, van der Zee AGJ (2017) European society of gynaecological oncology guidelines for the management of patients with vulvar cancer. Int J Gynecol Cancer 27:832–837

5.

van der Poel HG, Meershoek P, Grivas N, KleinJan G, van Leeuwen FW, Horenblas S (2017) Sentinel node biopsy and lymphatic mapping in penile and prostate cancer. Urologe 56:13–17

6.

Seim NB, Wright CL, Agrawal A (2016) Contemporary use of sentinel lymph node biopsy in the head and neck. World J Otorhinolaryngol Head Neck Surg 2:117–125

7.

Giammarile F, Alazraki N, Aarsvold JN, Audisio RA, Glass E, Grant SF, Kunikowska J, Leidenius M, Moncayo VM, Uren RF, Oyen WJ, Valdés Olmos RA, Vidal-Sicart S (2013) The EANM and SNMMI practice guideline for lymphoscintigraphy and sentinel node localization in breast cancer. Eur J Nucl Med Mol Imaging 40:1932–1947

8.

Bluemel C, Herrmann K, Giammarile F, Nieweg OE, Dubreuil J, Testori A, Audisio RA, Zoras O, Lassmann M, Chakera AH, Uren R, Chondrogiannis S, Colletti PM, Rubello D (2015) EANM practice guidelines for lymphoscintigraphy and sentinel lymph node biopsy in melanoma. Eur J Nucl Med Mol Imaging 42:1750–1766

9.

Van den Berg NS, Buckle T, Kleinjan GI, Klop WM, Horenblas S, Van Der Poel HG, Valdés-Olmos RA, Van Leeuwen FI (2014) Hybrid tracers for sentinel node biopsy. Q J Nucl Med Mol Imaging 58:193–206

10.

Sadeghi R, Alesheikh G, Zakavi SR, Fattahi A, Abdollahi A, Assadi M, Jangjoo A, Keshtgar M (2014) Added value of blue dye injection in sentinel node biopsy of breast cancer patients: do all patients need blue dye? Int J Surg 12:325–328

11.

Guo J, Yang H, Wang S, Cao Y, Liu M, Xie F, Liu P, Zhou B, Tong F, Cheng L, Liu H, Wang S (2017) Comparison of sentinel lymph node biopsy guided by indocyanine green, blue dye, and their combination in breast cancer patients: a prospective cohort study. World J Surg Oncol 15:196

12.

Broglie MA, Stoeckli SJ (2011) Relevance of sentinel node procedures in head and neck squamous cell carcinoma. Q J Nucl Med Mol Imaging 55:509–520

13.

Buscombe J, Saad Z (2015) Sentinel nodes: a promise half fulfilled. Clin Transl Imaging 3:169–170

14.

Murawa D, Hirche C, Dresel S, Hünerbein M (2009) Sentinel lymph node biopsy in breast cancer guided by indocyanine green fluorescence. Br J Surg 96:1289–1294

15.

Tagaya N, Aoyagi H, Nakagawa A, Abe A, Iwasaki Y, Tachibana M, Kubota K (2011) A novel approach for sentinel lymph node identification using fluorescence imaging and image overlay navigation surgery in patients with breast cancer. World J Surg 35:154–158

16.

van Leeuwen FWB, Hardwick JCH, van Erkel AR (2015) Luminescence based imaging approaches in the field of interventional molecular imaging. Radiology 276:12–29

17.

Brouwer OR, Buckle T, Vermeeren L, Klop WM, Balm AJ, van der Poel HG, van Rhijn BW, Horenblas S, Nieweg OE, van Leeuwen FW, Valdés Olmos RA (2012) Comparing the hybrid fluorescent-radioactive tracer indocyanine green-99mTc-nanocolloid with 99mTc-nanocolloid for sentinel node identification: a validation study using lymphoscintigraphy and SPECT/CT. J Nucl Med 53:1034–1040

18.

Brouwer OR, van den Berg NS, Matheron HM, van der Poel HG, van Rhijn BW, Bex A, van Tinteren H, Valdés Olmos RA, van Leeuwen FW, Horenblas S (2014) A hybrid radioactive and fluorescent tracer for sentinel node biopsy in penile carcinoma as a potential replacement for blue dye. Eur Urol 65:600–609

19.

van den Berg NS, Brouwer OR, Schaafsma BE, Matheron HM, Klop WM, Balm AJ, van Tinteren H, Nieweg OE, van Leeuwen FW, Valdés Olmos RA (2015) Multimodal surgical guidance during sentinel node biopsy for melanoma: combined gamma tracing and fluorescence imaging of the sentinel node through use of the hybrid tracer indocyanine green-Tc-nanocolloid. Radiology 275:530–537

20.

Paredes P, Vidal-Sicart S, Campos F, Tapias A, Sánchez N, Martínez S, Carballo L, Pahisa J, Torné A, Ordi J, Carmona F, Lomeña F (2017) Role of ICG-(99m)Tc-nanocolloid for sentinel lymph node detection in cervical cancer: a pilot study. Eur J Nucl Med Mol Imaging 44:1853–1861

21.

Stoffels I, Dissemond J, Pöppel T, Schadendorf D, Klode J (2015) Intraoperative fluorescence imaging for sentinel lymph node detection: prospective clinical trial to compare the usefulness of indocyanine green vs technetium Tc 99m for identification of sentinel lymph nodes. JAMA Surg 150:617–623

22.

Schaafsma BE, Verbeek FP, Rietbergen DD, van der Hiel B, van der Vorst JR, Liefers GJ, Frangioni JV, van de Velde CJ, van Leeuwen FW, Vahrmeijer AL (2013) Clinical trial of combined radio- and fluorescence-guided sentinel lymph node biopsy in breast cancer. Br J Surg 100:1037–1044

23.

Christensen A, Juhl K, Charabi B, Mortensen J, Kiss K, Kjær A, von Buchwald C (2016) Feasibility of real-time near-infrared fluorescence tracer imaging in sentinel node biopsy for oral cavity cancer patients. Ann Surg Oncol 23:565–572

24.

van den Berg NS, Simon H, Kleinjan GH, Engelen T, Bunschoten A, Welling MM, Tijink BM, Horenblas S, Chambron J, van Leeuwen FW (2015) First-in-human evaluation of a hybrid modality that allows combined radio- and (near-infrared) fluorescence tracing during surgery. Eur J Nucl Med Mol Imaging 42:1639–1647

25.

KleinJan GH, Hellingman D, van den Berg NS, van Oosterom MN, Hendricksen K, Horenblas S, Valdes Olmos RA, van Leeuwen FW (2017) Hybrid surgical guidance: does hardware integration of γ- and fluorescence imaging modalities make sense? J Nucl Med 58:646–650

26.

KleinJan GH, van den Berg NS, van Oosterom MN, Wendler T, Miwa M, Bex A, Hendricksen K, Horenblas S, van Leeuwen FW (2016) Toward (hybrid) navigation of a fluorescence camera in an open surgery setting. J Nucl Med 57:1650–1653

27.

Hellingman D, Vidal-Sicart S, de Wit-van der Veen LJ, Paredes P, Valdés Olmos RA (2016) A new portable hybrid camera for fused optical and scintigraphic imaging: first clinical experiences. Clin Nucl Med 41:e39–e43

28.

Bugby SL, Lees JE, Perkins AC (2017) Hybrid intraoperative imaging techniques in radioguided surgery: present clinical applications and future outlook. Clin Transl Imaging 5:323–341

29.

van Leeuwen AC, Buckle T, Bendle G, Vermeeren L, Valdés Olmos R, van de Poel HG, van Leeuwen FW (2011) Tracer-cocktail injections for combined pre- and intraoperative multimodal imaging of lymph nodes in a spontaneous mouse prostate tumor model. J Biomed Opt 16:016004

30.

Valdés Olmos RA, Vidal-Sicart S, van Leeuwen FW (2016) Crossing technological frontiers in radioguided intervention. Eur J Nucl Med Mol Imaging 43:2301–2303

31.

Poumellec MA, Dejode M, Figl A, Darcourt J, Haudebourg J, Sabah Y, Voury A, Martaens A, Barranger E (2016) Sentinel node detection using optonuclear probe (gamma and fluorescence) after green indocyanine and radio-isotope injections. Gynecol Obstet Fertil 44:207–210

32.

van der Poel HG, Buckle T, Brouwer OR, Valdés Olmos RA, van Leeuwen FW (2011) Intraoperative laparoscopic fluorescence guidance to the sentinel lymph node in prostate cancer patients: clinical proof of concept of an integrated functional imaging approach using a multimodal tracer. Eur Urol 60:826–833
Acknowledgements
We deeply thank Eurorad for supporting the clinical evaluation by providing an opto-nuclear device.
Ethics declarations
Conflict of interest
All authors declare that they have no conflict of interest.
Ethical standards
All procedures performed in studies involving human participants were in accordance with the ethical standards of the institutional and/or national research committee and with the 1964 Helsinki Declaration and its later amendments or comparable ethical standards.
Electronic supplementary material
Below is the link to the electronic supplementary material.
About this article
Cite this article
Vidal-Sicart, S., Seva, A., Campos, F. et al. Clinical use of an opto-nuclear probe for hybrid sentinel node biopsy guidance: first results. Int J CARS 14, 409–416 (2019). https://doi.org/10.1007/s11548-018-1816-5
Received:

Accepted:

Published:

Issue Date:
Keywords
Bi-modal

Image-guided surgery

Sentinel node

Fluorescence

SPECT

Hybrid

Dual-tracer