Abstract
Purpose
Facet joint insertion is a common treatment of chronic pain in the back and spine. This procedure is often performed under fluoroscopic guidance, where the staff's repetitive radiation exposure remains an unsolved problem. Robotic ultrasound (rUS) has the potential to reduce or even eliminate the use of radiation by using ultrasound with a robotic-guided needle insertion. This work presents first clinical data of rUS-based needle insertions extending previous work of our group.
Methods
Our system implements an automatic US acquisition protocol combined with a calibrated needle targeting system. This approach assists the physician by positioning the needle holder on a trajectory selected in a 3D US volume of the spine.
Results
By the time of submission, nine facets were treated with our approach as first data from an ongoing clinical study. The insertion success rate was shown to be comparable to current clinical practice. Furthermore, US imaging offers additional anatomical context for needle trajectory planning.
Conclusion
This work shows first clinical data for robotic ultrasound-assisted facet joint insertion as a promising solution that can easily be incorporated into the clinical workflow. Presented results show the clinical value of such a system.
Access options
Buy single article
Instant access to the full article PDF.
US$ 39.95
Tax calculation will be finalised during checkout.
Subscribe to journal
Immediate online access to all issues from 2019. Subscription will auto renew annually.
US$ 79
Tax calculation will be finalised during checkout.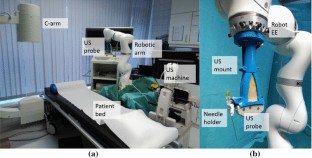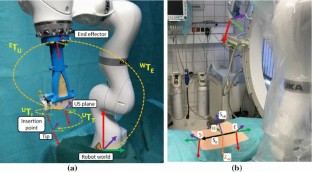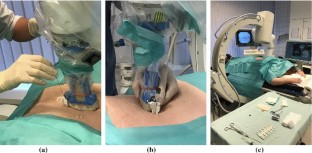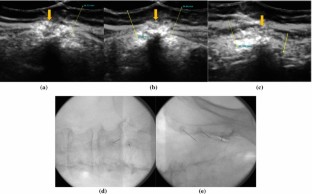 References
1.

Abayazid M, Moreira P, Shahriari N, Patil S, Alterovitz R, Misra S (2015) Ultrasound-guided three-dimensional needle steering in biological tissue with curved surfaces. Med Eng Phys 37(1):145–150

2.

Abayazid M, Vrooijink GJ, Patil S, Alterovitz R, Misra S (2014) Experimental evaluation of ultrasound-guided 3D needle steering in biological tissue. Int J Comput Assist Radiol Surg 9(6):931–939

3.

Adebar TK, Fletcher AE, Okamura AM (2014) 3-D ultrasound-guided robotic needle steering in biological tissue. IEEE Trans Biomed Eng 61(12):2899–2910

4.

Ding J, Stoianovici D, Petrisor D, Mozer P, Avila R, Ibanez L, Turner W, Yankelvitz D, Wilson E, Banovac F, Cleary K (2008) Medical needle steering for lung biopsy: Experimental results in tissue phantoms using a robotic needle driver. In: 8th IEEE international conference on bioinformatics and bioengineering, pp 1–5

5.

Gopinathan A, Peh WC (2011) Image-guided facet joint injection. Biomed Imaging Interv J 7(2):e4

6.

Gorniak G, Conrad W (2015) Lower lumbar facet joint complex anatomy. Austin J Anat 2(1):1–8

7.

Hennersperger C, Fuerst B, Virga S, Zettinig O, Frisch B, Neff T, Navab N (2017) Towards MRI-based autonomous robotic us acquisitions: a first feasibility study. IEEE Trans Med Imaging 36(2):538–548

8.

Hoon Han S, Park K, Rai Cho K, Park Y (2017) Ultrasound versus fluoroscopy-guided medial branch block for the treatment of lower lumbar facet joint pain: a retrospective comparative study. Medicine 96(16):e6655

9.

Khallaghi S, Mousavi P, Gong RH, Gill S, Boisvert J, Fichtinger G, Pichora D, Borschneck D, Abolmaesumi P (2010) Registration of a statistical shape model of the lumbar spine to 3D ultrasound images. Med Image Comput Comput Assist Interv MICCAI 2010:68–75

10.

Lasso A, Heffter T, Rankin A, Pinter C, Ungi T, Fichtinger G (2014) PLUS: open-source toolkit for ultrasound-guided intervention systems. IEEE Trans Biomed Eng 61(10):2527–2537

11.

Mohammed Motawea A, Ramadan El Kholy M, Mohamed Ebied O, El Fattah Abd, Mousa W, Shawky Abdullah M (2015) Imaging-guided facet joint injection technique for lower back pain management. Am J Health Res 3(2):52–56

12.

Moult E, Ungi T, Welch M, Lu J, McGraw RC, Fichtinger G (2013) Ultrasound-guided facet joint injection training using perk tutor. Int J Comput Assist Radiol Surg 8(5):831–836

13.

Rasoulian A, Seitel A, Osborn J, Sojoudi S, Nouranian S, Lessoway VA, Rohling RN, Abolmaesumi P (2015) Ultrasound-guided spinal injections: a feasibility study of a guidance system. Int J Comput Assist Radiol Surg 10(9):1417–1425

14.

Soni NJ, Franco-Sadud R, Schnobrich D, Dancel R, Tierney DM, Salame G, Restrepo MI, McHardy P (2016) Ultrasound guidance for lumbar puncture. Neurol Clin Pract 6(4):358–368

15.

Ungi T, Abolmaesumi P, Jalal R, Welch M, Ayukawa I, Nagpal S, Lasso A, Jaeger M, Borschneck DP, Fichtinger G, Mousavi P (2012) Spinal needle navigation by tracked ultrasound snapshots. IEEE Trans Biomed Eng 59(10):2766–2772

16.

Yaniv Z (2015) Which pivot calibration? Image-Guided Proced Robot Interv Model 9415:941527

17.

Yoon SH, O'Brien SL, Tran M (2013) Ultrasound guided spine injections: advancement over fluoroscopic guidance? Curr Phys Med Rehabil Rep 1(2):104–113

18.

Zettinig O, Frisch B, Virga S, Esposito M, Rienmüller A, Meyer B, Hennersperger C, Ryang YM, Navab N (2017) 3D ultrasound registration-based visual servoing for neurosurgical navigation. Int J Comput Assist Radiol Surg 12(9):1607–1619

19.

Zettinig O, Fuerst B, Kojcev R, Esposito M, Salehi M, Wein W, Rackerseder J, Sinibaldi E, Frisch B, Navab N (2016) Toward real-time 3d ultrasound registration-based visual servoing for interventional navigation. In: IEEE international conference on robotics and automation (ICRA), pp 945–950
Ethics declarations
Conflict of interest
The authors declare that they have no conflict of interest.
Ethical approval
All procedures performed in studies involving human participants were in accordance with the ethical standards of the institutional and/or national research committee and with the 1964 Declaration of Helsinki and its later amendments or comparable ethical standards. This article does not contain any studies with animals performed by any of the authors.
Informed consent
Informed consent was obtained from all individual participants included in the study.
Electronic supplementary material
Below is the link to the electronic supplementary material.
Supplementary material 1 (mp4 160435 KB)
About this article
Cite this article
Esteban, J., Simson, W., Requena Witzig, S. et al. Robotic ultrasound-guided facet joint insertion. Int J CARS 13, 895–904 (2018). https://doi.org/10.1007/s11548-018-1759-x
Received:

Accepted:

Published:

Issue Date:
Keywords
Robotic ultrasound

Neurosurgery

Needle guidance

Facet joint infiltration

Surgical planning