Abstract
Purpose
To evaluate whether Peritoneal Cancer Index (PCI) assessed on preoperative CT (CT-PCI) can be used as non-invasive preoperative tool to predict surgical outcome, disease-free survival (DFS) and overall survival (OS).
Materials and methods
This is a retrospective, observational cohort study performed in a single institution. We considered all patients with diagnosis of ovarian cancer and preoperative CT, who had undergone upfront cytoreductive surgery between 2008 and 2010 and had post-operative clinical follow-up to December 2015. Two radiologists reviewed CT scans and assessed CT-PCI using Sugarbaker's diagram. We assessed the discriminatory capacity of the CT-PCI score on the surgical outcome by ROC curve analysis. DFS and OS were assessed by Kaplan–Meier nonparametric curves and by multivariable Cox-regression analysis.
Results
A total of 297 patients were included in the present analysis. CT-PCI was positively correlated with post-operative residual disease [odds ratio (OR) 1.04, 95% CI 1.01–1.07, p = 0.003]. ROC curve analysis returned AUC = 0.64 for the prediction of total macroscopic tumour clearance. In multivariable analysis, patients with no peritoneal disease seen on CT had a significantly longer DFS [Hazard ratio (HR) 2.28, p = 0.007]. Radiological serosal small bowel involvement was an independent predictor for shorter OS (HR 3.01, p = 0.002).
Conclusion
Radiological PCI assessed on preoperative CT is associated with the probability of residual disease after cytoreductive surgery; however, it has low performance as a triage test to reliably identify patients who are likely to have complete cytoreductive surgery. CT-PCI is positively correlated with both DFS and OS and may be used as an independent prognostic factor, for example in patients with high FIGO stages.
Access options
Buy single article
Instant access to the full article PDF.
USD 39.95
Price excludes VAT (USA)
Tax calculation will be finalised during checkout.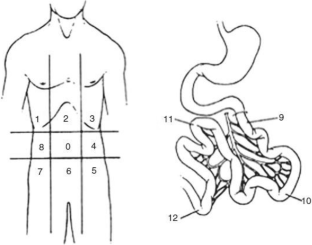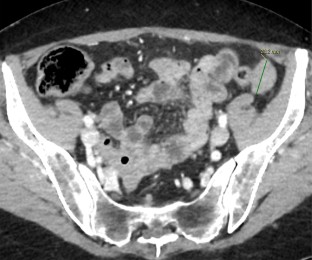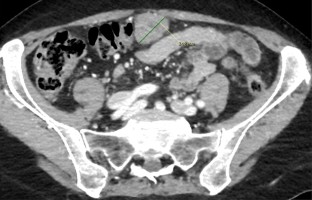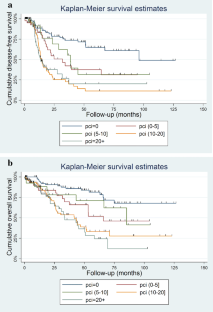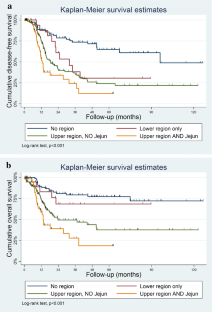 Abbreviations
CT:

Computed tomography

PCI:

Peritoneal Cancer Index

DFS:

Disease-free survival

OS:

Overall survival

OR:

Odds ratio

HR:

Hazard ratio

ROC:

Receiving operator curve

AUC:

Area under the curve

ICC:

Interclass correlation coefficient
References
Ferlay J, Soerjomataram I, Dikshit R et al (2015) Cancer incidence and mortality worldwide: sources, methods and major patterns in GLOBOCAN 2012. Int J Cancer 136:E359–E386. https://doi.org/10.1002/ijc.29210

Berek JS, Crum C, Friedlander M (2015) Cancer of the ovary, fallopian tube, and peritoneum. Int J Gynaecol Obstet 131(Suppl 2):S111–S122. https://doi.org/10.1016/j.ijgo.2015.06.007

Bristow RE, Tomacruz RS, Armstrong DK et al (2002) Survival effect of maximal cytoreductive surgery for advanced ovarian carcinoma during the platinum era: a meta-analysis. J Clin Oncol 20:1248–1259. https://doi.org/10.1200/JCO.2002.20.5.1248

Jacquet P, Sugarbaker PH (1996) Clinical research methodologies in diagnosis and staging of patients with peritoneal carcinomatosis. Cancer Treat Res 82:359–374

da Silva RG, Sugarbaker PH (2006) Analysis of prognostic factors in seventy patients having a complete cytoreduction plus perioperative intraperitoneal chemotherapy for carcinomatosis from colorectal cancer. J Am Coll Surg 203:878–886. https://doi.org/10.1016/j.jamcollsurg.2006.08.024

Berthet B, Sugarbaker TA, Chang D, Sugarbaker PH (1999) Quantitative methodologies for selection of patients with recurrent abdominopelvic sarcoma for treatment. Eur J Cancer Oxf Engl 35:413–419

Chéreau E, Ballester M, Selle F et al (2010) Comparison of peritoneal carcinomatosis scoring methods in predicting resectability and prognosis in advanced ovarian cancer. Am J Obstet Gynecol 202:178.e1–178.e10. https://doi.org/10.1016/j.ajog.2009.10.856

Llueca A, Serra A, Herraiz JL et al (2018) Peritoneal carcinomatosis index as a predictor of diaphragmatic involvement in stage III and IV ovarian cancer. OncoTargets Ther 11:2771–2777. https://doi.org/10.2147/OTT.S147559

Ghisoni E, Katsaros D, Maggiorotto F et al (2018) A predictive score for optimal cytoreduction at interval debulking surgery in epithelial ovarian cancer: a two- centers experience. J Ovarian Res 11:42. https://doi.org/10.1186/s13048-018-0415-y

Gasimli K, Braicu EI, Richter R et al (2015) Prognostic and predictive value of the Peritoneal Cancer Index in primary advanced epithelial ovarian cancer patients after complete cytoreductive surgery: study of tumor bank ovarian cancer. Ann Surg Oncol 22:2729–2737. https://doi.org/10.1245/s10434-014-4329-7

Lampe B, Kroll N, Piso P et al (2015) Prognostic significance of Sugarbaker's Peritoneal Cancer Index for the operability of ovarian carcinoma. Int J Gynecol Cancer 25:135–144. https://doi.org/10.1097/IGC.0000000000000327

Querleu D, Planchamp F, Chiva L et al (2016) European society of gynaecologic oncology quality indicators for advanced ovarian cancer surgery. Int J Gynecol Cancer 26:1354–1363. https://doi.org/10.1097/IGC.0000000000000767

Rivard JD, Temple WJ, McConnell YJ et al (2014) Preoperative computed tomography does not predict resectability in peritoneal carcinomatosis. Am J Surg 207:760–764. https://doi.org/10.1016/j.amjsurg.2013.12.024(discussion 764–765)

Koh J-L, Yan TD, Glenn D, Morris DL (2009) Evaluation of preoperative computed tomography in estimating Peritoneal Cancer Index in colorectal peritoneal carcinomatosis. Ann Surg Oncol 16:327–333. https://doi.org/10.1245/s10434-008-0234-2

Chua TC, Al-Zahrani A, Saxena A et al (2011) Determining the association between preoperative computed tomography findings and postoperative outcomes after cytoreductive surgery and perioperative intraperitoneal chemotherapy for pseudomyxoma peritonei. Ann Surg Oncol 18:1582–1589. https://doi.org/10.1245/s10434-010-1492-3

Esquivel J, Chua TC, Stojadinovic A et al (2010) Accuracy and clinical relevance of computed tomography scan interpretation of Peritoneal Cancer Index in colorectal cancer peritoneal carcinomatosis: a multi-institutional study. J Surg Oncol 102:565–570. https://doi.org/10.1002/jso.21601

Suzuki C, Wallgren H, Abraham-Nordling M, Palmer G (2018) Preoperative CT-based predictive factors for resectability and medium-term overall survival in patients with peritoneal carcinomatosis from colorectal cancer. Clin Radiol 73:756.e11–756.e16. https://doi.org/10.1016/j.crad.2018.03.011

Schmidt S, Meuli RA, Achtari C, Prior JO (2015) Peritoneal carcinomatosis in primary ovarian cancer staging: comparison between MDCT, MRI, and 18F-FDG PET/CT. Clin Nucl Med 40:371–377. https://doi.org/10.1097/RLU.0000000000000768

Mazzei MA, Khader L, Cirigliano A et al (2013) Accuracy of MDCT in the preoperative definition of Peritoneal Cancer Index (PCI) in patients with advanced ovarian cancer who underwent peritonectomy and hyperthermic intraperitoneal chemotherapy (HIPEC). Abdom Imaging 38:1422–1430. https://doi.org/10.1007/s00261-013-0013-9

Tentes AK, Tripsiannis G, Markakidis SK et al (2003) Peritoneal Cancer Index: a prognostic indicator of survival in advanced ovarian cancer. Eur J Surg Oncol 29:69–73

Diaz-Gil D, Fintelmann FJ, Molaei S et al (2016) Prediction of 5-year survival in advanced-stage ovarian cancer patients based on computed tomography peritoneal carcinomatosis index. Abdom Radiol N Y 41:2196–2202. https://doi.org/10.1007/s00261-016-0817-5

Rosendahl M, Harter P, Bjørn SF, Høgdall C (2018) Specific regions, rather than the entire peritoneal carcinosis index, are predictive of complete resection and survival in advanced epithelial ovarian cancer. Int J Gynecol Cancer 28:316–322. https://doi.org/10.1097/IGC.0000000000001173

Horowitz NS, Miller A, Rungruang B et al (2015) Does aggressive surgery improve outcomes? Interaction between preoperative disease burden and complex surgery in patients with advanced-stage ovarian cancer: an analysis of GOG 182. J Clin Oncol 33:937–943. https://doi.org/10.1200/JCO.2014.56.3106
Acknowledgements
The authors also acknowledge programmatic support from UK Medical Research Council (EA, AR) and Ovarian Cancer Action (CF).
Funding
This article is an independent research funded by the National Institute for Health Research (NIHR), Imperial Biomedical Research Centre (BRC), the Imperial College Experimental Cancer Medicine Centre (ECMC) and Imperial College London Tissue Bank. The views expressed are those of the author(s) and not necessarily those of the NHS, the NIHR or the Department of Health.
Ethics declarations
Conflict of interest
None of the authors has conflict of interest to declare.
Ethical standard
Ethical committee approved this study involving human participants.
Informed consent
All patients gave informed consent for the study.
Additional information
Publisher's Note
Springer Nature remains neutral with regard to jurisdictional claims in published maps and institutional affiliations.
About this article
Cite this article
Avesani, G., Arshad, M., Lu, H. et al. Radiological assessment of Peritoneal Cancer Index on preoperative CT in ovarian cancer is related to surgical outcome and survival. Radiol med 125, 770–776 (2020). https://doi.org/10.1007/s11547-020-01170-6
Received:

Accepted:

Published:

Issue Date:

DOI: https://doi.org/10.1007/s11547-020-01170-6
Keywords