Abstract
Introduction
In the last decade, several journal's editors decided to publish alternative bibliometric indices parallel to the impact factor (IF): Scimago Journal Rank (SJR), Source Normalized Impact per Paper (SNIP), Eigenfactor Score (ES) and CiteScore™ (CiteScore); however, there is scarce information about the correlations among them. In this study, we aimed to evaluate the associations between this bibliometrics in the Radiology, Nuclear Medicine & Medical Imaging category of the Web of Knowledge. We hypothesized the IF did not show the best correlation with other metrics.
Methods
Retrospective study. We used bibliometrics recorded from the 2017 publicly available versions of the Journal Citation Reports (JCR), SJR (www.scimagojr.com), SNIP (www.journalindicators.com), and CiteScore (www.scopus.com); we also included the Total Cites. We measured the correlations using the Spearman correlation coefficients (RS) for all combinations of the bivariate pair, performed pairwise comparisons of the RS values, and calculated the coefficients of determination. We also tested the statistical significance of the difference between r coefficients between groups. All analyses were conducted with the JMP Pro software.
Results
The stronger bivariate correlations were represented by the ES↔Total Cites RS = 0.968, p < 0.001, R2 = 0.937; and the CiteScore↔SJR RS = 0.911, p < 0.001, R2 = 0.829. From 105 possible combinations of pairwise comparisons, 38 depicted a p value > 0.050 which would suggest interchangeability among bivariate correlations.
Conclusions
Our findings support our hypothesis that the IF does not show the best correlation between other metrics. Radiologists, interventional radiologist, or nuclear medicine doctors should have a clear understanding of the associations among the journal's bibliometrics for their decision-making during the manuscript submission phase.
This is a preview of subscription content, log in to check access.
Access options
Buy single article
Instant access to the full article PDF.
US$ 39.95
Price includes VAT for USA
Subscribe to journal
Immediate online access to all issues from 2019. Subscription will auto renew annually.
US$ 99
This is the net price. Taxes to be calculated in checkout.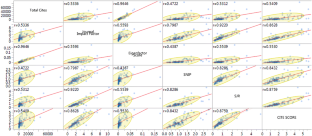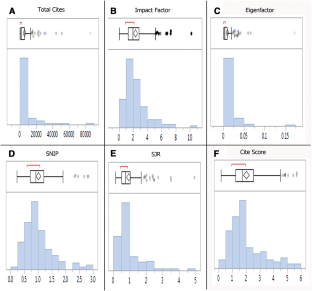 References
1.

Krauskopf E (2012) The uses and abuses of bibliometrics. Reprod Biomed Online 25(4):434. https://doi.org/10.1016/j.rbmo.2012.07.005 author reply 435

2.

Thomson_Reuters (2014) Web of knowledge. http://wokinfo.com. Accessed 19 May 2014

3.

Roldan-Valadez E, Rios C (2015) Alternative bibliometrics from impact factor improved the esteem of a journal in a 2-year-ahead annual-citation calculation: multivariate analysis of gastroenterology and hepatology journals. Eur J Gastroenterol Hepatol 27(2):115–122. https://doi.org/10.1097/MEG.0000000000000253

4.

Diaz-Ruiz A, Orbe-Arteaga U, Rios C, Roldan-Valadez E (2018) Alternative bibliometrics from the web of knowledge surpasses the impact factor in a 2-year ahead annual citation calculation: linear mixed-design models' analysis of neuroscience journals. Neurol India 66(1):96–104. https://doi.org/10.4103/0028-3886.222880

5.

Roldan-Valadez E, Orbe-Arteaga U, Rios C (2018) Eigenfactor score and alternative bibliometrics surpass the impact factor in a 2-years ahead annual-citation calculation: a linear mixed design model analysis of Radiology, Nuclear Medicine and Medical Imaging journals. Radiol Med 123(7):524–534. https://doi.org/10.1007/s11547-018-0870-y

6.

Oosthuizen JC, Fenton JE (2014) Alternatives to the impact factor. Surgeon 12(5):239–243. https://doi.org/10.1016/j.surge.2013.08.002

7.

Sadeghi R, Sarraf A (2012) Comparison between Impact factor, SCImago journal rank indicator and Eigenfactor score of nuclear medicine journals. Nucl Med Rev 15(2):5. https://doi.org/10.5603/NMR.2011.00022

8.

Kianifar H, Sadeghi R, Zarifmahmoudi L (2014) Comparison between Impact Factor, Eigenfactor Metrics, and SCimago Journal Rank Indicator of Pediatric Neurology Journals. Acta Inform Med 22(2):103–106. https://doi.org/10.5455/aim.2014.22.103-106

9.

Brown T, Gutman SA (2018) Impact factor, eigenfactor, article influence, scopus SNIP, and SCImage journal rank of occupational therapy journals. Scand J Occup Ther:1–9. https://doi.org/10.1080/11038128.2018.1473489

10.

Fazel S, Wolf A (2017) What is the impact of a research publication? Evid Based Ment Health 20(2):33–34. https://doi.org/10.1136/eb-2017-102668

11.

Torrisi AM, Granata A (2016) Bibliometric indicators of nephrology journals: strengths and weaknesses. G Ital Nefrol 33(6):gin/33.6.10

12.

Bradshaw CJ, Brook BW (2016) How to Rank Journals. PloS One 11(3):e0149852. https://doi.org/10.1371/journal.pone.0149852

13.

Valdes SG, Perez GF, Reyes BH (2015) An analysis of Chilean biomedical publications in PubMed in the years 2008–2009. Rev Med Chile 143(8):979–986. https://doi.org/10.4067/S0034-98872015000800003

14.

Hale L (2017) Sleep Health receives its first CiteScore. Sleep Health 3(4):225. https://doi.org/10.1016/j.sleh.2017.06.002

15.

Sterbenc A, Ostrbenk A (2017) Elsevier's CiteScore index values for Acta Dermatovenerologica Alpina, Pannonica et Adriatica: a 2016 update. Acta Dermatovenerol Alp Pannonica Adriat 26(3):53

16.

Vanden Eynde JJ (2017) Pharmaceuticals: Impact Factor or CiteScore. Pharmaceuticals (Basel) 10(3):61. https://doi.org/10.3390/ph10030061

17.

Atayero AA, Popoola SI, Egeonu J, Oludayo O (2018) Citation analytics: data exploration and comparative analyses of CiteScores of Open Access and Subscription-Based publications indexed in Scopus (2014-2016). Data Brief 19:198–213. https://doi.org/10.1016/j.dib.2018.05.005

18.

La Torre G, Sciarra I, Chiappetta M, Monteduro A (2017) New bibliometric indicators for the scientific literature: an evolving panorama. Clin Ter 168(2):e65–e71. https://doi.org/10.7417/CT.2017.1985

19.

Avena MJ, Barbosa DA (2017) Bibliometric indicators of the nursing journals according to the index databases. Rev Esc Enferm USP 51:e03262. https://doi.org/10.1590/s1980-220x2017014603262

20.

Choudhri AF, Siddiqui A, Khan NR, Cohen HL (2015) Understanding bibliometric parameters and analysis. Radiographics 35(3):736–746. https://doi.org/10.1148/rg.2015140036

21.

Sardanelli F, Sconfienza LM (2013) Declining impact factor of radiologic journals: a matter for debate. AJR Am J Roentgenol 201(3):W391–W393. https://doi.org/10.2214/AJR.12.10256

22.

Shanta A, Pradhan AS, Sharma SD (2013) Impact factor of a scientific journal: is it a measure of quality of research? J Med Phys/Assoc Med Phys India 38(4):155–157. https://doi.org/10.4103/0971-6203.121191

23.

Sharma M, Sarin A, Gupta P, Sachdeva S, Desai AV (2014) Journal impact factor: its use, significance and limitations. World J Nucl Med 13(2):146. https://doi.org/10.4103/1450-1147.139151

24.

Jackson A (2010) The impact factor game: the rising impact factor of the British Journal of Radiology–a success story? Br J Radiol 83(986):93–98. https://doi.org/10.1259/bjr/18689409

25.

Garfield E (1996) How can impact factors be improved? BMJ 313(7054):411–413

26.

Roldan-Valadez E, Salazar-Ruiz SY, Ibarra-Contreras R, Rios C (2018) Current concepts on bibliometrics: a brief review about impact factor, Eigenfactor score, CiteScore, SCImago Journal Rank, Source-Normalised Impact per Paper, H-index, and alternative metrics. Ir J Med Sci. https://doi.org/10.1007/s11845-018-1936-5

27.

Bergstrom CT, West JD (2008) Assessing citations with the Eigenfactor metrics. Neurology 71(23):1850–1851. https://doi.org/10.1212/01.wnl.0000338904.37585.66

28.

Bergstrom CT, West JD, Wiseman MA (2008) The Eigenfactor metrics. J Neurosci: Off J Soc Neurosci 28(45):11433–11434. https://doi.org/10.1523/JNEUROSCI.0003-08.2008

29.

Van Noorden R (2016) Controversial impact factor gets a heavyweight rival. Nature 540(7633):325–326. https://doi.org/10.1038/nature.2016.21131

30.

Browner WS, Newman TB, Hulley SB (2013) Estimating sample size and power: applications and examples. In: Hulley SB, Cummings SR, Browner WS, Grady DG, Newman TB (eds) Designing clinical research, 4th edn. Lippincott, Williams & Wilkins, Philadelphia, pp 55–83

31.

Chan YH (2003) Biostatistics 104: correlational analysis. Singap Med J 44(12):614–619

32.

Pallant J (2011) Testing the statistical significance of the difference between correlation coefficients. In: Pallant J (ed) SPSS survival manual, 4th edn. Allen & Unwin, Crows Nest, pp 139–141

33.

Reider B (2017) Brace for impact. Am J Sports Med 45(10):2213–2216. https://doi.org/10.1177/0363546517721707

34.

Gutierrez FR, Beall J, Forero DA (2015) Spurious alternative impact factors: the scale of the problem from an academic perspective. BioEssays 37(5):474–476. https://doi.org/10.1002/bies.201500011

35.

Baethge C (2012) Impact factor—a useful tool, but not for all purposes. Dtsch Arztebl Int 109(15):267–269. https://doi.org/10.3238/arztebl.2012.0267

36.

Rawat S (2014) How is impact factor impacting our research? Biomed J. https://doi.org/10.4103/2319-4170.131388

37.

Elliott DB (2014) The impact factor: a useful indicator of journal quality or fatally flawed? Ophthalmic Physiol Opt: J Br Coll Ophthalmic Opt 34(1):4–7. https://doi.org/10.1111/opo.12107

38.

Callaway E (2016) Beat it, impact factor! Publishing elite turns against controversial metric. Nature 535(7611):210–211. https://doi.org/10.1038/nature.2016.20224

39.

Sillet A, Katsahian S, Range H, Czernichow S, Bouchard P (2012) The Eigenfactor Score in highly specific medical fields: the dental model. J Dent Res 91(4):329–333. https://doi.org/10.1177/0022034512437374
Acknowledgements
Moises Villaseñor-Almaraz, M.D., was a research fellow at Directorate of Research, Hospital General de Mexico "Dr. Eduardo Liceaga", during 2018. Juan Islas-Serrano, MS-IV, was scholarship recipient and visitor student of the program "Programa Interinstitucional para el Fortalecimiento de la Investigación y el Posgrado del Pacifico" in July 2018.
Ethics declarations
Conflict of interest
Authors declare that they have no conflict of interest.
Ethical standards
This article does not contain any studies with human participants or animals performed by any of the authors.
Human and animal rights
This article does not contain any studies with human participants or animals performed by any of the authors.
Additional information
Publisher's Note
Springer Nature remains neutral with regard to jurisdictional claims in published maps and institutional affiliations.
Electronic supplementary material
Below is the link to the electronic supplementary material.
About this article
Cite this article
Villaseñor-Almaraz, M., Islas-Serrano, J., Murata, C. et al. Impact factor correlations with Scimago Journal Rank, Source Normalized Impact per Paper, Eigenfactor Score, and the CiteScore in Radiology, Nuclear Medicine & Medical Imaging journals. Radiol med 124, 495–504 (2019). https://doi.org/10.1007/s11547-019-00996-z
Received:

Accepted:

Published:

Issue Date:
Keywords
Journal impact factor

Bibliometric analysis

Literature-based discovery

Algorithms

Citation