Abstract
Purpose
The aim was to evaluate the relationship between coil packing densities after splenic artery aneurysm (SAA) treatment using detachable microcoils and rates of SAA reperfusion and to suggest a post-treatment surveillance protocol using contrast-enhanced MRA.
Materials and methods
Evaluated were 16 patients (4 men; mean age 46.7), who underwent true SAA embolization using detachable microcoils (Concerto, Medtronic). SAAs were treated by selective coil packing (CP) or stent-assisted coil exclusion (SAC). Contrast-enhanced magnetic resonance angiography (CE-MRA) and digital subtraction angiography (DSA) were performed at 3 months post-procedure and correlated.
Results
Primary CP was used in 13 patients, while SAC was used in three patients. On follow-up, complete aneurysm occlusion was seen in seven patients (43.8%). Sac reperfusion occurred in nine patients (56.2%) and was demonstrated in all CE-MRA and six DSA studies. Mean aneurysm packing density was 20.10 ± 8.05% for the CP group and 32.90 ± 11.95% for the SAC group (p = 0.038). There was a significant difference in the incidence of aneurysm sac reperfusion on CE-MRA study between CP and SAC (9 vs. 0). No sac reperfusion was seen in aneurysms with packing densities ≥ 29%, irrespective of either embolization method.
Conclusion
Favorable midterm results for coil packing of SAAs seem to depend on the coil packing density with a coil volume approximately a quarter of the aneurysm volume being most effective. Follow-up should involve the use of CE-MRA as this modality has been shown to be superior over DSA in detecting aneurysm reperfusion and coil compaction.
Level of evidence
Level IV, therapeutic study.
Access options
Buy single article
Instant access to the full article PDF.
USD 39.95
Price excludes VAT (USA)
Tax calculation will be finalised during checkout.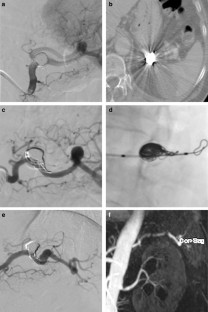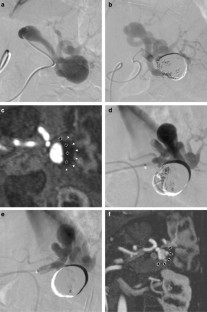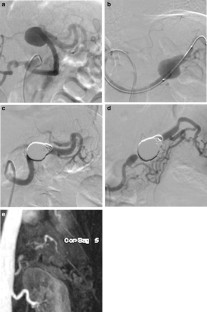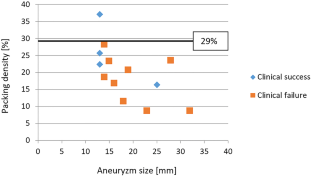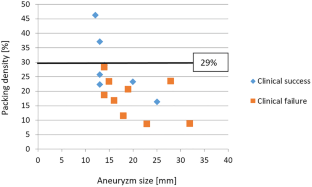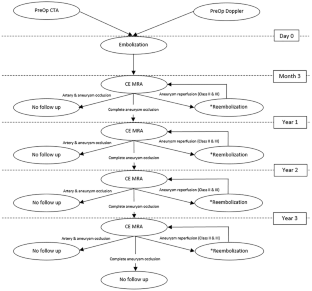 References
Hirsch AT, Haskal ZJ, Hertzer NR, Bakal CW, Creager MA, Halperin JL et al., American Association for Vascular Surgery/Society for Vascular Surgery, Society for Cardiovascular Angiography and Interventions, Society for Vascular Medicine and Biology, Society of Interventional Radiology, ACC/AHA Task Force on Practice Guidelines (2006) ACC/AHA Guidelines for the Management of Patients with Peripheral Arterial Disease (lower extremity, renal, mesenteric, and abdominal aortic): a collaborative report from the American Associations for Vascular Surgery/Society for Vascular Surgery, Society for Cardiovascular Angiography and Interventions, Society for Vascular Medicine and Biology, Society of Interventional Radiology, and the ACC/AHA Task Force on Practice Guidelines. J Vasc Interv Radiol 17(9):1383–1397. (PMID: 16990459)

Bedford PD, Lodge B (1960) Aneurysm of the splenic artery. Gut 1:312–320 (PMID: 13688586)

Pasha SF, Gloviczki P, Stanson AW, Kamath PS (2007) Splanchnic artery aneurysms. Mayo Clin Proc 82(4):472–479 (PMID: 17418076)

Ha JF, Phillips M, Faulkner K (2009) Splenic artery aneurysm rupture in pregnancy. Eur J Obstet Gynecol Reprod Biol 146(2):133–137 (PMID: 19596508)

Iryo Y, Ikushima I, Hirai T, Yonenaga K, Yamashita Y (2013) Evaluation of contrast-enhanced MR angiography in the follow-up of visceral arterial aneurysms after coil embolization. Acta Radiol 54(5):493–497 (PMID: 23436827)

Koganemaru M, Abe T, Uchiyama D, Iwamoto R, Yoshida S, Hayabuchi N et al (2010) Detection of neck recanalization with follow-up contrast-enhanced MR angiography after renal artery aneurysm coil embolization. J Vasc Interv Radiol 21(2):298–300 (PMID: 20045655)

Roy D, Milot G, Raymond J (2001) Endovascular treatment of unruptured aneurysms. Stroke 32(9):1998–2004 (PMID: 11546888)

Xin J, Xiao-Ping L, Wei G, Jiang X, Hong-Peng Z, Xiao-Hui M et al (2011) The endovascular management of splenic artery aneurysms and pseudoaneurysms. Vascular 19(5):257–261 (PMID:21903857)

Yasumoto T, Osuga K, Yamamoto H, Ono Y, Masada M, Mikami K et al (2013) Long-term outcomes of coil packing for visceral aneurysms: correlation between packing density and incidence of coil compaction or recanalization. J Vasc Interv Radiol 24(12):1798–1807 (PMID: 23810652)

Guillon R, Garcier JM, Abergel A, Mofid R, Garcia V, Chahid T et al (2003) Management of splenic artery aneurysms and false aneurysms with endovascular treatment in 12 patients. Cardiovasc Intervent Radiol 26(3):256–260 (PMID: 14562974)

Seo JM, Park KB, Kim KH, Jeon P, Shin SW, Park HS et al (2011) Clinical and multidetector CT follow-up results of renal artery aneurysms treated by detachable coil embolization using 3D rotational angiography. Acta Radiol 52(8):854–859 (PMID: 21840966)

Koganemaru M, Abe T, Nonoshita M, Iwamoto R, Kusumoto M, Kuhara A, Kugiyama T (2014) Follow-up of true visceral artery aneurysm after coil embolization by three-dimensional contrast-enhanced MR angiography. Diagn Interv Radiol 20(2):129–135 (PMID: 24356294)
Ethics declarations
Conflict of interest
Mikołaj Wojtaszek and Rafał Maciąg have proctoring, speaking and training agreements with Medtronic. The remaining authors declare no pending conflicts of interests.
Ethical approval
All procedures performed in studies involving human participants were in accordance with the ethical standards of the institutional and/or national research committee and with the 1964 Helsinki declaration and its later amendments or comparable ethical standards. For this type of study formal consent is not required.
Informed consent
Informed consent was obtained from all individual participants included in the study.
Additional information
Publisher's Note
Springer Nature remains neutral with regard to jurisdictional claims in published maps and institutional affiliations.
About this article
Cite this article
Wojtaszek, M., Lamparski, K., Wnuk, E. et al. Selective occlusion of splenic artery aneurysms with the coil packing technique: the impact of packing density on aneurysm reperfusion correlated between contrast-enhanced MR angiography and digital subtraction angiography. Radiol med 124, 450–459 (2019). https://doi.org/10.1007/s11547-019-00993-2
Received:

Accepted:

Published:

Issue Date:

DOI: https://doi.org/10.1007/s11547-019-00993-2
Keywords
Splenic artery aneurysm

Visceral aneurysm

Aneurysm embolization

Selective coiling

Stent-assisted coiling

Packing density

MRA follow-up protocol