Abstract
Soft tissue sarcomas represent a heterogeneous group of rare malignancies exhibiting mesenchymal differentiation with an overall incidence of around 5/100,000/year. Rarity and morphologic heterogeneity significantly affect diagnostic accuracy; therefore, expertise can be achieved only through access to large number of cases. Soft tissue sarcomas are currently classified on the basis of the 2013 WHO classification of soft tissue tumors that integrate conventional morphology with immunohistochemistry and molecular genetics. The morphologic diagnosis of sarcoma relies on the evaluation as well as the integration of four main features: the shape of the neoplastic cells; the pattern of growth; the quality of the background; the architecture of the vascular network. Immunohistochemical characterization plays a key role in the diagnostic workup of soft tissue sarcomas. The majority of classic differentiation markers tend to show good sensitivity, however, associated with rather limited specificity, making interpretation in context with morphology mandatory. Molecular genetics is increasingly used for diagnostic purposes to distinguish specific subtypes of sarcomas, to support diagnosis in non-canonical clinical presentations and also to distinguish true sarcomas from benign mimickers. With many exceptions, histologic typing does not provide sufficient information for predicting the clinical course of the disease and, therefore, grading systems based on histological parameters were introduced to provide a more accurate estimation of the degree of malignancy of tumors. The three-tiered system devised by the French Federation of Cancer Centers Sarcoma Group (FNCLCC) systems is widely adopted; however, several limitations exist that have led to the development of prognostic nomograms that incorporate the specific histotype as one of the relevant parameters.
This is a preview of subscription content, log in to check access.
Access options
Buy single article
Instant access to the full article PDF.
US$ 39.95
Price includes VAT for USA
Subscribe to journal
Immediate online access to all issues from 2019. Subscription will auto renew annually.
US$ 99
This is the net price. Taxes to be calculated in checkout.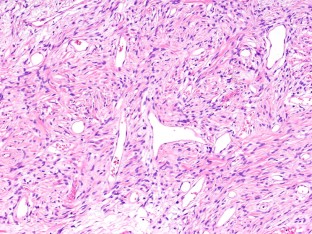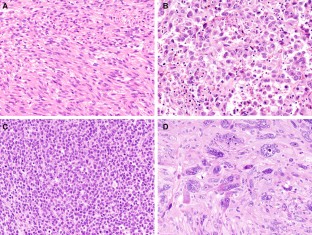 References
1.

Ray-Coquard I, Montesco MC, Coindre JM et al (2012) Sarcoma: concordance between initial diagnosis and centralized expert review in a population-based study within three European regions. Ann Oncol 23:2442–2449

2.

Fletcher CDM, Bridge JA, Hogendoorn PCW, Mertens F (eds) (2013) Pathology and genetics of tumours of soft tissue and bone. WHO classification of tumours of soft tissue and bone, 4th edn. IARC Press, Lyon

3.

Fletcher CDM, Unni KK, Mertens F (eds) (2002) Pathology and genetics of tumors of soft tissue and bone. WHO classification of tumours. IARC Press, Lyon

4.

Ballinger ML, Goode DL, Ray-Coquard I et al (2016) International Sarcoma Kindred Study. Monogenic and polygenic determinants of sarcoma risk: an international genetic study. Lancet Oncol 17:1261–1271

5.

Barretina J, Taylor BS, Banerji S et al (2010) Subtype-specific genomic alterations define new targets for soft-tissue sarcoma therapy. Nat Genet 42:715–721

6.

Brenca M, Maestro R (2015) Massive parallel sequencing in sarcoma pathobiology: state of the art and perspectives. Expert Rev Anticancer Ther 15:1473–1488

7.

Cancer Genome Atlas Research Network. Electronic address: elizabeth.demicco@sinaihealthsystem.ca; Cancer Genome Atlas Research Network (2017) Comprehensive and integrated genomic characterization of adult soft tissue sarcomas. Cell 171:950–965.e28

8.

Hornick JL (2014) Novel uses of immunohistochemistry in the diagnosis and classification of soft tissue tumors. Mod Pathol 27:S47–S63

9.

Miettinen M (2014) Immunohistochemistry of soft tissue tumors—review with emphasis on 10 markers. Histopathology 64:101–118

10.

Neuville A, Ranchère-Vince D, Dei Tos AP et al (2013) Impact of molecular analysis on the final sarcoma diagnosis: a study on 763 cases collected during a European epidemiological study. Am J Surg Pathol 37:1259–1268

11.

Dei Tos AP (2013) A current perspective on the role for molecular studies in soft tissue tumor pathology. Semin Diagn Pathol 30:375–381

12.

Schaefer IM, Cote GM, Hornick JL (2018) Contemporary sarcoma diagnosis, genetics and genomics. J Clin Oncol 36:101–110

13.

Walther C, Tayebwa J, Lilljebjorn H et al (2014) A novel SERPINE1-FOSB fusion gene results in transcriptional up-regulation of FOSB in pseudomyogenic haemangioendothelioma. J Pathol 23:534–540

14.

Le Loarer F, Pissaloux D, Coindre JM, Tirode F, Vince DR (2017) Update on families of round cell sarcomas other than classical ewing sarcomas. Surg Pathol Clin 10:587–620

15.

Sirvent N, Coindre JM, Maire G et al (2007) Detection of MDM2-CDK4 amplification by fluorescence in situ hybridization in 200 paraffin-embedded tumor samples: utility in diagnosing adipocytic lesions and comparison with immunohistochemistry and real-time PCR. Am J Surg Pathol 31:1476–1489

16.

Mertens F, Fletcher CD, Antonescu CR et al (2005) Clinicopathologic and molecular genetic characterization of low-grade fibromyxoid sarcoma, and cloning of a novel FUS/CREB3L1 fusion gene. Lab Invest 85:408–415

17.

Colombo C, Bolshakov S, Hajibashi S et al (2011) 'Difficult to diagnose' desmoid tumours: a potential role for CTNNB1 mutational analysis. Histopathology 59:336–340

18.

Chibon F, Lagarde P, Salas S et al (2010) Validated prediction of clinical outcome in sarcomas and multiple types of cancer on the basis of a gene expression signature related to genome complexity. Nat Med 16:781–787

19.

Casali PG, Dei Tos AP, Gronchi A (2015) Gastrointestinal stromal tumor. In: Rosenberg SA, DeVita VT, Hellman S (eds) De Vita, Hellman, Rosenberg's cancer. Principles and practice of oncology, 10th edn. Wolters Kluver, Philadelphia, pp 745–756

20.

Butrynski JE, D'Adamo DR, Hornick JL et al (2010) Crizotinib in ALK-rearranged inflammatory myofibroblastic tumor. N Engl J Med 28(363):1727–1733

21.

Stacchiotti S, Pantaleo MA, Negri T et al (2016) Efficacy and biological activity of imatinib in metastatic dermatofibrosarcoma protuberans (DFSP). Clin Cancer Res 22:837–846

22.

Brenca M, Rossi S, Polano M et al (2016) Transcriptome sequencing identifies ETV6-NTRK3 as a gene fusion involved in GIST. J Pathol 238:543–549

23.

Tap WD, Wainberg ZA, Anthony SP et al (2015) Structure-guided blockade of CSF1R kinase in tenosynovial giant-cell tumor. N Engl J Med 30(373):428–437

24.

Guillou L, Coindre JM, Bonichon F et al (1997) Comparative study of the National Cancer Institute and French Federation of Cancer Centers Sarcoma Group grading systems in a population of 410 adult patients with soft tissue sarcoma. J Clin Oncol 15:350–362

25.

Coindre JM, Terrier P, Guillou L et al (2001) Predictive value of grade for metastasis development in the main histologic types of adult soft tissue sarcomas: a study of 1240 patients from the French Federation of Cancer Centers Sarcoma Group. Cancer 91:1914–1926

26.

Callegaro D, Miceli R, Bonvalot S et al (2016) Development and external validation of two nomograms to predict overall survival and occurrence of distant metastases in adults after surgical resection of localised soft-tissue sarcomas of the extremities: a retrospective analysis. Lancet Oncol 1:671–680
Funding
This study was not funded.
Ethics declarations
Conflict of interest
AP Dei Tos has received speaker honoraria from PFIZER, Lilly Oncology; PharmaMar. M. Sbaraglia as received a speaker honorarium from PharmaMar.
Ethical approval
This article does not contain any studies with human participants or animals performed by any of the authors.
About this article
Cite this article
Sbaraglia, M., Dei Tos, A.P. The pathology of soft tissue sarcomas. Radiol med 124, 266–281 (2019). https://doi.org/10.1007/s11547-018-0882-7
Received:

Accepted:

Published:

Issue Date:
Keywords
Soft tissue sarcoma

Immunohistochemistry

Molecular genetics