Abstract
Several image processing algorithms have emerged to cover unmet clinical needs but their application to radiological routine with a clear clinical impact is still not straightforward. Moving from local to big infrastructures, such as Medical Imaging Biobanks (millions of studies), or even more, Federations of Medical Imaging Biobanks (in some cases totaling to hundreds of millions of studies) require the integration of automated pipelines for fast analysis of pooled data to extract clinically relevant conclusions, not uniquely linked to medical imaging, but in combination to other information such as genetic profiling. A general strategy for the development of imaging biomarkers and their integration in the cloud for the quantitative management and exploitation in large databases is herein presented. The proposed platform has been successfully launched and is being validated nowadays among the early adopters' community of radiologists, clinicians, and medical imaging researchers.
This is a preview of subscription content, log in to check access.
Access options
Buy single article
Instant access to the full article PDF.
US$ 39.95
Price includes VAT for USA
Subscribe to journal
Immediate online access to all issues from 2019. Subscription will auto renew annually.
US$ 99
This is the net price. Taxes to be calculated in checkout.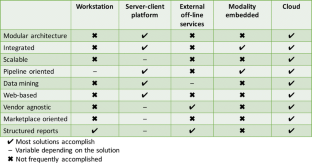 References
1.

Fedorov A, Clunie D, Ulrich E, Bauer C, Wahle A, Brown B, Onken M, Riesmeier J, Pieper S, Kikinis R, Buatti J, Beichel RR (2016) DICOM for quantitative imaging biomarker development: a standards based approach to sharing clinical data and structured PET/CT analysis results in head and neck cancer research. Peer J 24(4):e2057

2.

Martí-Bonmatí L, Alberich-Bayarri A, García-Martí G, Sanz-Requena R, Pérez Castillo C, Carot Sierra JM, Manjón Herrera JV (2012) Imaging biomarkers, quantitative imaging and bioengineering. Radiologia 54:269–278

3.

Biomarkers Definitions Working Group (2001) Biomarkers and surrogate endpoints: preferred definitions and conceptual framework. Clin Pharmacol Ther 69:89–95

4.

European Society of Radiology (ESR) (2013) ESR statement on the stepwise development of imaging biomarkers. Insights. Imaging. 4:147–152

5.

European Society of Radiology (2010) White paper on imaging biomarkers. Insights Imaging 1:42–45

6.

European Society of Radiology (ESR) (2015) Position paper on imaging biobanks. Insights Imaging 6:403–410

7.

Hamel S. eMetrics Summit. 2013. San Francisco, CA, USA

8.

"big, adj. and adv." OED Online. Oxford University Press, June 2016. Web. 26 June 2016

9.

Gillies RJ, Kinahan PE, Hricak H (2016) Radiomics: images are more than pictures, they are data radiology. Radiol Soc N Am 278:563–577

10.

McIntyre RS, Cha DS, Jerrell JM, Swardfager W, Kim RD, Costa LG, Baskaran A, Soczynska JK, Woldeyohannes HO, Mansur RB, Brietzke E, Powell AM, Gallaugher A, Kudlow P, Kaidanovich-Beilin O, Alsuwaidan M (2014) Advancing biomarker research: utilizing 'Big Data' approaches for the characterization and prevention of bipolar disorder. Bipolar Disord 16:531–547

11.

Manikis GC, Kontopodis E, Nikiforaki K, Marias K, Papanikolaou N (2017) Imaging biomarker model-based analysis. Imaging Biomarkers. Springer International Publishing, Cham, pp 71–86

12.

Alberich-Bayarri A, Ruiz-Martínez E, Hernández-Navarro R, Tomás-Cucarella J, García-Castro F (2017) A proposed imaging biomarkers analysis platform architecture for integration in clinics. Imaging Biomarkers. Cham: Springer International Publishing. pp 159–167
Ethics declarations
Conflict of interest
AAB and LMB are shareholders of QUIBIM SL, a company dedicated to the analysis of imaging biomarkers.
Ethical approval
This article does not contain any studies with human participants or animals performed by any of the authors.
About this article
Cite this article
Alberich-Bayarri, Á., Hernández-Navarro, R., Ruiz-Martínez, E. et al. Development of imaging biomarkers and generation of big data. Radiol med 122, 444–448 (2017). https://doi.org/10.1007/s11547-017-0742-x
Received:

Accepted:

Published:

Issue Date:
Keywords
Imaging biomarkers

Big data

Cloud

Radiology

Radiomics

Image processing