Abstract
In this paper, we build phase-field models for the actomyosin driven cell oscillations. In our modeling, an oscillation starts from an actin cortex breakage. After the breakage, due to the unbalanced distribution of actin and myosin, there is unbalanced contraction force in different membrane components, which then results in the lipids transferring to the bulged membrane compartment. As such we can observe a cell oscillation. During the whole process, the actin and myosin polymerization and depolymerization play important roles. We give detailed formulations under the framework of phase-field methodology, in which phase-field functions are used to describe different parts of the cell membrane, integrated with the distribution of the actin and myosin at different components. The whole system is described as a set of time-dependent partial differential equations in three-dimensional space. Forward Euler method is used to solve the system. The spectral method is used for spatial discretizations for efficiency and accuracy purpose. Given carefully selected parameters, three-dimensional simulations are performed and compared with biological images. The simulations prove that actomyosin dynamics are the major reasons for cell oscillations. Further, our method can be easily extended into the simulations of cell polarization. We also compared our numerical simulations with biological experiments. This modeling gives an example of applying diffusive interface methods toward complex biology experiments.
Access options
Buy single article
Instant access to the full article PDF.
US$ 39.95
Tax calculation will be finalised during checkout.
Subscribe to journal
Immediate online access to all issues from 2019. Subscription will auto renew annually.
US$ 79
Tax calculation will be finalised during checkout.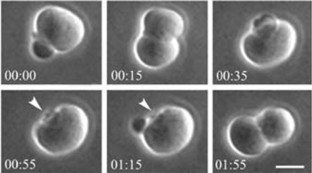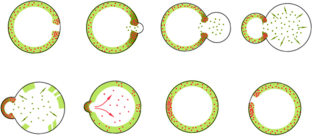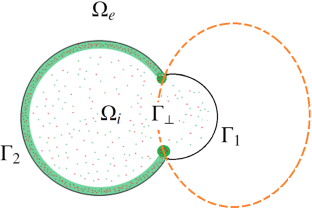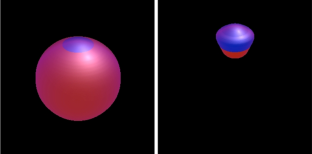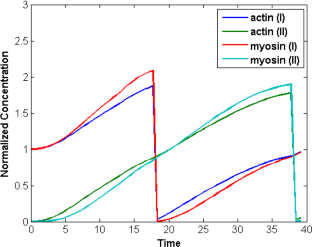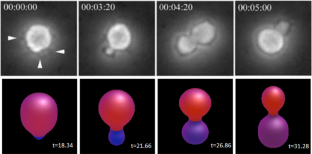 References
Boal D (2002) Mechanics of the cell. Cambridge University Press, New York

Cabernard C, Prehoda K, Doe C (2010) A spindle-independent cleavage furrow positioning pathway. Nature 467(7311):91–94

Chang YC, Hou TY, Merriman B, Osher S (1996) A level set formulation of Eulerian interface capturing methods for incompressible fluid flows. J Comput Phys 124:449–464

Charras G, Paluch E (2008) Blebs lead the way: how to migrate without lamellipodia. Nat Rev Mol Cell Biol 9(9):730–736

Charras GT, Coughlin M, Mitchison TJ, Mahadevan L (2008) Life and times of a cellular bleb. Biophys J 94:1836–1853

Ciarlet PG (1998) Introduction to linear shell theory. In: Series in applied mathematics (Paris), vol 1. Gauthier-Villars, Éditions Scientifiques et Médicales Elsevier, Paris

Ciarlet PG (2000) Mathematical elasticity, vol III. In: Studies in mathematics and its applications, vol 29. Theory of shellsNorth-Holland Publishing Co., Amsterdam

Cristini V, Blawzdziewicz J, Loewenberg M (1998) Drop breakup in three-dimensional viscous flows. Phys Fluids 10:1781–1783

Du Q, Liu C, Wang X (2004) A phase field approach in the numerical study of the elastic bending energy for vesicle membranes. J Comput Phys 198:450–468

Du Q, Liu C, Ryham R, Wang X (2005a) A phase field formulation of the Willmore problem. Nonlinearity 18:1249–1267

Du Q, Liu C, Ryham R, Wang X (2005b) Modeling the spontaneous curvature effects in static cell membrane deformations by a phase field formulation. Commun Pure Appl Anal 4:537–548

Du Q, Liu C, Wang X (2005cc) Retrieving topological information for phase field models. SIAM J Appl Math 65:1913–1932

Du Q, Liu C, Wang X (2006) Simulating the deformation of vesicle membranes under elastic bending energy in three dimensions. J Comput Phys 212(2):757–777

Du Q, Liu C, Ryham R, Wang X (2009) Energetic variational approaches in modeling vesicle and fluid interactions. Physica D 238:923–930

Du Q, Ju L, Li X, Qiao Z (2018) Stabilized linear semi-implicit schemes for the nonlocal Cahn-Hilliard equation. J Comput Phys 363:39–54

Evans EA, Skalak R (1980) Mechanics and thermodynamics of biomembranes. CRC Press Inc., Boca Raton

Gucht J, Paluch E, Plastino J, Sykes C (2005) Stress release drives symmetry breaking for actin-based movement. Proc Natl Acad Sci USA 102:7847–7852

Hu J, Matzavinos A, Othmer HG (2006) A theoretical approach to actin filament dynamics. J Stat Phys 128:111–138

Khayat RE (1991) Shape transitions and shape stability of giant phospholipid vesicles in pure water induced by area-to-volume changes. Biophys J 60:825–844

Lipowsky R (1992) Budding of membranes induced by intramembrane domains. J Phys II Fr 2:1825–1840

Lowengrub J, Truskinovsky L (1998) Quasi-incompressible Cahn-Hilliard fluids and topological transitions. R Soc Lond Proc Ser A Math Phys Eng Sci 454:2617–2654

Noireaux V, Goldsteyn RA, Friederich E, Prost J, Antony C, Louvard D, Sykes C (2000) Growing an actin gel on spherical surfaces. Biophys J 278:1643–1654

Osher S, Fedkiw R (2002) The level set method and dynamic implicit surfaces. Springer, Berlin

Paluch E, Piel M, Prost J, Bornens M, Sykes C (2005) Cortical actomyosin breakage triggers shape oscillation in cells and cell fragments. Biophys J 89:724–33

Rui G, Xiaoqiang W, Max G (2014) Simulating vesicle-substrate adhesion using two phase field functions. J Comput Phys 275:626–641

Rui G, Xiaoqiang W, Max G (2016) A two phase field model for tracking vesicle-vesicle adhesion. J Math Biol 73(5):1293–1319

Sedzinski J, Biro M, Oswald A, Tinevez J, Salbreux G, Paluch E (2011) Polar actomyosin contractility destabilizes the position of the cytokinetic furrow. Nature 476(7361):462–466

Seifert U (1993) Curvature-induced lateral phase separation in two-component vesicles. Phys Rev Lett 70:1335–1338

Sekimoto K, Prost J, Jülicher F, Boukellal H, Bernheim-Groswasser A (2004) Role of tensile stress in actin gels and a symmetry-breaking instability. Eur Phys J E 13:247–259

Stewart MP, Helenius J, Toyoda Y, Ramanathan SP, Muller DJ, Hyman AA (2011) Hydrostatic pressure and the actomyosin cortex drive mitotic cell rounding. Nature 469:226–230

Toose EM, Geurts BJ, Kuerten JGM (1995) A boundary integral method for two-dimensional (non)-Newtonian drops in slow viscous flow. J Non-Newton Fluid Mech 60:129–154

Wang X, Du Q (2008) Modelling and simulations of multi-component lipid membranes and open membranes via diffusive interface approaches. J Math Biol 56(3):347–371

Wang X, Ju L, Du Q (2016) Efficient and stable exponential time differencing Runge-Kutta methods for phase field elastic bending energy models. J Comput Phys 316:21–38

Zhang W, Robinson D (2005) Balance of actively generated contractile and resistive forces controls cytokinesis dynamics. Proc Natl Acad Sci 102(20):7186–7191

Zhuan L, Kunkun G (2013) Cell morphodynamics via phase field dynamics model. Acta Chim Sin 71(8):1183–1188

Zoniz L, Munnik T (2007) Life under pressure: hydrostatic pressure in cell growth and function. Trends Plant Sci 12(3):90–97
Acknowledgements
The authors thank the referees for their valuable comments and suggestions. The first author's research is supported by NSF-DMS 1819059 while the second author's research is partially supported by China Fundamental Research of Civil Aircraft under Grant Number MJ-F-2012-04.
Additional information
Publisher's Note
Springer Nature remains neutral with regard to jurisdictional claims in published maps and institutional affiliations.
About this article
Cite this article
Wang, X., Zhu, L. Diffusive Interface Model for Actomyosin Driven Cell Oscillations. Bull Math Biol 83, 37 (2021). https://doi.org/10.1007/s11538-021-00866-8
Received:

Accepted:

Published:
Keywords
Cell membrane

Cell oscillation

Actin filaments

Elastic bending energy

Phase-field model

Numerical methods