Abstract
ABC efflux transporters are a key factor leading to multidrug resistance in cancer. Overexpression of these transporters significantly decreases the efficacy of anti-cancer drugs. Along with selection and induction, drug resistance may be transferred between cells, which is the focus of this paper. Specifically, we consider the intercellular transfer of P-glycoprotein (P-gp), a well-known ABC transporter that was shown to confer resistance to many common chemotherapeutic drugs. In a recent paper, Durán et al. (Bull Math Biol 78(6):1218–1237, 2016) studied the dynamics of mixed cultures of resistant and sensitive NCI-H460 (human non-small lung cancer) cell lines. As expected, the experimental data showed a gradual increase in the percentage of resistance cells and a decrease in the percentage of sensitive cells. The experimental work was accompanied with a mathematical model that assumed P-gp transfer from resistant cells to sensitive cells, rendering them temporarily resistant. The mathematical model provided a reasonable fit to the experimental data. In this paper, we develop a new mathematical model for the transfer of drug resistance between cancer cells. Our model is based on incorporating a resistance phenotype into a model of cancer growth (Greene et al. in J Theor Biol 367:262–277, 2015). The resulting model for P-gp transfer, written as a system of integro-differential equations, follows the dynamics of proliferating, quiescent, and apoptotic cells, with a varying resistance phenotype. We show that this model provides a good match to the dynamics of the experimental data of Durán et al. (2016). The mathematical model shows a better fit when resistant cancer cells have a slower division rate than the sensitive cells.
Access options
Buy single article
Instant access to the full article PDF.
US$ 39.95
Tax calculation will be finalised during checkout.
Subscribe to journal
Immediate online access to all issues from 2019. Subscription will auto renew annually.
US$ 79
Tax calculation will be finalised during checkout.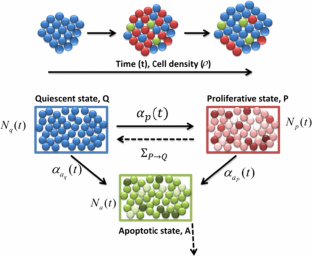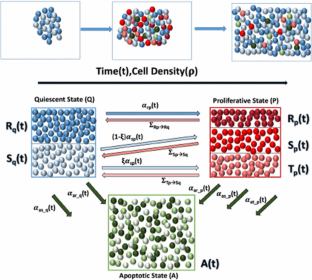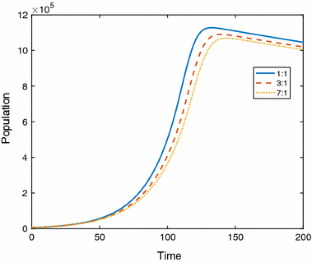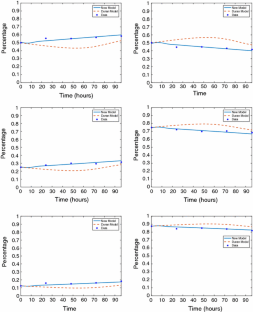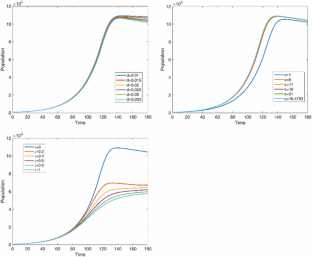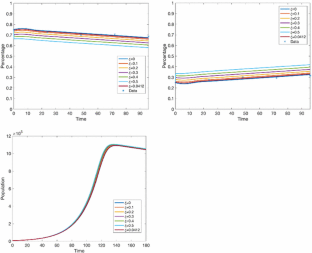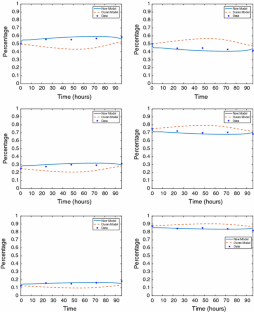 References
Ambudkar SV, Sauna ZE, Gottesman MM, Szakacs G (2005) A novel way to spread drug resistance in tumor cells: functional intercellular transfer of p-glycoprotein (abcb1). Trends Pharmacol Sci 26(8):385–387

Balaj L, Lessard R, Dai L, Cho YJ, Pomeroy SL, Breakefield XO, Skog J (2011) Tumour microvesicles contain retrotransposon elements and amplified oncogene sequences. Nat Commun 2:180

Borst P, Evers R, Kool M, Wijnholds J (2000) A family of drug transporters: the multidrug resistance-associated proteins. J Natl Cancer Inst 92(16):1295–1302

Breier A, Gibalova L, Seres M, Barancik M, Sulova Z (2013) New insight into p-glycoprotein as a drug target. Anti-Cancer Agents Med Chem 13(1):159–170

Brimacombe KR, Hall MD, Auld DS, Inglese J, Austin CP, Gottesman MM, Fung KL (2009) A dual-fluorescence high-throughput cell line system for probing multidrug resistance. Assay Drug Dev Technol 7(3):233–249

Cancer Facts and Figures 2016. https://www.cancer.org/research/cancer-facts-statistics/all-cancer-facts-figures/cancer-facts-figures-2016.html

Cordon-Cardo C, O'Brien J, Boccia J, Casals D, Bertino J, Melamed M (1990) Expression of the multidrug resistance gene product (p-glycoprotein) in human normal and tumor tissues. J Histochem Cytochem 38(9):1277–1287

Davidson AL, Dassa E, Orelle C, Chen J (2008) Structure, function, and evolution of bacterial atp-binding cassette systems. Microbiol Mol Biol Rev 72(2):317–364

Durán MR, Podolski-Renić A, Álvarez-Arenas A, Dinić J, Belmonte-Beitia J, Pešić M, Pérez-García VM (2016) Transfer of drug resistance characteristics between cancer cell subpopulations: a study using simple mathematical models. Bull Math Biol 78(6):1218–1237

Fodale V, Pierobon M, Liotta L, Petricoin E (2011) Mechanism of cell adaptation: when and how do cancer cells develop chemoresistance? Cancer J 17(2):89–95

Ford JM, Yang JM, Hait WN (1996) P-glycoprotein-mediated multidrug resistance: experimental and clinical strategies for its reversal. In: Drug resistance. Springer, pp 3–38

Geoffrey MC, Robert E et al (2000) The cell: a molecular approach. Boston University, Sunderland

Gillet JP, Gottesman MM (2010) Mechanisms of multidrug resistance in cancer. Methods Mol Biol 596:47–76

Greene JM, Levy D, Fung KL, Souza PS, Gottesman MM, Lavi O (2015) Modeling intrinsic heterogeneity and growth of cancer cells. J Theor Biol 367:262–277

Jackson TL, Byrne HM (2000) A mathematical model to study the effects of drug resistance and vasculature on the response of solid tumors to chemotherapy. Math Biosci 164(1):17–38

Juranka P, Zastawny R, Ling V (1989) P-glycoprotein: multidrug-resistance and a superfamily of membrane-associated transport proteins. FASEB J 3(14):2583–2592

Lavi O, Gottesman MM, Levy D (2012) The dynamics of drug resistance: a mathematical perspective. Drug Resist Updates 15(1):90–97

Lavi O, Greene JM, Levy D, Gottesman MM (2013) The role of cell density and intratumoral heterogeneity in multidrug resistance. Cancer Res 73(24):7168–7175

Leonard GD, Fojo T, Bates SE (2003) The role of abc transporters in clinical practice. Oncologist 8(5):411–424

Levchenko A, Mehta BM, Niu X, Kang G, Villafania L, Way D, Polycarpe D, Sadelain M, Larson SM (2005) Intercellular transfer of p-glycoprotein mediates acquired multidrug resistance in tumor cells. Proc Nat Acad Sci USA 102(6):1933–1938

Lorz A, Lorenzi T, Hochberg ME, Clairambault J, Perthame B (2013) Populational adaptive evolution, chemotherapeutic resistance and multiple anti-cancer therapies. ESAIM Math Model Numer Anal 47(2):377–399

Pasquier J, Galas L, Boulangé-Lecomte C, Rioult D, Bultelle F, Magal P, Webb G, Le Foll F (2012) Different modalities of intercellular membrane exchanges mediate cell-to-cell p-glycoprotein transfers in mcf-7 breast cancer cells. J Biol Chem 287(10):7374–7387

Pasquier J, Magal P, Boulangé-Lecomte C, Webb G, Le Foll F (2011) Consequences of cell-to-cell p-glycoprotein transfer on acquired multidrug resistance in breast cancer: a cell population dynamics model. Biol Direct 6(1):1

Thiebaut F, Tsuruo T, Hamada H, Gottesman MM, Pastan I, Willingham MC (1987) Cellular localization of the multidrug-resistance gene product p-glycoprotein in normal human tissues. Proc Nat Acad Sci 84(21):7735–7738

Ueda K, Clark D, Chen C, Roninson I, Gottesman M, Pastan I (1987) The human multidrug resistance (mdr1) gene. cdna cloning and transcription initiation. J Biol Chem 262(2):505–508

Weinberg R (2013) The biology of cancer. Garland Science, New York
Acknowledgements
The work of DL was supported in part by the NSF under Grant No. DMS-1713109, by the John Simon Guggenheim Memorial Foundation, by the Simons Foundation, and by the Jayne Koskinas Ted Giovanis Foundation.
About this article
Cite this article
Becker, M., Levy, D. Modeling the Transfer of Drug Resistance in Solid Tumors. Bull Math Biol 79, 2394–2412 (2017). https://doi.org/10.1007/s11538-017-0334-x
Received:

Accepted:

Published:

Issue Date:
Keywords
P-glycoprotein

Multidrug resistance

Integro-differential equations