Abstract
Despite the transformative possibilities associated with the inclusion of technologies in instruction, relatively little is known about the regular use and perception of these technologies in higher education. Framed by existing challenges and opportunities around instructional technology use nationwide, this research offers a case of one institution's attempts to set a baseline for technology-enhanced learning. This work is unique in that it is undertaken by a cross-disciplinary professional learning community (PLC) at their home institution. As such, both the case and the PLC process contribute to an understanding of how other institutions may examine campus-wide priorities related to teaching and learning. Findings suggest a degree of uncertainty around the use of technology-enhanced learning, most notable that users do not always understand why to support these tools. Additionally, the case research reports on how the PLC members communicated their work and findings to faculty and administrators.
Access options
Buy single article
Instant access to the full article PDF.
US$ 39.95
Tax calculation will be finalised during checkout.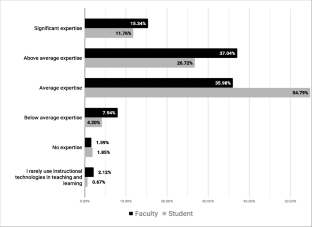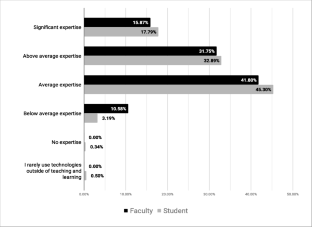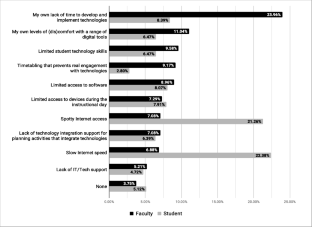 References
Arkorful, V., & Abaidoo, N. (2015). The role of e-learning, advantages and disadvantages of its adoption in higher education. International Journal of Instructional Technology and Distance Learning, 12(1), 29–42.

Barab, S., & Squire, K. (2004). Design-based research: Putting a stake in the ground. The Journal of the Learning Sciences, 13(1), 1–14. https://doi.org/10.1207/s15327809jls1301_1.

Becker, S. A., Cummins, M., Davis, A., Freeman, A., Hall, C. G., Ananthanarayanan, V. (2017). NMC horizon report: 2017 higher education edition (pp. 1-60). The new media consortium. Available at https://library.educause.edu/resources/2017/2/2017-horizon-report

Bennett, L. (2014). Learning from the early adopters: Developing the digital practitioner. Research in Learning Technology, 22, 21453.

Bester, G., & Brand, L. (2013). The effect of technology on learner attention and achievement in the classroom. South African Journal of Education, 33(2).

DuFour, R., & DuFour, R. (2010). Learning by doing : A handbook for professional learning communities at work. Solution Tree. ProQuest Ebook Central, https://ebookcentral.proquest.com/lib/cofc/detail.action?docID=3404884.

Francis, R., & Shannon, S. J. (2013). Engaging with blended learning to improve students' learning outcomes. European Journal of Engineering Education, 38(4), 359–369.

Garrison, D. R., & Kanuka, H. (2004). Blended learning: Uncovering its transformative potential in higher education. The Internet and Higher Education, 7(2), 95–105. https://doi.org/10.1016/j.iheduc.2004.02.001.

Greenhow, C., Robelia, B., & Hughes, J. E. (2009). Learning, teaching, and scholarship in a digital age: Web 2.0 and classroom research: What path should we take now? Educational Researcher, 38(4), 246–259. https://doi.org/10.3102/0013189X09336671.

Hord, S. M. (2008). Evolution of the professional learning community: Revolutionary concept is based on intentional collegial learning. Journal of Staff Development, 29(3), 10–13.

Johnson, L., Becker, S. A., Cummins, M., Estrada, V., Freeman, A., & Hall, C. (2016). NMC horizon report: 2016 higher education edition (pp. 1-50). The New Media Consortium

Kim, K. J., & Bonk, C. J. (2006). The future of online teaching and learning in higher education. Educause Quarterly, 29(4), 22–30.

McKenzie, J. F., Wood, M. L., Kotecki, J. E., Clark, J. K., & Brey, R. A. (1999). Establishing content validity: Using qualitative and quantitative steps. American Journal of Health Behavior, 23(4), 311–318. https://doi.org/10.5993/AJHB.23.4.9.

Prenger, R., Poortman, C. L., & Handelzalts, A. (2018). The effects of networked professional learning communities. Journal of Teacher Education, 5, 441. https://doi.org/10.1177/0022487117753574.

Skerratt, S. (2005). Combining qualitative and quantitative research mixed-methods in small-scale research. In R. Murray (Ed.), The scholarship of teaching and learning in higher education (pp. 122–127). New York: McGraw-Hill.

Stoll, L., Bolam, R., McMahon, A., Wallace, M., & Thomas, S. (2006). Professional learning communities: A review of the literature. Journal of Educational Change, 7(4), 221–258. https://doi.org/10.1007/s10833-006-0001-8.

Trust, T., Carpenter, J. P., & Krutka, D. G. (2017). Moving beyond silos: Professional learning networks in higher education. The Internet and Higher Education, 35, 1–11. https://doi.org/10.1016/j.iheduc.2017.06.001.

Wang, F., & Hannafin, M. J. (2005). Design-based research and technology-enhanced learning environments. Educational Technology Research and Development, 53(4), 5–23. https://doi.org/10.1007/BF02504682.

Wicks, D. A., Craft, B. B., Mason, G. N., Gritter, K., & Bolding, K. (2014). An investiation into the community of inquiry of blended classrooms by a faculty learning community. The Internet and Higher Education, 25, 53–62. https://doi.org/10.1016/j.iheduc.2014.12.001.

Zhang, D., Zhou, L., Briggs, R. O., & Nunamaker Jr., J. F. (2006). Instructional video in e-learning: Assessing the impact of interactive video on learning effectiveness. Information & Management, 43(1), 15–27. https://doi.org/10.1016/j.im.2005.01.004.
Acknowledgements
Much appreciation is due to Patricia Dillon as an invaluable member of the PLC and to Charlotte Furr for her research assistance.
Data Availability Statement
The datasets used and/or analyzed during the current study are available from the corresponding authors on reasonable request.
Funding
All authors were employed by the public university at which the research was conducted. Additional funding was provided by said university in the form of a stipend for faculty members and to purchase survey marketing materials and giveaway items.
Ethics declarations
Conflict of Interests
The authors declare that they have no competing interests.
Additional information
Publisher's Note
Springer Nature remains neutral with regard to jurisdictional claims in published maps and institutional affiliations.
About this article
Cite this article
O'Byrne, W.I., Keeney, K. & Wolfe, J. Instructional Technology in Context: Building on Cross-Disciplinary Perspectives of a Professional Learning Community. TechTrends 65, 485–495 (2021). https://doi.org/10.1007/s11528-021-00586-9
Accepted:

Published:

Issue Date:
Keywords
Instructional technology

Technology-enhanced learning

Professional learning communities