Abstract
The adoption and integration of digital technology in organizations are crucial not only for communication, administration and management, but also a meaningful asset to support learning and teaching as well as organizational change. However, existing models of educational technology adoption and integration predominantly focus on school settings as well as on individual factors explaining the assimilation processes. Therefore, this research intents to fill the gap of a holistic model of technology adoption in educational organizations through developing a theoretically grounded maturity model. In a case study, the maturity model of technology adoption was implemented in an European educational organization. The study included N = 222 employees in two waves of data collection. Findings indicate a positive attitude towards IT and digital media within the respective organization. Overall, the educational organization was classified as digitally pragmatist. It is suggested that maturity model development should be highly transparent, following a clear methodology. Model evaluation and validation should be carried out before transfer and generalization can take place. Factors mediating digital maturity and organizational performance on individual (i.e., motives, attitudes) and on organizational level (i.e., organizational culture) should be taken into consideration. For successful technology adoption processes, organizational and human resource development ought to go hand in hand, supported by a sound communication strategy.
Access options
Buy single article
Instant access to the full article PDF.
USD 39.95
Price excludes VAT (USA)
Tax calculation will be finalised during checkout.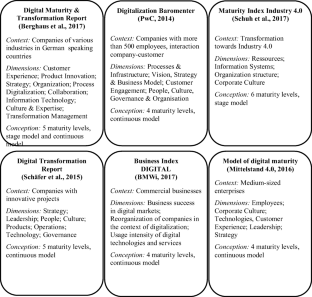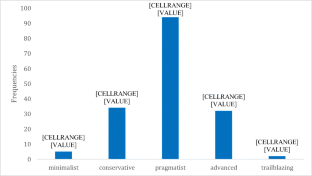 References
Berghaus, S., & Back, A. (2016). Stages in digital business transformation: Results of an empirical maturity study. Paper presented at the tenth mediterranean conference of information systems, Paphos, Cyprus.

Carvalho, J. V., Pereira, R. H., & Rocha, Á. (2019). A comparative study on maturity models for information systems in higher education institutions. In T. Antipova & Á. Rocha (Eds.), Digital Science. DSIC18 2018. Advances in Intelligent Systems and Computing (Vol. 850, pp. 150–158). Cham: Springer.

Chanias, S., & Hess, T. (2016). How digital are we? Maturity models for the assessment of a company's status in the digital transformation. Management Report, 2, 1–14.

De Bruin, T., Freeze, R., Kaulkarni, U., & Rosemann, M. (2005). Understanding the main phases of developing a maturity assessment model. Paper presented at the Proceedings of the 16th Australasian conference on information systems (ACIS), Sydney, Australia.

Foshay, W. R., Villachica, S. W., & Stepich, D. A. (2014). Cousins but not twins: Instructional design and human performance technology in the workplace. In J. M. Spector, M. D. Merrill, J. Elen, & M. J. Bishop (Eds.), Handbook of research on educational communications and technology (pp. 39–49). New York: Springer.

Fraser, P., Moultrie, J., & Gregory, M. (2002). The use of maturity models/grids as a tool in assessing product development capability. Paper presented at the IEEE International Engineering Management Conference, Cambridge, UK.

Holma, B., Krumina, L., Paka, D., & Avanesova, J. (2014). Towards adult information literacy assessment in Latvia: UNESCO media and information literacy competency matrix in practice. In S. Kurbanoğlu, S. Špiranec, E. Grassian, & D. Mizrachi (Eds.), Information literacy. Lifelong learning and digital citizenship in the 21st century (pp. 550–559). Cham: Springer.

Ifenthaler, D. (2017). Models for creative inventions. In E. G. Carayannis (Ed.), Encyclopedia of creativity, invention, innovation and entrepreneurship (pp. 1–3). New York, NY: Springer.

Ifenthaler, D. (2018). How we learn at the digital workplace. In D. Ifenthaler (Ed.), Digital workplace learning. Bridging formal and informal learning with digital technologies (pp. 3–8). Cham: Springer.

Kotter, J. P. (2007). Leading change: Why transformation efforts fail (pp. 96–103). Boston: Havard Business Review.

Lahrmann, G., & Marx, F. (2010). Systematization of maturity model extensions. In R. Winter, J. L. Zhao, & S. Aier (Eds.), Global perspectives on design science research (pp. 522–525). Heidelberg: Springer.

Locke, W., Cummings, W. K., & Fisher, D. (Eds.). (2011). Changing governance and management in higher education. Dordrecht: Springer.

Mettler, T. (2011). Maturity assessment models: A design science research approach. International Journal of Society Systems Science, 3(1/2), 81–98.

Mettler, T., & Rohner, P. (2009). Situational maturity models as instrumental artifacts for organizational design. In V. Vaishanvi (Ed.), Proceedings of the 4th international conference on design science research in information systems and technology (pp. 1–9). New York: ACM.

Niederhauser, D. S., & Lindstrom, D. L. (2018). Instructional technology integration models and frameworks: Diffusion, competencies, attitudes, and dispositions. In J. Voogt, G. Knezek, R. Christensen, & K.-W. Lai (Eds.), Second handbook of information technology in primary and secondary education (2nd ed., pp. 335–355). Cham: Springer.

Poeppelbuss, J., Niehaves, B., Simons, A., & Becker, J. (2011). Maturity models in information systems research: Literature search and analysis. Communications of the Association for Information Systems, 29(27), 1–15.

Proença, D., & Borbinha, J. (2018). Information security management systems - a maturity model based on ISO/IEC 27001. In W. Abramowicz & A. Paschke (Eds.), Business information systems (pp. 102–114). Cham: Springer.

Proença, D., Vieira, R., & Borbinha, J. (2016). A maturity model for information governance. In N. Fuhr, L. Kovács, T. Risse, & W. Nejdl (Eds.), Research and advanced technology for digital libraries (Vol. 9819, pp. 15–26). Cham, Switzerland: Springer.

Remane, G., Hanelt, A., Wiesboeck, F., & Kolbe, L. (2017). Digital maturity in traditional industries: An exploratory analysis. Paper presented at the 25th European Conference on Information Systems (ECIS), Guimarães, Portugal.

Röglinger, M., Pöppelbuß, J., & Becker, J. (2012). Maturity models in business process management. Business Process Management Journal, 18(2), 328–346.

Schweigert, T., Nevalainen, R., Vohwinkel, D., Korsaa, M., & Biro, M. (2012). Agile maturity model: Oxymoron or the next level of understanding. In A. Mas, A. Mesquida, T. Rout, R. V. O'Connor, & A. Dorling (Eds.), Software process improvement and capability determination (pp. 289–294). Berlin: Springer.

Sonntag, K., & Stegmaier, R. (2006). Verhaltensorientierte Verfahren der Personalentwicklung Verhaltensorientierte Verfahren der Personalentwicklung. In H. Schuler (Ed.), Lehrbuch der Personalpsychologie (pp. 281–304). Göttingen: Hogrefe.

Vey, K., Fandel-Meyer, T., Zipp, J. S., & Schneider, C. (2017). Learning & development in times of digital transformation: Facilitating a culture of change and innovation. International Journal of Advanced Corporate Learning, 10(1), 22–32.

Wendler, R. (2012). The maturity of maturity model research: A systematic mapping study. Information and Software Technology, 54(12), 1317–1339.
Ethics declarations
Ethical Approval
All procedures performed in studies involving human participants were in accordance with the ethical standards of the institutional and/or national research committee and with the 1964 Helsinki declaration and its later amendments or comparable ethical standards.
This article does not contain any studies with animals performed by any of the authors.
Informed Consent
Informed consent was obtained from all individual participants included in the study.
Additional informed consent was obtained from all individual participants for whom identifying information is included in this article.
Conflict of Interest
Author Dirk Ifenthaler declares that he has no conflict of interest.
Author Marc Egloffstein declares that he has no conflict of interest.
Additional information
Publisher's Note
Springer Nature remains neutral with regard to jurisdictional claims in published maps and institutional affiliations.
About this article
Cite this article
Ifenthaler, D., Egloffstein, M. Development and Implementation of a Maturity Model of Digital Transformation. TechTrends 64, 302–309 (2020). https://doi.org/10.1007/s11528-019-00457-4
Published:

Issue Date:

DOI: https://doi.org/10.1007/s11528-019-00457-4
Keywords
Technology adoption

Maturity model

Digital transformation

Educational organization

Organizational change