Abstract
Use of flipped learning environments, where content is delivered online outside of class and class time features student-centered activities, is an increasingly popular way to facilitate active learning. The success of classroom activities, however, depends on students' willingness to complete the out-of-class work and come to class well prepared. Therefore, it is important for instructors to understand students' attitudes towards required pre-class preparation. This study used an online questionnaire, featuring both Likert-type and open-ended questions, to explore students' attitudes towards the online video used in a flipped undergraduate science class. Results showed moderately positive attitudes toward the pre-class video lecture, but also some strongly negative attitudes. Results of this study can help instructors understand both the benefits of flipped learning from the student perspective and the likely sources of resistance. This understanding can help instructors anticipate students' concerns and provide effective orientation when introducing the flipped learning model in undergraduate courses.
Access options
Buy single article
Instant access to the full article PDF.
USD 39.95
Price excludes VAT (USA)
Tax calculation will be finalised during checkout.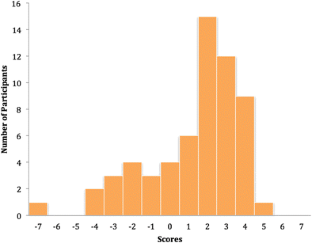 Similar content being viewed by others
References
Bishop, J.L., & Verleger, M.A. (2013). The flipped classroom: A survey of the research. Proceedings of the ASEE National Conference, Atlanta, GA.

Blair, E., Maharaj, C., & Primus, S. (2016). Performance and perception in the flipped classroom. Education and Information Technologies, 21(6), 1465–1482. https://doi.org/10.1007/s10639-015-9393-5.

Bonwell, C. C., & Eison, J. A. (1991). Active learning: Creating excitement in the classroom. 1991 ASHE-ERIC higher education reports. Washington, DC: Association for the Study of higher education. Reterived from: https://files.eric.ed.gov/fulltext/ED336049.pdf

Burke, A. S., & Fedorek, B. (2017). Does "flipping" promote engagement?: A comparison of a traditional, online, and flipped class. Active Learning in Higher Education, 18(1), 11–24. https://doi.org/10.1177/1469787417693487.

Chen, Y., Wang, Y., & Chen, N. S. (2014). Is FLIP enough? Or should we use the FLIPPED model instead? Computers & Education, 79(1), 16–27. https://doi.org/10.1016/j.compedu.2014.07.004.

Cronbach, L. J. (1951). Coefficient alpha and the internal structure of tests. Psychometrika, 16, 297–334.

Entezari, M., & Javdan, M. (2016). Active learning and flipped classroom, hand in hand approach to improve students learning in human anatomy and physiology. International Journal of Higher Education, 5(4), 222–231. https://doi.org/10.5430/ijhe.v5n4p222

Freeman, S., Eddy, S. L., McDonough, M., Smith, M. K., Okoroafor, N., Jordt, H., & Wenderoth, M. P. (2014). Active learning increases student performance in science, engineering, and mathematics. Proceedings of the National Academy of Sciences, 111(23), 8410–8415. https://doi.org/10.1073/pnas.1319030111.

Garrison, D. R., Anderson, T., & Archer, W. (2000). Critical inquiry in a text-based environment: Computer conferencing in higher education. The Internet and Higher Education, 2(2–3), 87–105. https://doi.org/10.1016/S1096-7516(00)00016-6.

Gross, D., Pietri, E. S., Anderson, G., Moyano-Camihort, K., & Graham, M. J. (2015). Increased preclass preparation underlies student outcome improvement in the flipped classroom. CBE Life Sciences Education, 14(4), 1–8. https://doi.org/10.1187/cbe.15-02-0040.

Guo, P. J., Kim, J., & Rubin, R. (2014). How video production affects student engagement: An empirical study of MOOC videos. Proceedings of the first ACM conference on Learning@scale (pp. 41–50): ACM.

Hao, Y. (2016). Exploring undergraduates' perspectives and flipped learning readiness in their flipped classrooms. Computers in Human Behavior, 59(1), 82–92. https://doi.org/10.1016/j.chb.2016.01.032.

Herreid, C., & Schiller, N. (2013). Case studies and the flipped classroom. Journal of College Science Teaching, 42(5), 62–66.

Johnson, G. M. (2005). Student alienation, academic achievement, and WebCT use. Educational Technology & Society, 8(2), 179–189.

Kim, M. K., Kim, S. M., Khera, O., & Getman, J. (2014). The experience of three flipped classrooms in an urban university: An exploration of design principles. The Internet and Higher Education, 22(1), 37–50.

Lape, N., Levy, R., & Yong, D. (2015). Probing the inverted classroom: A study of teaching and learning outcomes in engineering and mathematics. SEI Case Study Series, EDUCAUSE Learning Initiative (pp. 1-5).

Lazonder, A. W., & Harmsen, R. (2016). Meta-analysis of inquiry-based learning. Review of Educational Research, 86(3), 681–718. https://doi.org/10.3102/0034654315627366.

Lee, M. K., Cheung, C. M., & Chen, Z. (2005). Acceptance of Internet-based learning medium: The role of extrinsic and intrinsic motivation. Information Management, 42(8), 1095–1104. https://doi.org/10.1016/j.im.2003.10.007.

Long, T., Logan, J., & Waugh, M. (2016). Students' perceptions of the value of using videos as a pre-class learning experience in the flipped classroom. Tech Trends, 60(3), 245–252.

Owens, D. C., Sadler, T. D., Barlow, A. T., & Smith-Walters, C. (2017). Student motivation from and resistance to active learning rooted in essential science practices. Research in Science Education. https://doi.org/10.1007/s11165-017-9688-1.

Ryan, M. D., & Reid, S. A. (2016). Impact of the flipped classroom on student performance and retention: A parallel controlled study in General Chemistry. Journal of Chemical Education, 93(1), 13–23. https://doi.org/10.1021/acsjchemed.5b00717.

Sankaran, S. R., Sankaran, D., & Bui, T. X. (2000). Effect of student attitude to course format on learning performance: An empirical study in Web vs. lecture instruction. Journal of Instructional Psychology, 27(1), 66–73.

Smith, J. D. (2013). Student attitudes toward flipping the general chemistry classroom. Chemistry Education Research and Practice, 14(4), 607–614. https://doi.org/10.1039/C3RP00083D

Tawfik, A. A., & Lilly, C. (2015). Using a flipped classroom approach to support problem-based learning. Technology, Knowledge and Learning, 20(3), 299–315. https://doi.org/10.1007/s10758-015-9262-8.
Ethics declarations
Ethical Approval
All procedures performed in studies involving human participants were in accordance with the ethical standards of the institutional and/or national research committee and with the 1964 Helsinki declaration and its later amendments or comparable ethical standards.
Informed Consent
Informed consent was obtained from all individual participants included in the study.
Appendix
Appendix
Likert Questions:
1.

I like viewing pre-class videos better than reading text materials*

2.

The videos were helpful because I could do them on my own time. *

3.

The videos were easy to learn from. *

4.

The topics were well-explained in the videos. *

5.

The videos were helpful for completing the scenario quizzes over scenario material*

6.

The videos were helpful for completing the in-class activities. *

7.

The scenario quizzes helped me understand the knowledge covered in the videos. *

8.

The in-class activities helped me understand the knowledge covered in the videos. *
Short Answer Questions:
1.

I can typically watch a video for _______ minutes before I begin to feel tired.

2.

I can typically watch a video for _______ minutes before I start to lose focus.
Open-ended Questions:
1.

Do the pre-class lecture videos help you learn biology? Why? How?

2.

Is there anything else you would like to tell us about the videos you watched for this class?

3.

Do you have any other suggestions for how the course could be improved to help you learn better?
* = Items adapted from Long et al. (2016).
About this article
Cite this article
Xiu, Y., Moore, M.E., Thompson, P. et al. Student Perceptions of Lecture-Capture Video to Facilitate Learning in a Flipped Classroom. TechTrends 63, 369–375 (2019). https://doi.org/10.1007/s11528-018-0293-6
Published:

Issue Date:

DOI: https://doi.org/10.1007/s11528-018-0293-6
Keywords