Abstract
This paper outlines a rudimentary process intended to guide faculty in K-12 and higher education through the steps involved to produce video for their classes. The process comprises four steps: planning, development, delivery and reflection. Each step is infused with instructional design information intended to support the collaboration between instructional support staff and faculty to produce video that will be meaningful to students and support their success in a class. In outlining this approach, the paper also explores technological and pedagogical considerations related to each of these steps that can help faculty and staff determine how best to incorporate video into online classes. Finally, supported by research on best video practices and with examples from our own experiences as instructional designers and instructors, the paper outlines how these steps relate to four broad categories of video: introduce, model, explain/inform and feedback.
This is a preview of subscription content,
to check access.
Access this article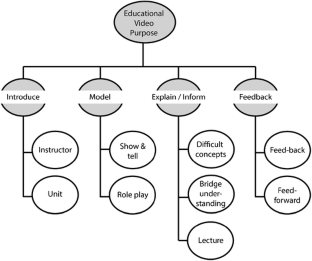 References
Argyle, M. & Dean, J. (1965). Eye-contact, distance and affiliation. Sociometry, 28(3), 289–304.

Blomberg, G., Gamoran Sherin, M., Renkl, A., Glogger, I., & Seidel, T. (2014). Understanding video as a tool for teacher education: Investigating instructional strategies to promote reflection. Instructional Science, 2014(42), 443–363. doi:10.1007/s11251-013-9281-6.

Bonk, C. J. (2008). YouTube anchors and enders: The use of shared online video content as a macrocontext for learning. Paper presented at the American Educational Research Association (AERA) 2008 Annual Meeting, New York, NY.

Boston, W., Diaz, S. R., Gibson, A., Ice, P., Richardson, J., & Swan, K. (2010). An exploration of the relationship between indicators of the community of inquiry framework and retention in online programs. Journal of Asynchronous Learning Networks, 14(1), 3–19.

Consiglio, T., & van der Veer, G. C. (2015). ICT support for collaborative learning-A tale of two cities. In P. Isaias, J. M. Spector, D. Iftenthaler, & D. G. Sampson (pp.147–163). New York: Springer.

Demetriadis, S., & Pombortsis, A. (2007). E-lecture for flexible learning: A study on their learning efficiency. Educational Technology & Society, 10(2), 147–157.

Dieker, L. A., Lane, H. B., Allsopp, D. H., O'Brien, C., Wright Butler, T., Kyger, M., Lovin, L., & Fenty, N. S. (2009). Evaluating video models of evidence-based instructional practices to enhance teacher learning. Teacher Education and Special Education, 32(2), 180–196. doi:10.1177/0888406409334202.

Dong, C., & Sun Goh, P. (2015). Twelve tops for the effective use of videos in medical education. Medical Teacher, 37, 140–145. doi:10.3109/0142159x.2014.943709.

Flipped Learning Network (FLN) (2014). The four pillars of F-L-I-P. What is Flipped Learning™. Retrieved from http://bit.ly/2hRLVX9.

Fuller, D. (2016). Basic electricity videos. Retrieved December 28, 2016, from https://www.youtube.com/channel/UCHaxm4H7AU5Vhere89zlnrw.

Garrison, D. R., Anderson, T., & Archer, W. (2010). The first decade of the community of inquiry framework: A retrospective. The Internet and Higher Education, 13(1–2), 5–9. doi:10.1016/j.iheduc.2009.10.003.

Gosper, M., McNeill, M., Woo, K., Phillips, R., Preston, G., & Green, D. (2011). Web-based lecture technologies and learning and teaching: A study of change in four Australian universities. Journal of Asynchronous Learning Networks, 15(4), 84–95.

Gunawardena, C. N. (1995). Social presence theory and implications for interaction in and collaborative learning in computer conferences. International Journal of Educational Telecommunications, 1(2/3), 147–166.

Gunawardena, C. N., & Zittle, F. (1997). Social presence as a predictor of satisfaction within a computer-mediated conferencing environment. The American Journal of Distance Education, 11(3), 8–26. doi:10.1080/08923649709526970.

Guo, P. J., Kim, J., & Rubin, R. (2014). How video production affects student engagement: An empirical study of MOOC videos. Proceedings of Learning @Scale 2014, March 4-5 in Atlanta. Association for Computer Machinery (pp. 41–50). ACM 978-1-4503-2669-8/14/03. doi:10.1145/2556325.2566239.

Hart, K. E., & Stevens, K. (1995). The use and evaluation of video supplements in the teaching of introductory psychology. Journal of Instructional Psychology, 22(2), 103–125.

Ice, P., Curtis, R., Phillips, P., & Wells, J. (2007). Using asynchronous audio feedback to enhance teaching presence and students' sense of community. Journal of Asynchronous Learning Networks, 11(2), 3–25.

Jung, I., & Lee, Y. (2015). YouTube acceptance by university educators and students: A cross-cultural perspective. Innovations in Education and Teaching International, 52(3), 243–253. doi:10.1080/14703297.2013.805986.

Larson, M., & Lockee, B. B. (2014). Streamlined ID: A practical guide to instructional design. New York: Routledge.

Ley, K., & Gannon-Cook, R. (2014). Learner-valued interactions: Research into practice. Quarterly Review of Distance Education, 15(1), 23–32.

Lowenthal, P. R. (2009). Social presence. In P. Rogers, G. Berg, J. Boettcher, C. Howard, L. Justice, & K. Schenk (Eds.), Encyclopedia of distance and online learning (2nd ed., pp. 1900–1906). Hershey: IGI Global.

Miller, S. T., & Redman, S. L. (2010). Improving instructor presence in an online introductory astronomy course through video demonstrations. Astronomy Education Review, 9(1), p010115-1-010115-7, 7p. doi:10.3847/AER2009072.

Richardson, J. C., & Swan, K. P. (2003). An examination of social presence in online courses in relation to students' perceived learning and satisfaction. Journal of Asynchronous Learning, 7(1), 68–88.

Sadera, W. A., Robertson, J., Song, L., & Midon, M. N. (2009). The role of community in online learning success. Journal of Online Learning and Teaching, 5(2), 277–284 Retrieved December 28, 2016 from http://jolt.merlot.org/Vol5_No2.htm.

Salina, L., Ruffinengo, C., Garrino, L., Massariello, P., Charrier, L., Martin, B., Favale, M. S., & Dimonte, V. (2012). Effectiveness of an educational video as an instrument to refresh and reinforce the learning of a nursing technique: A randomized controlled trial. Perspectives on Medical Education, 1(2), 67–75. doi:10.1007/s40037-012-0013-4.

Saon, G. (2017, March 7). Reaching new records in speech recognition [Web log post]. Retrieved from https://www.ibm.com/blogs/watson/2017/03/reaching-new-records-in-speech-recognition/.

Short, J., Williams, E., & Christie, B. (1976). The social psychology of telecommunications. London: New York: John Wiley & Sons. Inc. ISSN 0471015814.

U.S. Department of Justice (2002, August 29). Civil Rights Department. Disability Rights Section. Retrieved from https://www.ada.gov/t2hlt95.htm, April 25, 2017.

Warren, S. J., Wakefield, J. S., Knight, K. A., & Alsobrook, M. (2013). Learning and teaching as communicative actions: Twitter as an educational tool. In A. Ritzhaupt, & A. Kumar (Eds.). Cases on educational technology implementation for facilitating learning (pp. 196–217). IGI Global. doi:10.4018/978-1-4666-3676-7.ch012.

Wiener, M., & Mehrabian, A. (1968). Language within language: Immediacy, a channel in verbal communication. New York: Appleton-Century-Crofts.

York, C. S., & Richardson, J. C. (2012). Interpersonal interaction in online learning: Experienced online instructors' perceptions of influencing factors. Journal of Asynchronous Learning Networks, 16(4), 83–98.

YouTube (n.d.). Statistics: Global Research. Retrieved from https://www.youtube.com/yt/press/statistics.html, April 8, 2017.
Ethics declarations
Conflict of Interest
Author Di Paolo declares that he has no conflict of interest.
Author Wakefield declares that she has no conflict of interest.
Author Mills declares that she has no conflict of interest.
Author Baker declares that she has no conflict of interest.
Funding
This study has not been funded by a grant or through any other means.
About this article
Cite this article
Di Paolo, T., Wakefield, J.S., Mills, L.A. et al. Lights, Camera, Action: Facilitating the Design and Production of Effective Instructional Videos. TechTrends 61, 452–460 (2017). https://doi.org/10.1007/s11528-017-0206-0
Published:

Issue Date:

DOI: https://doi.org/10.1007/s11528-017-0206-0
Keywords