Abstract
The purpose of the study is to explore the use of a mobile application called Flipboard, which facilitates the curation of digital content into a magazine-like product, to engage students in class discussion and participation in a college course. Research questions include: (1) What were students' beliefs and attitudes regarding the use of Flipboard in the learning environment? (2) How engaged were students in the activity? (3) How did device choice affect student activity in the Flipboard assignment? A survey revealed that most students found the assignment useful and relevant to their learning and read more articles because the magazine was class-created. Device choice did not affect how many articles students contributed, but those primarily using mobile devices read significantly more articles than those using the computer. Implications and recommendations are shared to practitioners.
This is a preview of subscription content, log in to check access.
Access options
Buy single article
Instant access to the full article PDF.
US$ 39.95
Price includes VAT for USA
Subscribe to journal
Immediate online access to all issues from 2019. Subscription will auto renew annually.
US$ 99
This is the net price. Taxes to be calculated in checkout.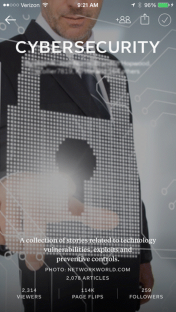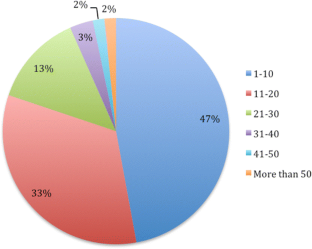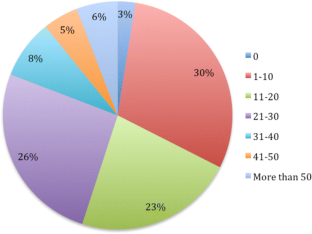 References
Caverly, D. C. (2013). Techtalk: mobile learning and literacy development. Journal of Developmental Education, 37(1), 30–31.

Chick, N., & Hassel, H. (2009). Don't hate me because I'm virtual': feminist pedagogy in the online classroom. Feminist Teacher, 19(3), 195–215.

Dahlstrom, E., & Bichsel, J. (2014). ECAR study of undergraduate students and information technology, 2014. Research report. Louisville, CO: ECAR, October 2014. Available from http://www.educause.edu/ecar.

Dallimore, E. J., Hertenstein, J. H., & Platt, M. B. (2010). Using discussion pedagogy to enhance oral and written communication skills. College Teaching, 56(3), 163–172.

Davis, F. D. (1989). Perceived usefulness, perceived ease of use, and user acceptance of information technology. MIS Quarterly, 13, 319–339.

Gainor, M., Bline, D., & Zheng, X. (2014). Teaching internal control through active learning. Journal of Accounting Education, 32(2), 200–221.

Green, J., & Green, T. (2014). Techspotting: curating the web. Tech Trends: Linking Research & Practice to Improve Learning, 58(1), 11–12.

Hannafin, M., & Land, S. (1997). The foundations and assumptions of technology-enhanced student-centered learning environments. Instructional Science, 25, 167–202.

Johnson, L., Adams Becker, S., Estrada, V., & Freeman, A. (2014). NMC horizon report: 2014 higher (Educationth ed.). Austin: The New Media Consortium.
Appendix: Survey
Appendix: Survey
(1)

What device did you use the most frequently for the Security in the News assignment?

(2)

Which device did you use most frequently to 'flip' articles for discussion at the beginning of class?

(3)

The directions for using Flipboard found on the class wiki were clear.

(4)

If needed I was able to receive support from the instructor to help me use Flipboard.

(5)

I was aware of Flipboard's technical support services.

(6)

Flipboard was easy to install.

(7)

Flipboard was easy to use.

(8)

I experienced technical issues with Flipboard that interfered with my completion of the assignment. If so, explain the issue in the text box.

(9)

Flipboard was easy to access.

(10)

It was easy for me to become proficient at using Flipboard.

(11)

Learning to use Flipboard was easy for me.

(12)

Flipboard is a useful tool to expand my understanding of the course content.

(13)

Reading articles that my peers flipped into the magazine enhanced my learning.

(14)

I found the Security in the News assignment valuable to my learning about the class content.

(15)

Flipboard made the assignments seem more relevant than if we had used another tool.

(16)

The Flipboard app promotes interactions with my classmates.

(17)

Flipboard helped foster a more student-centered activity rather than teacher-centered.

(18)

I found the discussions of security events in the news at the beginning of class valuable to my learning about the class content.

(19)

Using Flipboard increased my enjoyment of the task.

(20)

Using Flipboard made the assignments more interesting.

(21)

I was more motivated to complete the assignments because of Flipboard.

(22)

The Flipboard activities encouraged me to think about the class content in a new way.

(23)

These assignments challenged the way I think.

(24)

The Flipboard magazine this class created was high in quality.

(25)

I will continue to flip articles into the Flipboard magazine after the class is over.

(26)

I will continue to read the Flipboard magazine this class created after class is over.

(27)

Flipboard should be used in future classes.

(28)

I intend to use Flipboard in my personal life.

(29)

I intend to use Flipboard in my academic life.

(30)

I would like to have my teachers require more activities that ask me to use a smartphone or tablet.

(31)

How many articles have you flipped into the Flipboard magazine?

(32)

How many articles have you read in the Flipboard magazine?

(33)

I have read the majority of the articles that were flipped into the Flipboard magazine.

(34)

I was read more articles in the class-created Flipboard magazine than I would have if the magazine had been created by someone I didn't know.

(35)

What other comments do you have about your experience of using Flipboard for these assignments?
About this article
Cite this article
Hornik, S., deNoyelles, A. & Chen, B. Exploring Flipboard to Support Coursework: Student Beliefs, Attitudes, Engagement, and Device Choice. TechTrends 60, 503–509 (2016). https://doi.org/10.1007/s11528-016-0108-6
Keywords
Flipboard

Higher education

Mobile applications

Mobile devices

Mobile learning

Mobile applications

Mobile devices

Technology acceptance