This is a preview of subscription content, log in to check access.
Access options
Buy single article
Instant access to the full article PDF.
US$ 39.95
Price includes VAT for USA
Subscribe to journal
Immediate online access to all issues from 2019. Subscription will auto renew annually.
US$ 99
This is the net price. Taxes to be calculated in checkout.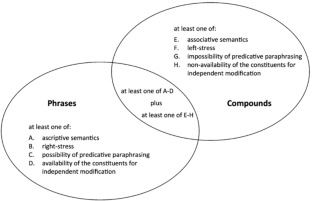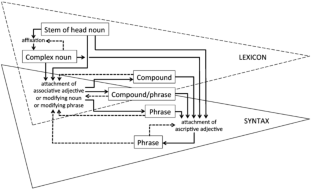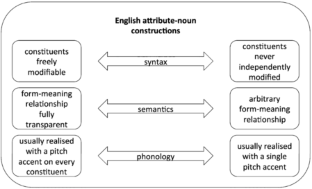 References
Alexiadou, A., Haegeman, L., & Stavrou, M. (2007). Noun phrase in the generative perspective. Studies in Generative Grammar (Vol. 71). Berlin: Mouton de Gruyter.

Arndt-Lappe, S. (2011). Towards an exemplar-based model of stress in English noun-noun compounds. Journal of Linguistics, 47(3), 549–585.

Arndt-Lappe, S., & Bell, M. J. (2014). Analogy and the nature of linguistic generalisation: locality, generality, and variability in English compound stress. Manuscript, Heinrich-Heine-Universität.

Bell, M. J. (2012). The English noun-noun construct: a morphological and syntactic object. In A. Ralli, G. Booij, S. Scalise, & A. Karasimos (Eds.), On-line proceedings of the eighth Mediterranean Morphology Meeting, MMM8, Cagliari, 14–17 September 2011 (pp. 59–91).

Bell, M. J. (2013). The English noun noun construct: its prosody and structure. PhD thesis, University of Cambridge.

Bell, M. J. (2015a). Inter-speaker variation in English compound prominence. Lingue E Linguaggio, 14(1), 61–78.

Bell, M. J. (2015b). Basic relations and stereotype relations in the semantics of compound nouns. Journal of Cognitive Science, 16(3), 224–260.

Bell, M. J., & Plag, I. (2012). Informativeness is a determinant of compound stress in English. Journal of Linguistics, 48(3), 485–520. https://doi.org/10.1017/S0022226712000199.

Bell, M. J., & Plag, I. (2013). Informativity and analogy in English compound stress. Word Structure, 6(2), 129–155.

Bolinger, D. L. (1961). Contrastive accent and contrastive stress. Language, 37(1), 83–96.

Bolinger, D. L. (1972). Accent is predictable (if you're a mind-reader). Language, 48(3), 633–644.

Chomsky, N. (1970). Remarks on nominalization. In R. A. Jacobs & P. S. Rosenbaum (Eds.), Readings in English transformational grammar (pp. 232–286). Waltham: Ginn and Company. Reprinted in: Studies on semantics in generative grammar (pp. 1–61). The Hague: Mouton.

Fanselow, G. (1981). Zur Syntax und Semantik der Nominalkomposition. Linguistische Arbeiten (Vol. 107). Tübingen: Niemeyer.

Giegerich, H. J. (1999). Lexical strata in English: Morphological Causes, Phonological Effects. Cambridge Studies in Linguistics (Vol. 89). Cambridge: Cambridge University Press.

Giegerich, H. J. (2009b). The English compound stress myth. Word Structure, 2(1), 1–17.

Payne, J., Pullum, G. K., Scholz, B. C., & Berlage, E. (2013). Anaphoric one and its implications. Language, 89(4), 794–829.

Plag, I., Kunter, G., & Lappe, S. (2007). Testing hypotheses about compound stress assignment in English: A corpus-based investigation. Corpus Linguistics and Linguistic Theory, 3(2), 199–232.

Trips, C. & Kornfilt, J. (Eds.) (2017). Further investigations into the nature of phrasal compounding. Morphological Investigations (Vol. 1). Berlin: Language Science Press.

Wisniewski, E. J. (1994). Interpretations of novel noun-noun combinations (Technical report), Northwestern University, Department of Psychology.
About this article
Cite this article
Bell, M.J. Lexical deconstruction—review of Giegerich, H., Lexical structures: Compounding and the modules of grammar, Edinburgh Studies in Theoretical Linguistics, vol. 1. Morphology 28, 219–227 (2018). https://doi.org/10.1007/s11525-018-9324-4
Keywords
Contrastive Stress

Contrastive Accent

Lexical Integrity

Syntactic Origin

Noun-noun Phrases