Abstract
The morpho-syntactic structure of Semitic languages, traditionally seen as based on abstract root morphemes, has been analysed by some as being fully word based. Others have proposed a root-based system which allows for word-based derivation as well. A distinction between word-based and root-based morpho-syntactic derivations has previously been posited in both morpho-syntactic and lexical semantic literature. Under this distinction the semantic and phonological access to a root morpheme during morpho-syntactic construction is fully available in a root-based derivation, but is restricted by the category bearing head in a word-based derivation. However, there has to date been no behavioural evidence for the distinction, and it is by no means universally accepted that words are morphemically decomposable into root morphemes. The current study utilized a masked priming experimental paradigm of word recognition in an attempt to differentiate root-based derivation from word-based derivation in Hebrew, proposing an analogy between availability under Marantz (2000) and Arad (2003), and linkage within the mental lexicon model under Frost et al. (2005). The results strongly support the proposed analogy, and the cognitive reality of the root morpheme as the basis of Hebrew morphological derivation. In addition they provide a first experimental verification of the theoretically motivated distinction between root derivation and word derivation.
Access options
Buy single article
Instant access to the full article PDF.
USD 39.95
Price includes VAT (USA)
Tax calculation will be finalised during checkout.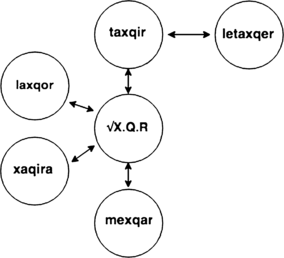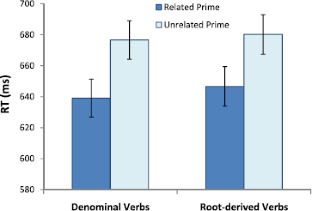 Notes
1.

My thanks to N. Faust, personal communication, for this insight.

2.

Here and following, templates are represented with consonantal slots for the root consonants marked with C.

3.

It is important to note, however, that the word form is obviously not completely constrained, as vowel changes as part of the inflectional paradigm of the verb template are freely available.

4.

Quadri-consonantal roots in Hebrew are limited to two templates (CiCCeC and, hitCaCCeC). The Hebrew derivational paradigm includes gerundial forms—e.g. the form CiCCuC is a nominal derived from the verbal form in CiCCeC. Because many apparently denominal verbs are derived from this gerundial form, and thus could be seen a part of the verbal paradigm, these forms were excluded from the list of stimuli. The list of candidate verbs was thus further constrained.
References
Adam, G. (2002). From variable to optimal grammar: evidence from language acquisition and language change. PhD dissertation, Tel-Aviv University.

Anderson, S. R. (1992). A-morphous morphology (Vol. 62). Cambridge: Cambridge University Press.

Arad, M. (2003). Locality constraints on the interpretation of roots: the case of Hebrew denominal verbs. Natural Language and Linguistic Theory, 21(4), 737–778.

Arad, M. (2005). Roots and patterns: Hebrew morpho-syntax. Dordrecht: Springer.

Barr, D. J., Levy, R., Scheepers, C., & Tily, H. J. (2013). Random effects structure for confirmatory hypothesis testing: keeping it maximal. Journal of Memory and Language, 68, 255–278.

Bates, D. (2005). Fitting linear mixed models in R. R News, 5, 27–31.

Bat-El, O. (1994). Stem modification and cluster transfer in modern Hebrew. NLLT, 12, 571–596.

Bat-El, O. (2001). In search for the roots of the C-root: the essence of Semitic morphology. In Workshop "Roots and template morphology", Los Angeles: University of Southern California.

Bat-El, O. (2003). The fate of the consonantal root and the binyan in optimality theory. Recherches Linguistiques de Vincennes, 32, 31–60.

Boudelaa, S., & Marslen-Wilson, W. D. (2011). Productivity and priming: morphemic decomposition in Arabic. Language and Cognitive Processes, 26(4–6), 624–652.

Boudelaa, S., & Marslen-Wilson, W. D. (2005). Discontinuous morphology in time: incremental masked priming in Arabic. Language and Cognitive Processes, 20(1–2), 207–260.

Dannenbring, G. L., & Briand, K. (1982). Semantic priming and the word repetition effect in a lexical decision task. Canadian Journal of Psychology, 36(3), 435–444.

Davis, M. H., & Rastle, K. (2010). Form and meaning in early morphological processing: comment on Feldman, O'Connor, and Moscoso del Prado Martín (2009). Psychonomic Bulletin & Review, 17(5), 749–755.

Deutsch, A., Frost, R., & Forster, K. I. (1998). Verbs and nouns are organized and accessed differently in the mental lexicon: evidence from Hebrew. Journal of Experimental Psychology: Learning, Memory, and Cognition, 24(5), 1238.

Doron, E. (2003). Agency and voice: the semantics of the Semitic templates. Natural Language Semantics, 11, 1–67.

Doron, E. (2008). 'trumato shel habinyan lemashma'ut hapo'al' [the contribution of the template to verb meaning]. In G. Hatav (Ed.), Modern linguistics of Hebrew (pp. 57–88). Jerusalem: Magnes Press.

Faust, N., & Hever, Y. (2010). Empirical and theoretical arguments in favor of the discontinuous root in Semitic languages. Brill's Annual of Afroasiatic Languages and Linguistics, 2, 80–118.

Feldman, L. B., O'Connor, P. A., & del Prado Martín, F. M. (2009). Early morphological processing is morphosemantic and not simply morpho-orthographic: a violation of form-then-meaning accounts of word recognition. Psychonomic Bulletin & Review, 16(4), 684–691.

Feldman, L. B., Kostić, A., Gvozdenović, V., O'Connor, P. A., & del Prado Martín, F. M. (2012). Semantic similarity influences early morphological priming in Serbian: a challenge to form-then-meaning accounts of word recognition. Psychonomic Bulletin & Review, 19(4), 668–676.

Forster, K. I. (1987). Form-priming with masked primes: the best-match hypothesis. In M. Coltheart (Ed.), Attention and performace XII (pp. 127–146). London: Erlbaum.

Forster, K. I., & Davis, C. (1984). Repetition priming and frequency attenuation in lexical access. Journal of Experimental Psychology: Learning, Memory, and Cognition, 10, 680–698.

Forster, K. I., & Forster, J. C. (2003). DM-DX: a windows display program with millisecond accuracy. Behavior Research Methods, Instruments, & Computers, 35(1), 116–124.

Frost, R., Forster, K. I., & Deutsch, A. (1997). What can we learn from the morphology of Hebrew? A masked-priming investigation of morphological representation. Journal of Experimental Psychology: Learning, Memory and Cognition, 23(4), 829–856.

Frost, R., Deutsch, A., & Forster, K. I. (2000). Decomposing morphologically complex words in a nonlinear morphology. Journal of Experimental Psychology: Learning, Memory, and Cognition, 26(3), 751.

Frost, R., Kugler, T., Deutsch, A., & Forster, K. I. (2005). Orthographic structure versus morphological structure: principles of lexical organization in a given language. Journal of Experimental Psychology: Learning, Memory, and Cognition, 31(6), 1293.

Goldenberg, G. (1994). Principles of Semitic word-structure. In G. Goldenberg & S. Raz (Eds.), Semitic and Cushitic studies (pp. 29–64). Weisbaden: Harrassowitz.

Hale, K., & Keyser, S. J. (2002). Prolegomenon to a theory of argument structure. Cambridge: MIT Press.

Kiparsky, P. (1982). Word-formation and the lexicon. In F. Ingeman (Ed.), Proceedings of the mid-America linguistics conference (pp. 3–29). Lawrence: University of Kansas.

Levin, B., & Rappaport Hovav, M. (1995). Unaccusativity: at the syntax-lexical semantics interface. Cambridge: MIT Press.

Levinson, L. (2007). The roots of verbs. Ann Arbor: ProQuest.

Lukatela, G., Gligorijevíc, B., Kostíc, A., & Turvey, M. T. (1980). Representation of inflected nouns in the internal lexicon. Memory & Cognition, 8, 415–423.

Marantz, A. (1997). No escape from syntax: don't try morphological analysis in the privacy of your own lexicon. In University of Pennsylvania working papers in linguistics, Philadelphia: Upenn Department of Linguistics.

Marantz, A. (2000). Roots: the universality of root and pattern morphology. Paper presented at the Conference on Afro-Asiatic Languages. University of Paris VII.

Marantz, A. (2013). Locality domains for contextual allomorphy across the interfaces. In O. Matushansky & A. Marantz (Eds.), Distributed morphology today. Cambridge: MIT Press.

Marcus, G. F., Brinkmann, U., Clahsen, H., Wiese, R., & Pinker, S. (1995). German inflection: the exception that proves the rule. Cognitive Psychology, 29, 189–256.

McCarthy, J. J. (1981). A prosodic theory of nonconcatenative morphology. Linguistic Inquiry, 12, 373–418.

Neely, J. H. (1991). Semantic priming effects in visual word recognition: a selective review of current findings and theories. Basic Processes in Reading: Visual Word Recognition, 11, 264–336.

Perea, M., & Rosa, E. (2002). The effects of associative and semantic priming in the lexical decision task. Psychological Research, 66(3), 180–194.

Perea, M., Gotor, A., Rosa, E., & Alganbel, S. (1995). Time course of semantic activation for different prime-target relationships in the lexical decision task. Poster presented at the 36th annual meeting of the Psychonomic Society, Los Angeles, CA.

Pesetsky, D. (1995). Zero syntax: experiencers and cascades. Cambridge: MIT Press.

R Development Core Team (2009). R: a language and environment for statistical computing. Vienna, Austria: R Foundation for Statistical Computing. http://www.R-project.org

Selkirk, E. (1982). The syntax of words. Cambridge: MIT Press.

Twist, A. E. (2006). A psycholinguistic investigation of the verbal morphology of Maltese. (Doctoral dissertation), University of Arizona, Arizona.

Ussishkin, A. (2000). Root-and-pattern morphology without roots or patterns. In Proceedings of NELS 30 ( pp. 655–670).

Velan, H., & Frost, R. (2007). Cambridge University versus Hebrew University: the impact of letter transposition on reading English and Hebrew. Psychonomic Bulletin & Review, 14(5), 913–918.

Velan, H., & Frost, R. (2011). Words with and without internal structure: what determines the nature of orthographic and morphological processing? Cognition, 118(2), 141–156.

Weise, R. (1996). Phonological versus morphological rules: on German umlaut and ablaut. Journal of Linguistics, 32(1), 113–135.
Acknowledgements
I thank Ram Frost, Noam Faust, Hadas Velan, Idit Doron and Noam Siegelman for their invaluable advice and helpful discussions; also two anonymous reviewers for their enriching comments on an earlier draft. This research was funded by an LLCC Graduate Fellowship at the Hebrew University to Henry Brice, and by the Israel Science Foundation grant (217/14) to Ram Frost.
Appendix
Appendix
About this article
Cite this article
Brice, H. The root and word distinction: an experimental study of Hebrew denominal verbs. Morphology 27, 159–177 (2017). https://doi.org/10.1007/s11525-016-9297-0
Received:

Accepted:

Published:

Issue Date:
Keywords
Semitic languages

Root morpheme

Masked-priming

Derivation