Abstract
Studies of the effect of neighborhood poverty on health are dominated by research designs that measure neighborhood poverty at a single point in time, ignoring the potential influence of exposure to neighborhood poverty over the life course. Applying latent class analysis to restricted residential history data from the National Longitudinal Survey of Youth, 1979 Cohort, we identify four trajectories of life-course exposure to high-poverty neighborhoods between adolescence and midlife and then examine how these groups differ in their physical health conditions (SF-12 score) and self-rated health at around age 40. Linear and logistic regression analyses show that life-course exposure to high-poverty neighborhoods is a stronger predictor of midlife physical health than are point-in-time measures of neighborhood poverty observed during either adolescence or midlife. Our findings suggest that a life-course approach can enhance our understanding of how neighborhood poverty affects physical health.
Access options
Buy single article
Instant access to the full article PDF.
USD 39.95
Price excludes VAT (USA)
Tax calculation will be finalised during checkout.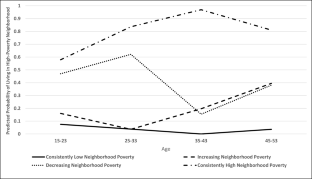 References
Rumsfeld JS, MaWhinney S, McCarthy M Jr, Shroyer AL, VillaNueva C, O'Brien M, et al. Health-related quality of life as a predictor of mortality following coronary artery bypass graft surgery. JAMA. 1999;281(14):1298–303.

Lacson E, et al. A comparison of SF-36 and SF-12 composite scores and subsequent hospitalization and mortality risks in long-term dialysis patients. Clin J Am Soc Nephrol. 2010;5(2):252–60.

DeSalvo KB, Bloser N, Reynolds K, He J, Muntner P. Mortality prediction with a single general self-rated health question: a meta-analysis. J Gen Intern Med. 2006;21(3):267–75.

Jylhä M. What is self-rated health and why does it predict mortality? Towards a unified conceptual model. Soc Sci Med. 2009;69(3):307–16.

Stretton CM, Latham NK, Carter KN, Lee AC, Anderson CS. Determinants of physical health in frail older people: the importance of self-efficacy. Clin Rehabil. 2006;20(4):357–66.

Kawachi I, Kennedy BP, Glass R. Social capital and self-rated health: a contextual analysis. Am J Public Health. 1999;89(8):1187–93.

Heard HE, Gorman BK, Kapinus CA. Family structure and self-rated health in adolescence and young adulthood. Popul Res Policy Rev. 2008;27(6):773–97.

Giatti L, Barreto SM, César CC. Household context and self-rated health: the effect of unemployment and informal work. J Epidemiol Community Health. 2008;62(12):1079–85.

Franks P, Gold MR, Fiscella K. Sociodemographics, self-rated health, and mortality in the US. Soc Sci Med. 2003;56(12):2505–14.

Ellis C, Grubaugh AL, Egede LE. Factors associated with SF-12 physical and mental health quality of life scores in adults with stroke. J Stroke Cerebrovasc Dis. 2013;22(4):309–17.

Fleishman JA, Lawrence WF. Demographic variation in SF-12 scores: true differences or differential item functioning? Med Care. 2003;41(7):III75–86.

Wen M, Browning CR, Cagney KA. Poverty, affluence, and income inequality: neighborhood economic structure and its implications for health. Soc Sci Med. 2003;57(5):843–60.

Yen IH, Kaplan GA. Poverty area residence and changes in depression and perceived health status: evidence from the Alameda County study. Int J Epidemiol. 1999;28(1):90–4.

Arcaya MC, Tucker-Seeley RD, Kim R, Schnake-Mahl A, So M, Subramanian SV. Research on neighborhood effects on health in the United States: a systematic review of study characteristics. Soc Sci Med. 2016;168:16–29.

Diez Roux AV. Investigating neighborhood and area effects on health. Am J Public Health. 2001;91(11):1783–9.

Lippert AM. Stuck in unhealthy places: how entering, exiting, and remaining in poor and nonpoor neighborhoods is associated with obesity during the transition to adulthood. J Health Soc Behav. 2016;57(1):1–21.

Brazil N, Clark WA. Individual mental health, life course events and dynamic neighbourhood change during the transition to adulthood. Health Place. 2017;45:99–109.

South SJ, Crowder K. Neighborhood poverty and nonmarital fertility: spatial and temporal dimensions. J Marriage Fam. 2010;72(1):89–104.

Yang T-C, South SJ. Neighborhood effects on body mass: temporal and spatial dimensions. Soc Sci Med. 2018;217:45–54.

Haan M, Kaplan GA, Camacho T. Poverty and health prospective evidence from the alameda county study. Am J Epidemiol. 1987;125(6):989–98.

Sheehan CM, Cantu PA, Powers DA, Margerison-Zilko CE, Cubbin C. Long-term neighborhood poverty trajectories and obesity in a sample of California mothers. Health Place. 2017;46:49–57.

Bodor JN, Rice JC, Farley TA, Swalm CM, Rose D. Disparities in food access: does aggregate availability of key foods from other stores offset the relative lack of supermarkets in African-American neighborhoods? Prev Med. 2010;51(1):63–7.

LaVeist TA, Wallace JM. Health risk and inequitable distribution of liquor stores in African American neighborhood. Soc Sci Med. 2000;51(4):613–7.

Moore LV, Diez Roux AV. Associations of neighborhood characteristics with the location and type of food stores. Am J Public Health. 2006;96(2):325–31.

Ross CE, Mirowsky J. Neighborhood disadvantage, disorder, and health. J Health Soc Behav. 2001;42:258–76.

Boardman JD, Robert SA. Neighborhood socioeconomic status and perceptions of self-efficacy. Sociol Perspect. 2000;43(1):117–36.

Moore LV, Diez Roux AV, Evenson KR, McGinn AP, Brines SJ. Availability of recreational resources in minority and low socioeconomic status areas. Am J Prev Med. 2008;34(1):16–22.

Sampson RJ. The neighborhood context of well-being. Perspect Biol Med. 2003;46(3):S53–64.

Williams DR, Collins C. Racial residential segregation: a fundamental cause of racial disparities in health. Public Health Rep. 2001;116(5):404–16.

Massey DS, Denton NA. American Apartheid: Segregation and the Making of the Underclass. Cambridge, MA: Harvard University Press; 1993.

South SJ, Huang Y, Spring A, Crowder K. Neighborhood attainment over the adult life course. Am Sociol Rev. 2016;81(6):1276–304.

Do DP, Finch BK. The link between neighborhood poverty and health: context or composition? Am J Epidemiol. 2008;168(6):611–9.

Browning CR, Cagney KA. Moving beyond poverty: neighborhood structure, social process, and health. J Health Soc Behav. 2003;44(4):552–71.

Browning CR, Cagney KA. Collective efficacy and health: neighborhood social capital and self-rated physical functioning in an urban setting. J Health Soc Behav. 2002;43(4):383–99.

Brown AF, Ang A, Pebley AR. The relationship between neighborhood characteristics and self-rated health for adults with chronic conditions. Am J Public Health. 2007;97(5):926–32.

Osypuk TL, Acevedo-Garcia D. Beyond individual neighborhoods: a geography of opportunity perspective for understanding racial/ethnic health disparities. Health Place. 2010;16(6):1113–23.

Robert SA. Socioeconomic position and health: the independent contribution of community socioeconomic context. Annu Rev Sociol. 1999;25(1):489–516.

Johnson RC, Schoeni RF, Rogowski JA. Health disparities in mid-to-late life: the role of earlier life family and neighborhood socioeconomic conditions. Soc Sci Med. 2012;74(4):625–36.

Johnson RC, Schoeni RF. Early-life origins of adult disease: national longitudinal population-based study of the United States. Am J Public Health. 2011;101(12):2317–24.

Oakes JM, Andrade KE, Biyoow IM, Cowan LT. Twenty years of neighborhood effect research: an assessment. Curr Epidemiol Rep. 2015;2(1):80–7.

Murray ET, Diez Roux AV, Carnethon M, Lutsey PL, Ni H, O'Meara ES. Trajectories of neighborhood poverty and associations with subclinical atherosclerosis and associated risk factors: the multi-ethnic study of atherosclerosis. Am J Epidemiol. 2010;171(10):1099–108.

Jimenez MP, Wellenius GA, Subramanian SV, Buka S, Eaton C, Gilman SE, et al. Longitudinal associations of neighborhood socioeconomic status with cardiovascular risk factors: a 46-year follow-up study. Soc Sci Med. 2019;241:112574.

Elder GH. The life course as developmental theory. Child Dev. 1998;69(1):1–12.

Elder GH, Giele JZ, eds. The Craft of Life Course Research. New York, NY: The Guilford Press; 2009.

Galster GC. The mechanism (s) of neighbourhood effects: theory, evidence, and policy implications. In: van Ham M, Manley D, Bailey N, Simpson L, Maclennan D, editors. Neighbourhood Effects Research: New Perspectives. New York, NY: Springer; 2012. p. 23–56.

Matthews SA, Yang TC. Spatial Polygamy and Contextual Exposures (SPACEs): promoting activity space approaches in research on place and health. Am Behav Sci. 2013;57(8):1057–81.

Bureau of Labor Statistics, National Longitudinal Survey of Youth 1979 cohort, 1979–2010 (rounds 1–24). The Ohio State University. Center for Human Resource Research, Columbus, Ohio, 2010.

National longitudinal surveys. Retention & Reasons for Noninterview. 2014 [cited 2017 September 4]; Available from: https://www.nlsinfo.org/content/cohorts/nlsy79/intro-to-the-sample/retention-reasons-noninterview.

Ware JE, Kosinski M, Keller SD. SF-12: how to score the SF-12 physical and mental health summary scales: Health institute, New England Medical Center; Boston, Massachusetts 1995.

Ware JE, Kosinski M, Keller SD. A 12-item short-form health survey: construction of scales and preliminary tests of reliability and validity. Med Care. 1996;34(3):220–33.

Bureau of Labor Statistics, U.S. Department of Labor. National Longitudinal Survey of Youth 1979 cohort, 1979–2010 (rounds 1–24). 2012, roduced and distributed by the Center for Human Resource Research, Columbus, Ohio.

GeoLytics, Neighborhood Change Database [NCDB] Tract Data from 1970–2010. 2014: East Brunswick, NJ.

Margerison-Zilko C, Cubbin C, Jun J, Marchi K, Fingar K, Braveman P. Beyond the cross-sectional: neighborhood poverty histories and preterm birth. Am J Public Health. 2015;105(6):1174–80.

Hagenaars JA, McCutcheon AL, eds. Applied Latent Class Analysis. New York, NY: Cambridge University Press; 2002.

Lanza ST, Rhoades BL. Latent class analysis: an alternative perspective on subgroup analysis in prevention and treatment. Prev Sci. 2013;14(2):157–68.

Collins LM, Lanza ST. Latent Class and Latent Transition Analysis: With Applications in the Social, Behavioral, and Health Sciences. Hoboken, NJ: Wiley & Sons; 2010.

Ramaswamy V, Desarbo WS, Reibstein DJ, Robinson WT. An empirical pooling approach for estimating marketing mix elasticities with PIMS data. Mark Sci. 1993;12(1):103–24.

Kobetz E, Daniel M, Earp J. Neighborhood poverty and self-reported health among low-income, rural women, 50 years and older. Health Place. 2003;9(3):263–71.

Tomey K, Diez Roux AV, Clarke P, Seeman T. Associations between neighborhood characteristics and self-rated health: a cross-sectional investigation in the multi-ethnic study of atherosclerosis (MESA) cohort. Health Place. 2013;24:267–74.

Jivraj S, Norman P, Nicholas O, Murray ET. Are there sensitive neighbourhood effect periods during the life course on midlife health and wellbeing? Health Place. 2019;57:147–56.

Kravitz-Wirtz N. Cumulative effects of growing up in separate and unequal neighborhoods on racial disparities in self-rated health in early adulthood. J Health Soc Behav. 2016;57(4):453–70.

Openshaw, S., The Modifiable Areal Unit Problem. 1984, Norwich, England.

Krieger N, et al. Geocoding and monitoring of US socioeconomic inequalities in mortality and cancer incidence: does the choice of area-based measure and geographic level matter? The Public Health Disparities Geocoding Project. Am J Epidemiol. 2002;156(5):471–82.

Turner RJ, Thomas CS, Brown TH. Childhood adversity and adult health: evaluating intervening mechanisms. Soc Sci Med. 2016;156:114–24.

Vartanian TP, Houser L. The effects of childhood neighborhood conditions on self-reports of adult health. J Health Soc Behav. 2010;51(3):291–306.
Acknowledgement
We appreciate the constructive suggestions from the reviewers. We also thank the Bureau of Labor Statistics for helping us to access the restricted data (only available via contractual arrangements). We acknowledge the support from the Center for Social and Demographic Analysis, which receives funding from the Eunice Kennedy Shriver National Institute of Child Health and Human Development (R24-HD044943). In addition, the corresponding author would like to acknowledge the support from the Ministry of Science and Technology (Taiwan) and the Institute of Sociology, Academia Sinica (MOST 107-2420-H-001-003-SS2).
Additional information
Publisher's Note
Springer Nature remains neutral with regard to jurisdictional claims in published maps and institutional affiliations.
About this article
Cite this article
Yang, TC., South, S.J. Neighborhood Poverty and Physical Health at Midlife: The Role of Life-Course Exposure. J Urban Health 97, 486–501 (2020). https://doi.org/10.1007/s11524-020-00444-8
Published:

Issue Date:

DOI: https://doi.org/10.1007/s11524-020-00444-8
Keywords
Neighborhood

Poverty

Physical health

SF-12 score

Self-rated health

Life course