Abstract
The availability of parks and urban green spaces has been associated with a number of benefits, including increased physical activity, improvements in mental health, increases in social interactions, improvements to the environment, and increases in property values. The installation of temporary pop-up parks in urban areas is one way for urban communities to obtain these benefits. In this mixed-methods study, quantitative and qualitative data were gathered by researchers, the city council, a local investment company, and community residents that informed the initiation, iteration, and incremental expansion of a series of temporary, summer pop-up parks in the downtown business district of the City of Los Altos in Northern California over a 4-year period (2013–2016). Results showed that the parks were visited by a large, multigenerational group of users who engaged in leisure-time physical activity, shopped at local stores, attended programed events, and socialized with others. Direct observation and survey data gathered in year 2014 also indicated that foot traffic into businesses directly fronting on a pop-up park (n = 8) was higher during a 4-day period when the park was in place, as compared to a similar 4-day period before the park was installed. The majority of downtown business owners/managers reported no decrease in sales compared to the month before the pop-up park was installed. City sales tax data indicated increases in year-on-year sales tax revenue in the summer quarter of 2014 and 2016 compared with the year (2015) when there was no downtown pop-up park. Perspectives of community residents collected before, during, and after the installation of the pop-up parks indicated that the pop-up park created a vibrant space in an otherwise underutilized area that was enjoyed by a variety of people in a host of ways (e.g., children playing, families relaxing, people shopping and eating at downtown stores and restaurants, people of all ages attending scheduled park events). These results informed a number of discussions and meetings between key stakeholders about the pop-up parks, culminating in a temporary park that was held in a new location in 2017 that was substantially larger in size, installed for a longer time period, cost more, and had more scheduled park events. Results from this prospective investigation of the initial impacts of pop-up parks in this urban location provide insights regarding the potential benefits and viability of such temporary parks for residents and businesses alike.
Access options
Buy single article
Instant access to the full article PDF.
USD 39.95
Price excludes VAT (USA)
Tax calculation will be finalised during checkout.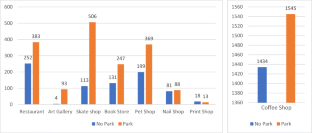 References
Ferdinand AO, Sen B, Rahurkar S, Engler S, Menachemi N. The relationship between built environments and physical activity: a systematic review. Am J Public Health. 2012;102(10):e7–e13.

Bedimo-Rung AL, Mowen AJ, Cohen DA. The significance of parks to physical activity and public health: a conceptual model. Am J Prev Med. 2005;28(2, Supplement 2):159–68.

D'Haese S, Van Dyck D, De Bourdeaudhuij I, Deforche B, Cardon G. Organizing "play streets" during school vacations can increase physical activity and decrease sedentary time in children. Int J Behav Nutr Phys Act. 2015;12(1):14.

Cohen DA, McKenzie TL, Sehgal A, Williamson S, Golinelli D, Lurie N. Contribution of public parks to physical activity. Am J Public Health. 2007;97(3):509–14.

Carter M, Horwitz P. Beyond proximity: the importance of green space useability to self-reported health. EcoHealth. 2014;11(3):322–32.

Lee ACK, Jordan HC, Horsley J. Value of urban green spaces in promoting healthy living and wellbeing: prospects for planning. Risk Manag Healthc Policy. 2015;8:131–7.

Lydon M, Garcia A. Disturbing the order of things. In: Tactical urbanism: short-term action for long-term change. Washington, DC: Island Press/Center for Resource Economics; 2015. p. 1–24.

Wortham-Galvin BD. An anthropology of urbanism: how people make places (and what designers and planners might learn from it). Footprint. 2013;7(2):21–40.

Paulos E, Honicky RJ, Hooker B. Citizen science: enabling participatory urbanism. In Handbook of research on urban informatics: the practice and promise of the real-time city. IGI Global. In: Foth M, editor. Handbook of research on urban informatics: the practice and promise of the real-time city, vol. 2009. Hershey, PA: IGI Global; 2009. p. 414–36.

Littke H. Revisiting the San Francisco parklets problematizing publicness, parks, and transferability. Urban For Urban Green. 2016;15:165–73.

Németh J, Langhorst J. Rethinking urban transformation: temporary uses for vacant land. Cities. 2014;40:143–50.

Cohen DA, Marsh T, Williamson S, et al. The potential for pocket parks to increase physical activity. Am J Health Promot. 2014;28(3_suppl):S19–26.

Engelberg JK, Carlson JA, Black ML, Ryan S, Sallis JF. Ciclovía participation and impacts in San Diego, CA: the first CicloSDias. Prev Med. 2014;69(Supplement):S66–73.

Hunter RF, Christian H, Veitch J, Astell-Burt T, Hipp JA, Schipperijn J. The impact of interventions to promote physical activity in urban green space: a systematic review and recommendations for future research. Soc Sci Med. 2015;124:246–56.

Salvo D, Banda JA, Sheats JL, Winter SJ. Lopes dos Santos D, King AC. Impacts of a temporary urban pop-up park on physical activity and other individual- and community-level outcomes. J Urban Health. 2017;94(4):470–81.

COLLABOARATIVE SP. Tactical urbanism, short-term action II long-term change. Miami/New York: Street Plans Collaborative; 2011.

Curry L, Nunez-Smith M. Mixed methods in health sciences research: a practical primer (Vol. 1). Thousand Oaks, CA: Sage Publications, Inc.; 2015.

King AC, Winter SJ, Sheats JL, Rosas LG, Buman MP, Salvo D, et al. Leveraging citizen science and information technology for population physical activity promotion. Transl J Am Coll Sports Med. 2016;1(4):30–44.

United States Census Bureau, Population estimates program (PEP), July 1, 2017; https://factfinder.census.gov/faces/nav/jsf/pages/community_facts.xhtml?src=bkmk. Accessed June 9, 2017. Accessed.

McKenzie TL, Cohen DA, Sehgal A, Williamson S, Golinelli D. System for observing play and recreation in communities (SOPARC): reliability and feasibility measures. J Phys Act Health. 2006;3(s1):S208–22.

Evenson KR, Jones SA, Holliday KM, Cohen DA, McKenzie TL. Park characteristics, use, and physical activity: a review of studies using SOPARC (system for observing play and recreation in communities). Prev Med. 2016;86:153–66.

Cohen DA, Setodji C, Evenson KR, Ward P, Lapham S, Hillier A, et al. How much observation is enough? Refining the administration of SOPARC. J Phys Act Health. 2011;8(8):1117–23.

Thomas DR. A general inductive approach for analyzing qualitative evaluation data. Am J Eval. 2006;27(2):237–46.

Environmental Systems Research Institute (ESRI). (2012). ArcGIS Release 10.1. Redlands, CA. [computer program].

Eitler TW, McMahon E, Thoerig T, Initiative BHP. Ten principles for building healthy places. Washington, DC:Urban Land Institute; 2013.

Marquet O, Hipp JA, Alberico C, et al. Short-term associations between objective crime, park-use, and park-based physical activity in low-income neighborhoods. Prev Med. 2019;

Han B, Cohen DA, Derose KP, Li J, Williamson S. Violent crime and park use in low-income urban neighborhoods. Am J Prev Med. 2018;54(3):352–8.

Knapp M, Gustat J, Darensbourg R, Myers L, Johnson C. The relationships between park quality, park usage, and levels of physical activity in low-income, African American neighborhoods. Int J Environ Res Public Health. 2019;16(1):85.

Hughey SM, Walsemann KM, Child S, Powers A, Reed JA, Kaczynski AT. Using an environmental justice approach to examine the relationships between park availability and quality indicators, neighborhood disadvantage, and racial/ethnic composition. Landsc Urban Plan. 2016;148:159–69.

Vaughan CA, Colabianchi N, Hunter GP, Beckman R, Dubowitz T. Park use in low-income urban neighborhoods: who uses the parks and why? J Urban Health. 2018;95(2):222–31.

Park S, Han B, Cohen DA, Derose KP. Contributions of neighborhood parks to physical activity in high-poverty urban neighborhoods. J Urban Health. 2018;95(6):881–7.

Das KV, Fan Y, French SA. Park-use behavior and perceptions by race, Hispanic origin, and immigrant status in Minneapolis, MN: implications on park strategies for addressing health disparities. J Immigr Minor Health. 2017;19(2):318–27.

Fuller M, Moore R. The death and life of great American cities: New York, NY: Macat Library; 2017.

Aiyer SM, Zimmerman MA, Morrel-Samuels S, Reischl TM. From broken windows to busy streets: a community empowerment perspective. Health Educ Behav. 2015;42(2):137–47.

Derose KP, Marsh T, Mariscal M, Pina-Cortez S, Cohen DA. Involving community stakeholders to increase park use and physical activity. Prev Med. 2014;64:14–9.

Jennings V, Larson L, Yun J. Advancing sustainability through urban green space: cultural ecosystem services, equity, and social determinants of health. Int J Environ Res Public Health. 2016;13(2):196.

Wesener A. Temporary urbanism and urban sustainability after a natural disaster: transitional community-initiated open spaces in Christchurch, New Zealand. Journal of Urbanism. 2015;8(4):406–22.

Lighter, Quicker, Cheaper: a low-cost, high-impact approach. Project for Public Spaces. https://www.pps.org/article/lighter-quicker-cheaper-a-low-cost-high-impact-approach. Published 2011. Accessed December 1, 2019, 2019.

Deslandes A. Exemplary amateurism: thoughts on DIY urbanism. Cult Stud Rev. 2013;19(1):216.

Holstein A. Asphalt, be gone! How Depave is replacing parking lots with parks. Build a Better Burb http://buildabetterburb.org/asphalt-be-gone-how-depave-is-replacing-parking-lots-with-parks/. Accessed January 26, 2020.
Acknowledgments
Thank you to the extraordinary Los Altos community residents, student interns, and Stanford University staff who helped with the data gathering over the years, including Martell Hesketh, Nkeiruka Umed, Victoria Lo, Nicole Rodriguez, Naina Ahuja, Rebecca Rose, Ann Banchoff, Benjamin Chrisinger, Gaby Gayles, Daryth Gayles, Ian Hao, Aria Colister Rodli, Kim-Khanh Le, Daniela Lopes Dos Santos, Jennifer Nguyen, Tiffany Nguyen, Daisy Yip, Vanessa Padilla, Marigold Vu, Leahrachel Mamaril, Stephanie Ton, and Kyla Kent. Our deepest appreciation goes to the city of Los Altos and Passerelle Investments (now known as Los Altos Community Investments) for their collaboration in this research endeavor.
Funding
Drs. King and Winter were supported in part by funding from the Nutrilite Health Institute Wellness Fund at the Stanford Prevention Research Center. Dr. King also received partial financial support through the Robert Wood Johnson Foundation Grant Number 7334, National Cancer Institute Grants Numbers 4R01CA211048 and P20CA217199, the Silicon Valley Community Foundation Grant Number 101518, and a Grant from the Discovery Innovation Fund in Basic Biomedical Sciences from Stanford University. Drs. Winter, Sheats, and Banda were supported by the National Heart Lung and Blood Institute Grant Number T32HL007034. During the manuscript development phase, Dr. Salvo was supported in part by Washington University in St. Louis CDTR Grant Number P30DK092950 from the NIDDK. Early work of the Stanford Healthy Neighborhood Discovery Tool was funded by the National Center for Research Resources (NCRR) UL1 RR025744. The content is solely the responsibility of the authors and does not necessarily represent the official views of the funders.
Additional information
Publisher's Note
Springer Nature remains neutral with regard to jurisdictional claims in published maps and institutional affiliations.
About this article
Cite this article
Winter, S.J., Sheats, J.L., Salvo, D. et al. A Mixed Method Study to Inform the Implementation and Expansion of Pop-Up Parks for Economic, Behavioral, and Social Benefits. J Urban Health 97, 529–542 (2020). https://doi.org/10.1007/s11524-020-00434-w
Published:

Issue Date:

DOI: https://doi.org/10.1007/s11524-020-00434-w
Keywords