Abstract
Approximately 1000 people are killed by police acting in the line of duty each year. Historically, research on these deaths, known as legal intervention homicides (LIH), has been limited by data that is either contextually rich but narrow in scope and not readily available to the public (e.g., police department reports from a single city), or detail-poor but geographically broad, large, and readily available (and maintained by federal agencies) (e.g., vital statistics and supplemental homicide reports). Over the past 5 years, however, researchers have turned to the National Violent Death Reporting System (NVDRS), which captures nearly all lethal police shootings in participating states while providing detailed incident and victim information. The current study extends prior work on police-involved lethal shootings in three important ways. First, we use latent class analysis to construct a data-driven, exhaustive, mutually exclusive typology of these events, using NVDRS data 2014–2015. Second, rather than fitting some, but not all cases into predefined sub-types, every case is assigned membership to a particular emergent class. Third, we use a validated case identification process in NVDRS to identify incidents of lethal police-involved shootings. Seven classes emerge. Classes differ across important incident and victim characteristics such as the event that brought the victim and law enforcement together, the highest level of force used by the victim against law enforcement, and the kind of weapon, if any, used by the victim during the incident. Demographic variables do not distribute uniformly across classes (e.g., the latent class in which the victim appeared to pose minimal threat to law enforcement was the only class in which the plurality of victims was a non-white race). Our approach to generating these typologies illustrates how data-driven techniques can complement subjective classification schemes and lay the groundwork for analogous analyses using police encounter data that include fatal and non-fatal outcomes.
Access options
Buy single article
Instant access to the full article PDF.
US$ 39.95
Tax calculation will be finalised during checkout.
Subscribe to journal
Immediate online access to all issues from 2019. Subscription will auto renew annually.
US$ 79
Tax calculation will be finalised during checkout.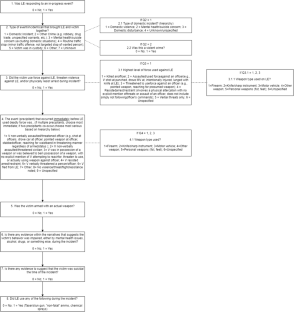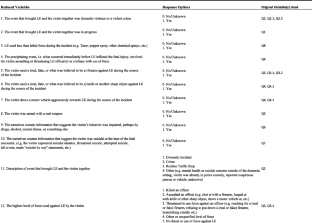 References
1.

Barber C, Azrael D, Cohen A, Miller M, Thymes D, Wang DE, et al. Homicides by police: comparing counts from the national violent death reporting system, vital statistics, and supplementary homicide reports. Am J Public Health. 2016;106(5):922–7.

2.

Lord VB. Police responses in officer-involved violent deaths: comparison of suicide by cop and non-suicide by cop incidents. Police Q. 2014;17(1):79–100.

3.

Miller L. Why cops kill: the psychology of police deadly force encounters. Aggress Violent Behav. 2015;22:97–111.

4.

Smith BW. The impact of police officer diversity on police-caused homicides. Policy Stud J. 2003;31(2):147–62.

5.

Nix J, Campbell BA, Byers EH, Alpert GP. A bird's eye view of civilians killed by police in 2015: further evidence of implicit bias. Criminol Public Policy. 2017;16(1):309–40.

6.

White MD. Identifying situational predictors of police shootings using multivariate analysis. Policing. 2002;25(4):726–51.

7.

Conner A, Azrael D, Lyons VH, Barber C, Miller M. Validating the National Violent Death Reporting System as a source of data on fatal shootings of civilians by law enforcement officers. Am J Public Health. 2019;109(4):578–84.

8.

Crosby AE, Lyons B. Assessing homicides by and of US law-enforcement officers. N Engl J Med. 2016;375(16):1509–11.

9.

Willits DW, Nowacki JS. Police organisation and deadly force: an examination of variation across large and small cities. Polic Soc. 2014;24(1):63–80.

10.

Ross CT. A multi-level Bayesian analysis of racial bias in police shootings at the county-level in the United States, 2011–2014. PLoS One. 2015;10(11):e0141854.

11.

Johnson O Jr, Vil CS, Gilbert KL, Goodman M, Johnson CA. How neighborhoods matter in fatal interactions between police and men of color. Soc Sci Med. 2019;220:226–35.

12.

Campbell BA, Nix J, Maguire ER. Is the number of citizens fatally shot by police increasing in the post-Ferguson era? Crime Delinq. 2018;64(3):398–420.

13.

Loftin C, Wiersema B, McDowall D, Dobrin A. Underreporting of justifiable homicides committed by police officers in the United States, 1976–1998. Am J Public Health. 2003;93(7):1117–21.

14.

DeGue S, Fowler KA, Calkins C. Deaths due to use of lethal force by law enforcement: findings from the National Violent Death Reporting System, 17 US states, 2009–2012. Am J Prev Med. 2016;51(5):S173–87.

15.

Garner J, Clemmer E. Danger to police in domestic disturbances--a new look. Research in Brief Research in brief. 1986. https://www.ncjrs.gov/pdffiles1/Digitization/102634NCJRS.pdf.

16.

Alpert GP, Dunham RG, MacDonald JM. Interactive police-citizen encounters that result in force. Police Q. 2004;7(4):475–88.

17.

Homant RJ, Kennedy DB. Suicide by police: a proposed typology of law enforcement officer-assisted suicide. Policing. 2000;23(3):339–55.

18.

Klahm CF, Tillyer R. Understanding police use of force: a review of the evidence. Southwest J Crim Justice. 2010;7(2):214–39.

19.

Alpert GP, Dunham RG. Understanding police use of force: Officers, suspects, and reciprocity. New York, NY: Cambridge University Press; 2004.

20.

Wurpts IC, Geiser C. Is adding more indicators to a latent class analysis beneficial or detrimental? Front Psychol. 2014;5:920.

21.

ACS ACS-. American Community Survey (ACS) 2015 1-year estimates: United States Census Bureau; 2015.

22.

Centers for Disease Control and Prevention, National Center for Injury Prevention and Control. Web-based injury statistics query and reporting system (WISQARS) [online]. 2019. Available from URL: https://www.cdc.gov/injury/wisqars.

23.

McCutcheon AL. Latent class analysis. Newbury Park, CA: SAGE Publications, Inc; 1987. p. 96.

24.

Nylund KL, Asparouhov T, Muthén BO. Deciding on the number of classes in latent class analysis and growth mixture modeling: a Monte Carlo simulation study. Struct Equ Model Multidiscip J. 2007;14(4):535–69.

25.

Muthén L, Muthén B. Mplus. In: The comprehensive modelling program for applied researchers: user's guide, vol. 5; 2016.

26.

Masyn KE. 25 latent class analysis and finite mixture modeling. In: The Oxford handbook of quantitative methods, vol. 551. New York, NY: Oxford University Press; 2013.

27.

Buehler JW. Racial/ethnic disparities in the use of lethal force by US police, 2010–2014. Am J Public Health. 2017;107(2):295–7.

28.

Mesic A, Franklin L, Cansever A, Potter F, Sharma A, Knopov A, et al. The relationship between structural racism and black-white disparities in fatal police shootings at the state level. J Natl Med Assoc. 2018;110(2):106–16.

29.

Bishopp SA, Klinger DA, Morris RG. An examination of the effect of a policy change on police use of TASERs. Crim Justice Policy Rev. 2015;26(7):727–46.

30.

Zimring FE, Arsiniega B. Trends in killing of and by police: a preliminary analysis. Ohio St J Crim L. 2015;13:247.

31.

Klinger D, Rosenfeld R, Isom D, Deckard M. Race, crime, and the micro-ecology of deadly force. Criminol Public Policy. 2016;15(1):193–222.

32.

Alpert GP. Police use of deadly force: the Miami experience. Critical issues in policing. 1989:480–96.

33.

Forum PER. Guiding principles on use of force, 2016.
Acknowledgments
This project was supported by Award No. 2016-R2-CX-0038, awarded by the National Institute of Justice, Office of Justice Programs, U.S. Department of Justice. The opinions, findings, and conclusions or recommendations expressed in this publication are those of the authors and do not necessarily reflect those of the Department of Justice. This project was also supported in part by The Joyce Foundation.
Additional information
Publisher's Note
Springer Nature remains neutral with regard to jurisdictional claims in published maps and institutional affiliations.
Appendix
Appendix
About this article
Cite this article
Wertz, J., Azrael, D., Berrigan, J. et al. A Typology of Civilians Shot and Killed by US Police: a Latent Class Analysis of Firearm Legal Intervention Homicide in the 2014–2015 National Violent Death Reporting System. J Urban Health 97, 317–328 (2020). https://doi.org/10.1007/s11524-020-00430-0
Keywords
Legal intervention homicide

Police homicide

Firearm violence

Latent class analysis

National Violent Death Reporting System