Abstract
Homelessness remains a societal problem. Compiled evidence of predictors for becoming homeless and exiting homelessness might be used to inform policy-makers and practitioners in their work to reduce homeless-related problems. We examined individual-level predictors for becoming homeless and exiting homelessness by searching PubMed, EMBASE, PsycINFO, and Web of Science up to January 2018. Becoming homeless and exiting homelessness were the outcomes. Observational studies with comparison groups from high-income countries were included. The Newcastle Ottawa Quality Assessment Scale was used for bias assessment. Random effects models were used to calculate pooled odds ratios (ORs) with 95% confidence intervals (CIs). We included 116 independent studies of risk factors for becoming homeless and 18 for exiting homelessness. We found evidence of adverse life events as risk factors for homelessness, e.g., physical abuse (OR 2.9, 95% CI 1.8–4.4) and foster care experiences (3.7, 1.9–7.3). History of incarceration (3.6, 1.3–10.4), suicide attempt (3.6, 2.1–6.3), and psychiatric problems, especially drug use problems (2.9, 1.5–5.1), were associated with increased risk of homelessness. The heterogeneity was substantial in most analyses (I2 > 90%). Female sex (1.5, 1.1–1.9; I2 = 69%) and having a partner (1.7, 1.3–2.1; I2 = 40%) predicted higher chances whereas relationship problems (0.6, 0.5–0.8), psychotic disorders (0.4, 0.2–0.8; I2 = 0%), and drug use problems (0.7, 0.6–0.9; I2 = 0%) reduced the chances for exiting homelessness. In conclusion, sociodemographic factors, adverse life events, criminal behaviour, and psychiatric problems were individual-level predictors for becoming homeless and/or exiting homelessness. Focus on individual-level vulnerabilities and early intervention is needed. PROSPERO registration number: CRD42014013119.
Access options
Buy single article
Instant access to the full article PDF.
USD 39.95
Price excludes VAT (USA)
Tax calculation will be finalised during checkout.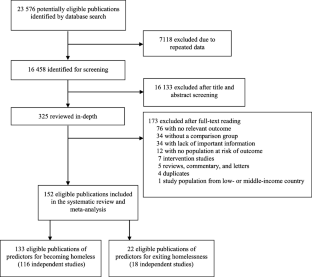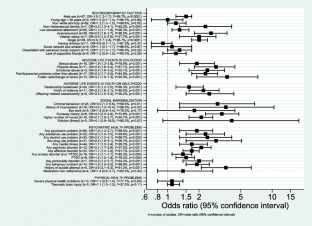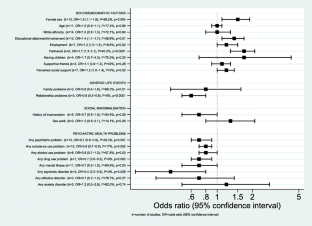 Acknowledgements
Thanks to Manon Chaine and Karl Ole Köhler-Forsberg for help with translation of French and German articles during this work.
Contributors
SFN and CH led the conception and design of the study. SFN did the literature search. SFN and CH selected the studies. SFN extracted the data. SFN and CH did the quality assessment. SFN performed the analyses and interpreted data with supervision from CH and MN. SFN drafted the manuscript with critical revisions for important intellectual content from CH and MN.
Funding
This study was funded by a stipend from the University of Copenhagen and by iPSYCH – The Lundbeck Foundation Initiative for Integrated Psychiatric Research.
Additional information
Publisher's Note
Springer Nature remains neutral with regard to jurisdictional claims in published maps and institutional affiliations.
Electronic Supplementary Material
About this article
Cite this article
Nilsson, S.F., Nordentoft, M. & Hjorthøj, C. Individual-Level Predictors for Becoming Homeless and Exiting Homelessness: a Systematic Review and Meta-analysis. J Urban Health 96, 741–750 (2019). https://doi.org/10.1007/s11524-019-00377-x
Published:

Issue Date:

DOI: https://doi.org/10.1007/s11524-019-00377-x
Keywords