Abstract
Intimate partner violence (IPV) and sexual violence (SV) are drivers of women's morbidity and mortality in urban environments yet remain among the most underreported crimes in the USA. We conducted 26 in-depth interviews with women who experienced past-year IPV or SV, to explore structural and community influences on police contact in Baltimore, MD. Results indicate that gender-based and race-based inequities intersected at the structural and community levels to discourage women from police contact following IPV/SV. Structural influences on police reporting included police discriminatory police misconduct, perceived lack of concern for citizens, power disparities, fear of harm from police, and IPV/SV-related minimization and victim-blaming. Community social norms of police avoidance discouraged police contact, enforced by stringent sanctions. The intersectional lens contextualizes a unique paradox for Black women: the fear of unjust harm to their partners through an overzealous and racially motivated police response and the simultaneous sense of futility in a justice system that may not sufficiently prioritize IPV/SV. This study draws attention to structural race and gender inequities in the urban public safety environment that shape IPV/SV outcomes. Race-based inequity undermines women's safety and access to justice and pits women's safety against community priorities of averting police contact and disproportionate incarceration. A social determinants framework is valuable for understanding access to justice for IPV/SV. Enhancing access to justice for IPV/SV requires overcoming deeply entrenched racial discrimination in the justice sector, and historical minimization of violence against women.
Access options
Buy single article
Instant access to the full article PDF.
USD 39.95
Price excludes VAT (USA)
Tax calculation will be finalised during checkout.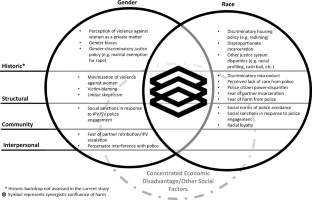 References
Smith SG, Zhang X, Basile KC, et al. The National Intimate Partner and Sexual Violence Survey (NISVS): 2015 Data Brief. Atlanta, GA: National Center for Injury Prevention and Control, Centers for Disease Control and Prevention.; 2018.

Campbell JC. Health consequences of intimate partner violence. Lancet. 2002;359(9314):1331–6.

Petrosky E, Blair JM, Betz CJ, Fowler KA, Jack SPD, Lyons BH. Racial and ethnic differences in homicides of adult women and the role of intimate partner violence - United States, 2003-2014. MMWR Morb Mortal Wkly Rep. 2017;66(28):741–6.

Center for Disease Control and Prevention. Leading Causes of Death in Females, 2015. 2018. Accessed 08/01/2018.

Black MC, Basile KC, Breiding MJ, et al. The National Intimate Partner and Sexual Violence Survey (NISVS): 2010 Summary Report. Atlanta, GA: National Center for Injury Prevention and Control, Centers for Disease Control and Prevention; 2011.

Jack SPD, Petrosky E, Lyons BH, et al. Surveillance for Violent Deaths - National Violent Death Reporting System, 27 States, 2015. Morb Mortal Wkly Rep Surveill Summ. 2018;67(11):1–32.

USAID., US Department of State. United States Strategy to Prevent and Respond to Gender-Based Violence Globally. USAID and Department of State, Government of the United States of America; 2012.

Decker MR, Wilcox HC, Holliday CN, Webster DW. An integrated public health approach to interpersonal violence and suicide prevention and response. Public Health Rep. 2018;133(1_suppl):65S–79S.

Truman JL, Morgan RE. Criminal Victimization, 2015. U.S. Department of Justice, Bureau of Justice Statistics; 2016.

Langton L, Berzofsky M, Krebs C, Smiley-McDonald H. National Crime Victimization Survey: Victimizations Not Reported To Police, 2006-2010. Washington, DC: Bureau of Justice Statistics, Office of Justice Programs, US Department of Justice; 2012.

Xie M, Lynch JP. The effects of arrest, reporting to the police and victim services on intimate partner violence. J Res Crime Delinq. 2017;54(3):338–78.

Akers C, Kaukinen C. The police reporting behavior of intimate partner violence victims. J Fam Violence. 2009;24(3):159–71.

Chen Y, Ullman SE. Women's reporting of sexual and physical assaults to police in the National Violence Against Women Survey. Violence Against Women. 2010;16(3):262–79.

McGregor MJ, Wiebe E, Marion SA, Livingstone C. Why don't more women report sexual assault to the police? Can Med Assoc J. 2000;162(5):659–60.

Zweig JM, Newmark L, Raja D, Denver M. Sexual Assault Medical Forensic Exams and VAWA 2005. Washington, DC: Urban Institute; 2014.

Marchetti CA. Regret and police reporting among individuals who have experienced sexual assault. J Am Psychiatr Nurses Assoc. 2012;18(1):32–9.

Fagan J. The Criminalization of DomesticViolence: Promises and Limits. Washington, DC: National Institute of Justice; 1996.

Wolf ME, Uyen L, Hobart MA, Kernic MA. Barriers to seeking police help for intimate partner violence. J Fam Violence. 2003;18(2):121–9.

Crenshaw K. Mapping the margins: intersectionality, identity politics, and violence against women of color. Stanford Law Rev. 1991;43(6):1241–99.

Crenshaw K. Demarginalizing the intersection of race and sex: a Black feminist critique of antidiscrimination doctrine, feminist theory and antiracist politics. Univ Chic Leg Forum. 1989;140:139–67.

Jordan CE. Intimate partner violence and the justice system - an examination of the interface. J Interpers Violence. 2004;19(12):1412–34.

Bachman R. The factors related to rape reporting behavior and arrest - new evidence from the national crime victimization survey. Crim Justice Behav. 1998;25(1):8–29.

Fedina L, Backes BL, Jun HJ, Shah R, Nam B, Link BG, et al. Police violence among women in four US cities. Prev Med. 2018;106:150–6.

Bennice JA, Resick PA. Marital rape: history, research, and practice. Trauma Violence Abuse. 2003;4(3):228–46.

Desmond M, Papachristos AV, Kirk DS. Police violence and citizen crime reporting in the Black community. Am Sociol Rev. 2016;81(5):857–76.

Roberts DE. The social and moral cost of mass incarceration in African American communities. Stanford Law Rev. 2004;56(5):1271–305.

Tyler TR. Policing in black and white: ethnic group differences in trust and confidence in the police. Police Q. 2005;8(3):322–42.

Gase LN, Glenn BA, Gomez LM, Kuo T, Inkelas M, Ponce NA. Understanding racial and ethnic disparities in arrest: the role of individual, home, school, and community characteristics. Race Soc Probl. 2016;8(4):296–312.

Baumgartner FR, Epp DA, Shoub K. Suspect Citizens: What 20 Million Traffic Stops Tell Us About Policing and Race. Cambridge: Cambridge University Press; 2018.

Pettit B, Gutierrez C. Mass incarceration and racial inequality. Am J Econ Sociol. 2018;77(3–4):1153–82.

Tillman S, Bryant-Davis T, Smith K, Marks A. Shattering silence: exploring barriers to disclosure for African American sexual assault survivors. Trauma Violence Abuse. 2010;11(2):59–70.

Rasche CE. Minority women and domestic violence: the unique dilemmas of battered women of color. J Contemp Crim Justice. 1988;4(3):150–71.

Washington PA. Disclosure patterns of Black female sexual assault survivors. Violence Against Women. 2001;7(11):1254–83.

Sakala L. Breaking Down Mass Incarceration in the 2010 Census: State-by-State Incarceration Rates by Race/Ethnicity. Justice Policy Institute; 2014.

The Right Investment? Corrections Spending in Baltimore City. Prison Policy Intiative at the Justice Policy Institute; 2015.

US Department of Justice. Investigation of the Baltimore City Police Department. Washington, DC.: U.S. Department of Justice, Civil Rights Division; 2016.

Fenton J. City Rape Statistics, Investigations Draw Concern. Baltimore Sun. June 27, 2010.

Taylor SJ, Bogdan R, DeVault ML. Introduction to qualitative research methods : a guidebook and resource. 4th ed. Hoboken, New Jersey: John Wiley & Sons, Inc.; 2016.

Creswell JW, Creswell JD. Research design : qualitative, quantitative, and mixed methods approaches. 5th ed. Los Angeles, CA: SAGE; 2018.

Glaser B, Strauss A. The Discovery of Grounded Theory: Strategies for Qualitative Research. Chicago: Aldine de Gruyter; 1967.

Charmaz K. Grounded Theory Methods in Social Justice Research. In: Denzin N, Lincoln Y, eds. The Sage Handbook of Qualitative Research. 4th ed. Thousand Oaks, CA: SAGE; 2011:359-380

Alang S, McAlpine D, McCreedy E, Hardeman R. Police brutality and Black health: setting the agenda for public health scholars. Am J Public Health. 2017;107(5):662–5.

O'Neil A, Sojo V, Fileborn B, Scovelle AJ, Milner A. The #MeToo movement: an opportunity in public health? Lancet. 2018;391(10140):2587–9.

Sylaska KM, Edwards KM. Disclosure of intimate partner violence to informal social support network members: a review of the literature. Trauma Violence Abuse. 2014;15(1):3–21.

Department of Justice. Identifying and Preventing Gender Bias in Law Enforcement Response to Sexual Assault and Domestic Violence. Department of Justice; 2016.

COPS Office. President's Task Force on 21st Century Policing Implementation Guide: Moving from Recommendations to Action. Washington, DC: Office of Community Oriented Policing Services; 2015.

Goodmark L. Decriminalizing Domestic Violence. Oakland, CA: University of California Press; 2018.

Braithwaite J. Restorative justice & responsive regulation. Oxford: Oxford University Press; 2002.

Goodmark L. Innovative criminal justice responses to intimate partner violence. In: Renzetti CM, Edleson JL, Bergen RK, editors. Sourcebook on Violence Against Women. 3rd ed. Los Angeles, CA: SAGE; 2018.

Coker DK. Transformative justice: anti-subordination processes in cases of domestic violence. In: Strang H, Braithwaite J, editors. Restorative Justice and Family Violence. Cambridge: Cambridge University Press; 2002.
Acknowledgments
This study was supported by the Bloomberg American Health Initiative, which is funded by a grant from the Bloomberg Philanthropies (Spark Award, Decker), with additional support from the Health Resources and Services Administration, Maternal and Child Health Bureau (T76MC00003), and National Institute of Minority Health and Health Disparities (1L60MD012089-01, Holliday; 5U54MD000214-17). We wish to thank our participants for trusting us with their experiences, and we thank our reviewers for exceptionally thoughtful input.
Ethics declarations
All procedures were approved by the Institutional Review Board of Johns Hopkins Bloomberg School of Public Health.
Competing Interests
The authors declare that they have no competing interests.
Additional information
Publisher's Note
Springer Nature remains neutral with regard to jurisdictional claims in published maps and institutional affiliations.
About this article
Cite this article
Decker, M.R., Holliday, C.N., Hameeduddin, Z. et al. "You Do Not Think of Me as a Human Being": Race and Gender Inequities Intersect to Discourage Police Reporting of Violence against Women. J Urban Health 96, 772–783 (2019). https://doi.org/10.1007/s11524-019-00359-z
Published:

Issue Date:

DOI: https://doi.org/10.1007/s11524-019-00359-z
Keywords
Intimate partner violence

Sexual violence

Police

Disparities