Abstract
Guns that are used in crime and recovered by the police typically have changed hands often since first retail sale and are quite old. While there is an extensive literature on "time to crime" for guns, defined as the elapsed time from first retail sale to known use in a crime, there is little information available on the duration of the "last link"—the elapsed time from the transaction that actually provided the offender with the gun in question. In this article, we use data from the new Chicago Inmate Survey (CIS) to estimate the duration of the last link. The median is just 2 months. Many of the gun-involved respondents to the CIS (42%) did not have any gun 6 months prior to their arrest for the current crime. The CIS respondents were almost all barred from purchasing a gun from a gun store because of their prior criminal record—as a result, their guns were obtained by illegal transactions with friends, relatives, and the underground market. We conclude that more effective enforcement of the laws governing gun transactions may have a quick and pervasive effect on gun use in crime.
This is a preview of subscription content, log in to check access.
Access options
Buy single article
Instant access to the full article PDF.
US$ 39.95
Price includes VAT for USA
Subscribe to journal
Immediate online access to all issues from 2019. Subscription will auto renew annually.
US$ 99
This is the net price. Taxes to be calculated in checkout.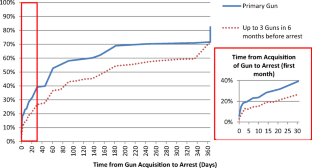 References
1.

Azrael D, Hepburn L, Hemenway D, Miller M. The stock and flow of US firearms: results from the 2015 National Firearms Survey. RSF: The Russell Sage Foundation Journal of the Social Sciences. 2017;3(5):38–57.

2.

Parker K, Horowitz J, Igielnik R, Oliphant B, Brown A. America's complex relationship with guns an in-depth look at the attitudes and experiences of U.S. adults: Pew Research Center; 2017.

3.

Cook PJ, Parker ST, Pollack HA. Sources of guns to dangerous people: what we learn by asking them. Prev Med. 2015;79:28–36.

4.

Cook PJ, Ludwig J, Venkatesh S, Braga AA. Underground gun markets. Econ J. 2007;117(524):588–618. https://doi.org/10.2307/4625574.

5.

Braga AA, Pierce GL. Disrupting illegal firearms markets in Boston: the effects of operation ceasefire on the supply of new handguns to criminals. Criminology & Public Policy. 2005;4(4):717–48.

6.

Braga AA, Cook PJ, Kennedy DM, Moore MH. The illegal supply of firearms. Crime Justice. 2002;29:319–52.

7.

Braga AA, Hureau DM. Strong gun laws are not enough: the need for improved enforcement of secondhand gun transfer laws in Massachusetts. Prev Med. 2015;79:37–42.

8.

Cook PJ, Braga AA. Comprehensive firearms tracing: strategic and investigative uses of new data on firearms markets. Ariz Law Rev. 2001;43(2):277–309.

9.

Cook PJ, Harris RJ, Ludwig J, Pollack HA. Some sources of crime guns in Chicago: dirty dealers, straw purchasers, and traffickers. The Journal of Criminal Law and Criminology. 2015;104(4):717–59.

10.

Cook PJ. Gun markets. Annual Review of Criminology. 2018;1:359–77.

11.

Wintemute GJ, Romero MP, Wright MA, Grassel KM. The life cycle of crime guns: a description based on guns recovered from young people in California. AnnEmerg Med. 2004;43:733–42.

12.

Pierce G, Braga A, Wintemute G, Dolliver M. New approaches to understanding and regulating primary and secondary illegal firearms markets . https://www.ncjrs.gov/pdffiles1/nij/grants/241021.pdf. United States Department of Justice Grant Report 241021. Updated January 2013. Accessed January 2019.

13.

Alper M, Glaze L. Source and use of firearms involved in crimes: survey of prison inmates. United States Department of JusticeBureau of Justice Statistics special report. https://www.bjs.gov/content/pub/pdf/suficspi16.pdf . Published January 2019. Accessed January 2019.

14.

US Department of Justice. Bureau of Justice Statistics. Survey of Inmates in State and Federal Correctional Facilities, 2004. Ann Arbor, MI: Inter-university consortium for political and social research. Updated December 19, 2018. Accessed January 2019.

15.

Wright JD, Rossi PH. Armed and considered dangerous: a survey of felons and their firearms. New York: Aldine de Gruyter; 1986.

16.

Cook PJ, Pollack HA, White K. Results of the Chicago inmate survey of gun access and use: University of Chicago Crime Lab. Unpublished. Accessed 2019

17.

Illinois State Police Firearms Services Bureau. Firearm Owners Identification (FOID) Website. https://www.ispfsb.com/Public/FOID.aspx. Accessed January 2019.

18.

Marquis KH, Marquis SM, Polich JM. Response bias and reliability in sensitive topic surveys. J Am Stat Assoc. 1986;81(394):381–9.

19.

Hureau DM, Braga AA. The trade in tools: the market for illicit guns in high risk networks. Criminology. 2018;56(3):510–45.

20.

Roberto E, Braga AA, Papachristos AV. Closer to guns: the role of street gangs in facilitating access to illegal firearms. J Urban Health. 2018;95(3):372–82.

21.

Braga AA, Weisburd D, Turchan B. Focused deterrence strategies and crime control: an updated systematic review and meta-analysis of the empirical evidence. Criminology & Public Policy. 2018;17(1):205–50.

22.

Cook PJ, Pollack HA. Reducing access to guns by violent offenders. The Russell Sage Foundation Journal of the Social Sciences. 2017;3(5):2–36.

23.

Webster DW, Wintemute GJ. Effects of policies designed to keep firearms from high-risk individuals. Annu Rev Public Health. 2015;36:21–37.

24.

Cook PJ, Ludwig J. Aiming for evidence-based gun policy. Journal of Policy Analysis and Management. 2006;25(3):691–736. https://doi.org/10.2307/30162752.
Acknowledgments
This project was supported by Award No. 2014-MU-CX-0013, awarded by the National Institute of Justice, Office of Justice Programs, U.S. Department of Justice. We sincerely thank our partners at the Illinois Department of Corrections and the Chicago Police Department for their support and guidance, without which this project would not have been possible. All opinions, findings, conclusions, recommendations and any errors expressed in this publication are those of the authors and do not necessarily reflect those of our funders or partners, including the Department of Justice. We thank Research Support Services for assistance in survey tool creation and data collection efforts. We thank Roseanna Ander, Jens Ludwig, Max Kapustin, Kimberley Smith, Julia Quinn, Marc Punkay, and Sarah Emmons for their invaluable support and comments on this work. We would also like to thank the respondents who lent their time to complete the survey.
Additional information
Publisher's Note
Springer Nature remains neutral with regard to jurisdictional claims in published maps and institutional affiliations.
About this article
Cite this article
Cook, P.J., Pollack, H.A. & White, K. The Last Link: from Gun Acquisition to Criminal Use. J Urban Health 96, 784–791 (2019). https://doi.org/10.1007/s11524-019-00358-0
Keywords
Time to crime

Gun violence

Underground gun markets

Inmate survey

Chicago