Abstract
Depression among Black transgender women (BTW) in the USA is an often understudied mental health concern with far-reaching consequences for overall physical and mental health at both the individual and community levels. Intimate partner violence (IPV) among BTW is also a frequently understudied and important social determinant of health in need of further exploration. This study sought to address the gap in research on the relationship between IPV and depression among BTW using a time- and location-based community sample of BTW from six US cities. In addition, it sought to explore the potential protective or suppressive effect of perceived social support on this relationship. Generalized structural equation models were used to assess conditional direct and indirect effects of IPV on depression via the suppression effect of perceived social support. Evidence was found of a statistically significant conditional direct effect of IPV on depression as well as a statistically significant suppression effect for perceived social support. Specifically, there was a 20% lower likelihood of increased depressive symptomatology for every 1-unit increase in perceived social support reported by participants. These findings indicated that perceived social support may be an important intervention point for helping to improve the mental health and well-being of BTW.
Access options
Buy single article
Instant access to the full article PDF.
US$ 39.95
Tax calculation will be finalised during checkout.
Subscribe to journal
Immediate online access to all issues from 2019. Subscription will auto renew annually.
US$ 79
Tax calculation will be finalised during checkout.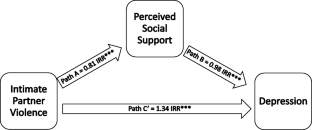 References
1.

Clements-Nolle K, Marx R, Guzman R, Katz M. HIV prevalence, risk behaviors, health care use, and mental health status of transgender persons: implications for public health intervention. Am J Public Health. 2001;91(6):915–21.

2.

Bockting WO, Miner MH, Swinburne Romine RE, Hamilton A, Coleman E. Stigma, mental health, and resilience in an online sample of the US transgender population. Am J Public Health. 2013;103(5):943–51.

3.

Nuttbrock L, Bockting W, Rosenblum A, Hwahng S, Mason M, Macri M, et al. Gender abuse, depressive symptoms, and HIV and other sexually transmitted infections among male-to-female transgender persons: a three-year prospective study. Am J Public Health. 2013;103(2):300–7.

4.

Witcomb GL, Bouman WP, Claes L, Brewin N, Crawford JR, Arcelus J. Levels of depression in transgender people and its predictors: results of a large matched control study with transgender people accessing clinical services. J Affec Disord. 2018;235:308–15.

5.

Brody DJ, Pratt LA, Hughes JP. Prevalence of depression among adults aged 20 and over: United States, 2013–2016 Hyattsville, MD: National Center for Health Statistics. 2011.: National Center for Health Statistics 2018.

6.

Bukowski LA, Chandler CJ, Creasy SL, Matthews DD, Friedman MR, Stall RD. Characterizing the HIV care continuum and identifying barriers and facilitators to HIV diagnosis and viral suppression among black transgender women in the United States. JAIDS. 2018;79(4):413–20. https://doi.org/10.1097/QAI.0000000000001831.

7.

Clements-Nolle K, Marx R, Katz M. Attempted suicide among transgender persons: the influence of gender-based discrimination and victimization. J Homosex. 2006;51(3):53–69.

8.

Stall R, Mills T, Williamson J, Hart T, Greenwood G, Paul J, et al. Association of co-occurring psychosocial health problems and increased vulnerability to HIV/AIDS among urban men who have sex with men. Am J Public Health. 2003;93(6):939–42.

9.

Brennan J, Kuhns LM, Johnson AK, Belzer M, Wilson EC, Garofalo R, et al. Syndemic theory and HIV-related risk among young transgender women: the role of multiple, co-occurring health problems and social marginalization. Am J Public Health. 2012 Sep;102(9):1751–7.

10.

Merkel J. Access to healthcare and lack thereof for transgender people. Theory in Action. 2017;10(4):41–7.

11.

Bith-Melander P, Sheoran B, Sheth L, Bermudez C, Drone J, Wood W, et al. Understanding sociocultural and psychological factors affecting transgender people of color in San Francisco. J Assoc Nurses AIDS Care. 2010;21(3):207–20.

12.

Wilson EC, Garofalo R, Harris RD, Herrick A, Martinez M, Martinez J, et al. Transgender female youth and sex work: HIV risk and a comparison of life factors related to engagement in sex work. AIDS Behav. 2009;13(5):902–13.

13.

Budge SL, Adelson JL, Howard KAS. Anxiety and depression in transgender individuals: the roles of transition status, loss, social support, and coping. Journal Consult Clin Psychol. 2013;81(3):545–57.

14.

Sánchez FJ, Vilain E. Collective self-esteem as a coping resource for male-to-female transsexuals. J Couns Psychol. 2009;56(1):202–9.

15.

Faisal-Cury A, Menezes PR, d'Oliveira AFPL, Schraiber LB, Lopes CS. Temporal relationship between intimate partner violence and postpartum depression in a sample of low income women. Matern Child Health J. 2013;17(7):1297–303.

16.

Sabri B, Bolyard R, McFadgion AL, Stockman JK, Lucea MB, Callwood GB, et al. Intimate partner violence, depression, PTSD, and use of mental health resources among ethnically diverse black women. Soc Work in Health Care. 2013;52(4):351–69.

17.

Godoy-Ruiz P, Toner B, Mason R, Vidal C, McKenzie K. Intimate partner violence and depression among Latin American women in Toronto. J Immigr Minor Health. 2015;17(6):1771–80.

18.

Ouellet-Morin I, Fisher HL, York-Smith M, Fincham-Campbell S, Moffitt TE, Arseneault L. Intimate partner violence and new-onset depression: a longitudinal study of women's childhood and adult histories of abuse. Depress Anxiety. 2015;32(5):316–24.

19.

Chen P-H, Rovi S, Vega ML, Barrett T, Pan K-Y, Johnson MS. Birth outcomes in relation to intimate partner violence. J Natl Med Assoc. 2017;109(4):238–45.

20.

Henry RS, Perrin PB, Coston BM, Calton JM. Intimate partner violence and mental health among transgender/gender nonconforming adults. J Interpers Violence. 2018: Publish Ahead of Print; https://doi.org/10.1177/0886260518775148.

21.

Garthe RC, Hidalgo MA, Hereth J, Garofalo R, Reisner SL, Mimiaga MJ, et al. Prevalence and risk correlates of intimate partner violence among a multisite cohort of young transgender women. LGBT Health. 2018;5(6):333–40. https://doi.org/10.1089/lgbt.2018.0034.

22.

Guadalupe-Diaz XL, Anthony AK. Discrediting identity work: understandings of intimate partner violence by transgender survivors. Deviant Behav. 2017;38(1):1–16.

23.

Valentine SE, Peitzmeier SM, King DS, O'Cleirigh C, Marquez SM, Presley C, et al. Disparities in exposure to intimate partner violence among transgender/gender nonconforming and sexual minority primary care patients. LGBT Health. 2017;4(4):26–267.

24.

West CM. Partner abuse in ethnic minority and gay, lesbian, bisexual, and transgender populations. Partner Abuse. 2012;3(3):336–57.

25.

Vincke J, Bolton R. Social support, depression, and self-acceptance among gay men. Hum Relat. 1994;47(9):1049–62.

26.

Hoffman B. An overview of depression among transgender women. Depress Res Treat. 2014;2014:1–9.

27.

Coker AL, Watkins KW, Smith PH, Brandt HM. Social support reduces the impact of partner violence on health: application of structural equation models. J Prev Med. 2003;37(3):259–67.

28.

Mitchell MD, Hargrove GL, Collins MH, Thompson MP, Reddick TL, Kaslow NJ. Coping variables that mediate the relation between intimate partner violence and mental health outcomes among low-income, African American women. J Clin Psychol. 2006;62(12):1503–20.

29.

Beeble ML, Bybee D, Sullivan CM, Adams AE. Main, mediating, and moderating effects of social support on the well-being of survivors of intimate partner violence across 2 years. J Consul Clin Psychol. 2009;77(4):718–29.

30.

Sevelius JM, Patouhas E, Keatley JG, Johnson MO. Barriers and facilitators to engagement and retention in care among transgender women living with human immunodeficiency virus. Ann Behav Med. 2014;47(1):5–16.

31.

Friedman MR, Bukowski L, Eaton LA, Matthews DD, Dyer TV, Siconolfi D, et al. Psychosocial health disparities among black bisexual men in the U.S.: effects of sexuality nondisclosure and gay community support. Arch Sex Behav. 2018: Pub Ahead of Print; https://doi.org/10.1007/s10508-018-1162-2.

32.

Eaton LA, Matthews DD, Bukowski LA, Friedman MR, Chandler CJ, Whitfield DL, et al. Elevated HIV prevalence and correlates of PrEP use among a community Sample of black men who have sex with men. JAIDS. 2018;Publish Ahead of Print; https://doi.org/10.1097/QAI.0000000000001822.

33.

Miller RS, Lefcourt HM. The assessment of social intimacy. J Pers Assess. 1982;46(5):514–8.

34.

Raymond HF, McFarland W. Racial mixing and HIV risk among men who have sex with men. AIDS Behav. 2009 August 01;13(4):630–7.

35.

Hammer GP, Kellogg TA, McFarland WC, Wong E, Louie B, Williams I, et al. Low incidence and prevalence of hepatitis C virus infection among sexually active non-intravenous drug-using adults, San Francisco, 1997-2000. Sex Transm Dis. 2003;30(12):919–24.

36.

Zhang W, O'Brien N, Forrest JI, Salters KA, Patterson TL, Montaner JS, et al. Validating a shortened depression scale (10 item CES-D) among HIV-positive people in British Columbia, Canada. PLoS One. 2012;7(7):e40793.

37.

MacKinnon DP, Krull JL, Lockwood CM. Equivalence of the mediation, confounding and suppression effect. Prev Sci. 2000;1(4):173–81.

38.

Little TD, Preacher KJ, Selig JP, Card NA. New developments in latent variable panel analyses of longitudinal data. Int J Behav Dev. 2007;31(4):357–65.

39.

Preacher KJ. Advances in mediation analysis: a survey and synthesis of new developments. Annu Rev Psychol. 2015;66(1):825–52.

40.

Wen Z, Fan X. Monotonicity of effect sizes: questioning kappa-squared as mediation effect size measure. Psychol Methods. 2015;20(2):193–203.

41.

Herbst JH, Jacobs ED, Finlayson TJ, McKleroy VS, Neumann MS, Crepaz N, et al. Estimating HIV prevalence and risk behaviors of transgender persons in the United States: a systematic review. AIDS Behav. 2008;12(1):1–17.

42.

Cho S, Crenshaw KW, McCall L. Toward a field of intersectionality studies: theory, applications, and praxis. Signs. 2013;38(4):785–810.

43.

Budge SL, Thai JL, Tebbe EA, Howard KAS. The intersection of race, sexual orientation, socioeconomic status, trans identity, and mental health outcomes. Couns Psychol. 2016;44(7):1025–49.

44.

Golden SD, Perreira KM, Durrance CP. Troubled times, troubled relationships: how economic resources, gender beliefs, and neighborhood disadvantage influence intimate partner violence. J Interpers Violence. 2013;28(10):2134–55.

45.

Pinto RM, Melendez RM, Spector AY. Male-to-female transgender individuals building social support and capital from within a gender-focused network. J Gay Lesbian Soc Serv. 2008;20(3):203–20.

46.

Bauer GR, Hammond R, Travers R, Kaay M, Hohenadel KM, Boyce M. "I don't think this is theoretical; this is our lives": how erasure impacts health care for transgender people. J Assoc Nurses AIDS Care. 2009;20(5):348–61.
Acknowledgements
We thank the Center for Black Equity and local Black Pride organizations for partnering with us to implement POWER, the community-based organization who performed onsite HIV testing on the study's behalf, the thousands of study participants who volunteered their time to contribute to this research, and members of the POWER Study Team who made data collection possible.
The local Black Pride organizations are as follows: D.C. Black Pride, Detroit's Hotter than July, Houston Splash, In the Life Atlanta, Memphis Black Pride, and Philadelphia Black Pride.
The community-based organizations who performed onsite HIV testing are as follows: Atlanta: AID Atlanta, AIDS Health Care Foundation, NAESM; Detroit: Community Health Awareness Group, Horizons Project, Unified; Houston: Avenue 360, Houston AIDS Foundation, Positive Efforts; Memphis: Friends for Life; Philadelphia: Access Matters, Philadelphia FIGHT; Washington, DC: Us Helping Us.
The members of POWER study team are as follows: Center for Black Equity: Earl D. Fowlkes, Jr., Michael S. Hinson, Jr.; Columbia University: Patrick A. Wilson; University of Connecticut: Lisa A. Eaton; Rutgers University: Henry Fisher-Raymond; University of Pittsburgh: Leigh A. Bukowski, Cristian J. Chandler, Derrick D. Matthews, Steven P. Meanley, Jordan M. Sang, and Ronald D. Stall.
This study was partially supported by the National Institute for Nursing Research (R01NR013865) and by the National Institute for Mental Health (5T32MH094174–08).
Disclosures
This original, unpublished manuscript has not been submitted for review to any other journal, and has been read and approved by all co-authors.
Ethics declarations
All study procedures were approved by the Institutional Review Board at [University of Pittsburgh].
Additional information
Publisher's Note
Springer Nature remains neutral with regard to jurisdictional claims in published maps and institutional affiliations.
Leigh A. Bukowski and Melvin C. Hampton are co-first authors
About this article
Cite this article
Bukowski, L.A., Hampton, M., Escobar-Viera, C. et al. Intimate Partner Violence and Depression among Black Transgender Women in the USA: The Potential Suppressive Effect of Perceived Social Support. J Urban Health 96, 760–771 (2019). https://doi.org/10.1007/s11524-019-00355-3
Keywords
Depression

Black

"African American" transgender

Intimate partner violence

Social support