Abstract
Existing research indicates that justice-involved individuals use a variety of different drugs and polysubstance use is common. Research shows that different typologies of drug users, such as polydrug users versus users of a single drug, have differing types of individual-, structural-, and neighborhood-level risk characteristics. However, little research has been conducted on how different typologies of drug use are associated with HIV risks among individuals in community corrections and their intimate sex partners. This paper examines the different types of drug use typologies among men in community correction programs and their female primary sex partners. We used latent class analysis to identify typologies of drug use among men in community correction programs in New York City and among their female primary sex partners. We also examined the associations between drug use typologies with sexual and drug use behaviors that increase the risk of HIV acquisition. The final analysis included a total of 1167 participants (822 male participants and 345 of their female primary sex partners). Latent class analyses identified three identical typologies of drug use for both men and their female primary sex partners: (1) polydrug use, (2) mild polydrug users with severe alcohol and marijuana use, and (3) alcohol and marijuana users. Men and women who were classified as polydrug users and mild polydrug users, compared to those who were classified as alcohol and marijuana users, tended to be older and non-Hispanic Caucasians. Polydrug users and mild polydrug users were also more likely to have risky sex partners and higher rates of criminal justice involvement. There is a need to provide HIV and drug use treatment and linkage to service and care for men in community correction programs, especially polydrug users. Community correction programs could be the venue to provide better access by reaching out to this high HIV risk key population with increased rates of drug use and multiple sex partners.
This is a preview of subscription content,
to check access.
Access this article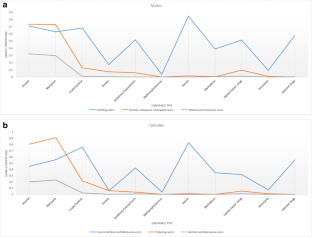 References
Kaeble D, Glaze L, Bureau of Justice Statistics. Correctional Populations in the United States, 2015. In. Washington, D.C.: U.S. Department of Justice; 2016.

Kaeble D, Bonczar T, Bureau of Justice Statistics. Probation and Parole in the United States, 2015. Washington, D.C.: U.S. Department of Justice; 2017.

Califano Jr, JA. Behind bars: Substance abuse and America's prison population. New York, NY: National Center on Addiction and Substance Abuse at Columbia University (CASA), January 1998. Available online at http://www.casacolumbia.org/Absolutenm/articlefiles/5745.pdf. Accessed 15 Sept 1999.

Clark C, McCullumsmith C, Waesche M, Islam M, Francis R, Cropsey K. HIV-risk characteristics in community corrections. J Addict Med. 2013;7(1):45–51.

Maruschak L, Beavers R. HIV in prisons, 2007–2008. Washington, DC: US Department of Justice Bureau of Justice Statistics; 2009.

Larney S, Hado S, McKenzie M, Rich J. Unknown quantities: HIV, viral hepatitis, and sexually transmitted infections in community corrections. Sex Transm Dis. 2014;41(4):283.

Belenko S, Langley S, Crimmins S, Chaple M. HIV risk behaviors, knowledge, and prevention education among offenders under community supervision: a hidden risk group. AIDS Educ Prev. 2004;16(4):367–85.

Davis A, Dasgupta A, Goddard-Eckrich D, El-Bassel N. Trichomonas vaginalis and human immunodeficiency virus coinfection among women under community supervision: a call for expanded T. vaginalis screening. Sex Transm Dis. 2016;43(10):617–22.

Spaulding A, Seals R, Page M, Brzozowski A, Rhodes W, Hammet THIV. AIDS among inmates of and releases from US correctional facilities, 2006: declining share of epidemic but persistent public health opportunity. PLoS One. 2009;4:e7558.

Braithwaite R, Arriola K. Male prisoners and HIV prevention: a call for action ignored. Am J Public Health. 2008;93:759–63.

Blankenship K, Smoyer A. Between spaces: understanding movement to and from prison as an HIV risk factor. In: Sanders B, Thomas Y, Deeds B, editors. Crime, HIV and health: intersections of criminal justice and public health concerns. Dordrecht: Springer; 2013. p. 207–21.

Clark B, Perkins A, McCullumsmith C, Islam A, Sung J, Cropsey K. What does self-identified drug of choice tell us about individuals under community corrections supervision? J Addict Med. 2012;6:57–67.

Cropsey K, Stevens E, Valera P, et al. Risk factors for concurrent use of benzodiazepines and opioids among individuals under community corrections supervision. Drug Alcohol Depend. 2015;154:152–7.

Freudenberg N. HIV in the epicenter of the epicenter: HIV and drug use among criminal justice populations in new York City, 1980–2007. Subst Use Misuse. 2011;46:159–70.

Zhang Z. Drug and alcohol use and related matters among arrestees, 2003. Washington, DC: National Institute of Justice; 2003.

Arrestee Drug Abuse Monitoring. 2000 arrestee drug abuse monitoring: annual report. Washington, DC: National Institute of Justice; 2003.

Martinotti G, Carli V, Tedeschi D, di Giannantonio M, Roy A, Janiri L, et al. Mono and polysubstance dependent subjects differ on social factors, childhood trauma, personality, suicidal behaviour, and comorbid Axis I diagnoses. Addict Behav. 2009;34(9):790–3.

Racz S, Saha S, Trent M, et al. Polysubstance use among minority adolescent males incarcerated for serious offenses. Child Youth Care Forum. 2016;45(2):205–20.

Monga N, Rehm J, Fischer B, Brissette S, Bruneau J, el-Guebaly N, et al. Using latent class analysis (LCA) to analyze patterns of drug use in a population of illegal opioid users. Drug Alcohol Depend. 2007;88:1–8.

Pearson F, Cleland C, Chaple M, Hamilton Z, Prendergast M, Rich J. Substance use, mental health problems, and behavior at risk for HIV: evidence from CJDATS. J Psychoactive Drugs. 2008;40(4):459–69.

Harrell P, Mancha B, Petras H, Trenz R, Latimer W. Latent classes of heroin and cocaine users predict unique HIV/HCV risk factors. Drug Alcohol Depend. 2012;122(3):220–7.

Meacham M, Rudolph A, Strathdee S, et al. Polydrug use and HIV risk among people who inject heroin in Tijuana, Mexico: a latent class analysis. Subst Use Misuse. 2015;50:1351–9.

Betts K, Chan G, McIlwraith F, et al. Differences in polysubstance use patterns and drug-related outcomes between people who inject drugs receiving and not receiving opioid substitution therapies. Addiction. 2016;111:1214–23.

Barnard M. Needle sharing in context: patterns of sharing among men and women injectors and HIV risks. Addiction. 1993;88(6):805–12.

Bryant J, Brener L, Hull P, Treloar C. Needle sharing in regular sexual relationships: an examination of serodiscordance, drug using practices, and the gendered character of injecting. Drug Alcohol Depend. 2010;107(2):182–7.

Syvertsen J, Robertson A, Strathdee S, Martinez G, Rangel M, Wagner K. Rethinking risk: gender and injection drug-related HIV risk among female sex workers and their non-commercial partners along the Mexico-US border. Int J Drug Policy. 2014;25(5):836–44.

Cleland C, Des Jarlais D, Perlis T, Stimson G, Poznyak V. HIV risk behaviors among female IDUs in developing and transitional countries. BMC Public Health. 2007;7(1):271.

Go V, Quan V, Voytek C, Celentano D, Nam L. Intra-couple communication dynamics of HIV risk behavior among injecting drug users and their sexual partners in northern Vietnam. Drug Alcohol Depend. 2006;84(1):69–76.

Cruz M, Mantsios A, Ramos R, et al. A qualitative exploration of gender in the context of injection drug use in two U.S.-Mexico border cities. AIDS Behav. 2007;11(2):253–62.

Callaghan R, Brands B, Taylor L, et al. The clinical characteristics of adolescents reporting methamphetamine as their primary drug of choice: an examination of youth admitted to inpatient substance-abuse treatment in northern British Columbia, Canada, 2001–2005. J Adolesc Health. 2007;40:286–9.

Suh J, Ruffins S, Robins C, et al. Self-medication hypothesis: connecting affective experience and drug choice. Psychoanal Psychol. 2008;25:518–32.

Muthén B. Latent variable analysis. The Sage handbook of quantitative methodology for the social sciences. Thousands oaks: SAGE; 2004. p. 345–368.

Nylund KL, Asparouhov T, Muthén BO. Deciding on the number of classes in latent class analysis and growth mixture modeling: a Monte Carlo simulation study. Struct Equ Model. 2007;14(4):535–69.

Muthén B. Statistical and substantive checking in growth mixture modeling: comment on Bauer and Curran (2003). Washington DC: American Psychological Association; 2003.

Muthén L, Muthén B. Mplus. The comprehensive modelling program for applied researchers: user's guide. Los Angeles: Muthén & Muthén; 2015. p. 5.

Celeux G, Soromenho G. An entropy criterion for assessing the number of clusters in a mixture model. J Classif. 1996;13(2):195–212.

New York State Corrections and Community Supervision. Under custody report: profile of under custody population as of January 1, 2016. Albany, NY; Department of Corrections and Community Supervision; 2016.

Ramchand R, Pacula R, Iguchi M. Racial differences in marijuana-users' risk of arrest in the United States. Drug Alcohol Depend. 2006;84(3):264–72.

Golub A, Johnson B, Dunlap E. The race/ethnicity disparity in misdemeanor marijuana arrest in New York City. Criminol Public Policy. 2007;6(1):131–64.

White K, Holman M. Marijuana prohibition in California: racial prejudice and selective arrests. Race, Gender Class. 2012;19(3/4):75–92.

Johnson B, Golub A, Dunlap E, Sifaneck S. An analysis of alternatives to New York City's current marijuana arrest and detention policy. Policing: Int J Police Strat Manag. 2008;31(2):226–50.

Austin W, Ressler R. Who gets arrested for marijuana use? The perils of being poor and black. Appl Econ Lett. 2017;24(4):211–3.

Kokkevi A, Kanavou E, Richardson C, Fotiou A, Papadopoulou S, al e. Polydrug use by European adolescents in the context of other problem behaviours. Nordic Stud Alcohol Drugs. 2014;31(4):323–42.

Connor J, Gullo M, White A, Kelly A. Polysubstance use: diagnostic challenges, patterns of use and health. Curr Opin Psychiatry. 2014;27(4):269–75.

Muthén B. Should substance use disorders be considered as categorical or dimensional? Addiction. 2006;101(s1):6–16.

Muthén B, Muthén LK. Integrating person-centered and variable-centered analyses: growth mixture modeling with latent trajectory classes. Alcohol Clin Exp Res. 2000;24(6):882–91.
Acknowledgements
The authors appreciate the assistance of the Center for Court Innovation and the New York City Department of Probation for supporting the implementation of this study, and want to particularly thank the men and women who participated in this study.
Funding
This study was funded by the National Institute of Drug Abuse (grant R01DA033168). Dr. Davis is supported by the National Institute of Mental Health (T32 grant MH019139 and P30 grant MH043520) and Mr. Marotta is supported by the National Institute of Drug Abuse (T32 grant DA037801).
Electronic Supplementary Material
About this article
Cite this article
El-Bassel, N., Davis, A., Mandavia, A. et al. Men in Community Correction Programs and Their Female Primary Sex Partners: Latent Class Analysis to Identify the Relationship of Clusters of Drug Use and Sexual Behaviors and HIV Risks. J Urban Health 96, 411–428 (2019). https://doi.org/10.1007/s11524-018-0265-3
Published:

Issue Date:

DOI: https://doi.org/10.1007/s11524-018-0265-3
Keywords