Abstract
Criminal offenders often turn to social networks to gain access to firearms, yet we know little about how networks facilitate access to firearms. This study conducts a network analysis of a co-offending network for the City of Chicago to determine how close any offender may be to a firearm. We use arrest data to recreate the co-offending network of all individuals who were arrested with at least one other person over an eight-year period. We then use data on guns recovered by the police to measure potential network pathways of any individual to known firearms. We test the hypothesis that gangs facilitate access to firearms and the extent to which such access relates to gunshot injury among gang members. Findings reveal that gang membership reduces the potential network distance (how close someone is) to known firearms by 20% or more, and regression results indicate that the closer gang members are to guns, the greater their risk of gunshot victimization.
Access options
Buy single article
Instant access to the full article PDF.
USD 39.95
Price excludes VAT (USA)
Tax calculation will be finalised during checkout.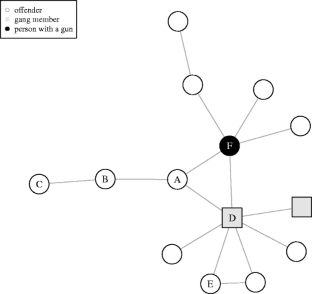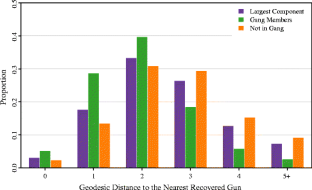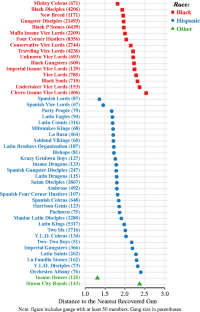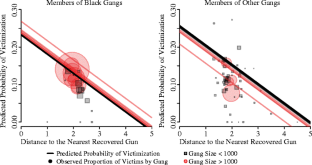 References
Braga AA, Cook PJ. The criminal records of gun offenders. Georgetown J Law and Publ Policy. 2016;14(1):1–16.

McGonigal MD, Cole J, Schwab CW, Kauder DR, Rotondo MF, Angood PB. Urban firearm deaths: a five-year perspective. Trauma and Acute Care Surgery. 1993;35(4):532–6.

Papachristos AV, Wildeman C, Roberto E. Tragic, but not random: the social contagion of nonfatal gunshot injuries. Social Sci Med. 2015;125(1):139–50.

Braga AA. Serious youth gun offenders and the epidemic of youth violence in Boston. J Quant Criminol. 2003;19(1):33–54.

Zeoli AM, Grady SC, Pizarro JM, Melde C. Modeling the movement of homicide by type to inform public health prevention interventions. Am J Public Health. 2015;105(10):2035–41.

Weisburd DL, Bushway S, Lum C, Yang S-M. Trajectories of crime at places: a longitudinal study of street segments in the city of Seattle. Criminology. 2004;42(2):283–322.

Morenoff JD, Sampson RJ, Raudenbush SW. Neighborhood inequality, collective efficacy, and the spatial dynamics of urban violence. Criminology. 2001;39(3):517–59.

Peterson RD, Krivo LJ. Divergent social worlds: neighborhood crime and the racial-spatial divide. New York, NY: Russell Sage; 2010.

Green B, Horel T, Papachristos AV. Modeling contagion through social networks to explain and predict gunshot violence in Chicago, 2006 to 2014. JAMA Intern Med. 2017;177(3):326–33.

Cook PJ, Ludwig J, Venkatesh SA, Braga AA. Underground gun markets. Econ J. 2007;117(1, 524):–588.

Cook PJ, Parker ST, Pollack HA. Sources of guns to dangerous people: what we learn by asking them. Prev Med. 2015;79(1):28–36.

Lizotte AJ, Tesoriero JM, Thornberry TP, Krohn MD. Patterns of adolescent firearms ownership and use. Justice Q. 1994;11(1):51–74.

Lizotte AJ, Bordua DJ, White CS. Firearms ownership for sport and protection: two not so divergent models. Am Sociol Rev. 1981;46(4):499–503.

Thornberry TP, Krohn MD, Lizotte AJ, Smith CA, Tobin K. Gangs and delinquency in development perspective. New York, NY: Oxford University Press; 2003.

Peterson D, Taylor TJ, Esbensen F-A. Gang membership and violent victimization. Justice Q. 2004;21(4):793–815.

Warr M. Companions in crime: the social aspects of criminal conduct. New York, NY: Cambridge University Press; 2002.

Pyrooz DC, Moule RK Jr, Decker SH. The contribution of gang membership to the victim–offender overlap. J Res Crime Delinq. 2014;51(3):315–48.

Papachristos AV, Braga AA, Piza E, Grossman L. The company you keep? The spillover effects of gang membership on individual gunshot victimization in social networks. Criminology. 2015;53(4):624–49.

Pyrooz DC. Uncovering the pathways between gang membership and violent victimization. J Quant Criminol. 2015;32(4):531–59.

Bjerregaard B, Lizotte AJ. Gun ownership and gang membership. J Crim Law Criminol. 1995;86(1):37–58.

Braga AA, Wintemute GJ, Pierce GL, Cook PJ, Ridgeway G. Interpreting the empirical evidence on illegal gun market dynamics. J Urban Health. 2012;89(5):779–93.

Papachristos AV, Hureau D, Braga AA. The corner and the crew: the influence of geography and social networks on gang violence. Am Sociol Rev. 2013;78(3):417–47.

Tita GE, Radil SM. Spatializing the social networks of gangs to explore patterns of violence. J Quant Criminol. 2011;27(4):521–45.

Klein MW, Maxson CL, Cunningham LC. Crack, street gangs, and violence. Criminology. 1991;29(4):623–50.

Block R, Block CR. Street gang crime in Chicago. In: Klein MW, Maxson CL, Miller J, editors. The Modern Gang Reader. Thousand Oaks, CA: Roxbury; 1995.

Hureau D, Braga AA. The trade in tools: the market for illicit guns in high-risk networks. Criminology. 2018; 56 (3).

Cook PJ, Harris RJ, Ludwig J, Pollack HA. Some sources of crime guns in Chicago: dirty dealers, straw purchasers, and traffickers. J Crim Law and Criminol 2014:717–759.

Adamic L, Adar E. How to search a social network. Soc Networks. 2005;27(3):187–203.

Howell N. The Search for an Abortionist. Chicago, IL: University of Chicago Press; 1969.

Wintemute GJ. The epidemology of firearm violence in the twenty-first century United States. Annu Rev Public Health. 2015;36:5–19.

Decker SH, Katz CM, Webb VJ. Understanding the black box of gang organization: implications for involvement in violent crime, drug sales, and violent victimization. Crime and Delinquency. 2007;54(1):153–72.

Core Team R. R: a language and environment for statistical computing. Vienna, Austria: R Foundation for Statistical Computing; 2014.

Csardi G, Nepusz T. The igraph software package for complex network research. Int J Complex Syst. 2006;1695(5):1–9.

Kane MJ, Emerson JW, Weston S. Scalable strategies for computing with massive data. J Stat Softw. 2013;55(14):1–19.

Revolution Analytics and Steve Weston. foreach: foreach looping construct for R. R package, CRAN.Rproject.org/package=foreach. 2014.

Levitt S, Venkatesh SA. An economic analysis of a drug-selling gang's finances. Q J Econ. 2000;115(3):755–89.

Venkatesh SA, Levitt SD. Are we a family or a business?; history and disjuncture in the urban American street gang. Theory and Society. 2000;29(4):427–62.

Dawley D. A nation of lords; the autobiography of the Vice Lords. [1st ] ed. Garden City: N.Y., Anchor Press; 1973.

Perkins UE. Explosion of Chicago's Black street gangs: 1900 to the present. 1st ed. Chicago, Ill.: Third World Press; 1987.

Moore NY, WIlliams L. The Almighty Black P Stone Nation: the Rise, Fall, and Resurgence of an American Gang. Chicago, IL: Lawrence Hill Books; 2011.

Hagedorn JM. The In$ane Chicago Way: the Daring Play by Chicago Gangs to Create a Spanish Mafia. Chicago, IL: The University of Chicago Press; 2015.

Butts JA, Roman CG, Bostwick L, Porter JRP. Cure violence: a public health model to reduce gun violence. Annu Rev Public Health. 2015;36:39–53.

Hanson RF, Sawyer GK, Begle AM, Hubel GS. The impact of crime victimization on quality of life. J Trauma Stress. 2010;23(2):189–97.

Lee J. Wounded: life after the shooting. Ann Am Acad Pol Social Sci. 2012;642(1):244–57.

Kennedy DM, Piehl AM, Braga A. Youth violence in Boston: gun markets, serious youth offenders, and a use-reduction strategy. Law and Contemp Prob. 59(1):147–96.
Acknowledgements
The authors would like to thank our fellow collaborators on the Multi-City Underground Gun Market Study and the University of Chicago Crime Lab for their comments and support of this project. Parts of this research were funded by grants to the corresponding author including a CAREER award (SES-1151449) from the Sociology, and Law and Social Science Programs at the National Science Foundation. This research was also supported in part by the facilities and staff of the Yale University Faculty of Arts and Sciences High Performance Computing Center, and a James S. McDonnell Foundation Postdoctoral Fellowship Award in Studying Complex Systems awarded to the first author. The findings of this article represent the opinions of the authors and not those of the City of Chicago or the Chicago Police Department.
Ethics declarations
All data and protocols for this project were approved by appropriate IRB.
Electronic Supplementary Material
About this article
Cite this article
Roberto, E., Braga, A.A. & Papachristos, A.V. Closer to Guns: the Role of Street Gangs in Facilitating Access to Illegal Firearms. J Urban Health 95, 372–382 (2018). https://doi.org/10.1007/s11524-018-0259-1
Published:

Issue Date:

DOI: https://doi.org/10.1007/s11524-018-0259-1
Keywords
Street gangs

Social networks

Gun markets

Guns

Gun injuries