Abstract
Within the related epidemics of sex exchange, drug use, and poverty, access to health care is shaped by intersecting identities, policy, and infrastructure. This study uses a unique survey sample of young adults in Detroit, who are exchanging sex on the street, in strip clubs, and at after-hours parties and other social clubs. Factors predicting access to free or affordable health care services, such as venue, patterns of sexual exchange influence, drug use and access to transportation, were examined using multivariable logistic regression and qualitative comparative analysis. The most significant predictors of low access to health care services were unstable housing and lack of access to reliable transportation. In addition, working on the street was associated with decreased access to services. Coordinated policy and programming changes are needed to increase health care access to this group, including improved access to transportation, housing, and employment, and integration of health care services.
This is a preview of subscription content, log in to check access.
Access options
Buy single article
Instant access to the full article PDF.
US$ 39.95
Price includes VAT for USA
Subscribe to journal
Immediate online access to all issues from 2019. Subscription will auto renew annually.
US$ 99
This is the net price. Taxes to be calculated in checkout.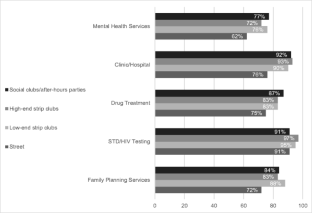 References
1.

Cohan D, Lutnik A, Davidson P, et al. Sex worker health: San Francisco style. Sex Transm Infect. 2006;82(5):418–22.

2.

Hankel J, Heil M, Dewey S, Martinez N. Characteristics of women seeking services at a transitional housing facility for women leaving street-based sex work: implications for social service providers. J Soc Serv Res. 2015;42(1):41–56.

3.

Thukral J, Ditmore M. Revolving door: an analysis of street-based prostitution in New York City: Sex Workers Project at the Urban Justice Center;2003.

4.

Kurtz SP, Surratt HL, Kiley MC, Inciardi JA. Barriers to health and social services for street-based sex workers. J Health Care Poor Underserved. 2005;16(2):345–61.

5.

Phillips R, Benoit C. Social determinants of health care access among sex industry workers in Canada. In: Kronenfeld JJ, editor. Health care services, racial and ethnic minorities and underserved populations: patient and provider perspectives. Bingley: Emerald Insight; 2005. p. 79–104.

6.

Singer M. Pathogen-pathogen interaction: a syndemic model of complex biosocial processes in disease. Virulence. 2010;1(1):10–8.

7.

Carr S, Goldberg DJ, Elliott L, Green S, Mackie C, Gruer L. A primary health care service for Glasgow street sex workers—6 years experience of the "drop-in centre", 1989-1994. AIDS Care. 1996;8(4):489–97.

8.

Murphy AK, Venkatesh SA. Vice careers: the changing contours of sex work in new York City. Qual Sociol. 2006;29(2):129–54.

9.

Reuben J, Serio-Chapman C, Welsh C, Matens R, Sherman SG. Correlates of current transactional sex among a sample of female exotic dancers in Baltimore, MD. J Urban Health. 2011;88(2):342–51.

10.

Tobin KE, Cutchin M, Latkin CA, Takahashi LM. Social geographies of African American men who have sex with men (MSM): a qualitative exploration of the social, spatial and temporal context of HIV risk in Baltimore, Maryland. Health Place. 2013;22:1–6.

11.

Sausa LA, Keatley J, Operario D. Perceived risks and benefits of sex work among transgender women of color in San Francisco. Arch Sex Behav. 2007;36(6):768–77.

12.

Schulz AJ, Williams DR, Israel BA, Lempert LB. Racial and spatial relations as fundamental determinants of health in Detroit. Milbank Q. 2002;80(4):677–707.

13.

Dai D. Black residential segregation, disparities in spatial access to health care facilities, and late-stage breast cancer diagnosis in metropolitan Detroit. Health Place. 2010;16(5):1038–52.

14.

Kirby JB, Kaneda T. Access to health care: does neighborhood residential instability matter? J Health Soc Behav. 2006;47(June):142–55.

15.

Israel BA, Lichtenstein R, Lantz P, McGranaghan R, Allen A, Guzman RJ, et al. The Detroit community-academic urban research center: development, implementation, and evaluation. J Public Health Manag Pract. 2001;7(5):1–19.

16.

Lopez WD, Graham LF, Reardon C, Reyes AM, Reyes A, Padilla M. "No jobs, more crime. More jobs, less crime": structural factors affecting the health of Latino men in Detroit. J Mens Health. 2012;9(4):255–60.

17.

Snow RC, Williams A, Collins C, et al. Paying to listen: notes from a survey of sexual commerce. Community Lit J Fall. 2013;8(1):53–69.

18.

Graham LF, Padilla MB, Lopez WD, Stern AM, Peterson J, Keene DE. Spatial stigma and health in postindustrial Detroit. Int Q Community Health Educ. 2016;36(2):105–13.

19.

Graham LFL, Reyes AM, Lopez W, Gracey A, Snow RC, Padilla MB. Addressing economic devastation and built environment degradation to prevent violence: a photovoice project of Detroit youth passages. Community Lit J Fall. 2013;8(1):41–52.

20.

Kendall C, Kerr LRFS, Gondim RC, Werneck GL, Macena RHM, Pontes MK, et al. An empirical comparison of respondent-driven sampling, time location sampling, and snowball sampling for behavioral surveillance in men who have sex with men, Fortaleza, Brazil. AIDS Behav. 2008;12(S1):97–104.

21.

MacKellar DA, Gallagher KM, Finlayson T, Sanchez T, Lansky A, Sullivan PS. Surveillance of HIV risk and prevention behaviors of men who have sex with men—a national application of venue-based, time-space sampling. Public Health Rep. 2007;122(S1):39–47.

22.

Levesque J-F, Harris MF, Russell G. Patient-centred access to health care: conceptualising access at the interface of health systems and populations. Int J Equity Health. 2013;12:18.

23.

Grofman B, Schneider CQ. An introduction to crisp set QCA, with a comparison to binary logistic regression. Polit Res Q. 2009;62(4):662–72.

24.

Fuzzy-Set/Qualitative Comparative Analysis 2.0 [computer program]. Tucson, Arizona: Department of sociology, University of Arizona; 2006.

25.

Ragin CC. User's guide to fuzzy-set qualitative comparative analysis. 2008. http://www.u.arizona.edu/~cragin/fsQCA/download/fsQCAManual.pdf. Accessed February 9, 2016.

26.

Litaker D, Koroukian SM, Love TE. Context and healthcare access: looking beyond the individual. Med Care. 2005;43:531–40.

27.

Shannon K, Bright V, Duddy J, Tyndall MW. Access and utilization of HIV treatment and services among women sex workers in Vancouver's downtown eastside. J Urban Health. 2005;82(3):488–97.

28.

McCray T. Delivering healthy babies: transportation and healthcare access. Plan Pract Res. 2000;15(1/2):17–29.

29.

Thukral J, Ditmore M, Murphy A. Behind closed doors: an analysis of indoor sex work in New York City: Sex Workers Project at the Urban Justice Center;2005.

30.

Brennan J, Kuhns LM, Johnson AK, Belzer M, Wilson EC, Garofalo R. Syndemic theory and HIV-related risk among young transgender women: the role of multiple, co-occurring health problems and social marginalization. Am J Public Health. 2012;102(9):1751–7.

31.

Baker LM, Case P, Policicchio DL. General health problems of inner-city sex workers: a pilot study. J Med Libr Assoc. 2003;91(1):67–71.
Acknowledgements
This work was supported by the Ford Foundation Youth, Sexuality, Health and Rights Initiative. The first author was supported the University of Michigan Medical Scientist Training Program (NIGMS T32GM07863) during portions of this work. Special acknowledgement is due to Allison Brenner for her thoughtful comments on many drafts of this manuscript.
About this article
Cite this article
Knittel, A.K., Graham, L.F., Peterson, J. et al. Access to Health Care Services among Young People Exchanging Sex in Detroit. J Urban Health 96, 452–468 (2019). https://doi.org/10.1007/s11524-018-0239-5
Keywords
Health care access

Sex work

Transportation

Housing instability

Health disparities