Abstract
The criminal justice system is a critical area of focus to improve HIV outcomes and reduce health disparities. We analyzed demographic, incarceration, socioeconomic, and clinical data for HIV-positive persons released to the community from the Dallas County Jail (1450 incarcerations, 1111 unique individuals) between January 2011 and November 2013. The study population was 68% black and 14% Hispanic; overall linkage to care within 90 days of release was 34%. In adjusted analyses, Hispanics were more likely to link than whites (aOR 2.33 [95% CI: 1.55–3.50]), and blacks were as likely to link as whites (aOR 1.14 [95% CI: 0.84–1.56]). The majority of HIV-positive jail releases did not re-engage in HIV care after release, though Hispanics were twice as likely as other groups to link to care. Further efforts are needed to improve the transition from jail to community HIV care with particular attention to issues of housing, mental illness, and substance use.
Access options
Buy single article
Instant access to the full article PDF.
US$ 39.95
Tax calculation will be finalised during checkout.
Subscribe to journal
Immediate online access to all issues from 2019. Subscription will auto renew annually.
US$ 79
Tax calculation will be finalised during checkout.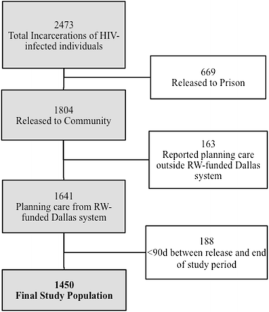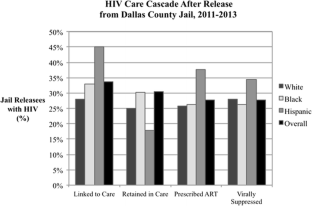 References
1.

Maruschak L. HIV in Prison, 2001-2010. US Department of Justice, Office of Justice Programs, Bureau of Justice Statistics. 2012. http://www.bjs.gov/content/pub/pdf/hivp10.pdf. Accessed 31 January 2018.

2.

Wilper AP, Woolhandler S, Boyd JW, Lasser KE, McCormick D, Bor DH, et al. The health and health care of US prisoners: results of a nationwide survey. Am J Public Health. 2009;99(4):666–72. https://doi.org/10.2105/AJPH.2008.144279.

3.

Spaulding AC, Seals RM, Page MJ, Brzozowski AK, Rhodes W, Hammett TM. HIV/AIDS among inmates of and releasees from US correctional facilities, 2006: declining share of epidemic but persistent public health opportunity (HIV/AIDS in inmates/Releasees). PLoS One. 2009;4(11):e7558. https://doi.org/10.1371/journal.pone.0007558.

4.

Cohen MS, Chen YQ, McCauley M, Gamble T, Hosseinipour MC, Kumarasamy N, et al. Prevention of HIV-1 infection with early antiretroviral therapy. N Engl J Med. 2011;365(6):493–505. https://doi.org/10.1056/NEJMoa1105243.

5.

Lundgren JD, Babiker AG, Gordin F, et al. Initiation of antiretroviral therapy in early asymptomatic HIV infection. N Engl J Med. 2015;373(9):795–807. https://doi.org/10.1056/NEJMoa1506816.

6.

Iroh PA, Mayo H, Nijhawan AE. The HIV care cascade before, during, and after incarceration: a systematic review and data synthesis. Am J Public Health. 2015;105(7):E5–E16. https://doi.org/10.2105/AJPH.2015.302635.

7.

Stein MS, Spaulding AC, Cunningham M, et al. HIV-positive and in jail: race, risk factors, and prior access to care. AIDS Behav. 2013;17(Suppl 2):S108–17.

8.

Westergaard R, Spaulding A, Flanigan TP. HIV among persons incarcerated in the USA: a review of evolving concepts in testing, treatment, and linkage to community care. Curr Opin Infect Dis. 2013;26(1):10–6. https://doi.org/10.1097/QCO.0b013e32835c1dd0.

9.

Montague BT, Rosen DL, Solomon L, Nunn A, Green T, Costa M, et al. Tracking linkage to HIV care for former prisoners: a public health priority. Virulence. 2012;3(3):319–24. https://doi.org/10.4161/viru.20432.

10.

Carroll M, Nassau T, Miller M, et al. Improved HIV care outcomes for inmates referred to community programs in Philadelphia. Paper presented at: Conference on Retroviruses and Opportunistic Infections (CROI). Seattle, WA; 2017.

11.

Althoff AL, Zelenev A, Meyer JP, et al. Correlates of retention in HIV care after release from jail: results from a multi-site study. AIDS Behav. 2013;17(Suppl 2):S156–70.

12.

Wang EA, Hong CS, Shavit S, Sanders R, Kessell E, Kushel MB. Engaging individuals recently released from prison into primary care: a randomized trial. Am J Public Health. 2012;102(9):e22–9. https://doi.org/10.2105/AJPH.2012.300894.

13.

Shavit S, Aminawung J, Birnbaum N, et al. Transitions clinic network: challenges and lessons in primary care for people released from prison. Health Affairs. 2017;36(6).

14.

Zaller ND, Holmes L, Dyl AC, et al. Linkage to treatment and supportive services among HIV-positive ex-offenders in Project Bridge. J Health Care Poor Underserved. 2008;19(2):522–31. https://doi.org/10.1353/hpu.0.0030.

15.

Meyer JP, Zelenev A, Wickersham JA, Williams CT, Teixeira PA, Altice FL. Gender disparities in HIV treatment outcomes following release from jail: results from a multicenter study. Am J Public Health. 2014;104(3):434–41. https://doi.org/10.2105/AJPH.2013.301553.

16.

Dennis AM, Department of Medicine DoID, University of North Carolina at Chapel Hill, Chapel Hill, North Carolina, Napravnik S, et al. Late entry to HIV care among Latinos compared with non-Latinos in a Southeastern US Cohort. Clin Infect Dis 2017;53(5):480–487.

17.

Morales-Aleman MM, Sutton MY. Hispanics/Latinos and the HIV continuum of care in the Southern USA: a qualitative review of the literature, 2002–2013. AIDS Care. 2014;26(12):1592–604. https://doi.org/10.1080/09540121.2014.936817.

18.

Hall HI, Frazier EL, Rhodes P, Holtgrave DR, Furlow-Parmley C, Tang T, et al. Differences in human immunodeficiency virus care and treatment among subpopulations in the United States. JAMA Intern Med. 2013;173(14):1337–44. https://doi.org/10.1001/jamainternmed.2013.6841.

19.

Poon KK, Dang BN, Davila JA, Hartman C, Giordano TP. Treatment outcomes in undocumented Hispanic immigrants with HIV infection. PLoS One. 2013;8(3):e60022. https://doi.org/10.1371/journal.pone.0060022.

20.

Franzini L, Ribble JC, Keddie AM. Understanding the Hispanic paradox. Ethnicity & disease. 2001;11(3):496–518.

21.

Alegria M, Sribney W, Mulvaney-Day NE. Social cohesion, social support and health among Latinos in the United States. Soc Sci Med. 2007;64(2):477–95.

22.

Mauer M. Addressing racial disparities in incarceration. Prison J. 2011;91(3):87S–101S.

23.

Shoptaw S. Methamphetamine use in urban gay and bisexual populations. Topics in HIV medicine : a publication of the International AIDS Society, USA. 2006;14(2):84–7.

24.

Baillargeon JG, Giordano TP, Harzke AJ, Baillargeon G, Rich JD, Paar DP. Enrollment in outpatient care among newly released prison inmates with HIV infection. Public health reports (Washington, DC : 1974). 2010;125(Suppl 1):64–71. https://doi.org/10.1177/00333549101250S109.

25.

Kaiser Family Foundation. State Mental Health Agency (SMHA) per capita mental health services expenditures. http://kff.org/other/state-indicator/smha-expenditures-per-capita/. Accessed 31 March 2017.

26.

Harzke AJ, Ross MW, Scott DP. Predictors of post-release primary care utilization among HIV-positive prison inmates: a pilot study. AIDS Care. 2006;18(4):290–301. https://doi.org/10.1080/09540120500161892.

27.

Aidala AA, Wilson MG, Shubert V, Gogolishvili D, Globerman J, Rueda S, et al. Housing status, medical care, and health outcomes among people living with HIV/AIDS: a systematic review. Am J Public Health. 2016;106(1):e1–e23. https://doi.org/10.2105/AJPH.2015.302905.

28.

Aubry T, Nelson G, Tsemberis S. Housing first for people with severe mental illness who are homeless: a review of the research and findings from the at home-chez soi demonstration project. Can J Psychiatry. 2015;60(11):467–74. https://doi.org/10.1177/070674371506001102.

29.

Montague BT, Rosen DL, Sammartino C, Costa M, Gutman R, Solomon L, et al. Systematic assessment of linkage to care for persons with HIV released from corrections facilities using existing datasets. AIDS Patient Care STDs. 2016;30(2):84–91. https://doi.org/10.1089/apc.2015.0258.

30.

Khawcharoenporn T, Zawitz C, Young JD, Kessler HA. Continuity of care in a cohort of HIV-infected former jail detainees. Journal of correctional health care : the official journal of the National Commission on Correctional Health Care. 2013;19(1):36–42. https://doi.org/10.1177/1078345812458246.

31.

Westergaard RP, Kirk GD, Richesson DR, Galai N, Mehta SH. Incarceration predicts virologic failure for HIV-infected injection drug users receiving antiretroviral therapy. Clinical infectious diseases : an official publication of the Infectious Diseases Society of America. 2011;53(7):725–31. https://doi.org/10.1093/cid/cir491.

32.

Substance Abuse and Mental Health Services Administration. Results from the 2013 National Survey on drug use and health: mental health findings. Substance Abuse and Mental Health Services Administration: Rockville, MD; 2014.
Acknowledgements
The investigators were supported by the following grants from the National Institutes of Health: R01 DA030778 (J.R.), K24 DA022122 (J.R.), T32 DA013911 (Y.T.), K23 AI112477 (A.N.), P30 AI042583, CTSA UL1-RR024982.
About this article
Cite this article
Ammon, B., Iroh, P., Tiruneh, Y. et al. HIV Care After Jail: Low Rates of Engagement in a Vulnerable Population. J Urban Health 95, 488–498 (2018). https://doi.org/10.1007/s11524-018-0231-0
Keywords
HIV/AIDS

Health services

Jail

Health disparities

Housing

Linkage to care