Abstract
Intimate connections among race, place, and poverty are increasingly featured in the health disparities literature. However, few models exist that can guide our understanding of these interconnections. We build on the Chicago School of Sociology's contributions in urban research and one of its contemporary elaborations, often described as the "neighborhood effects approach," to propose a three-axis model of health inequity. This model, in alignment with Chicago School theory, postulates a dynamic and adaptive relationship between spatial context and health inequity. Compositional axes of race and poverty form the foundation of the model. These compositional axes then intersect with a third axis of place to compose the built and social environment planes. We develop this model to provide conceptual guidance for clinical, policy, and public health researchers who aim to examine how these three features, taken together, have important implications for urban health.
This is a preview of subscription content, log in to check access.
Access options
Buy single article
Instant access to the full article PDF.
US$ 39.95
Price includes VAT for USA
Subscribe to journal
Immediate online access to all issues from 2019. Subscription will auto renew annually.
US$ 99
This is the net price. Taxes to be calculated in checkout.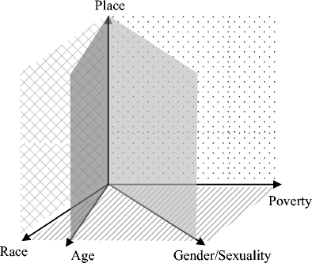 References
1.

Klinenberg E. Heat wave: a social autopsy of disaster in Chicago. Chicago, IL: University of Chicago Press; 2002.

2.

Hanna-Attisha M, LaChance J, Sadler RC, Champney Schnepp A. Elevated blood lead levels in children associated with the Flint drinking water crisis: a spatial analysis of risk and public health response. Am J Public Health. 2016;106(2):283–90.

3.

Rosenstock S, Whitman S, West JF, Balkin M. Racial disparities in diabetes mortality in the 50 most populous US cities. J Urban. 2014;91(5):873–85.

4.

Sampson RJ. Great American City: Chicago and the enduring neighborhood effect. Chicago, IL: University of Chicago Press; 2012.

5.

Davoudi S, Stead D. Urban-rural relationships: an introduction and a brief history. Built Environment. 2002;28(4):269–77.

6.

Gillanders WR, Buss TF, Hofstetter CR. Urban/rural elderly health status differences: the dichotomy reexamined. J Aging Soc Policy. 1996;8(4):7–24.

7.

Dahly DL, Adair LS. Quantifying the urban environment: a scale measure of urbanicity outperforms the urban-rural dichotomy. Soc Sci Med. 2007;64(7):1407–19.

8.

Lerner AM, Eakin H. An obsolete dichotomy? Rethinking the rural-urban interface in terms of food security and production in the Global South. Geogr J. 2011;177(4):311–20.

9.

Macintyre S, Ellaway A, Cummins S. Place effects on health: how can we conceptualise, operationalise and measure them? Soc Sci Med. 2002;55(1):125–39.

10.

Cummins S, Curtis S, Diez-Roux AV, Macintyre S. Understanding and representing 'place' in health research: a relational approach. Soc Sci Med. 2007;65(9):1825–38.

11.

Goffman E. Asylums: essays on the social situation of mental patients and other inmates. Garden City, NY: Anchor Books; 1961.

12.

Glaser BG, Strauss AL. Awareness of dying. New York, NY: Transaction Publishers; 1965.

13.

Park RE, Burgess EW. The city: suggestions for investigation of human behavior in the urban environment. Chicago, IL: University of Chicago Press; 1967.

14.

Shaw CR, McKay HD. Juvenile delinquency and urban areas. Chicago, IL: University of Chicago Press; 1969.

15.

Vasishth A, Sloane DC. Returning to ecology: an ecosystem approach to understanding the city. In: Dear M, editor. From Chicago to LA: making sense of urban theory. Thousand Oaks, CA: Sage Publications; 2002. p. 347–60.

16.

Wennberg J, Gittelsohn. Small area variations in health care delivery. Science (New York, NY) 1973;182(4117):1102–1108.

17.

Wennberg JE. Future directions for small area variations. Medical care. 1993;31(5 Suppl):Ys75–80.

18.

Browning CR, Cagney KA. Neighborhood structural disadvantage, collective efficacy, and self-rated physical health in an urban setting. J Health Soc Behav. 2002;43(4):383–99.

19.

Browning CR, Cagney KA. Moving beyond poverty: neighborhood structure, social processes, and health. J Health Soc Behav. 2003;44(4):552–71.

20.

Fitzpatrick K, LaGory M. Unhealthy cities: poverty, race, and place in America. New York: PB-Routledge. Int J Urban Reg Res. 2014;38(5):1923–5.

21.

Berkowitz SA, Baggett TP, Wexler DJ, Huskey KW, Wee CC. Food insecurity and metabolic control among U.S. adults with diabetes. Diabetes Care. 2013;36(10):3093–9.

22.

Peek ME, Wagner J, Tang H, Baker DC, Chin MH. Self-reported racial discrimination in health care and diabetes outcomes. Med Care. 2011;49(7):618–25.

23.

McEwen BS. Stress, adaptation, and disease: allostasis and allostatic load. Ann N Y Acad Sci. 1998;840:33–44.

24.

Gaber N, Wright A. Protecting urban health and safety: balancing care and harm in the era of mass incarceration. J Urban Health. 2015;

25.

Park RE. Human migration and the marginal man. Am J Sociol. 1928;33(6):881–93.

26.

Lee V, Mikkelsen L, Srikantharajah J, Cohen L. Strategies for enhancing the built environment to support healthy eating and active living. Oakland, CA: Prevention Institute, PolicyLink; 2008.

27.

Kwate NO, Loh JM, White K, Saldana N. Retail redlining in New York City: racialized access to day-to-day retail resources. J Urban Health. 2013;90(4):632–52.

28.

Barnett E, Casper MA. Definition of "social environment". Am J Public Health. 2001;91(3):465.

29.

Sampson RJ, Raudenbush SW. Systematic social observation of public spaces: a new look at disorder in urban neighborhoods. Am J Sociol. 1999;105(3):603–51.

30.

Wilson WJ. The truly disadvantaged: the inner city, the underclass, and public policy. 2nd ed. Chicago, IL: University of Chicago Press; 1987.

31.

Frieden TRA. Framework for public health action: the health impact pyramid. Am J Public Health. 2010;100(4):590–5.

32.

Moorhead SA, Hazlett DE, Harrison L, Carroll JK, Irwin A, Hoving C. A new dimension of health care: systematic review of the uses, benefits, and limitations of social media for health communication. J Med Internet Res. 2013;15(4):e85.

33.

Papas MA, Alberg AJ, Ewing R, Helzlsouer KJ, Gary TL, Klassen AC. The built environment and obesity. Epidemiol Rev. 2007;29:129–43.

34.

Drewnowski A, Aggarwal A, Hurvitz PM, Monsivais P, Moudon AV. Obesity and supermarket access: proximity or price? Am J Public Health. 2012;102(8):e74–80.

35.

Cannuscio CC, Tappe K, Hillier A, Buttenheim A, Karpyn A, Glanz K. Urban food environments and residents' shopping behaviors. Am J Prev Med. 2013;45(5):606–14.

36.

Tung EL, Peek ME, Makelarski JA, Escamilla V, Lindau ST Adult BMI and access to built environment resources in a high-poverty, urban geography. Am J Prev Med. 2016.

37.

Kirby JB, Liang L, Chen HJ, Wang Y. Race, place, and obesity: the complex relationships among community racial/ethnic composition, individual race/ethnicity, and obesity in the United States. Am J Public Health. 2012;102(8):1572–8.

38.

Gaskin DJ, Thorpe RJ Jr, McGinty EE, et al. Disparities in diabetes: the nexus of race, poverty, and place. Am J Public Health. 2014;104(11):2147–55.

39.

Richardson DB, Volkow ND, Kwan MP, Kaplan RM, Goodchild MF, Croyle RT. Medicine. Spatial turn in health research. Science (New York, NY). 2013;339(6126):1390–1392.
Acknowledgements
This manuscript was supported by the Chicago Center for Diabetes Translation Research (CCDTR), NIDDK grant P30DK092949. E. Tung was also supported by the AHRQ Patient-Centered Outcomes Research (PCOR) Institutional Mentored Career Development Program (K12), AHRQ grant 5K12HS023007. E. Tung takes full responsibility for the integrity of this manuscript.
About this article
Cite this article
Tung, E.L., Cagney, K.A., Peek, M.E. et al. Spatial Context and Health Inequity: Reconfiguring Race, Place, and Poverty. J Urban Health 94, 757–763 (2017). https://doi.org/10.1007/s11524-017-0210-x
Keywords
Health inequity

Health disparities

Racial and ethnic disparities

Chronic disease

Place

Neighborhood effects

Urban sociology