Abstract
Recent evidence suggests that police victimization is widespread in the USA and psychologically impactful. We hypothesized that civilian-reported police victimization, particularly assaultive victimization (i.e., physical/sexual), would be associated with a greater prevalence of suicide attempts and suicidal ideation. Data were drawn from the Survey of Police-Public Encounters, a population-based survey of adults (N = 1615) residing in four US cities. Surveys assessed lifetime exposure to police victimization based on the World Health Organization domains of violence (i.e., physical, sexual, psychological, and neglect), using the Police Practices Inventory. Logistic regression models tested for associations between police victimization and (1) past 12-month suicide attempts and (2) past 12-month suicidal ideation, adjusted for demographic factors (i.e., gender, sexual orientation, race/ethnicity, income), crime involvement, past intimate partner and sexual victimization exposure, and lifetime mental illness. Police victimization was associated with suicide attempts but not suicidal ideation in adjusted analyses. Specifically, odds of attempts were greatly increased for respondents reporting assaultive forms of victimization, including physical victimization (odds ratio = 4.5), physical victimization with a weapon (odds ratio = 10.7), and sexual victimization (odds ratio = 10.2). Assessing for police victimization and other violence exposures may be a useful component of suicide risk screening in urban US settings. Further, community-based efforts should be made to reduce the prevalence of exposure to police victimization.
Access options
Buy single article
Instant access to the full article PDF.
US$ 39.95
Tax calculation will be finalised during checkout.
Subscribe to journal
Immediate online access to all issues from 2019. Subscription will auto renew annually.
US$ 79
Tax calculation will be finalised during checkout.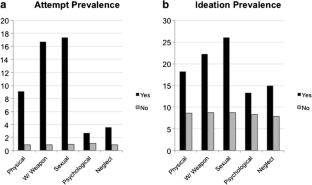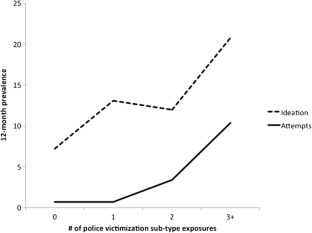 References
1.

Brucato B. The new transparency: police violence in the context of ubiquitous surveillance. Media Commun. 2015;3:39–55.

2.

Cooper H, Moore L, Gruskin S, Krieger N. Characterizing perceived police violence: implications for public health. Am J Public Health. 2004;94:1109–18.

3.

Geller A, Fagan J, Tyler T, Link BG. Aggressive policing and the mental health of young urban men. Am J Public Health. 2014;104:2321–7.

4.

DeVylder J, Oh H, Nam B, Sharpe T, Lehmann M, Link B. Prevalence, demographic variation and psychological correlates of exposure to police victimisation in four U.S. cities. Epidemiol Psychiatr Sci. 2016; doi:10.1017/S2045796016000810.

5.

American Public Health Association. Law enforcement violence as a public health issue. http://apha.org/policies-and-advocacy/public-health-policy-statements/policy-database/2016/12/09/law-enforcement-violence-as-a-public-health-issue. Accessed 21 Dec 2016.

6.

McGuffin P, Marušič A, Farmer A. What can psychiatric genetics offer suicidology? Crisis. 2001;22:61–5.

7.

May AM, Klonsky ED. What distinguishes suicide attempters from suicide ideators? A meta-analysis of potential factors. Clin Psychol Sci Pract. 2016; doi:10.1111/cpsp.12136.

8.

Simon TR, Anderson M, Thompson MP, Crosby A, Sacks JJ. Assault victimization and suicidal ideation or behavior within a national sample of US adults. Suicide Life Threat Behav. 2002;32:42–50.

9.

Wilcox HC, Storr CL, Breslau N. Posttraumatic stress disorder and suicide attempts in a community sample of urban American young adults. Arch Gen Psychiatry. 2009;66:305–11.

10.

Stein DJ, Chiu WT, Hwang I, et al. Cross-national analysis of the associations between traumatic events and suicidal behavior: findings from the WHO World Mental Health Surveys. PLoS. 2010;5:e10574.

11.

Krug EG, Mercy JA, Dahlberg LL, Zwi AB. The world report on violence and health. Lancet. 2002;360:1083–8.

12.

Ross CT. A multi-level Bayesian analysis of racial bias in police shoottings at the county-level in the United States, 2011-2014. PLoS One. 2015;10:e0141854.

13.

Turner HA, Finkelhor D, Ormond R. The effect of lifetime victimization on the mental health of children and adolescents. Soc Sci Med. 2006;62:13–27.

14.

Dobash RE, Dobash RP. Women, Violence and Social Change. Abingdon, UK: Routledge; 2003.

15.

Van Orden KA, Witte TK, Cukrowicz KC, Braithwaite SR, Selby EA, Joiner Jr TE. The interpersonal theory of suicide. Psychol Rev. 2010;117:575–600.

16.

Klonsky ED, May AM. The three-step theory (3ST): a new theory of suicide rooted in the "ideation-to-action" framework. Int J Cogn Therapy. 2015;8:114–29.

17.

Hempstead KA, Phillips JA. Rising suicide among adults aged 40-64 years: the role of job and financial circumstances. Am J Prev Med. 2015;48:491–500.

18.

Tiet QQ, Finney JW, Moos RH. Recent sexual abuse, physical abuse, and suicide attempts among male veterans seeking psychiatric treatment. Psychiatr Serv. 2006;57:107–13.

19.

Turner CF, Ku L, Rogers SM, Lindberg LD, Pleck JH, Sonenstein FL. Adolescent sexual behavior, drug use, and violence: increased reporting with computer survey technology. Science. 1998;280:867–73.

20.

DeVylder JE, Lukens EP, Link BG, Lieberman JA. Suicidal ideation and suicide attempts among adults with psychotic experiences: data from the collaborative psychiatric epidemiology surveys. JAMA Psychiatry. 2015;72:219–25.

21.

Nock MK, Kessler RC. Prevalence of and risk factors for suicide attempts versus suicide gestures: analysis of the National Comorbidity Survey. J Abnorm Psychol. 2006;115:616–23.

22.

Prenzler T, Porter L, Alpert GP. Reducing police use of force: case studies and prospects. Aggress Violent Behav. 2013;18:343–56.

23.

De Angelis J, Wolf B. Perceived accountability and public attitudes toward local police. Criminal Justice Stud. 2016;12:1–21.

24.

Correll J, Park B, Judd CM, Wittenbrink B, Sadler MS, Keesee T. Across the thin blue line: police officers and racial bias in the decision to shoot. J Pers Soc Psychol. 2007;92:1006–23.

25.

Gelman A, Fagan J, Kiss A. An analysis of the New York City police department's "stop-and-frisk" policy in the context of claims of racial bias. J Am Stat Assoc. 2012;102:813–23.
Acknowledgments
This study was supported by an intramural research grant from the University of Maryland, Baltimore (principal investigator: Jordan DeVylder). The funder had no role in the conduct of the study or dissemination of the results. Jordan DeVylder, University of Maryland School of Social Work, had full access to all of the data in the study and takes responsibility for the integrity of the data and the accuracy of the data analysis.
About this article
Cite this article
DeVylder, J.E., Frey, J.J., Cogburn, C.D. et al. Elevated Prevalence of Suicide Attempts among Victims of Police Violence in the USA. J Urban Health 94, 629–636 (2017). https://doi.org/10.1007/s11524-017-0160-3
Keywords
Suicide

Violence

Aggression

Epidemiology

Sexual assault

Police abuse